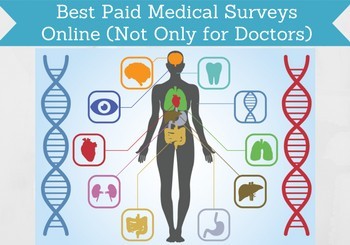 There are many paid survey sites, but not so many that offer medical surveys.
The panels that offer this are a bit more difficult to find but can be worth finding as medical surveys have several advantages to participating in, and they are often not only for doctors.
In this article, I will show you the best paid medical surveys online so it will be easy for you to find and join them if you are looking for these kinds of panels.
But let me also just say right away that if you want to participate in clinical research on a project base, you should instead check out current paid clinical studies.
Why participate in medical surveys?
Let's first talk a bit about why you might want to consider joining panels that offer medical surveys.
There are mainly two reasons for this – good rewards and the chance to make a difference.
Reason 1 – Good rewards:
Medical surveys, in most cases, have a lot higher rewards than normal surveys. Exactly how high depends on the specific survey, the company that is doing the research, your profile and profession, and the country you live in.
But it is definitely possible to find surveys that will give you between $25-$300. That does not mean that you will only get surveys like this. Some might give less and some might even give more.
The size of the reward also depends on how long the survey will take, but in most cases, the surveys will also be a bit longer than regular paid surveys.
The extra money is definitely a good reason to participate, but be aware that you will not be able to make a living taking this kind of surveys. They often pay well, but you will not be offered them so often as they are often looking for quite specific groups to participate.
Reason 2 – Help with valuable info:
Another good reason to consider is what the answers you provide will be used for.
The info you provide in medical surveys can be very valuable for both companies and societies as such.
The info is often used to develop and improve on medical products and services. So by participating in these surveys, you can have your opinion heard, and you can be part of providing info that can help develop new cures, medicines, etc.
This might not be the case for every single medical survey you participate in, but you can always see the topic before you agree to participate and then decide whether you want to participate or not.
Just because you sign up for a panel does not mean you have to take the surveys offered – you can always decide from survey to survey depending on your interests and time.
Who can participate?
So who can participate in medical surveys?
Sometimes people think that they are only for doctors or other medical professionals. It is true that some surveys only are for health care professionals, and these often paid very well. But there are also medical surveys for consumers.
On the list below, you can find both panels that are only for medical professionals and that are for both professionals and consumers. So depending on the kind of panels you are looking for, make sure to check this before joining the panels.
All the panels are free to join and use.
If you want to participate in research for specific conditions, the panels below are, however, not necessarily be the best options. You should then instead check out the list I have created of paid clinical research through the link below.
Best paid medical survey panels
---
MDforLives
MDforLives is a survey panel with medical surveys specifically for doctors. It has an app you can also download and thereby have access to the surveys on the go.
You will receive an email when there is an available survey. You can also participate in smaller and more regular polls. The rewards for surveys range from $50-$500 per survey. You can get the money paid out through PayPal, SnapPay, and a few other options depending on the country you live in.
So if you are looking for paid surveys for doctors in India, Canada, USA, UK, Germany, Italy, Spain, and France, then MDforLives is definitely a panel worth checking out.
---
Medical Advisory Board
Medical Advisory Board is a panel only for medical professionals but it is open to many kinds of professions. You can for example join if you are a doctor, nurse, dentist and more. You are usually invited to participate in surveys several times a year. The average surveys take around 10 minutes to do. There are also longer surveys and research projects, and these will have higher rewards.
You get paid in points when you participate in surveys. 1 point is equivalent of 1 cent. Once you have reached 2500 points ($25) you can get them paid out in cash or donate to a charity. Usually the rewards are between 700-1000 points per survey. The panel is open to participants from all over the world.
---
Focus Forward/SurveySquad
Focus Forward is a panel that you can join both as a medical professional and as a non-medical professional. It is however only open for members in the US. Focus Forward is the name of the main research company, but it has a special website for you as a panel member. That site is called SurveySquad.
The rewards are very good from what I have seen. I have seen rewards from between $50-$150. It is not only online surveys, but for example also webcam interviews, filling out bulletin boards for several days, and phone interviews.
---
MedSurvey
MedSurvey is a panel that wants to make it easy for you to affect important decisions in health care. It is open for both medical professionals and consumers. It has a wide range of medical professionals as members – for example Healthcare Managers, Dental professionals, Nursing Professionals, Pharmacy Professionals, Psychologists, Veterinary Professionals, and more.
When you have participated in a survey, you will receive your payment as a bank check.
---
MNOW
MNOW is one of the big medical survey panels. It has 1.8 million members worldwide and has websites in many languages, so you can join from all over the world. You do however have to be a medical professional and it has members that are nurses, doctors, midwives, veterinarians, pharmacists and more.
Whenever there is an available survey that fits your profile, you will receive an email invitation. There are different reward options you can choose from including check, vouchers, and prepaid debit cards.
---
Brand Institute
Brand Institute is open for both medical professionals and consumers. You can join no matter where in the world you live, and in some countries, it even has a panel/website in the local language.
It does not only offer medical surveys, so you can also once in a while find other surveys here. The medical surveys usually pay around $5-$10, if you are not a professional, and $10-$20 if you are a medical professional.
Read full Brand Institute review
---
ViewMyHealthRecords.com
ViewMyHealthRecords has two different survey panels – one for patients and one for physicians. As far as I have been able to find out, they are only open to you, if you live in the US.
The average reward for a survey here is $20-$125. The higher the reward, the longer the survey will also take. Once you have completed a survey, you will get paid in cash through PayPal within a few days.
---
Physicians Advisory Council
Physicians Advisory Council offers medical surveys for physicians and surgeons. You can join no matter where in the world you live. You will receive an email when there is an available survey. On average, you can expect 5-7 surveys a year.
The surveys take on average 10-12 minutes and the rewards ranges from $25-$250 per survey. Surveys that gives the highest rewards of course also takes the longest. You will get paid per check, and it will be sent to you shortly after you have completed a survey. If you live in a country where you cannot receive check, an American Express Gift check will be sent instead.
Visit Physicians Advisory Council
---
e-Rewards Medical
e-Rewards Medical is open to healthcare professionals. After you have registered, you will receive invitations for available surveys. It does however not always accept new members, and often you have to get an invitation to be able to join. But if you want to join, it might be worth contacting them and explain why.
You can choose between a few different rewards. You can get a prepaid Visa Card, a virtual Visa Card, check, or you can choose to save up and wait to get a payout until you have saved up a larger amount (there is however a small fee for this last option).
---
SERMO
SERMO is a sister panel of MNOW that I mentioned earlier on this list. The difference is however that SERMO only offers medical surveys for physicians. The panel claims that they conduct more healthcare surveys than any other single company worldwide.
It offers medical surveys in over 80 countries, and in addition to surveys, it also offers weekly polls. You can choose between several payment methods to get your rewards.
---
The Medical Panel
The Medical Panel accepts members that are healthcare professionals. It does, however, allow a wide range of practitioners to sign up. Everybody from physicians, nurses, dental professionals, eye care professionals, chiropractors, osteopaths, alternative medicine practitioners, lab managers, and many more.
The surveys/study you can participate in range from 10-60 minutes up to a half-day speaking engagement, or bulletin boards that require you to spend a little time every day for up to 5 days. The rewards range from $20-$1000 depending on your profile and the length of the study you are invited for.
As you can see there are plenty of sites that offer paid medical surveys and they can definitely be worth participating in.
Do however remember that even though they pay well, you will not be offered that kind of surveys very often. So if you want to have access to other surveys on a daily basis, you can check out my overall top survey panel list.
If you have any comments or questions, feel free to leave a comment below. I will be more than happy to answer.