If you are looking for good investment options, there's a site called Bumped that claims you can turn your everyday spending into investing. This site claims you can get stock rewards every time you spend money.
It's an appealing claim, I admit. But before you hit the sign-up button, I would recommend you read this Bumped review first so you'll know what to expect. By doing so, you'll also know if this site is really legit or if it is just a scam.
I have signed up as a member and tested the platform and I will share everything I've found out about the site with you. Then, you can decide if you should become a member of Bumped or not.
What is Bumped and what does it offer?
Bumped is essentially a cashback site that offers its own twist. You see, instead of just earning cash like you normally would with other cashback sites, Bumped will allow you to own stocks of your favorite brands using the cashback rewards you've earned. So, you could say it is a "stockback" site.
And yes, it is indeed a legit site since it really does what it claims to do. But, to determine if this is a good fit for you or not, you have to first understand how this works. And the only to do that is to examine the earning opportunities it offers. So, here's how to earn from Bumped.
Option 1 – Linking your credit/debit card
The main way to earn rewards from Bumped is to link your credit or debit card to the platform. Then, you just have to use it to pay for any purchase you make.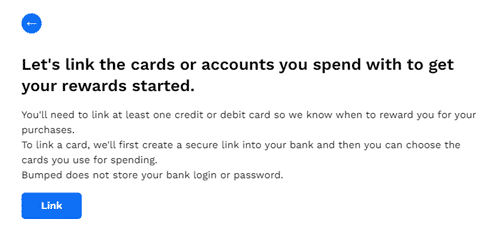 To link your card, you will first have to apply for a brokerage account on Bumped. This is a required step because you will need a brokerage account. You need this so you can buy and sell securities like stocks, bonds, and mutual funds.
Applying for a brokerage account on Bumped is relatively simple. You just have to fill out a couple of forms.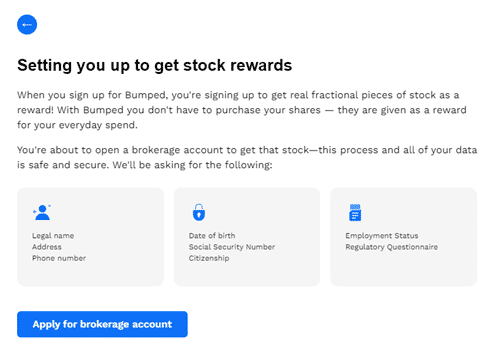 Take note though that you have to provide your social security number when you apply for a brokerage account. The good thing is, they won't share your social security number with anyone, so it's pretty safe to share it with the site, in my opinion.
After you've submitted your application, you will have to wait for a day before you will know if your application was approved or denied. It's a pretty short turnaround, in my opinion. However, while waiting, you can link your credit/debit card immediately so you can start accumulating rewards.
But I would suggest you wait until you hear back from Bumped if your brokerage account application was accepted or denied before you make any purchase using the card you linked.
If your application is accepted, you can now start earning stock rewards by simply using your credit or debit card when making a purchase in physical or online stores. They don't really elaborate on how much you will earn for every purchase you make using your linked card, but based on my experience, the higher the price tag, the higher your reward will be.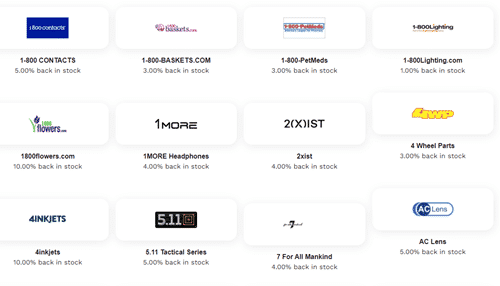 If you are going to use your linked card to shop online, you can only receive rewards if you avail of their "Shop Now" offers. You can access these offers by logging in to their site or app (I will talk about their mobile app later). Bumped has partnered with a lot of online stores, so there are actually a lot of stores you can shop from to earn rewards.
Later on, I will discuss what you can do with the rewards you've earned from using your linked credit/debit cards.
Option 2 – Loyalty programs
You can also earn rewards by joining their loyalty programs. When you log in to their site or app, you will immediately see all the loyalty programs you can join.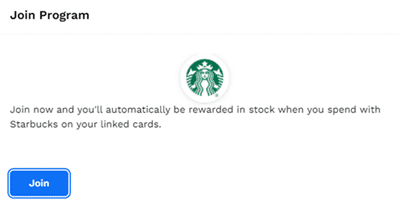 During my testing, there was only one loyalty program available and that was for Starbucks (refer to photo above). The idea is really simple. When you join one of their loyalty programs, all you have to do is make a purchase from the shop (for example Starbucks) using your linked card.
When you do, you will earn fractional shares of the company that offers the loyalty program. So, it will still involve you using the linked credit or debit card. The only difference is, you will be earning a specific stock share.
Again, the number of fractional shares you will earn will depend on the amount of the purchase you made. So, it kind of works the same as the first earning opportunity.
Option 3 – Referral program
Lastly, you can earn additional rewards by inviting other people to join Bumped through their referral program. If you've been a member of other online rewards sites before, then this will be very familiar to you.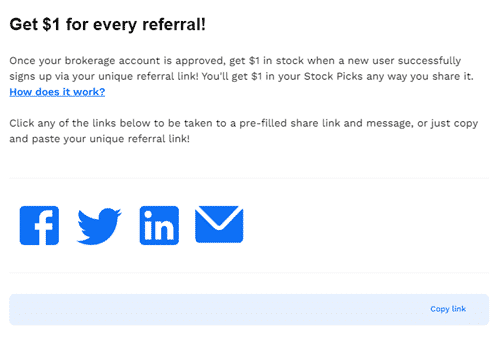 All you have to do is invite people to join Bumped by sharing your invite link with them. When they click the link and sign up to Bumped, they will become your referral. Then, you will earn $1 distributed across your Stock Picks (I will explain more about this later) when your referral's brokerage account application is accepted.
That's really the most important part of this opportunity. You have to remind the people you invite to apply for a brokerage account so you will be able to earn. This also means that you have to make sure the people you invite are actually interested in earning from Bumped since the only way to do that is to apply for a brokerage account.
Recommended: Check Out the Top Cashback Sites
How do you get paid?
Technically speaking, you won't get paid any money when you earn on Bumped.
As explained above, you can earn fractional shares of companies that have partnered with Bumped. So, if you are looking to earn cash, then this is not for you.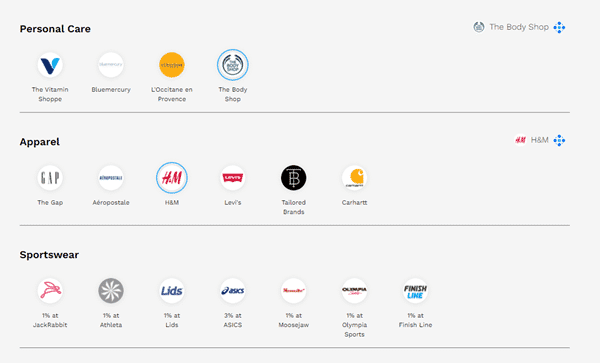 When you apply for a brokerage account, aside from linking your credit card, you will also be asked to pick 3 stock options (refer to photo above). The stocks you have chosen will be the rewards you will get for using your linked cards.
Here's how it works. When you make a purchase that qualifies for a stock reward, it will take a few business days to show up in Bumped while transactions settle with your bank. When your purchase shows up in Bumped, you'll be able to see it in your Activity tab.
Once your purchase has been processed, Bumped will order the stock reward you earned. Your Reward Status will update to "Stock Ordered". Once they've ordered the stock for you, it's just a few business days until your stock reward hits your account. Then, you can do whatever you want with your stocks.
Their payment system is a bit unique compared to other cashback sites and online rewards sites. But once you get used to it, it becomes fairly straightforward.
Now, if you prefer to earn cash instead of stock rewards, I would recommend you check out the top sites that pay via direct bank transfer instead.
How much money can you make?
The amount you can earn from Bumped will more or less depend on your spending habits. If you use your credit/debit card often, then you stand to earn more rewards from Bumped. This is especially true if you like to shop online.
As mentioned earlier, Bumped has plenty of partner stores you can shop from. So, you will most likely find a store you like and make a purchase. Their cashback rate will usually range from 2% to 5%, which isn't that bad, in my opinion.
However, there are plenty of other cashback sites that offer higher cashback rates. So, if you are purely looking at the cashback rate standpoint, this isn't the best cashback site, in my opinion. But, this is the only cashback site I have seen that will allow you to earn stock options for some of your favorite brands.
That's really the selling point of this site. If you are only after the cashback rewards, you are better off joining other cashback sites with better cashback rates. But if you want something to invest in, this is one of your best options.
But overall, I would say the earning potential of Bumped is somewhere in the middle. It's not that good, but it's also not that bad.
Can you use it on mobile?
As mentioned earlier, Bumped has a mobile app you can use. Their app is compatible with both Android and iOS devices. So, it's a pretty versatile app, in my opinion.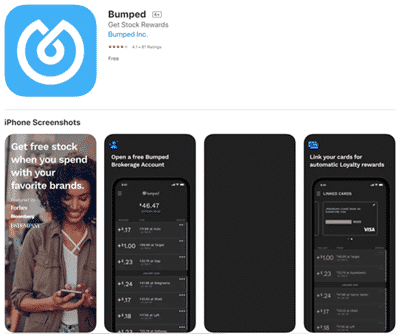 The good thing about their app is, it is user-friendly. You will easily get used to using it. Plus, you won't encounter any pop-up ads while using it.
All the features of their web-based platform are also available in the app. So, you can pretty much do everything in the app so you don't actually need to log in to their website. This is a good thing since everything can be done on your mobile device nowadays.
Who can join Bumped?
Bumped is only available in the US. So, if you live somewhere else, then this platform is not for you. Plus, you have to be at least 18 years of age to sign up.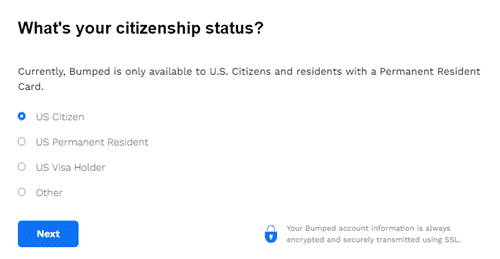 The registration process is fairly straightforward. You provide your email and password and you are done. But, as explained earlier, you'll have to wait for your brokerage account application to be approved before you can earn.
As mentioned, it will take around a day before you can hear back from Bumped regarding your brokerage account application. So, don't expect to earn immediately after you sign up.
But once your application is accepted, then you can start earning rewards from Bumped immediately.
Can you get support?
If you have any questions about your account or the site in general, you can first check out their support center. It is only accessible through their member dashboard or the app though. So, you will have to log in to their site or open the app.
But their support center does cover most of the important topics you need to know about Bumped. So, you will most likely find the answers you are looking for.
In the event your questions aren't answered by their support page, you can use the "Get Help" option on their member dashboard or app to access the contact form. Just fill out the necessary fields and hit the submit button.
You will receive a reply via email. So make sure to check your email inbox from time to time if you've contacted their support team.
Overall, I would say Bumped has a good support system in place for their members since they provide a convenient way for you to get in touch with their support team.
Final Verdict
Bumped is a legit cashback platform that offers something unique that other cashback sites don't offer. It has a couple of good features, but it also has some limitations you need to consider.
Let me wrap up this review with a summary of its pros and cons to give you an overview of what it has to offer. Then you can decide if you should sign up or not.

Pros:
Offers unique rewards
The app is user-friendly

Cons:
Limited earning opportunities offered
Low cashback rates compared to other cashback sites
Doesn't offer cash rewards
If your goal is to own stocks of your favorite brands, joining Bumped is one way to do that. But if you are looking to earn cash through cashback rewards, this isn't exactly the best option. First, you won't earn cash since they don't offer cash rewards.
Secondly, their cashback rates are slightly lower than most cashback sites. That's why I would only recommend you join Bumped if you are interested in owning stocks of some of the famous brands out there.
Otherwise, if you are just looking to earn a bit of extra cash, I would suggest you check out the top survey and GPT sites in your country instead. The sites on this list all have good earning potential and most of them (if not all) offer cash rewards as well.
Plus, you will definitely find a site you can join regardless of where you live.
If you have any comments, questions, or have any experiences with Bumped yourself, I would love to hear from you in a comment below.