bUnited is supposedly a platform where you can get paid to unite.
But is bUnited a scam or is it a real and legit way to make money?
I will be honest and say that I was very skeptical when I first visited the site. It was not clear to me how it would work and the reviews I could find did not give any balanced info.
So I decided to join and do a lot of in-depth research myself to find out exactly what it is about and if it has potential or not.
In this bUnited review, I will share all the details with you – both the good and my concerns. Then you will be able to make an informed decision about joining or not.
Important update: bUnited closed!
Since I first wrote this review, bUnited has closed down. As you can see in my initial review below, it was never sure money and it was an unproven concept. And it turned out not to work and they closed down.
I have made a video that explains exactly what happened and what we can learn from this as users of sites where we can make money online:
Recommended: Check Out the Top Get-Paid-To Sites in Your Country
What is bUnited and what does the site offer?
When I first visited bUnited.com, I was honestly a little confused about what it really offers.
And it looked almost too good to be true and all the reviews I could find where just trying to promote it without explaining details about how it actually works.
At the same time, it looked different from scams I have seen and there was something promising about what it claims to do.
So I decided to take a deeper look and get as much info I could before writing about it here on PaidFromSurveys.com and let you know what it really is about.
So let's start by going over what it offers and how this works both in theory and in practice.
Feature 1 – Get lower prices
One of the main features of bUnited is that it kind of works like cashback sites where you can get good discounts when buying things you already buy.
The idea here is, however, a bit different from what I have seen on other similar sites.
They want to grow as big as possible as big groups can negotiate bigger deals. So that means the idea is to be able to give you really great deals on services like mobile services, car insurance, electricity, clothes, groceries, and more.
Their goal is as a group to become most company's biggest customer. Thereby they will be able to negotiate lower prices for members than anyone else will be able to get for things for just about every consumer product and service.
According to the website, they, for example, made an agreement with Vodafone in February 2019.

This actually makes sense and I can see how this could work in theory, and who would not like to get discounts on things you already buy?
The thing you have to be aware of is that when you join bUnited now, there will not be a big list of great discounts you can get.
I contacted the company to get more info about this and about the perspective about this to know what to expect.
At this moment, they do have some agreements in the pipeline and they will be launched soon. And they have run some successful tests in the US, Germany, and Brazil.
However, to get good deals and be able to negotiate with the big companies, they need to have a lot of members in a country.
Therefore, the focus now is on the member growth and the more they grow, the easier it will be to introduce great offers for us as members.
This means that you will not find many great discounts right now, but should join to be a part of the membership growth from the beginning and then help grow it into a size where it will be easier to negotiate.
After having looked deeper into it and also having had this explained by members of bUnited's staff, this does seem to have a lot of potential, in my opinion.
But it is still very new and how it will really turn out is yet difficult to say.
However, one thing is sure – right now the main thing bUnited is focusing on is the growth and this is something they are therefore willing to pay you to help with as we will get to next.
Feature 2 – Get paid to unite / invite
As mentioned, the focus of bUnited right now is the membership growth and getting the word out about the company and what it does.
This is where a great opportunity to earn for you as a member comes in, but also where I became quite skeptical.
Because you as a member will get paid to invite other people to join. You will get $10 per person you invite – but you will not only get paid for each person you directly invite but also for each person within five degrees of you.
They have an example on their website that describes how this exactly works.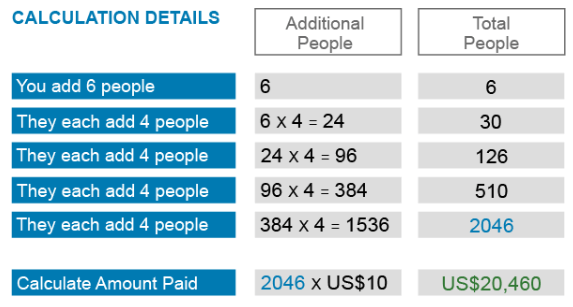 The example shows you will invite six friends to join. If each of those friends brings an average of four new people, that means 2046 people will end up having joined because of you. Therefore, your potential earnings are US$20,460.
They also have a calculator where you can quickly calculate other examples as well.
This all sounds great and as a nice way to make money, right?
However, I was a bit skeptical about this and about how they could be able to pay $10 per person within five degrees.
Many people do not question this and just start promoting it right away – this is why you will see many overly positive reviews just trying to get you to join because they want to earn.
Nothing wrong with promoting a company through word of mouth – in fact, I think it can be a great way to get the word out about a platform like this.
But I was still skeptical so I decided to do more research – I even contacted bUnited itself several times to get more details as I did not want to invite people without knowing more about how it works.
So where does this money to pay you come from?
The money comes from the partners bUnited is going to make deals with.
Some companies spend millions on advertising and sales. With bUnited, they will save this money and some of this money will then go to you as a member instead.
So bUnited basically cut the middlemen from the sales process.
That saves companies a lot of money. As a large group, bUnited's plan is to be able to help companies make sales. This will make it possible to get good deals for you and you will get a part of what the companies pay bUnited.
All this sounds great in theory, and I must say I think it has potential.
But you need to know the details about this money because if you think you will be able to get a lot of money paid out right away, you might get disappointed, so it is important you know what you are getting into.
Later, we will, therefore, go into the details about the payment and when you can expect to get your money. But let's first look at one more very important feature of bUnited.
Feature 3 – Give back to the planet
This is an aspect I think is really great about bUnited.
Its goal is supposedly not only to make money but also to use the size as it grows to focus on giving back to the planet.
The way they do it is by requiring that companies that make a sale to a bUnited member give back whenever they make a sale.
The projects it focuses on giving back to are, for example: save the rainforest, provide clean drinking water, plant trees, serve meals for children in need, and provide health care.
bUnited, for example, with one of its partner companies, Deutsche Telekom, saved over 1,000,000 square meters of Amazon rainforest in 2018.
I think all these projects are really great and this is one of the reasons it is a platform I am willing to give a try even though I still do not know how it all really ends up.
Also, the goal of bUnited is to use its size as it grows to work with companies to adopt a more fair and sustainable business practice.
They have a graph on their website showing what the plan is: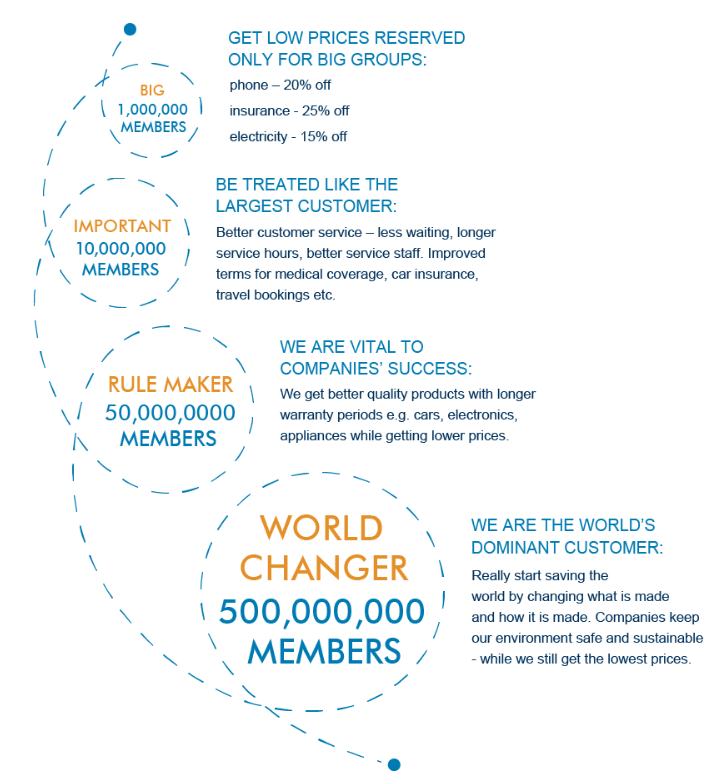 I can see how this could work and I think the idea is great.
But before you decide if it something you want to be a part of, there are also things about the people behind and the payout process that are great to know.
Who is behind bUnited?
I have seen other websites where the main focus was on growing the membership base that I was also skeptical about. Most of those did not really seem to have a business plan and seemed mostly like scams.
However, there is something that makes bUnited different from other platforms I have seen, in addition to the aspects I have mentioned above.
This is the people behind it. It is always important to look into who is behind a company as it can tell a lot about it. In some cases, you cannot find any information about it which also tells a lot (often it is because they have something to hide).
In the case of bUnited, they make it very clear who the owners are.

What I like about this is that it is not just random stock images. You can actually confirm these people are real.
The CEO is, for example, Jim Jorgensen. You can read about Jim on Wikipedia. Here you can see that he is a serial entrepreneur and has had many successful companies. Also, here bUnited is mentioned.
In addition to this, I have actually been in contact with Jim myself. I had a lot of questions to find out exactly how bUnited works and send some questions and the support connected me directly to Jim.
So I have been in contact with Jim and being able to actually get in contact with the CEO with important questions is a good sign for me. And I have been in contact with him several times, and he has always replied quickly and answered my questions.
Also, another example of one of the team members is Professor Stephen S. Cohen. You can read more about him on Berkeley's website.
So I did not find anything suspicious about the background of bUnited and the founders and the team. This does, of course, not guarantee that it will succeed but it is always good to be able to confirm who is actually behind a company.
How do you get paid?
So far it sounds like bUnited has big potentials, right? Especially as it can be a great way to earn some extra cash in the growth phase.
The sooner you get in and help with the growth of the company, the easier it will be to earn that way according to the site itself.
But you need to know exactly what to expect in relation to the earnings. As you can see from the calculator I showed earlier, it might have great potential but if you think you will be able to get that amount of money out right away, you will probably end up being disappointed.
The important aspect here is to know that bUnited is in its growth phase – to be able to fulfill the goals, it needs to grow to make good deals with companies.
Therefore, they do not have the money to pay you until after they start making more deals with companies.
So this means that when you invite people now, your earnings will be reserved. But you will NOT be able to just take them out right away.
bUnited say they will pay out when they get paid by companies that give discounts to members. At first, the plan was to start paying out towards the end of 2019. They did slowly start with that but not on the scale they hoped for so it is still very limited how many that have been able to get paid.
And to be able to get the full amount, depending on how much you earn, it can take up to a couple of years. All this will, of course, depend on how good bUnited is at getting deals and funding for expanding.
What is also important to know is that your earnings will never expire, and you will not have to buy anything or pay anything to get your earnings.
So basically this means that at the moment you do not really know when you can potentially get paid. And how exactly it is going to work out is impossible to say at this time. But I will be keeping a close eye on bUnited and update this review accordingly.
Since I first joined bUnited, I have regularly contacted them to get updates. I have received a quick answer every time and it seems they are working hard on expanding but it will take some patience before you can potentially get your earnings and this is something you need to be aware of so you join with the right expectations.
Also, the earnings you get for inviting people are potential earnings. It means that it will be tracked who you invite and not until that person ends up taking an offer, the money will be released as bUnited will get paid from the company.
This is what makes bUnited sustainable and, as mentioned earlier, the plan is to grow and become the biggest customer of most companies and thereby be able to give you as a member better prices on almost every possible consumer product or service.
If they succeed with this, it means that most members will likely end up buying something and thereby your earnings will be released and you can take them out.
I can see how this could work in theory and hope it will turn out to be a success. But you just need to know exactly what to expect in terms of the earnings so you know when and how you might be able to get paid.
Once you are able to get your earnings out, you can get them through PayPal, PagSeguro, WeChat, Alipay, PayTM, PhonePe, ACH, and SEPA bank transfers, and supposedly more payment methods will be added. All payments will be made in your local currency.
So the payout methods are great – but you have to be a bit patient to see how it all works out and to potentially get your earnings.
When will you get paid?
I have briefly explained this above, but I just want to make it even more clear as this is the big question when it comes to bUnited.
When you will be able to get your earnings out depends on two things: What country your referrals are in (and how fast we get business partners in those countries) and how fast do members take advantage of the discounts bUnited has negotiated.
When bUnited negotiates with big companies they will save us (the members) lots of money on many things we already buy, companies also pay bUnited some money when members buy and bunited uses one-third of that money to pay members who referred new members, and bUnited uses the rest to pay for our social/environmental projects, and pay our costs.
This definitely looks like it can work otu and is sustainable but you just need to know how it works. And also to consider that the country the people you invite are in makes a difference.
Last I got an update from bUnited about this (February 2020) the business teams in the US, South American and EU had been fully engaged for a while so people in these countries will likely get access to deals the fastest.
So this means if you invite people from these countries, you will likely get access to some of your earnings the fastests.
At that time, payouts had started – but mainly in Brazil.
Also, at that moment they were working with a couple of big international companies and was hoping this would make it possible to roll out in more countries fairly soon. But again, it all depends, how these negotiations go when deals will be available in more countries.
How much money can you make?
There are in a way two ways to earn with bUnited.
One way is to get the discounts it will eventually give you access to. This will supposedly make it possible for you to save 20%-30% on things like mobile service, electricity, gas, and more.
These are things we all use anyway, so would be great savings to get. Just be aware that, as mentioned, it is still in the growth phase so there are not many deals yet and in some countries, there are none yet.
So if you are looking for great deals right away, you should check out the best cashback sites that have some offers you can use right away.
But with patience, the potential savings on bUnited looks very appealing.
However, the invite option has a very big earning potential – in theory.
You can use the calculator on the website to see exactly how big a potential it has.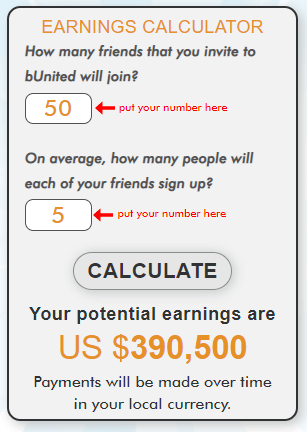 This shows that it has the potential to make some really nice extra cash over time if you know people that might also be interested in joining.
Again, just be aware that this is the potential it shows. It is still new, so you cannot get your money out yet and it is still difficult to say exactly how it will turn out.
So if you join, I would suggest you see it as an opportunity but do not plan on the money. If you are desperate to get the money or start using them before you get them paid out, it can get you into trouble.
Who can join?
A very good thing about bUnited is that it is available in a lot of countries.
According to the site itself, it is active in these countries from the beginning: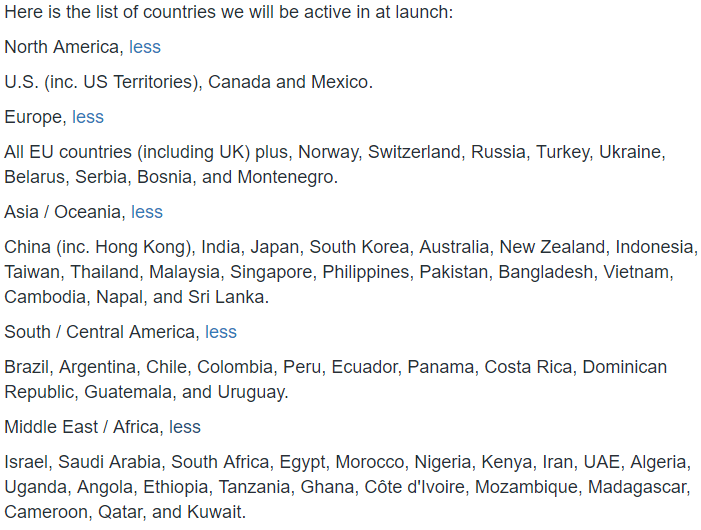 However, the faster bUnited grows, the more likely it will be that there will be partner companies in your country so you will be able to get discounts and deals.
Even if you do not live in one of the many countries on the list above, you can still join and invite people to join (and reserve earnings for it).
But according to bUnited itself, it might be more than a year (sometime in 2020) before they are big enough in those countries to negotiate discounts.
So if you do not live in one of the countries on the list above, it might take even more patience to start getting discounts – just so you are aware.
Can you get support?
As mentioned several times, I was very skeptical when I first heard about bUnited even though the idea behind it sounds very nice.
So one of the ways I decided to get more information to find out what it really is about was to contact their support. If I had not heard anything, it would be a sign that it would all just be hype.
And I honestly did not expect to hear back after contacting them – but I did.
It took longer than the 48 hours they mention when you fill out the contact form on their website, but after around 5 days I heard back with answers.
I still had a lot of questions about how it all works and asked more questions – this time my email was actually forwarded to the CEO, Jim Jorgensen so I could get more details directly from him.
I have shared the info I got from him in this review, so you can see how they explain everything themselves.
For me, it was very nice that they actually reply – that is what convinced me it is worth giving a try.
If I had not heard back from the support, I would not have trusted it would have any potential.
So it is good to know that there actually are real people behind it and they are willing to answer and help if you need any help – just be aware that it might take a little time before they get back to you.
Final verdict – legit or scam?
As you can see, bUnited has both pros and cons and I have seen both positive and some confusing things about the platform.
From what I have been able to find out, it looks legit so far as it has real people behind it and the idea behind the platform is very good.
But I know it can be a bit confusing, so let's finish this review by summing up the pros and cons to help you get a better overview before deciding to join or not.

Pros:
Free to join
Open to all countries
Can potentially give you good savings
The earning potential is big

Cons:
You do not know when you will be able to get your earnings out
Not many discounts available yet
I must admit I really like the idea behind bUnited. I like how they try to make big discounts available to consumers and focus on sustainability as well.
I do, however, still have some concerns as it is still an unproven concept. Until I have actually been paid, I will probably remain a bit skeptical:-)
But because I like the concept and idea, I decided to join and do a lot of research and the fact that I even got some explanations from the CEO several times gives me faith in the legitimacy of the platform.
So in my opinion, then why not give it a try as it is free to join.
The potential can be big as long as you do not plan on getting the money out right now and are willing to be curious about how it develops and accept that it is still a bit unknown.
If you have any comments, questions, or have any experiences with bUnited yourself, I would love to hear from you in a comment below.