If you want to earn rewards online, there are several options to choose from. You can join a survey or Get-Paid-To (GPT) site, among others. Or you can also join a GPT app which will allow you to conveniently earn even when you are not in front of a computer.
One such app is called Cash for Apps. This app claims it is the fastest way to get free gift cards and in-App purchases.
But is Cash for Apps legit and really worth using?
This Cash for Apps review will answer all those questions and show you exactly what you can expect before investing your time. That way, you can decide if it is a yay or nay.
What is Cash for Apps and what does it offer?
First and foremost, let me just say right away, Cash for Apps is a legit GPT app that will reward you for completing the activities they offer.
It's a relatively straightforward app. By the name of the app itself, it suggests you get cash for apps. But it doesn't exactly live up to its promise and you will understand why later.
Now, let's take a closer look at the earning opportunities it offers. This is the best way to get a clear picture of how the app works and how well you can earn from it.
Option 1 – Downloading apps
This is the part where the app lives up to its name. You can literally earn from this app by downloading other apps to your mobile device.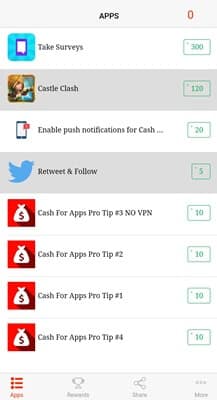 When you log in to Cash for Apps, you will immediately see all the available app offers you can complete to earn rewards. As shown in the photo above, downloading any of the apps listed will earn you a certain number of points.
When you click on an app offer, it will show you the instructions you need to follow to earn the rewards. Make sure to take note of the instructions because if you miss even one step, you won't earn the reward promised.
Most of the offers found in this section will ask you to download and install a mobile game, but from time to time, some offers will ask you to answer surveys or log in to a social media platform.
But regardless of what these offers will ask you to do, the main thing you need to remember is you follow all the instructions given.
Option 2 – Referral program
Most GPT apps have a referral program where you can earn referral bonuses. Cash for Apps is no different.
In case you don't know, a referral program is a type of earning opportunity where you will be able to earn bonus rewards for inviting other people to join the site/app.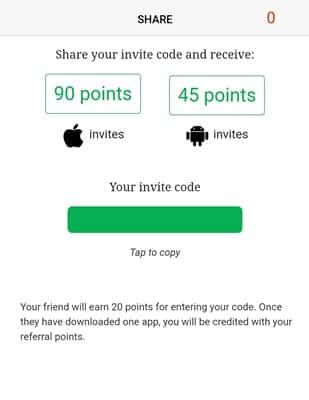 In Cash for Apps' case, the way their referral program works is pretty straightforward. Simply share your invite code with the person you want to invite. When they sign up for the app, they have to input that code to become your referral.
Now, to earn the referral bonus, your referral must first download at least one app. So, make sure to invite people who are really interested in being active and actually doing the tasks. Otherwise, you won't receive the referral bonus.
If you manage to get a referral that's using an iOS device, you will earn 90 points. If your referral is using an Android device, you will only earn 45 points.
It's a bit weird that an iOS user is worth more points than an Android user, but I guess Cash for Apps gets paid more when it gets its members to download apps for an iOS device and therefore give higher rewards for that.
And one more thing, you're not the only one who will receive a referral bonus once your referral downloads an app. They will also earn 20 points as a bonus. It's not much, but at least they get something out of using your invite code.
How do you get paid?
For every offer you complete or referral you invite, you will earn a certain number of points. These points can be redeemed for certain rewards.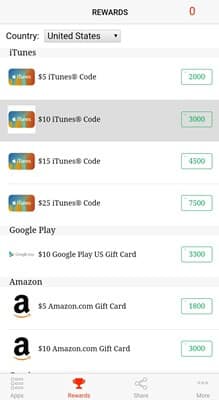 However, their reward system is slightly different than most GPT apps and sites. This is because, as shown in the photo above, there's a specific set of rewards available for certain countries. The countries options are as follows:
U.S.
Canada
U.K.
Germany
France
Italy
Spain
and Other
So, when you redeem your points, you have to choose the country you live in. If you can't find your country, you have to select Other. It will then display all the reward options you can redeem.
The most common reward options are iTunes, Amazon, and Steam gift cards. The minimum amount you can redeem will depend on the country you live in. For example, if you are in the US, the minimum amount is $5.
However, the points required for these rewards vary. That's why it's hard to calculate how much your points are worth. Let me show you an example. If you live in the US, a $5 iTunes gift card is worth 2,000 points, but an Amazon gift card of the same amount will only cost 1,800 points.
Now, if you are looking to earn cash, then unfortunately, this app doesn't offer that option. So, it doesn't exactly live up to its name of Cash for Apps. Although you can consider gift cards as cash, it would still be a lot better if they did offer cash rewards, in my opinion.
If you prefer to earn cash instead of gift cards, you can check out the top sites that pay via direct bank transfer.
How much money can you make?
Again, technically speaking, you won't be able to earn cash from this app (but you know what I mean).
Usually, the money you can earn from a GPT app will mostly depend on the availability of the earning opportunities they offer and how well they pay.
Now, in terms of availability, Cash for Apps pales in comparison to other GPT apps. It simply doesn't have a lot of opportunities to earn.
You will quickly run out of things to do, which is kind of a letdown because GPT apps are usually known for their availability of offers. That being said, it seems though that the number of offers made available for you will depend on the country you live in.
If you live in let's say the US, there are more opportunities for you to earn. But if you live somewhere in Asia, then there are fewer ways to earn.
As for how well they pay, most of the offers you can do will only earn you around 10 to 300 points. From time to time, you will find offers that are worth more. But overall, you really won't be able to earn a lot from this app, in my opinion. That's why I would say this app has a very low earning potential for a GPT app.
Can you use it on a desktop?
Cash for Apps is a mobile-only platform. That means you will only be able to use it on a mobile device. Plus, it doesn't have a web version unlike many other GPT platforms. You really have to use their app to gain access to the earning opportunities they offer.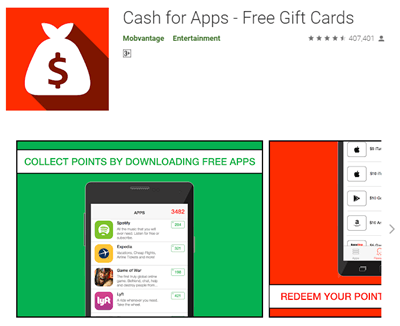 Fortunately, their app is available on both Android and iOS app stores. So, you should have no compatibility issues, unless of course, you are using a Windows phone.
Their app is also very user-friendly and it's not spammy like other GPT apps. I never encountered any pop-up ads when I was testing the app, which is good.
Who can join Cash for Apps?
Cash for Apps is available globally. This means you will be able to sign up as a member regardless of where you live. You also only have to be at least 13 years of age to use this app. So, it's a lot more accommodating than some other GPT apps.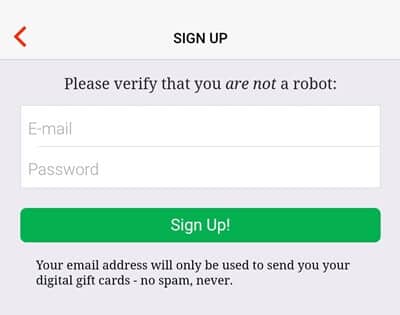 It's also very easy to register to join Cash for Apps this app. All you have to do is provide your login details and you are good to go. You don't even have to verify your membership.
Once you are done with the registration form, you can immediately start earning.
Can you get support?
I would say they have a decent support system in place for their members. This is because if you have a question about the app, you can always refer to their FAQ page. It discusses most of the basic topics in detail.
And if in case you can't find the answers you are looking for, you can always get in touch with their support team. Just go to the support section of their app and submit a support request.
Final Verdict
Cash for Apps is a GPT app that offers a quick way for you to earn rewards. It does have couple of good features but it also has limitations you need to consider.
So, let's end this review with a summary of its pros and cons to give you a better overview of what the app has to offer so you can decide if you should use this app or not.

Pros:
Available globally
Their app is user-friendly and not spammy
Registering as a member is very easy

Cons:
Limited earning opportunities offered
Low rewards
Doesn't offer any cash rewards
In my opinion, Cash for Apps isn't really an app I would recommend you use. It doesn't offer a lot of earning opportunities, which is supposed to be the strength of a GPT app.
It also has low rewards. So, if you want to rack up a lot of points, you will have to wait a long time and complete a lot of offers to do so. Plus, it doesn't offer any cash rewards you can redeem. All it offers are gift cards.
That's why I would suggest you spend your time on apps or sites that will allow you to earn a decent amount without having to spend a lot of time. For a list of these sites and apps, I suggest you check out the top survey and GPT sites in your country instead.
The sites on this list all have better earning potential and the GPT sites on this list all offer plenty of ways for you to earn. Plus, you will also find sites you can join regardless of where you live.
If you have any comments, questions, or have any experiences with the Cash for Apps app yourself, I would love to hear from you in a comment below.