ClickPerks is a Get-Paid-To (GPT) site that supposedly offers to reward you for completing small online tasks.
But is ClickPerks a scam or one of the legit sites?
Let me just tell you right away that this is a legit GPT site as it does offer some ways to earn.
So the question now is, is this site worth your time?
This ClickPerks review will answer that question and basically everything you need to know so you'll know what to expect if you decide to become a member.
So let's get to it.
What is ClickPerks and what does it offer?
As mentioned above, ClickPerks.com is a GPT site that rewards you for completing several tasks every day.
This site is owned by React2Media, a performance marketing company that provides marketing solutions to brands, other companies, and agencies, as well as publishers.
ClickPerks offers you a variety of earning opportunities that you can use to accumulate rewards.
So let's take a look at how you can earn rewards with ClickPerks, so you can better find out if it's for you or not.
Option 1 – Paid offers
Paid offers is a common method of earning on GPT sites and ClickPerks offers this as well.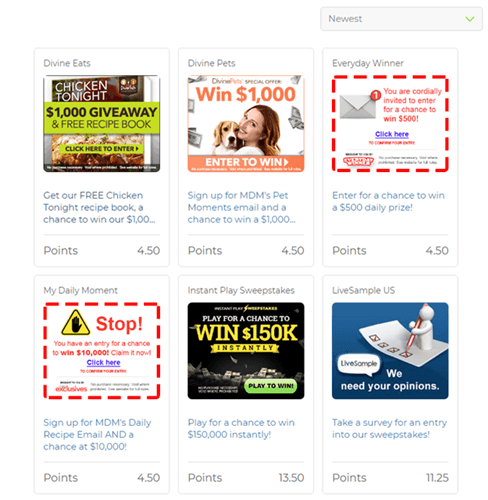 Once you log in to the dashboard, you can view all the available offers under the "Earn Points" tab which can be found on the left side of your screen.
The way this works is you will be presented with an offer and its corresponding reward. The offers on ClicksPerks will usually ask you to sign up to a website or a mailing list.
Other offers will ask you to join contests, which will require you to provide your email address or some form of information.
These offers will also ask you to play games in exchange for reward points.
Once you complete the offer, your account will then be credited with the reward that was promised.
However, compared to other GPT sites the offer section is a bit different and might be confusing if you have used other sites before.
It does not have offer walls as many other GPT sites have but instead just a small list of particular offers they promote.
There are not many compared to other similar sites, but it can be a way to earn a bit extra. Many of the offers are, however, very promotional from what I have seen so make sure to read the conditions for each offer before taking them so you know exactly what to expect.
Also, already when you join ClickPerks you are presented to a list of offers you have to say yes or no to before you can even get to the members' area.
I really dislike when a lot of promotional offers is the first you meet on a GPT site and have to say yes or no before you can even get inside.
Nonetheless, that is just how it is on ClickPerks and luckily it does not take long to get past the initial offers so you can get inside.
Option 2 – Paid surveys
The paid surveys on ClickPerks work quite differently from what you would normally expect.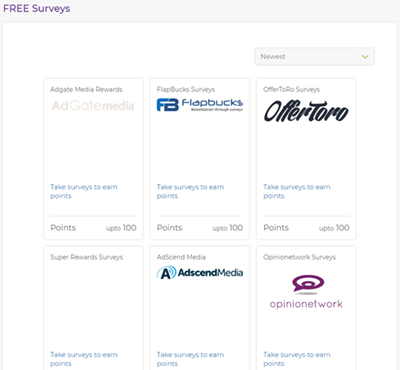 Instead of them providing you a survey to answer, they actually lead you to a different survey site that offers surveys.
So in effect, their paid surveys offer is more like a survey router that allows you to earn rewards if you answer surveys from other survey sites.
It can be a painstaking process because most of these sites that they link to, will ask you to fill up your profile first before you can take the survey.
But just like their paid offers, once you complete a survey from one of the sites they link to, the reward will then be credited to your account.
The advantage of ClickPerks using survey routers is that it gives you access to quite a lot of survey options, but you just have to be aware that it might take some patience to find the surveys you qualify for at times.
Also, in my opinion, the survey options on ClickPerks is not as user-friendly and does not give quite as good rewards as on many other sites.
Option 3 – Paid videos
Another way you can earn rewards with ClickPerks is through watching videos.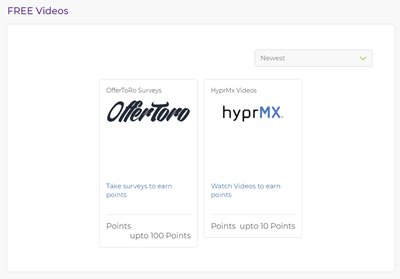 Again, the way this works is just like how they do surveys. You will be redirected to another site that provides this kind of offer.
So they don't really have videos that you can watch to earn points. What actually happens is that ClickPerks refers you to a different website and I presume that this website pays them for each visitor that they bring.
That's how they are able to reward you with points without having to make videos of their own.
Compared to other sites it is not very clear what you actually get in the video section and some of the links even just take you to an offer wall that does not have videos, so it is a bit confusing.
They are also not clear about how much you get for watching the videos if you happen to find any. Usually, it is quite clear on other GPT sites what you get for watching videos.
No matter what, the video option is rarely an option I recommend spending too much time on, on GPT sites as the rewards usually are extremely low compared to other earning methods.
For entertainment purposes, it can be fine but if you mainly want to earn on GPT sites there are usually better options than the videos, in my experience.
And there are sites that pay better for watching videos if this is an option you want to use so no matter what it is not a good way to spend time on ClickPerks.
Option 4 – Cashback rewards
With cashback rewards, you will be able to shop at over 1500 retailers like Amazon, Target, Starbucks and even Walmart.
The way this works is you will earn points for every dollar you spend if you click a link and go to the shop through ClickPerks and end up buying.
Aside from the points you earn, you will also get access to exclusive deals and even coupons from some big retailers.
Unfortunately, I'm not so sure how to access their cashback rewards because when you log in to the dashboard, you won't be able to find the cashback offers on it. This is one of the many things that are not very user-friendly on ClickPerks, in my opinion.
If you like shopping online, you might want to verify with them how this works because there isn't a lot of information about this on their website.
Overall, if you shop online, you can also just check out this list of the best cashback websites that are all more user-friendly and give you access to some great deals on thousands of online stores.
Option 5 – Referral program
ClickPerks mentions on the website that they have a referral program. That means you get to earn points simply by inviting friends to join by using a referral link you get access to once you are a member.
Unfortunately, I couldn't find any information on exactly what you get for referring a friend, which in my opinion, isn't a good way to attract potential members.
I surmise that you will receive a certain amount of points for every referral you make. I just wish that they would have been more transparent with the rewards you can get from referring friends.
You just see the link and they say you get points but not how much you get – this is again one of the things that are not very user-friendly on ClickPerks.
Also, keep in mind that ClickPerks screens all referrals to make sure they are valid. If they suspect any fraud with the referral you provided, they will revoke your membership without further notice.
How do you get paid?
Before starting to invest time on ClickPerks you, of course, also need to know how you will get paid.
If you are looking to earn cash from ClickPerks, you do have that option. But aside from that, ClickPerks also offers a wide range of gift cards.
The currency ClickPerks uses is points. For each offer you complete, you will earn a specific number of points. 10 points are worth $1.
The points you accumulate can be redeemed for gift cards. The good news is, they have plenty of gift cards to choose from.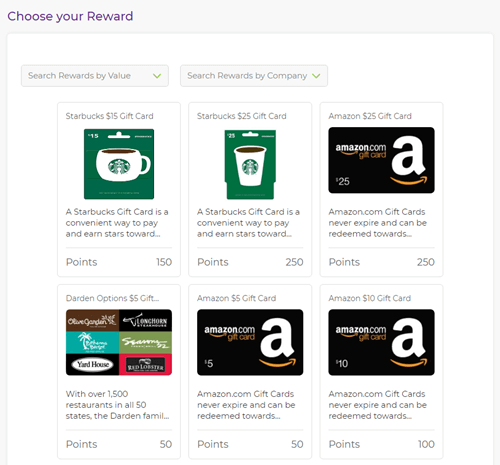 You can find gift cards from Amazon, Walmart, and even Delta Airlines.
As for how you can earn cash from ClickPerks, you can actually exchange 500 points for a $50 gift card from PayPal. You can then use this PayPal credit to purchase stuff online or withdraw it to your bank account.
However, if you are looking for better options in terms of payment via cash, I recommend you check out the best PayPal survey sites.
As to how long it would take for you to get the rewards you exchanged for, unfortunately, they don't have that information available on their website.
The minimum reward you can get from ClickPerks is a $3 gift card worth 30 points.
How much money can you make?
With sites like ClickPerks, the actual income you earn will really depend on how active you are on the site.
To give you a clear picture of the possible income you can earn from ClickPerks, every 10 points that you earn is actually equivalent to $1 of reward.
So if you want to redeem a reward that is worth $25, you will need 250 points.
250 points might not seem like a lot, but the reward points you get from completing offers and surveys will range from 3 points to 20 points.
Most paid surveys offer a 20 point reward, as what most members say. They also say that these surveys usually take a lot of time to complete.
Considering those numbers, you will have to invest a significant amount of time in order to rack up a significant number of points.
You also have to factor in the frequency of offers available for you, especially the paid survey offers. So, it might take quite some time to claim rewards especially if you are eyeing on the $50 PayPal reward.
The good thing though is that you will have paid offers available every day. So, you will always have something to do.
But in my opinion, there are simply other sites that offer better terms and better rewards. You can click the link below to find better opportunities.
Can you use it on mobile?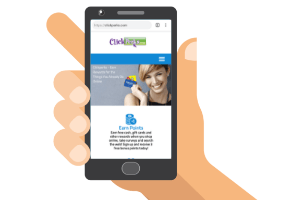 ClickPerks does say on their website that they have an app you can download so you can work on the offers on your mobile device.
But when I checked Google Play to see if I can download the app, unfortunately, I couldn't find one.
So that leads me to believe that the app they are pertaining to is actually the mobile version of the site, which you can access via a mobile browser.
I checked the mobile version of their site and it seems that it is optimized for mobile use, which is a good sign. It is also very user-friendly.
But in my opinion, the misleading information on their website about an app that you can download is a big blow to how they present information pertaining to the use of their site.
You just don't do that. You have to be transparent with all the details you present to your potential members and keep it updated.
But aside from that mistake, it looks like you will still be able to log in to their site via a mobile browser without any problems. This will help make you more efficient in racking up the points.
Who can join ClickPerks?
In order to join ClickPerks, you have to be a resident of the UK, US or Canada.
You also have to be at least 18 years of age in order to sign up.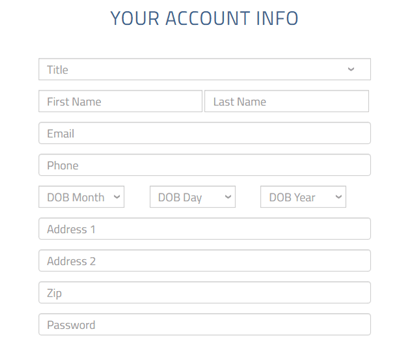 During the registration process, you have to make sure that you provide truthful information. Otherwise, if they find out you provided fraudulent information, they will revoke your membership and all your efforts will go to waste.
Only one member per household is allowed to sign up. In case you don't know what that means, one household refers to the mailing address as well as your IP address.
Any attempt to work around that limitation will be grounds for termination of membership.
Remember that you must complete and receive credit for at least one offer within a span of 365 days in order for your account to remain active. Failure to do so will lead to the deletion of your account.
One important thing to notice during the sign-up process is that you can put a tick in a box where you give consent to being contacted by their marketing partners.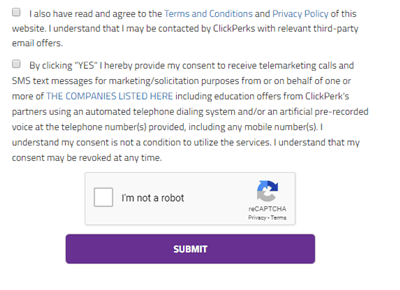 You do NOT have to say yes to this to be able to register and personally I would highly recommend you not to say yes. In the section, you can click on the list of companies you will give permission to contact you via text message or calls.
It is a list of 30+ companies. So if you say yes to this, be prepared to receive a lot of promotional calls and messages.
Can you get support?
ClickPerks does have a support system in place once you become a member.

You can submit a new ticket for any issue you are experiencing with your account or if you just have any question you want to ask.
If you are not a member of ClickPerks yet, you can still contact them through the use of their contact form, which can be found on the Contact Us page.
They have also provided their mailing address at the bottom of their website if every you need to mail them something.
A quick look on their Facebook page shows that they haven't been active for quite some time. However, you can send them a message if you wish to contact them.
I'm just not sure if they will reply to you quickly since it looks like they are not really using the Facebook page actively at the time of writing this review.
Another thing to note with their website is that they display a Twitter and Google+ logo at the bottom and at the top of their website. But those logos don't really link you to their actual pages.
I'm not sure though if this is just an error on their website or if those pages are non-existent.
I know these are just minute details, but this can actually tell a lot about a website. These little details will actually help you gauge whether a site is top-notch or not.
Final Verdict
ClickPerks is a legit GPT site that offers to reward you with gift cards and a bit of cash in exchange for completing the tasks that they provide.
It does have several earning opportunities which is typical for GPT sites.
To help you make a better decision, let's finish this review by summing up its pros and cons.

Pros:
Has several earning opportunities
Low payout threshold
Plenty of gift cards to choose from

Cons:
Low rewards
No cash payment available
Limited to US, UK and Canadian residents only
Not very user-friendly
If you are not aware during the sign-up process, you agree to receive A LOT of promotional calls
While ClickPerks has a low payment threshold of $3, its low rewards simple isn't very appealing.
You will definitely have to invest quite some time in order to earn a significant amount of rewards, and overall the site is just not very user-friendly and there is a lot of info missing.
It can certainly be a viable option for you as an extra site and as a way to earn a bit extra. But you definitely need to be aware during the sign-up process so you know what you agree to and do not end up receiving tons of promotional calls without being aware of it.
So, if you are looking to earn money on GPT sites the best possible way, I recommend you check out the top GPT sites that pay really well.
You can find way better opportunities from that list and all those sites are a lot more user-friendly.
If you have any comments, questions, or have any experiences with ClickPerks yourself, I would love to hear from you in a comment below.