One good way to earn extra cash is to do online micro-tasks from websites. That is of course if you join a legit site that does pay you for doing these tasks.
One site that promises to pay you for doing such tasks is CoinWorker. But is CoinWorker a scam? Or is it a legit micro-task site?
This is a logical question to ask. After all, you need to make sure it is a legit site before joining. So, let me just answer it right away so we can proceed to talk about other important aspects of the site.
No, CoinWorker is not a scam. It is a legit micro-task site that does what it claims to do. But this doesn't automatically mean it is a good idea to become a member of this site.
In order to figure out if becoming a member of CoinWorker will allow you to earn a decent amount, we have to take full stock of what it has to offer. This CoinWorker review will do exactly that so you can easily see if it is really a good fit for you or not.
What is CoinWorker and what does it offer?
CoinWorker.com, as stated above, is a micro-task site that will pay you for completing the tasks on their site.
But let me just inform you right away, if you were hoping to earn real cash from this site, you will be slightly disappointed.
CoinWorker only pays in Bitcoins. Although it can be considered as real money, there is still no substitute for the real thing.
But if you don't mind earning Bitcoin, then it would be best to take a closer look at how you will be able to earn from this site before you decide if you should join or not.
So, here's how you can earn from CoinWorker.
The earning opportunity – Jobs
Jobs are basically just tasks you can do to earn rewards. It's pretty similar to the jobs offered on Online Micro Jobs, but with one key difference.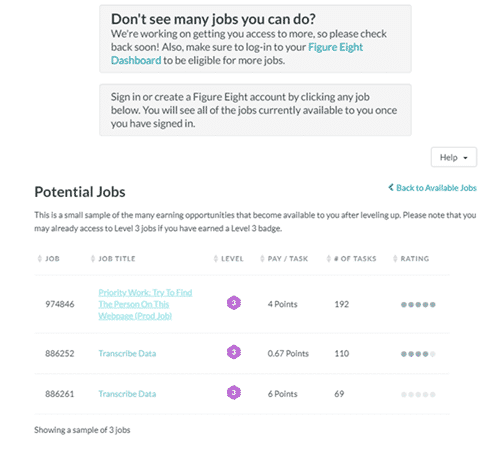 The main difference in the jobs offered on CoinWorker is that it doesn't come from the site itself, but it is instead Figure Eight tasks you get access to.
Figure Eight (formerly known as CrowdFlower) is a crowdsourcing company that helps large corporations, startups, and research projects provide the needed manpower.
So, basically, CoinWorker only acts as a job router since the jobs will come from Figure Eight. The jobs available will vary from time to time.
Some jobs will ask you to sign up to a website, transcribe or gather data, data encoding or basically just about anything they will need. Each job offer will indicate how many points you will receive as a reward.
Once you've decided to do a job offer, just click the offer and it will show you the things you need to do. It is important to follow the instructions down to the letter because if you don't follow the instructions properly, you won't receive the reward.
CoinWorker has a minimum accuracy threshold you need to meet. If you fall below it, you will no longer be allowed to continue working on that job.
It will take some time before the reward will be reflected in your account because the sponsor who posted the job offer will have to review your work first.
One thing I can say about this earning opportunity is, it isn't really very profitable, in my opinion. There won't always be job offers available. So, earning on a regular basis is not possible.
If you are looking for sites that will allow you to earn regularly, I suggest you check out the link below.
How do you get paid?
As you may already know, CoinWorker uses Bitcoin as its currency. Every job offer you complete on CoinWorker will reward you with points.
Then, think of the points you've accumulated as exactly equal to United States Dollar cents. So, that means 1 point is equal to USD$0.01.
It will then be converted to Bitcoins by prevailing BTC/USD exchange rates at the time the payment will be issued into the Bitcoin network.
You will see the conversion rate if you hover your pointer over Bitcoin values in any earnings log to see.

In order to request for payment, you will have to accumulate 200 points (as shown in the photo above).
Once you've reached the payout threshold, you can request payment by providing your Bitcoin address. To get a Bitcoin address, you will have to sign up for a Bitcoin network provider (i.e. Coinbase).
Once you've requested for payment, it will then be credited to your Bitcoin network account within the next 24 hours.
If you don't have a Bitcoin wallet or don't plan to get one, this site will be pretty useless for you. I suggest you check out the top survey sites that pay via PayPal instead.
The survey sites on this list will allow you to withdraw your earnings conveniently via PayPal.
And if you would like to earn Bitcoin, there are just simple sites that give Bitcoin as a reward with a lot better opportunities.
How much money can you make?
The amount of money you can make on a site can be the determining factor on whether you should sign up or not.
In theory, the more jobs you do, the more money you can make. But that will only be possible if there are plenty of job offers available.
This, in my opinion, is the main drawback of this website. Typically, with Get-Paid-To or survey sites, once you become a member, you will see plenty of available offers.
In CoinWorker's case, it's a bit different. You won't see any job offers available. They will only tell you that they are working on getting you access to more job offers and to check the Figure Eight dashboard if there are any available offers.
So, right from the start, there's really little, to no chance of earning points, which is a bad sign, in my opinion. That means you will have to wait a long time in order to reach the threshold and request for payment.
All in all, the earning potential of CoinWorker is pretty low. There are plenty of other sites that offer better ways of earning a bit of extra cash.
Figure Eight tasks can, in general, be great to do but they take patience as the rewards at first are low but will build up as you gain more trust.
However, they are, in my experience, a lot better to take on a platform like ySense, as you there get some great bonuses for the tasks, there is a Figure Eight contest, and you have many other ways to earn.
So CoinWorker is definitely not the most effective way to earn with Figure Eight tasks, in my experience.
Can you use it on mobile?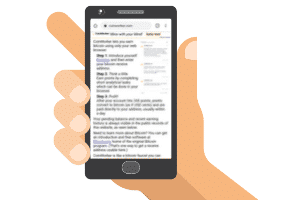 CoinWorker doesn't have a mobile app you can download on your mobile device so you can work on job offers even when you are not in front of the computer.
However, you will be able to access their site using a mobile web browser. The site is optimized for mobile use so you don't have to zoom in to read the content.
But let me just tell you that the design of their site doesn't look good on a mobile device, in my opinion.
Plus, if you notice, their site is still in beta testing. The problem is, longtime members say that this has been the case since 2012. So, there really hasn't been any improvement, which shows that they don't really put that much effort into the site in the first place.
And considering the nature of the task you need to do, I don't really recommend you work on job offers on your mobile device. In my opinion, it is best done in front of a computer.
Who can join CoinWorker?
There is no restriction in terms of location as to who can join CoinWorker. You will be able to register as a member regardless of where you live.

Their registration process is pretty simple. All you have to do is fill out their registration form and once you receive the activation link in your email, just click it and you are good to go.
However, once you log in to the site, you will be asked to provide your Bitcoin address. You have to make sure you provide this because this is the only way you will get paid on the site.
Can you get support?
If you have any questions you need to ask, you can check out their FAQ page first to see if you can find the answers you are looking for.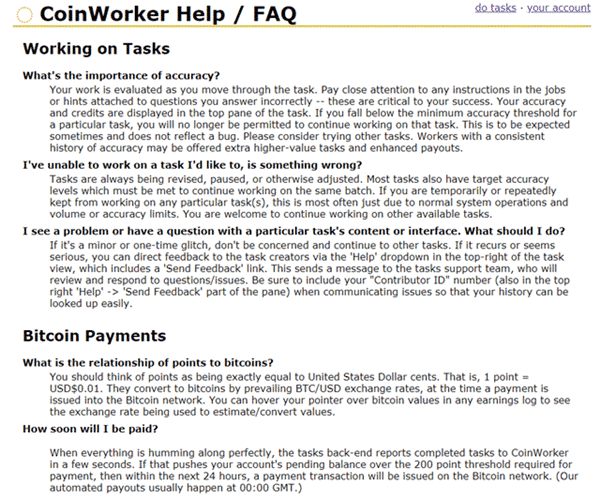 If that doesn't help, you can message them on Twitter. Their Twitter handle is @CoinWorking.
In my opinion, although they do provide a way for you to get in touch with their support team, it is a bit inconvenient since it will require you to have a Twitter account first.
It's only convenient if you already have a Twitter account. So if you don't have one, I suggest you sign up to Twitter first before you sign up to CoinWorker just in case you need to contact their support.
Final Verdict
CoinWorker is an online micro-task site that will pay you for completing their job offers.
There's really not much to consider about this site, but let's still finish this review with a summary of its pros and cons to give you an overview of what it can offer before you decide to join or not.

Pros:
Easy to register
Available globally

Cons:
Limited earning opportunities
Low rewards per task
Limited payment methods offered
As I've said, there isn't really much to say about CoinWorker. Even though you can potentially earn on the site by completing their job offers, you won't really be able to earn a decent amount from it.
This is mainly due to the lack of offers available. It will take a long time to reach their payout threshold. When you are looking for sites to earn extra cash, you always have to look at the availability of earning opportunities.
Ideally, you will want a site that offers plenty of earning opportunities. That way, you can earn on a regular basis and CoinWorker really doesn't offer that.
That's why it, in my opinion, it is best you spend your time on other sites that will allow you to earn on a regular basis. I recommend you check out the top survey sites in your country instead.
The sites on this list all have plenty of earning opportunities you can do so you can earn a decent amount regularly. Plus, you will surely find a site that will fit your needs regardless of where you live.
If you have any comments, questions, or have any experiences with CoinWorker yourself, I would love to hear from you in a comment below.