There's a site called CollectSkins that claims you can earn free CS:GO skins, gift cards, and a lot more.
But before you hit the sign up button, I suggest you do your due diligence first. You need to figure out if this site is legit or if it is just another scam you need to stay away from. After all, you don't want to waste your time on a site that will not really pay you.
That's what this CollectSkins review is for. This review will not only verify the legitimacy of the site, but it will also examine everything the site has to offer so you can determine if it is really worth joining or not.
So, let's go ahead and start inspecting what the site has to offer, shall we?
What is CollectSkins and what does it offer?
CollectSkins is a Get-Paid-To (GPT) site that will reward you for doing short tasks. It is indeed a legit GPT site since it will reward you for participating in the earning opportunities it offers.
Now, the question is, is it really worth your time or not?
The best way to answer that question is to examine the earning opportunities this site offers in detail. That way, you'll clearly understand how the site works and how well you can earn from it.
Therefore, I have made a short video that gives you an inside look and shows exactly how to earn from CollectSkins. You can also read all the details below the video:
Option 1 – Offerwalls
The main earning opportunity this site offers is its offerwalls. If you are not familiar with what offerwalls are, they are basically in-site advertising platforms that are designed to promote websites and mobile apps through their paid offers.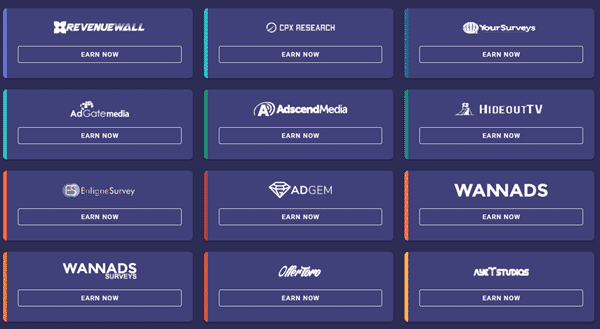 Paid offers are really just short tasks you can do to earn rewards. Usually, these paid offers will ask you to answer surveys, download mobile apps, answer quizzes, play games, watch videos, and sign up to certain websites.
CollectSkins does have a decent number of offerwalls available (more than 10 when I was doing my testing), which is a good thing because it ensures you won't run out of ways to earn.
To earn from this opportunity, just choose which offerwall you want to work on and click it.
You will then be redirected to the paid offers of the offerwall. Just choose which one you want to do and click it. The instructions you need to follow will then be displayed. Make sure to take note of all the steps given and follow them all.
You have to make sure you follow the instructions down to the letter to complete the offer. If you miss one, you won't receive any reward. That's just how paid offers work. So, you have to pay attention to the instructions.
Once you manage to complete the paid offer by following all the steps, you will receive the promised reward and it will be credited to your CollectSkins account balance (I will discuss later what you can do with the rewards).
Option 2 – Referral program
Another way to earn rewards from CollectSkins is to participate in its referral program.
In case you are not familiar with what a referral program is, it is a rewards program designed to promote the website. To receive rewards, all you have to do is invite people to join the site by sharing your invite link.

Once the person you invited clicks your invite link and completes the registration process, they will become your referral. And as shown in the photo above, they will receive a 10% earning boost for the next 24 hours.
On your end, you will receive a 5% commission every time your referral earns something on the site. This commission will not expire and it will always be shouldered by CollectSkins, so it won't be deducted from your referral's earnings.
The reward you will receive isn't that significant but it can be a decent source of passive income provided the people you invite are of course, really interested in earning from this site.
Option 3 – Raffle
Technically speaking, this isn't a guaranteed earning opportunity, but I decided to include this in the review as it still can be a way to get some extra money if you are lucky.
CollectSkins holds weekly and monthly raffle draws where you get to win bonus in-site currency, as well as in-game items.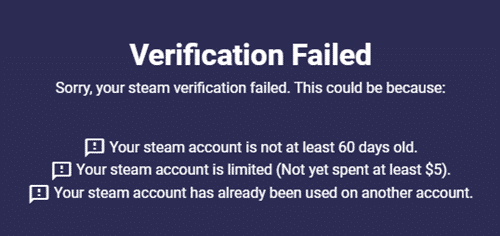 To join their raffle, you have to verify your Steam account by connecting it to your CollectSkins account. And as shown in the photo above, there are a few conditions you need to meet to get your account verified.
You have to spend at least $5 in Steam in order to get your account verified. That's why during my testing, I wasn't able to get past the verification since I haven't bought anything in my Steam account (the games I play are from Blizzard/Activision).
But nevertheless, those are the requirements you need to meet to join their raffle.
Once you meet those conditions, you can then purchase a raffle ticket using the rewards you've earned. Winners will be announced on the same page, so just check back during the date of the draw to see who won.
The typical prize will be 500 coins or certain CS:GO skins.
Recommended: Check Out the Top GPT Sites
How do you get paid?
Every earning opportunity you manage to complete on CollectSkins will earn you a certain number of coins. You can then exchange those coins for various rewards.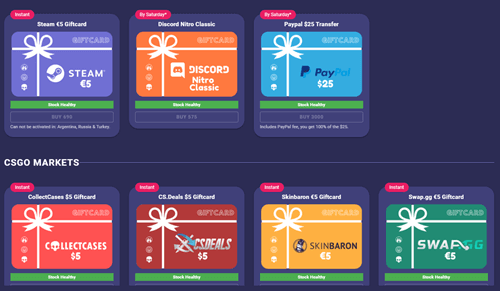 You can redeem gift cards for gaming platforms like Steam or Discord, in-game items for CS:GO , and you can even convert it to cash via PayPal.
However, if you decide to withdraw your earnings via PayPal, the threshold will be quite high ($25). So, it will take quite some time to do this. For other rewards, you'll only need to earn $5.
Their payment system is relatively straightforward. I like the fact that they offer PayPal as an option. The only problem is, as you can see, the threshold is quite high. If you are looking for sites that have a low payout threshold, I would recommend you check out the fastest paying sites instead.
How much money can you make?
The amount you can earn from a GPT site will mostly depend on the availability of the earning opportunities it offers and how well the site pays. In my opinion, in terms of availability of opportunities, CollectSkins still has a long way to go.
There are simply far better GPT sites you can join that offer more opportunities than CollectSkins. Now, as for how well they pay, it's pretty decent. You will typically earn around $0.1 to $0.4 per offer you find on their offerwalls.
It's what you would expect to earn from offerwalls. So, it's not really groundbreaking or anything special for that matter. But they do have a system where you will receive perks the longer you keep being an active member of the site.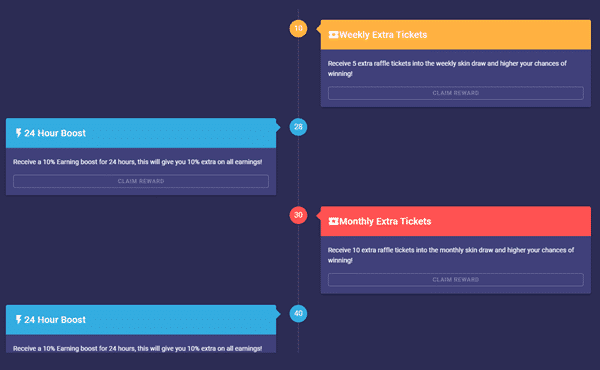 The perks you will receive are designed to help you earn more. But it still won't drastically change the amount you can earn from the site. So, in terms of earning potential, I would say CollectSkins doesn't really offer good earning potential.
However, there's one thing I can say; if you are into CS:GO skins, this is one of the best sites to get them without having to spend your own money (Freeskins is another great option for this). So, if your whole goal is to just get free skins for CS:GO, then, by all means, go ahead and join this site. But if you want to earn extra cash, you are better off joining other GPT sites.
Can you use it on mobile?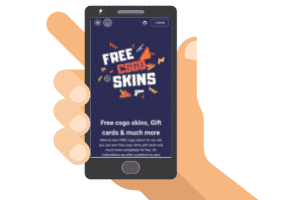 CollectSkins doesn't have a mobile app, but you can access their website from a mobile device using a browser. And the good thing is, their site is optimized for mobile use. So, you can easily navigate through the site and read all the content without zooming in.
This can come in handy when you want to work on paid offers that will ask you to download mobile apps. But apart from that, it would be much more convenient to work on this site on your laptop or desktop simply because working on it will involve opening a lot of browser tabs.
And doing that on a mobile device can get quite tiresome and annoying. But if you don't mind the hassle of closing browser tabs on your mobile device, then by all means, use it on your mobile.
Who can join CollectSkins?
CollectSkins is available globally. That means you can register as a member regardless of where you live.

When you sign up, it will ask you to sign up using your Google account. Unfortunately, this is the only sign-up option they offer. So, before you decide to register, you have to make sure you have a valid Google account.
Plus, as I've mentioned earlier, you will need to verify your Steam account to take advantage of some of the features offered by CollectSkins (like their weekly and monthly raffle for example). So, to summarize, you will need a Google account, as well as a Steam account to make full use of CollectSkins.
Can you get support?
The site doesn't have a FAQ page you can check out if you have any questions about the site or your account. But they do have a discord server you can join so you can ask any question you want to ask there.
You can also just submit a support ticket by logging in to the site and going to their "Help & Support" section. Overall, I would say they do provide a decent support system for their members since they offer several ways for you to get in touch with their support team (you can also email them at support@collect.family).
But I do wish they had a dedicated FAQ page that would discuss most of the common topics you need to know about the site. This would significantly improve the overall user experience.
Final Verdict
CollectSkins is a legit GPT site that will reward you for participating in the earning opportunities it offers. It has a couple of good features, but it also has some limitations you need to be aware of.
But let's finish this review by summing up its pros and cons to give you a better overview of what the site has to offer so you can decide if this is really a good fit for you or not.

Pros:
Offers payment via PayPal
Offers a lot of CS:GO skins
Available globally

Cons:
Limited earning opportunities offered
Fairly low rewards
There are a couple of conditions you need to meet to get the most out of the site
If you are looking to earn extra cash, CollectSkins, in my opinion, is not the best way to do it. There are simply far better choices out there. For a GPT site, its earning opportunities are quite limited. Plus, the payout threshold will be quite high if you want to withdraw your earnings via PayPal ($25).
But if you are just looking for free CS:GO skins, then this is a good site to join. It has a huge catalog of CS:GO skins you can choose from. That's why I would say this site is not for everyone. If you are a CS:GO player, I would definitely recommend you check out this site.
But if you are simply looking to earn extra cash online, I would instead recommend you check out the top survey and GPT sites in your country. The sites on this list all have good earning potential and you don't have to jump through hoops to access the full features of the sites.
If you have any comments, questions, or have any experiences with CollectSkins yourself, I would love to hear from you in a comment below.