CVS Advisor Panel is a survey site that promises to reward you for completing their surveys.
It's one of the more specific survey sites (I will explain later). If you've come across this site, you're probably wondering if it is legit and really a way to earn rewards?
Let me just tell you right away, yes, this is a legit survey site. But this doesn't automatically mean signing up as a member will be the best way to spend your time.
This CVS Advisor Panel review will tell you everything you need to know about the site, so you can decide if it is really worth it to become a member.
So let's get to the review then.
What is CVS Advisor Panel and what does it offer?
As mentioned, the CVS Advisor Panel is a survey site that will reward you for completing their surveys.
What's unique about this survey site is, it will only cater to customers of CVS Pharmacy.
So if there isn't any CVS Pharmacy near you, I would recommend you stop right here because only customers of CVS Pharmacy that are ExtraCare members will be able to join this panel (You can then check out other survey sites in your country instead).
But if you do shop regularly at CVS Pharmacy, or there is a CVS Pharmacy near you, you might be interested in this survey site.
To fully understand what this survey site has to offer, we have to take a closer look at how you will be able to earn rewards from it.
So let's proceed to how you can get rewards from this survey site.
The earning option – CVS surveys
With CVS Advisor Panel, you only have one way to earn rewards; and that is through answering their paid surveys.
The purpose of their paid surveys is to solicit customers' input about CVS pharmacy stores and the products and services they offer.
They do this to obtain your suggestions on how they can improve CVS. So you can expect the surveys will be more about their stores, products, and services they offer.
For every survey you complete, you will receive a reward (which I will discuss later).
Normally, the reward will depend on how long it takes for you to complete the survey or how complicated the survey is.
Now, I'm not so sure about how they conduct their survey process because there's no information about it on their website and they are already a pretty specialized type of survey site.
But normally, you will be asked a set of pre-qualifying questions first before you can proceed to the actual survey. This is done to make sure you indeed belong to the demographic the survey is targeting.
Once you finish answering the pre-qualifying questions, if you qualify, you will then proceed with the actual survey.
If you don't qualify, however, at least you will be notified right away so you won't have to waste your time answering a survey you won't get rewarded with.
The survey invite will include the reward you will get for completing the survey so you know before starting what you will get for it.
You will receive an email invitation for the survey or you can see it in the member dashboard once you log in to their site.
How do you get paid?
Now that you know how to earn rewards from CVS Advisor Panel, the next thing you need to understand is how they will pay you.
If you were expecting to earn real money from this survey site, then, unfortunately, you will be disappointed. You will only be able to earn ExtraBucks coupons as a reward.

ExtraBucks is the currency they use. It can only be used if you are an ExtraCare member of CVS Pharmacy.
Think of ExtraCare as the loyalty program of CVS Pharmacy. If you are an ExtraCare member of CVS Pharmacy, you will receive 2% back for every purchase you make at a CVS store.
But you won't receive the 2% as cash though. It will only be reflected in your ExtraCare account so you can use it on your next purchase.
So for example, if you bought something worth $50, you will get $1 which will be credited back to your ExtraCare account.
You can use that $1 for your next purchase. You can then use ExtraBucks as a supplement to your payment for any purchase you make in their store. So, if you've accumulated a lot of ExtraBucks reward, you can actually get products without having to shell out your own money.
A great aspect of CVS Advisor Panel is that you will receive your reward for completing the survey right away. They don't have a payment threshold you need to reach in order to receive or redeem your rewards.
The ExtraBucks you earn will be available to you on the date specified in the survey initiation email.
This can be in the form of self-printable ExtraBucks coupons which will be emailed to you immediately after you complete the survey.
How much money can you make?
Technically speaking, you won't be able to earn any real money from CVS Advisor Panel.
But as I've mentioned, it can be as good as real money because you can use it to pay for your purchase in any CVS Pharmacy. However, it is, of course only relevant if you regularly spend money there and need these coupons.
The earning potential from this site though will still depend on how often you will receive a survey invite, the amount of reward you get per survey, and the actual number of surveys you complete.
The average reward you get for completing a survey will be around $5 worth of ExtraBucks.
Shorter surveys will reward you with around $2 worth of ExtraBucks and the longer ones will be around $10-$15.
In my opinion, the rewards you get from completing their surveys are relatively high, which pushes the earning potential of this survey site a bit.
But then again, the rewards you will get will only be valid in CVS Pharmacy, which makes it quite a limited survey site in terms of earning opportunity.
If you are looking for survey sites that will allow you to earn money and conveniently receive them, I recommend you check out the top survey sites that pay through PayPal.
Or if you want extra ways to earn rewards for CVS Pharmacy, you can also join a survey site as Toluna Influencers as this has quite a lot of surveys and one of the rewards you can choose is CVS Pharmacy gift cards – so this can be a way to get more earnings you can spend there.
Can you use it on mobile?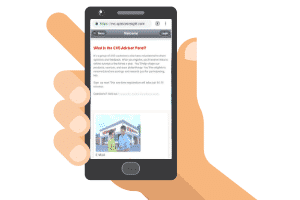 There is no mention on their website about a CVS Advisor Panel app you can download and install on your mobile device so you can work on answering surveys even when not in front of a computer.
But, you will be able to access their site using a mobile web browser.
The good thing is, the mobile version of their site is optimized for mobile use. That means you will be able to see all the content without having to scroll left and right or zoom in and out.
This will allow you to answer surveys as soon as you receive the invite. Plus, it makes you more efficient at racking up those rewards.
Who can join CVS Advisor Panel?
Seeing as this site only caters customers of CVS Pharmacy, this makes it a more limited option, in my opinion.

As shown in the photo above, you can only register if you are also an ExtraCare member.
That's because the registration will require you to input your ExtraCare number. So if you are interested in joining this panel, you have to make sure you are an ExtraCare member.
To become one, you have to go to your local CVS store and ask for an application. You can also call their hotline (800) SHOP-CVS to register.
You also have to be at least 18 years of age in order to register.
The registration process for CVS Advisor Panel is quite long. It will take you around 10 to 15 minutes to complete it (according to their site). It will be in the form of a survey.
The survey will actually build your profile as a member of their panel so they will know which surveys they can send to you.
It doesn't reward you though for completing this survey, which, in my opinion, would have been better, since it is quite long.
It would have been a nice bonus if they did compensate you even just a little for completing this process.
Can you get support?
How you will be able to contact their support team can be a good measuring stick to gauge the value of a survey site.
Most good survey sites have a good support system in place which makes you as a member feel sort of comfortable because you know you will always get help if ever you encounter any problems.
In my opinion, CVS Advisor Panel does have a decent support system in place, but their FAQ section could use a little more work because it's not as comprehensive as you would hope it to be.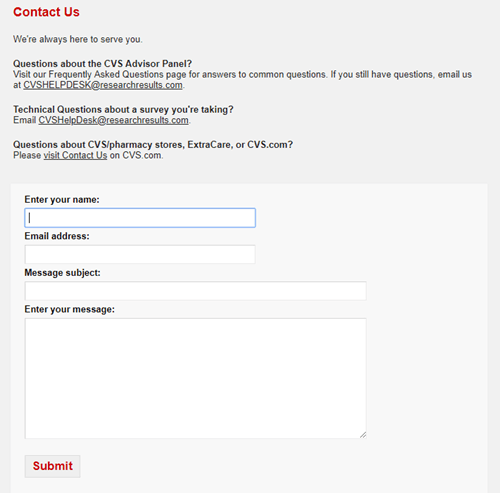 As shown in the photo above, they do have a contact form you can use if ever you have any questions. You can also opt to just email them using the email address provided.
I also took a look at their social media pages because some people prefer to contact sites through that kind of platform.
They do link to a Facebook page, but it is not for the survey site. They linked it to the actual Facebook page of CVS Pharmacy.
So, I'm not sure if you are able to request support through that platform. They might just refer you back to the contact page of the CVS Advisor Panel.
Overall, their support system isn't bad, but it isn't very good either. At least, they provide you with a way to contact their support team.
Final Verdict
CVS Advisor Panel is a legit survey site that will reward you for completing their surveys. But it does have its limitations.
To help you decide if this survey site is for you or not, let's finish this review with a summary of its pros and cons.

Pros:
Relatively high reward for each survey completed
No payment threshold
You will receive your reward immediately after completing their survey

Cons:
Only available for CVS Pharmacy customers
Won't allow you to earn real money
Limited earning opportunities
The major drawback of this survey site is, it is pretty limited in terms of who can join and the rewards you will get. Although the rewards are relatively high, you will only be able to use it if you shop regularly at a CVS Pharmacy.
If you do though, this can be a good site to join because you can save a significant amount of money using the rewards you earn from the site.
If you are looking for a survey site though that will allow you to earn rewards that can be used anywhere or just want to earn real money, I suggest you check out the top survey sites in your country instead.
This list will have plenty of survey sites you can choose from and every site offers good earning potential. Plus, you will be able to find a site regardless of where you live.
If you have any comments, questions, or have any experiences with CVS Advisor Panel yourself, I would love to hear from you in a comment below.