Are you looking for a site that gives you freedom to earn extra cash when and where you want? DiDi Job promises you can do so when you become a member of their site.
But is DiDi Job legit and can it live up to its promises or is it a scam to stay away from?
Well, this DiDi Job review will answer that question and a whole lot more. It will focus on revealing the full truth about what the site has to offer so you can determine if this site is worth joining or not.
That way, you will know what to expect before you even hit the sign-up button. And let me just reveal right away that there are some important details you NEED to know before joining.
So, let's go ahead and take an in depth look of DiDi Job.
What is DiDi Job and what does it offer?
DiDi Job is basically a Get-Paid-To (GPT) app that offers a couple of ways for you to earn rewards. It is a GPT app that will pay you for participating in the earning opportunities they offer.
At first, it can seem like a very appealing way to make easy money online. But there is more to it than that as I will go into in this review.
I have made a video that gives you an inside look and show all the details and exactly how you can earn on DiDi Job. You can also read all the details below the video:
Option 1 – Tasks
DiDi Job only offers one way for you to earn and that is by doing tasks. You would think that these tasks will ask you to do various things like you would usually encounter on other GPT sites and apps.
But, in reality, the only task you have to do is to create a post on social media pages.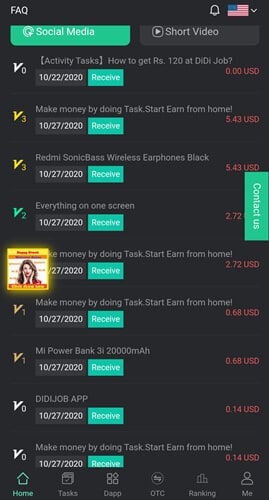 Let me explain how their tasks work. When you log in to the app, you will immediately see all the tasks available for you. Every task will have a corresponding membership level required to complete it.
For example, in the photo above, the "Everything on One Screen" task requires you to be a VIP 2 to work on it (I will talk about how to upgrade your membership later). If you are a VIP 2 member, you can click the receive button to view the details of the task.
Once you do that, it will show you the text you need to copy and the images you need to upload for your social media post. To complete the task, you have to create a post on either Facebook, Instagram, Twitter, or ShareChat using the exact text and images shown in the task.
The post must be visible to everyone, so you need to set it to public. It also has to be kept a minimum of 2 hours. If you delete it before the 2 hours has passed, it won't count.
Once it is posted on your social media page, you have to take a screenshot of it but you have to make sure the screenshot will include the time on your phone. You will then have to submit the screenshot as well as the link to the post for verification.
Once DiDi Job confirms you have done the proper steps, they will award you with the specified amount for the job.
So really, the only thing you need to do is pretty simple. You just have to create posts on social media. You do need to take note of the instructions to ensure you will receive the reward.
However, all of the posts are basically just promotional posts for DiDi Job. And some of them are making some very exaggerated claims, in my opinion.
Personally, I would never post these ads on my social media pages as they are a bit spammy, in my opinion.
And I do not really like that it seems the only way you can really earn is by posting ads for DiDi Job itself.
That just seems strange and it also raises a red flag when you then look into what you need to do to get the higher paying jobs, which we will go more into later.
Option 2 – Referral program
You can invite your friends and other people to join the app using your invite link or code. Once they sign up to the app using your code or link, they will become your referral.
You will then receive a referral commission. Or at least that is usually how referral programs work. But unfortunately, their site really doesn't specify how much you will earn for every referral.
So I am not sure if they will even pay you a commission. This is just one of the many things that are not completely clear on DiDi Job.
How do you get paid?
Every task you complete will earn you a certain amount. But, unlike other GPT sites/apps, the amount you will earn won't really be the amount you can withdraw or redeem. Their reward system is a bit more complicated than that.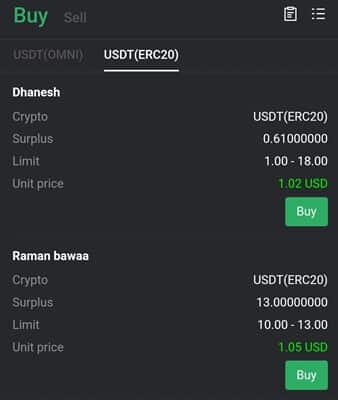 You see, in order for you to actually have money you can withdraw, you have to purchase USDT from the vendors on the app (refer to the photo above). If you are not familiar with USDT, it is actually a cryptocurrency whose cryptocoins in circulation are backed by an equivalent amount of traditional fiat currencies, like the dollar. It is more commonly known as Tether.
So, the reward you will earn from a task have to be used to purchase USDT so you can withdraw your earnings (or use it to upgrade your membership level). I know it's a bit confusing, so let me simplify it for you.
You do tasks to earn currency you can use to buy USDT from vendors on the app. Then, once you've bought USDT, you can then withdraw it to your USDT wallet. You don't need to reach a threshold to withdraw your earnings to your USDT wallet. As long as you have USDT in your account, you can withdraw it anytime.
Now, since you have to buy USDT, the typical strategy of most members on DiDi Job is to buy from the vendor with the lowest rate. Since the rate actually fluctuates, you can't really expect that every USDT you buy will cost the same. So, you also have to consider when to buy USDT if you want to maximize your earnings.
Their reward system is a bit complicated because you have to factor in several things. Plus, it only offers one reward option. So, if you don't have a USDT wallet, then you will have to create one first before you join this app.
If you are looking for a more convenient way to withdraw your earnings, I would recommend you check out the top sites that pay via PayPal instead.
How much money can you make?
To figure out if the app is worth using or not, you mostly have to consider its earning potential. And the earning potential of this app is dictated by the availability of tasks you can do and how well they pay.
Compared to other GPT apps, DiDi Job really doesn't have a lot of tasks available. Plus, you can only complete 2 tasks per day regardless of your membership level. As for how much you can earn per task, it will also depend on your membership level.
VIP 0 tasks pay less. Typically, you will only earn $0.14 per task if you are a VIP 0 member or sometimes even nothing.
When you upgrade your membership level, the reward will be increased ($0.68 for VIP 1, $2.72 for VIP 2, $5.43 for VIP 3). So, the app really pushes you to upgrade your membership, and I mean that literally.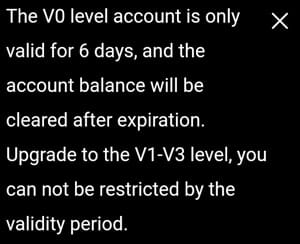 You see, when you sign up to DiDi Job, you will be a VIP 0 member. What they don't tell you right away is, you actually only have 6 days to earn if you are VIP 0 member.
As you can see in the photo above, after the 6 days has passed, you will lose everything that you've earned unless you upgrade to VIP 1, 2, or 3.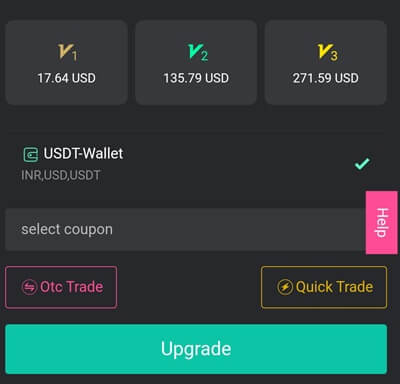 As mentioned earlier, to upgrade to a certain membership level, you need to buy a certain amount of USDT and use it to purchase your membership upgrade. As shown in the photo above, a VIP 1 membership will cost $17.64. So, you need to buy USDT that will be equivalent to that amount.
And if you do the math, you won't be able to earn that much within 6 days if you only rely on your earnings from tasks.
It's a pretty high amount to reach, in my opinion. And that is just for the cheapest of the memberships. Level 2 costs $135.79 and level 3 $271.59.
So when you first take a look at the rewards you get for seemingly simple tasks, it can seem very appealing. But when you dig deeper, it really is not very appealing, in my opinion.
You will have to pay A LOT of money to be able to get decent rewards. And then all you will do is to promote that same program to other people to earn.
Seems like a good business model for DiDi Job but definitely not for you, in my opinion.
So in reality the earning potential is very low and the whole system of the platform seems risky to participate in, in my opinion.
I would definitely clearly recommend you NOT to pay for an upgrade.
Can you use it on a desktop?
Although DiDi Job is mainly a GPT app, you can actually log in to their site from a desktop or laptop. And since you really only need to do social media posts, it is certainly doable from a desktop or laptop.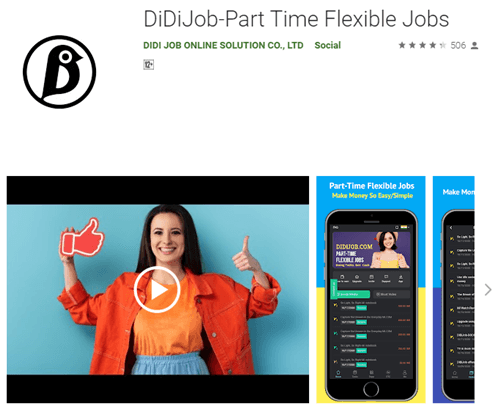 But if you just want to use the app, you can download it either from the Google Play Store or Windows app store.
So, if you are an iOS user, you will have to log in to their site using a mobile web browser.
The good news is, their site is mobile-friendly, so you won't have a hard time navigating through the site and reading the content. Their app is also user-friendly, so you won't have a hard time getting used to it.
Who can join DiDi Job?
You will be able to join their platform regardless of where you live.
However, DiDi Job only supports currency from India, Vietnam, Thailand, Indonesia, Malaysia, and the US. So, if you live in a country that isn't mentioned above, your only currency option will be USD or USDT.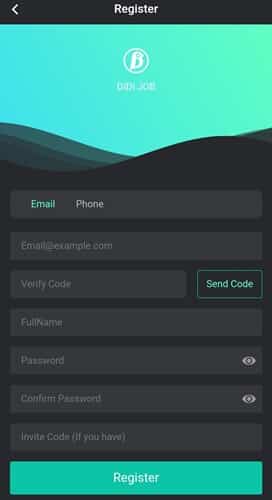 To become a member, you can sign up using your email address or mobile phone. Just fill out the form and click the send code button to have the verification sent to either your email address or mobile phone number. Once you have the verification code, just input it in the appropriate field and complete the sign-up process.
When you are done with that, you can log in to the app or site and start completing tasks. But remember, you only have 6 days to earn from this platform if you don't upgrade your membership level.
Can you get support?
The one thing I noticed about their site is, it lacks quite a lot of relevant information.
For example, they don't have a privacy policy page as well as a terms and conditions page. If you find that suspicious, then I don't blame you because most sites really have those pages.
It is important to be transparent with your policies and terms. Plus, if you have basic questions about DiDi Job, you can't really get to their FAQ page unless you log in to the site or app. This, in my opinion, is just poor website design.
If you can't find the answer you are looking for on their site, you can join their Telegram page to get in touch with their support team. The links can be found at the bottom of their homepage. You can also email them at official@didijob.com for your inquiries.
Overall, I would say they have a decent support system in place but I do wish they would be a bit more transparent and have their privacy policy and terms & conditions readily accessible.
Final Verdict
DiDi Job is a GPT app that will pay you for completing tasks. It has a couple of interesting features but it also has some drawbacks you need to consider.
So, let's conclude this review with a summary of its pros and cons to give you a better overview of what the site has to offer. That way, you can better decide if it is an app worth using or not.

Pros:
Their app is user-friendly
Offers a very simple way to earn

Cons:
Their free account is only available for 6 days
Limited earning opportunities offered
Limited payment options available
Their site is not as transparent as you would hope
Their memberships are very expensive
You can only earn by promoting the site itself
In my opinion, DiDi Job isn't an app I would recommend you use. This is mainly because you will essentially have to spend money to earn on a long-term basis and some of their memberships are very expensive. The fact that their free account will only last 6 days is really a big no-no for me.
In addition to this, the content you have to post on your social media channels make exaggerated claims and is spammy, in my opinion. And all it really does is to promote DiDi Job.
Plus, they only offer one payment option which can severely affect the flexibility of withdrawing your earnings.
The fact of the matter is, there are simply better options out there that have a less complicated payment process and ones that won't force you to upgrade to earn extra cash on a long term basis.
That's why I would suggest you check out the top survey and GPT sites in your country instead. The sites on this list all have good earning potential and they won't require you to upgrade your membership to earn on a long-term basis.
Plus, you can also find a site you can join regardless of where you live.
If you have any comments, questions, or have any experiences with DiDi Job yourself, I would love to hear from you in a comment below.