Do you love hanging out in forums? Or do you often participate in forum discussions?
Then there's a forum called Dimeforum that promises you will be able to earn by simply participating in their discussions.
But is Dimeforum a scam or really a legit way to earn some extra cash simply by participating in discussions?
I have joined to test it myself to see what you really get as a member and in this Dimeforum review, I will show you everything I found – both the good and the bad (and it definitely has both).
That way, you will be able to determine if this site is worth joining or not. So, let's start the review, shall we?
What is Dimeforum and what does it offer?
At its core, Dimeforum is a Get-Paid-To (GPT) site that will pay you for creating forum threads and posts. It is indeed a legit site that does pay you for being active on the forum.
However, earning from this site isn't as simple as creating a post or thread.
There are a few guidelines you need to follow. So, let's examine the earning opportunities this site offers closer so you can understand how well you can earn from this site and if it really is a great opportunity or a waste of time.
Option 1 – Thread posting
One way to earn from this forum, as mentioned above, is to post a thread. To post a thread, simply select a forum discussion (refer to photo below).
Once you've selected a forum, just choose a topic for your thread. Now, this is important. You have to make sure your topic is unique because any duplicate thread will be deleted and the reward you earned for it will be deducted from your account.
You will earn 50 dimes (the currency they use) per new thread you post. But, it has a limit though. You can't just post as many threads as you want and earn 50 dimes every time.
You will only get credited for 5 threads every 3 hours. This restriction is due to increasingly and intentionally poor content being submitted. Having restrictions like this eliminates the strategy of spamming posts.
You also have to make sure the threads you post are talking about a subject related to the forum you are posting it in. Otherwise, it will just be deleted and the reward you earned will be deducted from your account balance.
Your thread post must also have at least 150 characters to receive the rewards. So, as you can see, you can't just randomly post threads to earn. You have to put in a bit of effort to earn.
Option 2 – Replying to threads
You will also be able to earn additional rewards by replying to threads that are posted. You will earn 0.10 dimes per character for every new reply you post.
But again, there are a few guidelines you need to follow. First, a reply must have at least 150 characters for you to receive the rewards.
And secondly, it must be sensible and related to the subject of the thread. Failure to follow these two guidelines will not allow you to receive any reward. Plus, you can only get credited for 6 posts every 3 hours.
Option 3 – Reporting posts, unsolicited messages, and spam
This earning opportunity is basically designed to help the forum moderators regulate the posts and ensure that the overall quality of Dimeforum is in tiptop shape.
You will be able to earn 100 dimes for every thread, reply, unsolicited message, or spam message you report.
Of course, you can't just report just to earn. For threads and post, you can only report those that are not following the guidelines like if they are off-topic or flaming other members of the forum.

To report a post or thread, simply click the report button found on the lower left-hand corner of the post (refer to the photo above). You then have to indicate the reason for the report.
The admins and moderators of the forum will have to check the report to see if it is valid before you will receive the reward. You will earn 100 dimes for every successful report you make.
Before you start reporting though, I suggest you read and understand the posting rules and guidelines so you'll know what to look for.
How do you get paid?
As explained above, every activity you complete on Dimeforum will earn you a certain number of dimes.
Think of dimes as the points you've earned. You can then convert your dimes into cash via PayPal or Coinbase.
If you are not familiar with Coinbase, it is basically a digital currency exchange platform. Think of it as your cryptocurrency wallet.
Now, the payment process of this site isn't like most online rewards sites where you can simply click the redeem button to start the payment process. Let me explain how their payment process works.
Before you can request for payment, you have to earn at least 5,000 dimes (which is equivalent to $5). So, effectively, their payout threshold is $5. Once you've hit the mark, you have to donate your dimes to @shim or @dime.
Then you have to message the person you donated your dimes to and include your PayPal or Coinbase address as well as the amount you've donated. They will then send the payment to the PayPal or Coinbase address you provided.
So essentially, the payment will be done manually. They do say that payments are guaranteed to be sent on any day of the month you requested for payment.
It's not exactly the most convenient way of getting paid, in my opinion. If you prefer a site that offers convenient payment processing, I recommend you check out the top sites that pay via PayPal.
How much money can you make?
The amount of money you can make from Dimeforum will depend on how active you are in the forum. But I would say the earning potential of this site is really quite low. Let me explain why.
As explained earlier, you can only earn from 5 new thread posts every three hours. So, if you are able to post threads (and follow all the guidelines), you will only be able to earn 250 dimes in three hours. That's only equivalent to $0.25, which is quite low.
As for earning for replies, the amount you can earn will vary depending on how long your reply is. But since you are only limited to six replies in three hours, your earnings will still be very limited.
Say for example you managed to post six replies with 150 characters each, that's only 90 dimes which is equivalent to $0.09. So, as you can see, you won't be able to earn a decent amount even if you spend a whole day posting threads and replies.
And it can be quite time-consuming because you need to make sure the quality of your posts and replies are good enough to be approved. If not, you will not get rewarded.
So it is really not an effective way to earn but more a way to earn a bit extra if you like being active in a forum anyway.
Can you use it on mobile?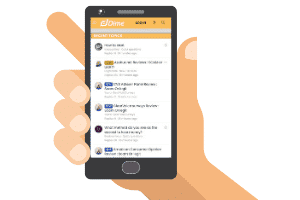 Dimeforum doesn't have a mobile app, but you will be able to access their site from your mobile device using a mobile web browser. The good news is, their site is mobile-friendly, so you will be able to navigate through the site with ease.
You also won't have to zoom in to read all the content properly. This makes it a lot easier for you to post threads and replies from your mobile device. And considering the fact that you will need a lot of time to earn a decent amount from this site, you will definitely need to do this from time to time.
At the very least, Dimeforum makes it easier for you to post threads and replies anytime and anywhere.
Who can join Dimeforum?
Dimeforum is available globally. You will be able to sign up as a member regardless of where you live.
They don't specifically say on their site that you have to be a certain age to join the forum, but since they use PayPal as their payment gateway, you will have to be at least 18 years of age to join.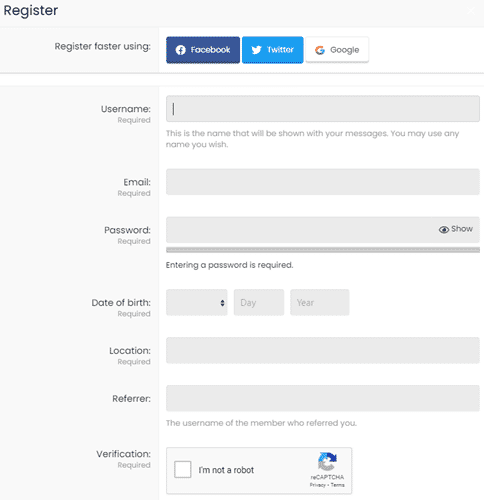 To sign up, simply fill out their registration form. You can also use your Google, Twitter, or Facebook account to register.
Once you've done that, the site will then ask you to complete your profile. Once you are done with your profile, you can log in to the site and start earning.
The site will also automatically set your Avatar and you will receive 200 dimes as a form of sign-up bonus. It's a nice bonus to have considering you will need a lot of dimes to reach their threshold.
Can you get support?
If you have any questions about the forum, you can check out their FAQ page which can be accessed by clicking the Help link at the bottom of their site. It discusses a few basic topics you need to know about the forum.
You can also access their rules and guidelines through that link. So, I suggest you read that before doing anything else on the site.
Now, if you have a question that is not answered in their FAQ section, you can send your inquiry to their support team by going to their contact page. You can also find the link to the contact form at the bottom of their site.
Overall, I would say they do have a decent support system in place for their members. Plus, it's a forum. You can simply post a thread if you need help. Of course, you have to make sure you post it in the appropriate forum.
Final Verdict
Dimeforum is more or less a GPT site that will pay you to participate in forum discussions. It offers a couple of good features but it also has certain disadvantages you need to know about.
So, let me wrap up this review with a summary of its pros and cons to give you an overview of what the site has to offer so you can decide if you should join this site or not.

Pros:
Has a low payout threshold
Offers payment via PayPal
Available globally

Cons:
Limited earning opportunities offered
Low rewards
Payment process is done manually
In my opinion, if you are mainly looking for a site you can earn extra cash from, Dimeforum is not an ideal choice. This is because of the low rewards they offer. It will take a lot of time to earn a decent amount.
It is only worth it if you really like participating in forum discussions as it then can be a way to earn a bit extra at the same time.
But even though Dimeforum has a low payout threshold, you will still have to invest a lot of time to withdraw your earnings. There are simply far better choices around if your main goal is to earn. Their payment process is also a bit behind the times, in my opinion.
That's why I suggest you check out the top survey and GPT sites in your country instead. The sites on this list all have good earning potential and they also offer a more convenient payment process. Plus, you will also find a site you can join regardless of where you live.
If you have any comments, questions, or have any experiences with Dimeforum yourself, I would love to hear from you in a comment below.