If you are looking for ways to earn extra cash online, you have maybe encountered a site called Earnini. This site promises to pay you for viewing ads, doing small tasks, and a lot more.
So, naturally, you would be interested in joining this site because it sounds like it's very easy to earn. But is Earnini legit or a scam to stay away from?
This is a very important concern so let me address this right away. Yes, Earnini is a legit Paid-To-Click (PTC) site that will pay you for doing the activities they offer. Now, is it worth joining? That is an entirely different matter.
And to answer that, we have to look at several things. This Earnini review will show you exactly what the site has to offer so you know what to expect and can decide if it is worth joining or not.
What is Earnini and what does it offer?
As explained above, Earnini is PTC site that will pay you for viewing ads and doing other stuff.
It's a relatively new PTC site but it already has a lot of members. If you are new to PTC sites, they basically allow you to earn by viewing ads every day (PTC stands for Paid-To-Click).
If you want to know more about PTC sites and other types of online rewards sites, you can check out the difference between PTC, GPT and Survey sites.
Now, in order for you to understand how well you can earn from this site, we have to take a closer look at the earning opportunities it offers.
So, here are the earning opportunities offered by Earnini.
Option 1 – Paid ads
Paid ads are the bread and butter of PTC sites. Without it, a PTC site won't be a PTC site. In Earnini's case, there are four types of ads you can view, the Macro ads, Standard ads, Micro ads, and cheat ads.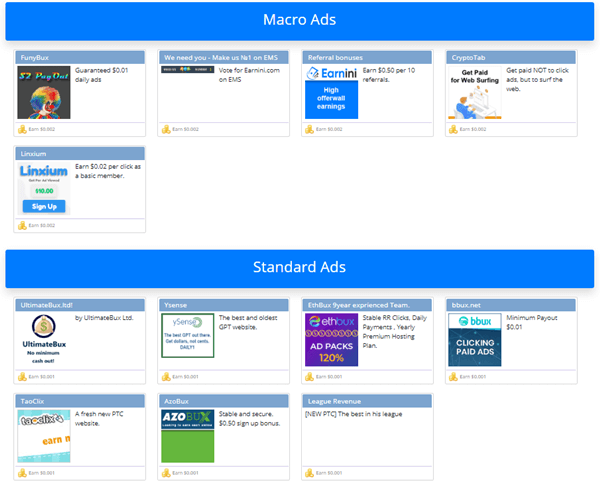 The three ads (Macro, Standard and Micro) are basically the same. The only difference is the amount you will earn from each type.
Macro pays more than the other two. Cheat ads, on the other hand, is their safety net for people who are using auto-clickers.
Auto-clickers are exploits that other people use to earn without having to manually click on the ads. They just let a program do it for you. That's why they place it on the list because auto-clickers will not be able to discern the type of ad they are clicking.
And once they click on the cheat ad, their account might get suspended. So, when you're doing this, make sure to avoid clicking on the cheat ads. Otherwise, the site might think you are using an auto-clicker software.
Before you start viewing ads, it is important you first view the admin ad. You will find it on the same page as the paid ads. Click that ad and wait for it to completely load. You will know when it's done loading because you will see a captcha at the top asking you to click on the right image.
Just make sure to click the appropriate image and you are good to go. You can then start viewing ads. For viewing paid ads, you just need to do the same thing. Wait for the page to load, and then solve the captcha.
Once you've done that, you can close the window and view a new ad. The reward will also be credited to your Earnini account. You need to view at least four ads daily if you want to get a commission from your referrals' earnings (I will talk about their referral program next).
One thing I noticed about their paid ads though is, compared to other PTC sites, the number of paid ads available on Earnini is relatively small. So, there the ceiling for earning from this opportunity is quite low.
Option 2 – Referral program
Speaking of referral program, you can earn additional rewards by inviting other people to join.
Just share your invite link with them and when they sign up using your link they will become your direct referral. You will then get 20% of whatever they will earn from viewing paid ads.
The percentage is pretty high, in my opinion, but the problem is, you only get a commission from the paid ads they view. So, you still can't expect to earn a lot from this opportunity since paid ads really don't pay that well.
However, if you have plenty of referrals, it can add up to a decent amount in the long run.
You also have the option to rent referrals. These are the people who signed up to the site without being invited by other people. I will discuss later how this can impact your earnings.
Option 3 – Paid offers
Another way to earn from this site is by doing paid offers. This is actually the better-paying earning opportunity offered on Earnini.
If you are new to paid offers, they are really just small tasks you can do to earn rewards.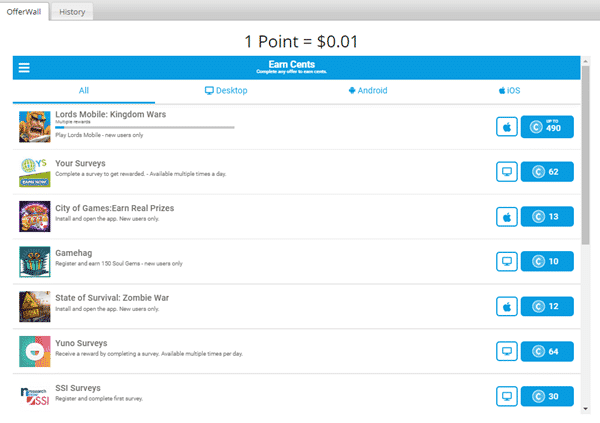 The offers will come from offerwalls and Earnini has plenty of offerwalls available, which is good because it means you won't run out of ways to earn rewards.
The way paid offers on Earnini work is, if you want to do one, just click on it and it will show you what you need to do to complete it.
Typically, the paid offers you will find on their offerwalls will ask you to answer surveys, play games, download apps, answer quizzes or sing up to certain sites. It is important to take note of the requirements needed to complete each offer.
So, before you start working on an offer, make sure you read and understand what it is asking you to do. Otherwise, you'll just wind up wasting your time by not being able to complete the offer. Once you finish an offer, the reward will be credited to your Earnini account.
Take note that their paid offers will reward you with points instead of a certain amount like paid ads do. I will discuss later how you can use your points to claim rewards.
Option 4 – Paid to sign up offers
From time to time, Earnini will have Paid-to-sign-up (PTSU) offers available for you to complete.
These PTSU offers, as the name suggests, will ask you to sign up for a certain website. Then, there will usually be additional steps you need to do to receive the reward.
For example, if you are asked to sign up for a survey site, you will have to answer one or more surveys before you will receive a reward.
So, just like with paid offers, make sure to read the instructions for each PTSU offer carefully.
How do you get paid?
As you already know, Earnini uses two currencies. It uses a point system for its paid offers while it uses actual money for paid ads.
But you can actually combine the two when redeeming rewards. You can convert your points into cash. 1 point will be equal to $0.01.
So, you will need 100 points to earn $1. The threshold you need to reach to withdraw your earnings will only be $2. That's a very low threshold, in my opinion, which is good because it means you will be able to withdraw your earnings a lot easier and faster.
When requesting for payment, you have to option to withdraw it via PayPal or you can choose to withdraw it via Payeer.
I like the fact that they offer payments via PayPal because, in my opinion, that is the most convenient payment method available today.
If you are interested in more sites that pay via PayPal, I recommend you check out the top sites that pay via PayPal.
How much money can you make?
If you read the article on the difference between PTC, GPT and survey sites, then you'll know that PTC sites aren't really the best option in terms of earning potential.
Earnini is no different from other PTC sites. You still won't be able to earn a decent amount without investing a lot of time. That's because their rewards are very low. For paid ads, the most you can earn will be $0.002 per ad viewed.
Paid offers are a bit better because there are some offers that will pay you more than $0.5 and some are even higher.
However, they do offer a way for you to earn more, but as you can probably tell, it will involve having to spend some of your money.

Earlier, I mentioned that you can rent referrals. This is one way to boost your earnings. Renting referrals means you can earn more passively.
Of course, you'll have to pay for every referral you rent. The good thing is, you don't have to shell out your own money for it.
You can pay using your earnings. You can transfer some of your account balance to your purchase balance to pay for the referrals you will rent. But you have to be careful when doing this because you might end up losing money instead of earning.
As the photo above says, Earnini filters the referrals for rent. They make sure the referrals you can rent are those who have clicked at least 30 ads in 4 days. This means the referrals you will rent will at least be active members of the site.
But again, there is still no guarantee you will be able to earn back what you've spent for the rent. That's why before you do this, I suggest you make a solid plan to earn back whatever you've spent.
Can you use it on mobile?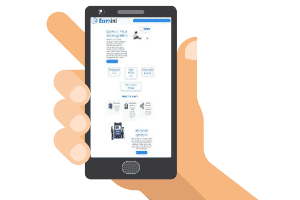 There are some paid offers on Earnini that can only be completed on a mobile device. So, that means you will be able to use the site on a mobile device. However, Earnini doesn't have an app you can download.
So, you have to access their site from a mobile web browser if you want to work from a mobile phone or tablet.
Their site is not fully mobile-friendly friendly though. It will be hard to click on the links without having to zoom in. So, working on a mobile device can be quite inconvenient, in my opinion.
The good thing though is, their site isn't very spammy. In my experience, most PTC sites will have plenty of ads that will pop out of nowhere.
Earnini isn't like that though, which is a good thing. But still, I wish they made their site a bit more mobile-friendly so you can easily earn on the go.
Who can join Earnini?
Earnini is available worldwide. So, no matter where you live, you will be able to sign up as a member.
There is no age requirement mentioned on their website, but in my experience, you have to be at least 18 years of age to be eligible for this kind of site.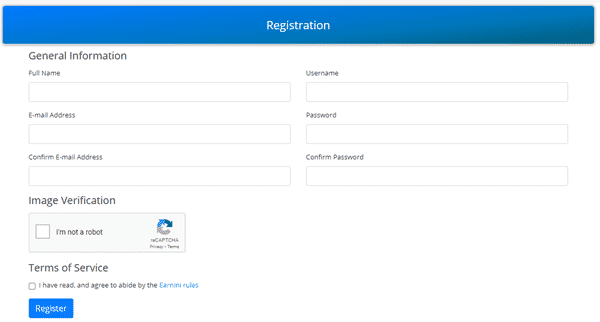 To sign up as a member, all you have to do is fill out their sign-up form. Then, they will email you an activation link. Just click the link and your membership will be completed.
Just remember, the payment processor accounts (PayPal and Payeer) you will be using have to be unique and not shared with another user. Also, you have to log in at least once every 30 days in order to stay active.
If your account becomes inactive, it will be suspended and you will forfeit any account balance, memberships, points, and referral earnings you've earned.
Can you get support?
Earnini has a FAQ page but it's a bit useless in my opinion. It doesn't discuss the basic topics you need to know about in detail.
Fortunately, they use a ticketing system for inquiries. So, it will be easier on your end to track the status of your inquires.
You can also revisit the past inquiries you've made through their system. This can be very helpful if you forgot how to resolve the past issues you've encountered. Overall, I would say they have a decent support system in place for their members.
Final Verdict
Earnini is a legit PTC site that will pay you for viewing ads and doing other activities. It has a couple of good features to offer but it also has some limitations you need to consider.
So let's finish this review with a summary of its pros and cons for a better overview of what the site has to offer. Hopefully, it will help you decide whether you should sign up for this site or not.

Pros:
Offers payment via PayPal
Low payout threshold
Available globally
Not spammy like most other PTC sites

Cons:
Doesn't have as many ads as other PTC sites
Low rewards
Their site isn't fully mobile-friendly
Earnini is a slightly more unique PTC site. Usually, in my experience, PTC sites are quite spammy. But with Earnini, their user interface is quite clean and there aren't a lot of pop-up ads that will appear. That's one thing they've got going.
However, the main drawback of this site is that it really has a low earning potential because of the low rewards you will receive. That's why I wouldn't recommend you join this site even as a secondary site to earn from. There are simply far better choices available.
For a list of sites with good earning potential, I suggest you check out the top survey sites in your country instead. The sites on this list offer higher rewards and you will also be able to find a site you can join regardless of where you live.
If you have any comments, questions, or have any experiences with Earnini yourself, I would love to hear from you in a comment below.