Earnsanity looks like most other get-paid-to sites, at first sight.
But is Earnsanity a scam or a legit way to earn?
Let me reveal right away that I at first thought it might have some potential – especially when looking at some of the positive reviews out there.
So I decided to take a closer look. I found both some things that worried me but also some positive things after testing it and digging deeper.
This Earnsanity review, reveals all the details – including some truths you will not find anywhere else. This will help you understand both some of the very positive but also some of the very negative reviews out there so you can make an informed decision.
IMPORTANT UPDATE: Earnsanity no longer online!
Recently when I tried to go to Earnsanity.com it was no longer online. I have tried several times since to make sure it was not just temporary technical issues but it is still not working as of writing this.
I have also tried to contact the owner of Earnsanity to get an explanation but have not heard back. So it seems the platform is no longer working so you can no longer earn on it or get your earnings out.
As you can see in my original review below, there was some controversy when Earsanity.com first launched – maybe this is what has affected it so it now had to close. I cannot say for sure as I have not been able to get in contact with the owner.
But if you want to earn on GPT sites, you can no longer do it on Earnsanity and have to use other sites instead:
>>>Click to See the Best GPT and Survey Sites in Your Country<<<
What is Earnsanity and what does the site offer?
When you first visit Earnsanity, it quickly becomes clear that it is a GPT (get-paid-to site) where you supposedly can earn by taking surveys and doing other micro online tasks.
Sites like this can be a really great way to make some extra cash on the side. But I always make sure to look deeper into what each site offers because there are, unfortunately, scams out there.
The first time I visited Earnsanity I was a bit concerned that there was no about section where you could read about who is behind the company and when it started, etc.
I mentioned this when I first wrote this review. After just a few weeks, I got an email from the owner of Earnsanity telling me that they had read my review and taken the feedback into consideration and had among other things created an about page.
It is rare you see GPT site take feedback so serious and react so quickly so I was very pleasantly surprised by this and this. So this means you can now see the site was launched in September 2018. So it is still a fairly new site.
But let's start by going over how you can earn on Earnsanity and then after that I will get to some of the confusing info you might find online about the site.
Option 1 – Paid surveys
Paid surveys are usually one of the best ways to earn on GPT sites.
When I first tested Earnsanity I was honestly not impressed by the options I found. But since then they have developed further and added several more options.
They now have a section with different survey routers.

Just be aware that at the time of updating this review, this section is still being developed so there are some small bugs, in my exåerience. But from how I can see they work on the site, it might very well be fixed by the time you read this.
What is great about survey routers is that it usually gives you access to quite a lot of survey options. Just be aware that on survey routers it can also sometimes take some patience to find the survey you qualify for.
Overall, it looks like Earnsanity might develop into a good site to take online surveys. but so far it does still not offer as good options as the top paying survey sites, in my opinion.
Option 2 – Watch videos
Watching videos is often an option on GPT sites. I rarely recommend this option as it usually gives very low rewards.
When it comes to Earnsanity, I do, however, not know how good the option is. You can see there is a video option, but when I tried to enter it, it just said changes were being made and it was not available at the moment.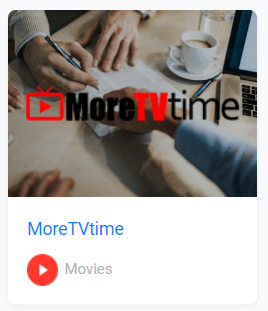 That is likely just a temporary thing, but no matter what, you should not expect to earn big money by watching videos on GPT sites in general.
Option 3 – Invite friends
You can invite your friends to join Earnsanity and earn a commission by doing this.
However, this was another option that said it is being developed and you cannot use it yet.
But the option should soon be available so worth checking it out if you decide to become a member-
Option 4 – Offer walls
Earnsanity has an offer wall section as most other GPT sites also have. You can also find additional paid surveys on some of these walls.
You can find a decent amount of offer walls on the site and this is another aspect that is continuously being developed and more has been added since I first tested it.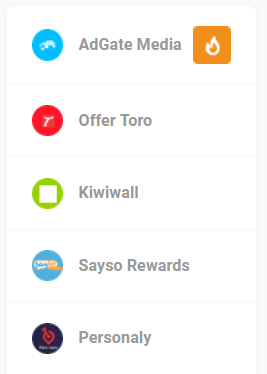 You can find some offers here that can earn you some extra cash – just make sure to read the conditions for each offer properly so you know what to expect.
It does, however, not give access to nearly as many offer walls as, for example, a site like ClixSense and many of the other big GPT sites.
But if you like the overall options on Earnsanity, it can definitely be worth checking out the offer walls as it can be a great way to boost your earnings if you find the right offers.
Option 5 – Daily free reward
Earnsanity has a small easy option where you can get a few free points every day. It is called the "Daily Reward".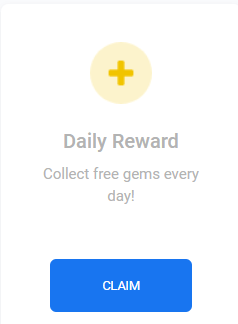 What you need to do is just to click the "claim" button and then you will get your points and you can do this once per day.
You will get 100 gems for this (the currency of Earnsanity) – this might sound like a lot but it is actually only worth around $0.01.
So it will not make you rich but it also only takes a few seconds to get these points. So if you are on the site anyway, it is a good option to use.
Option 6 – Free contests
Earnsanity quite regularly runs contests you can participate in on their Twitter page for different products.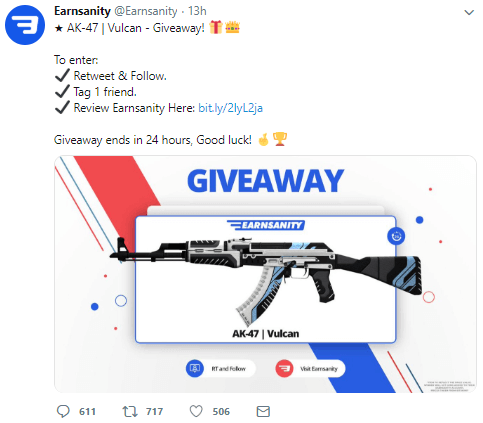 Usually, the requirement is to retweet & follow, tag 1 friend, and leave a review on Trustpilot.
If you do this, you participate in a draw to win the prize. This also explains the very high number of review Earnsanity has on Trustpilot. But they are not making any demands about you having to leave a certain star rating to participate. You can leave a review according to your experiences.
Recommended: See List of the Best GPT Sites
How do you get paid?
Before deciding whether you want to spend time on Earnsanity or not, you need to know exactly what kind of payout options it offers.
When you earn, you get gems. These can then be exchanged into other rewards. The payout options are actually pretty good.

You can, for example, get paid through PayPal, skins, Bitcoin, get Amazon gift cards, and more.
It can, however, be difficult to figure out exactly how much the gems you earn are worth because of the payout threshold.
You need to have 10,000 gems to get $1 paid out. The threshold for PayPal is $1 but for some of the other rewards, it is higher.
This makes it a bit difficult to quickly calculate how much a survey, for example, is earning you.
This is just how it is, but once you get used to it, it will not take too long to figure out how much an offer or survey is worth. To give you a quick helping hand with that, 1,000 gems is $0.10.
So just remember this conversion ratio to easily see if a survey or offer will be worth your time or not.
Earnsanity complaints
Now we have gone over the earning methods and payout methods Earnsanity offers.
So far it looks like a decent GPT site even though it might not be one of the best, right?
However, when I did further research, I came across some disturbing information about Earnsanity and you might have come across this as well. So I here want to give some perspective on some of the information from several sides.
When I first published this review, I told about some of these complaints and the owner contacted me to give his perspective and side of the story as well. He seems like a genuine guy from my contact with him and I, therefore, think he deserves also to have his side heard.
So I will, therefore, go over some of the complaints you might have seen out there but also give a balanced view of them and some info directly from the owner. Then you can use this to make an informed and balanced decision.
So let's go over some red flags I found during my research.
I, for example, saw a YouTuber posting on his Twitter page that Earnsanity had cheated him for $2,000.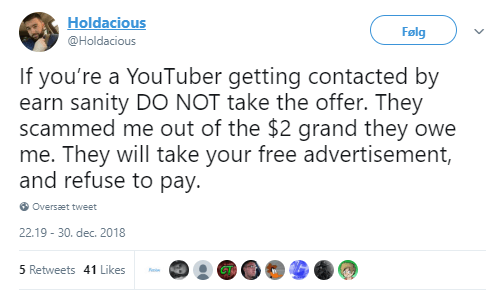 This is a YouTuber that has more than 300,000 subscribers so it is not just some random guy accusing them.
I was very worried about this and therefore decide to include it in this review. The owner of Earnsanity explained his side of this story to me and said he was not aware of this until reading my initial article.
After that, they reached out to the YouTuber and they found out they had both been cheated.
Earnsanity had hired a manager with a lot of contacts to do outreach and help promote them after their launch. He ended up not only taking his cut but taking all the money and never gave them to the YouTuber but also did not tell Earnsanity about it.
I have actually seen proof that Earnsanity and the YouTuber have been in contact but for privacy reason, I cannot show this here. Anyway, I just wanted to show what I have been told so you can take both sides of the story into consideration.
This was, however, not the only accusation of cheat and scam I found out there.
On Reddit, I found a post from a popular group called Beermoney with more than 300,000 members.
They had been contacted by Earnsanity to run a free give-a-way for their members. However, it turned out that the Amazon codes they were supposedly going to give out were refunded and could not be used.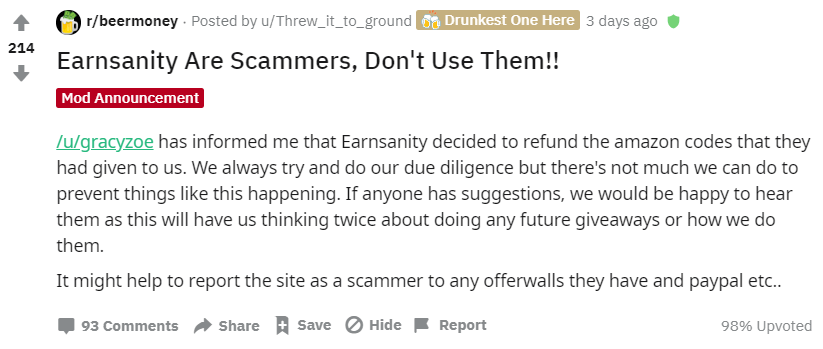 Again, I want to also show you the information I got from the owner of Earnsanity about this so you can see both sides of the story and make your decision based on that.
He says that he noticed that the draws were made manually by the Administrator of the subreddit you can see the image of above.
So the owner handpicked who was going to win and he did not find that legitimate. So two days before the giveaway was supposed to be rolled, they canceled the gift cards. In his own word in the email to me "It's the stupidest choice we have ever done, and I do deeply regret that".
The admin supposedly never messaged Earnsanity, asked for a response, asked what could have happened but posted the thread I have shown above.
Earnsanity says they tried to contact him through the account that they first reached him with but that account was banned with zero message from him. Here is another part of the email Earnsanity send me to explain their side:
"The snowball effect had started, and we had no way to respond to it. I made a new account wanting to make a post about it, instantly banned.

I saw something kinda funny during all of this though.

First of all, I saw a lot of users claiming the didn't get their payout of $21, $9, etc to PayPal. However, clearly, some of the users didn't even bother to check the website before making their false accusations (as the numbers they provided wasn't in our database).

The main intention was to try to PM the admin to pay for the giveaway again, however, it took a long time before we managed to get contact and it had evolved.

We offered to repay via PayPal or Amazon Giftcards, however, he refused to accept it, and clearly just wanted to see the shitstorm going, without ever letting any of the users know we reached him asking if we could pay up for this mistake.

I also noticed earlier that a user wrote that our site was legit and he was paid (like all others), however, the admin DELETED that comment from the thread.

Yea how funny, a user voicing his actual positive opinion about the website, and the admin deletes it?"
What is even more confusing is that after I then posted the explanation above and the statements from the owner of Earnsanity, I was contacted by a moderator of Beermoney at Reddit.
Here the story was a bit different.
To be fair to all, here is a quote from him as well that he sent to me personally as a response to the quote from Earnsanity above.
I'm quite shocked about what EarnSanity had to say. They told you something entirely different from what they told us.

Our team spent a significant amount of time helping and advising them about their website during the week before their giveaway. They never told us they were having second thoughts.

In fact, they seemed very eager to do the giveaway despite our repeated warnings about fixing problems on their site. Afterwards, they told us that the refunded cards were an accident that happened when they refunded someone else's reward.

EarnSanity personally verified the accounts of each and every winner after the giveaway… but they told PaidFromSurveys.com that they intentionally canceled the cards prior to the giveaway ending. Shouldn't they have told us instead of verifying the winners?

We offered the option to repay the funds, but they adamantly refused to re-send the funds in a way that could not be refunded: cryptocurrency.

Refunded PayPal and Amazon can result in our or our users accounts being terminated – we were not willing to take that risk when they already have a history of doing it to not only us but their users as well.
All in all, this can all be a bit confusing and as you can see there are more sides to the story.
So this was a long explanation, but I wish to give as much in-depth info as possible and want to show both sides of the story as I know how things can get out of control online so it is important to hear more sides of a story before making a decision.
I also want to make it clear that I have not personally been cheated by Earnsanity and on Twitter, I have seen quite a lot of people posting payment proof.

So now you know the details and can make an informed decision based on this.
Who can join?
If you want to join Earnsanity – then you can join no matter where you live as long as you are above 18 years old (or 13 with parents' consent).
However, you have to be aware that the way you join is a bit different from most other survey sites.
You do not create an account or a password. You have to sign in with your Google account.

This means you will give them access to some basic information about you from your Google account. This is a very fast way to sign up and can be very convenient so you do not have to remember more passwords.
But in case you at some point want to cancel your account, it might not be so easy to find out how to do that.
How to cancel Earnsanity membership?
If you at some point want to cancel your Earnsanity account you have to revoke the permission to sign-in with your Google account.
The way you do is to click here to administer your Google permissions. You will then go to the settings.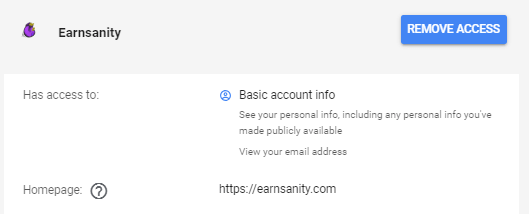 Here you find Earnsanity and click the revoke access button.
Can you get support?
Being able to get support is important on any GPT site.
As mentioned before, I have been in contact with the owner of Earnsanity and was impressed by the quick replies.
What I see as a really good sign is that they actually found my initial review and looked at the feedback. Not only did they thank me for the feedback as sites regularly do – they actually made some immediate changes based on my feedback.
I already mentioned earlier that they created an about page, and they also made the FAQ section available after I had criticized you had to log in to see this.
I have never seen a site take feedback so seriously and react so quickly on it, so this is, in my opinion, a really good sign and shows they take support and service seriously.
Final verdict
Overall, there are some ways you can earn by using Earnsanity.
But it also has both a lot of negative and positive reviews out there, so you need to find out what is best for you
To make it easier for you, let's finish this review by summing up the pros and cons so you can get a better overview before deciding to join or not.

Pros:
Free to join
Has good payout methods
Quick support
Constantly evolves

Cons:
Can be a bit confusing to use at first
Point system takes some getting use to
Not as many earning methods as some other GPT sites
Overall, Earnsanity has quite a lot of ways to earn.
When I first tested it, I was not impressed and worried about some of the complaints I saw. But I must say I am impressed with how they have handled it. That they have immediately taken action and made changes based on my initial review and feedback shows they care about developing a good site.
Also, they have really good payout methods and low payout thresholds.
So it has potential, in my opinion, even though it can not yet live up to the best survey and GPT sites. But it is still a very new site, so it will be interesting to follow and see what it develops into.
If you have any comments, questions, or have any experiences with Earnsanity yourself, I would love to hear from you in a comment below.