EarnThatBuck is a website that claims you'll be able to earn extra cash by posting in their forums. It sounds like a pretty good deal, right?
But the question is, is this site legit, or is it a scam? I will discuss that and more in this EarnThatBuck review.
I have tested the site to learn how you can earn from it and to see if it is really worth your time or not, and I will share everything I have learned about it so you will know exactly what to expect from it.
Then, you can decide if it is a site you should sign up for or not. So, let's go ahead and get this review started, shall we?
What is EarnThatBuck and what does it offer?
EarnThatBuck is an internet forum where people can discuss various topics like how to earn money online/offline or handle your finances. It is indeed a legit site since you will get paid to post content.
So, how do you know if it is worth it?
The first step to identifying that is understanding how to earn from it. That way, you'll get a good idea of how much time and effort is required to earn.
So, here's how to earn from EarnThatBuck.
The earning opportunity – Posting threads
The only way to earn from EarnThatBuck is to post threads in their forums. There are two forums available on EarnThatBuck, and they are about making money and handling finances (refer to photo below).
The goal is to create a thread in any of the forums and bring traffic to the site. It sounds easy, but there are a few things you need to keep in mind. To earn from the thread you post, it must generate traffic for the site.
In other words, people have to read your thread. To achieve this goal, you have to create a thread that is interesting enough to drive people to read it and possibly interact with it (post comments or replies).
You see, EarnThatBuck says you get paid based on the value you generate.
And for the site, value is determined by a combination of the search traffic your content brings to the site as well as the niche of the forums you post in.
The thread you need to create has to be lengthy to rank in Google. Realistically speaking, a minimum of 500 words is recommended. It can be a question or something to drive further replies and discussion to get overall thread content above 500 words.
Plus, your thread needs to be original, and try not to answer the same questions other people have already written about on this site unless you provide a unique and in-depth perspective from a different angle.
Copying content or spinning content from other websites will result in an instant ban from the site. So, make sure not to post content found anywhere else on the web.
Writing an interesting headline can be a good way to attract people to read your thread. The site recommends you spend a lot of time on the headline to make it highly attractive in search. You can use the "Subject + Benefit" format on your thread because it basically gives you an overview of what the thread is all about.
You can add links to the resources you used when posting the thread but make sure these links are really relevant to the post. If the site catches you linking to irrelevant sites (and believe me, they will), your account will be banned.
EarnThatBuck records the top author of any given page, which, 9 times out of 10 will be the person who started the thread. In some rare cases where page 2 of a thread (or any page of the thread for that matter) gets qualified, the person who posted the topmost reply on that page will get credit.
As you can see, while the earning opportunity may sound simple, it's actually a bit more complicated than just simply posting threads. You have to drive traffic to that thread, so you will have to also promote it outside of the site (like on social media pages or even in other forums if these forums permit it).
And this process is what will take time and effort to do. That's why if you plan to earn from this site, you have to set aside some time and be prepared to do all the promotional work. Otherwise, your thread will not get any traffic and you won't earn anything.
The thing about this kind of earning opportunity is that it is very tricky. You have to spend time browsing the forum to see if your idea was not already posted. Plus, you have to identify the points that make your thread unique.
Recommended: Check Out the Top Survey Sites in Your Country
How do you get paid?
EarnThatBuck doesn't give you a breakdown of how you will get paid. However, they are very transparent with the earnings because they will display a list of members who have earned every month.
You can view it on the Earnings Leaderboard page. If your username appears on the list, that means your thread/s were able to generate traffic for that period. This leaderboard page can also display any time period you want because you can set the start and end date.
Then, once you've earned at least $10, you can cash out via PayPal. The payment system is relatively simple, and I like the fact that they use PayPal as their payment system because it is one of the most convenient payment systems available.
If you are interested in more sites that offer a convenient payment method, I recommend you also check out the top sites that pay via PayPal.
How much money can you make?
The amount you can earn from EarnThatBuck will depend on how much traffic you can generate from your thread/s.
The site says that they share 50% of whatever they earn with their members. This 50% will then be divided according to the value the member provides.
And as explained earlier, the main factor is the traffic it generates. So, it goes without saying that you will earn more if your thread/s generates more traffic.
To give you an idea of how much you can earn, the photo below shows the earners for the month I tested the site.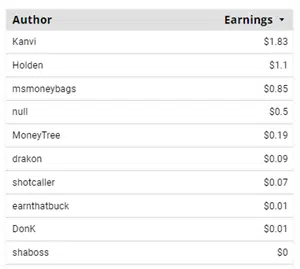 As you can see, the top earner was only able to earn $1.83, which is not unexpected because, based on my experience, the earning potential of a site like this is quite low. This is why I would say the earning potential of EarnThatBuck is very low.
You will have to wait a few months before you will be able to hit the threshold and withdraw your earnings. All the while, you will spend a lot of time replying to the thread/s you've created. It's not exactly a very efficient way to spend your time, in my opinion.
Can you use it on mobile?
EarnThatBuck doesn't have a mobile app you can download, but the good thing is that the site is mobile-friendly. You will be able to read all the content without zooming in.
This can be quite helpful because you can post threads and reply to comments even when you are not in front of your computer. This makes it easier for you to earn and in my opinion, you will really have to use it on mobile because you can't sit around in front of your computer all day waiting for replies.
So, the fact that you can conveniently work on the site on your mobile devices helps a lot in improving your earnings. However, when I was testing the site, I noticed a lot of ads displayed on every page.
I understand that it's a way for the site to generate income, but it can get quite annoying to see ads on a site, especially if they are placed in an inconvenient location.
Who can join EarnThatBuck?
EarnThatBuck is available worldwide. You can sign up as a member regardless of where you live. The site says you have to be at least 13 years of age to join, but if you want to get paid, you have to be at least 18 years old to join this site because that is the minimum age to register for a PayPal account.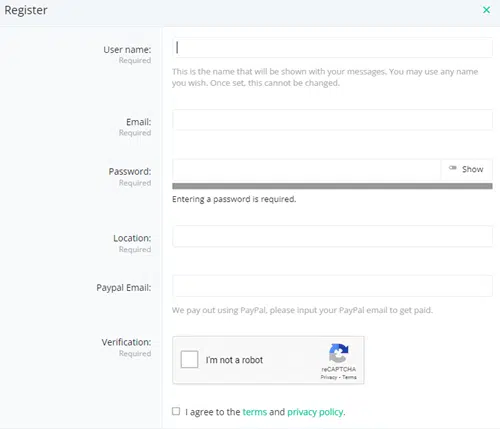 To sign up, all you have to do is fill out the registration form. Then, EarnThatBuck will send you a confirmation link via email to complete your registration. However, when I tested the site, it took several hours before I received the confirmation email, so you will have to be a bit patient.
Once you've confirmed your registration, you can log in to the site and start posting threads. But, before you do that, I would suggest you check out the guidelines on how to create a post, so you will know the ins and outs of posting a thread.
Can you get support?
The site has a Help page you can check out if you have any questions about your account. You can also check out the guide on how to earn from the site. This thread discusses most of the important topics you need to know.
But, if you have any questions, unfortunately, they don't provide a way for you to contact their support team. They mention something about a Discord channel, but they don't provide any link to that channel.
I also find it quite weird because, for a Forum site, they surprisingly lack ways for you to request any assistance. That's why I would say the site doesn't offer good support for its members.
Final Verdict
EarnThatBuck is a site where you can potentially earn by posting threads. It offers a couple of advantages, but it also has several disadvantages as well.
Let me summarize its pros and cons to conclude this review so you will get an overview of what it offers. Then, you can decide if you should push through with signing up or not.

Pros:
The site is mobile-friendly
Available worldwide

Cons:
Limited earning opportunities offered
Low rewards
Doesn't provide good support for its members
In my opinion, EarnThatBuck is not a good site to earn from. The earning potential of this site is simply too low, as is often the case with sites that offer the same kind of earning opportunity.
It takes a lot of time just to hit the threshold and cash out. That's why I don't recommend you join this site if you are looking for ways to earn extra money. There are simply better sites out there that you can invest your time on.
I would suggest you check out the top survey and GPT sites in your country instead. The sites on this list all have good earning potential, so you'll be able to earn a decent amount in no time. Plus, all of these sites offer decent support, so if you have any concerns, you'll be able to request assistance easily.
If you have any comments, questions, or have any experience with EarnThatBuck yourself, I would love to hear from you in a comment below.