If you've been doing some research on what sites to join to earn extra cash online, you've probably already encountered a site called EarnX. This Get-Paid-To (GPT) site promises you will be able to earn by doing a bit of work on their website.
So, is their claim true? In other words, is the site legit or is it just another scam to stay away from? This is a very important concern and needs to be addressed right away. So, let me answer this immediately. Yes, EarnX is a legit GPT site that will pay you for doing the work.
But how well does it pay and is it really worth joining? To answer these questions, we have to take a look at everything the site has to offer.
This EarnX review will give you the lowdown on the site so you can figure out if it is worth your time or not.
What is EarnX and what does it offer?
At first glance, it looks like EarnX is a site that offers a full-time job. It says on their home page "Work, get paid!"
But really, EarnX, as mentioned above, is a Get-Paid-To site that offers several earning opportunities – but not a full-time job (more about the earning potential later).
Now, for you to understand how well you can earn from this site, we have to take a closer look at the earning opportunities it offers.
This way, you can also see what kind of work you have to do to earn rewards. So, here's how you can earn from EarnX.
Option 1 – Paid offers
One way you can earn from this site is by completing their paid offers. This kind of earning opportunity is typically found on GPT sites. Paid offers are really just short tasks you have to do to earn rewards.

When you log in to the site, you will be able to access the paid offers by clicking the CPA/GPT Offers link under the Earn section on the left side of their dashboard. You will then see something similar to the photo above.
Normally, in my experience, the paid offers in GPT sites will usually ask you to answer surveys, play games, download apps, watch videos and sign up to certain websites. But in EarnX's case, their paid offers a bit different.
All of their offers seem to be leaning towards promoting their site. All of the offers I got where asking me to make a video about EarnX fulfilling all requirements or create a post in a forum or social media site promoting EarnX.
There's really nothing wrong with that and I think it's actually a smart move on their part. But just so you know, this is not the usual paid offers you will encounter on other GPT sites.
Every offer has a list of instructions you need to follow to complete it. Make sure to follow every instruction to the letter. Otherwise, you won't earn the reward for it. All of their offers will also ask you to submit proof that you've done the job.
So, don't expect to receive the reward as soon as you complete it because EarnX will still have to check the proof you've submitted before they will reward you.
Submitting fake proof will lead to the banning of your account. So, be honest or you'll just be wasting your time.
Option 2 – Paid ads
Another way you can earn from this site is by viewing ads. This kind of opportunity is usually found on Paid-To-Click (PTC) sites but you can also find it on EarnX. The only difference is, EarnX doesn't offer a lot of paid ads you can view.
This is the reason why EarnX is predominantly a GPT site rather than a PTC site, in my opinion.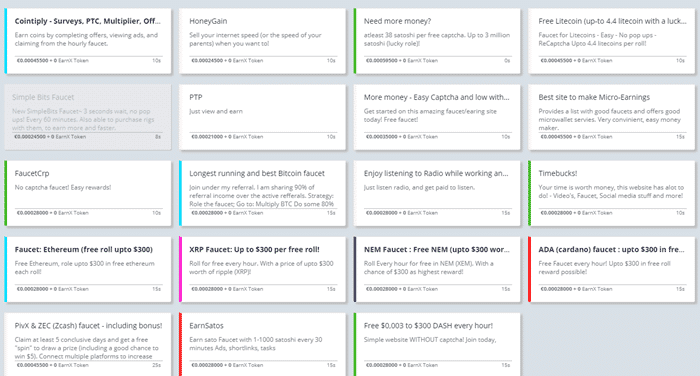 To view the ads, click on the PTC link under the Earn section on the left side of their dashboard. Then, simply click any of the ads listed. It will then open a new browser window containing the ad. Wait for the ad to load completely. You will then see a captcha that you will need to solve to complete the viewing process.
Once you solve the captcha, the reward will be credited to your EarnX balance. It will also say you can close the window. Once you've closed the window, you can proceed with viewing the next ad available.
Once all ads are completed, you have to wait for the next day for the list to be reset. Once it resets, you will see a new set of ads to view. You will also see a timer of when the list will reset for reference.
Take note though that you will only earn a fraction of a cent for viewing an ad. So, don't expect to earn a lot from this opportunity.
Option 3 – Offerwalls
In my opinion, this is the best earning opportunity EarnX offers. This is because you will never run out of things to do on their offerwalls.
If you don't know what offerwalls are, they are basically just a list of paid offers that are designed to promote certain websites or mobile apps.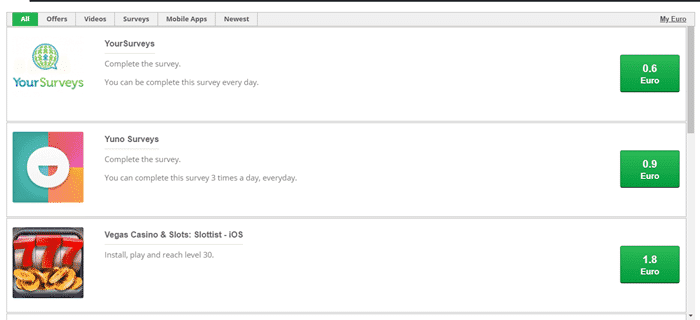 EarnX has several offerwalls you can choose from. You can access these offerwalls by clicking the Offerwalls link under the Earn section on the left side of their dashboard.
Most of the offers found on their offerwalls will either ask you to answer a survey or quiz, download a mobile app or game, register to a site, or watch videos.
Every offer will indicate what you need to do to complete it, as well as the reward you will receive for completing it. So, just make sure you follow the instructions provided to earn the reward.
EarnX offers a decent number of opportunities on their offerwalls – however, you can find the same offers on many other sites and often for a better reward. So this is something to consider before investing too much time on this option.
Option 4 – Watch YouTube videos
You can also earn from EarnX by simply watching YouTube videos.
Just click on the YouTube link under the Earn section on the left side of their dashboard and watch any YouTube video posted. You will have to watch at least 40 seconds of video to get earnings.
You won't always find videos to watch. So, if there are any videos listed, I suggest you watch it right away.
But again, this will not give you high rewards so you should mainly use this option for entertainment and not as an effective way to earn.
Option 5 – Referral program
Lastly, you will be able to receive additional rewards by inviting other people to join the site. All you have to do is either share your referral link to the person you want to invite or embed your invite link or banner on your website or blog (if you have one).
Any person that registers to the site using your invite link or banner will become your direct referral. You will then earn 10% of every offer/activity your referral completes on the site.
If your referral invites another person to the site, their referral will become your second level referral and you will earn 5%. This goes up to the fourth level where you can earn 2% and 1% respectively.
The referral bonus will be shouldered by EarnX and will not be deducted from your referral's earnings.
It's a nice way to earn passive income from this site, in my opinion. Of course, your referrals have to be active on the site for you to earn anything.
How do you get paid?
Most of the opportunities on EarnX will pay you in Euros. There are some offers on their offerwalls that will reward you with coins but this will be converted into actual cash when it will be credited to your EarnX account balance.
However, they don't really say what their conversion rate is. In my experience, 1 coin will usually be equivalent to 0.01 of the currency the site is using (in this case, it will be in Euros).
You can then withdraw your earnings via PayPal, FaucetPay or DogeCoins.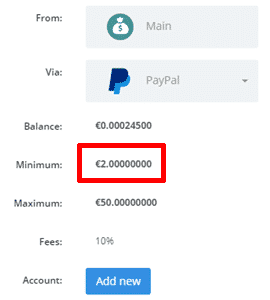 For PayPal withdrawals, you will need to earn at least €2 to withdraw your earnings. For FaucetPay, you will only need €0.5, and for DogeCoins, it will be €0.75. But regardless of the payment method you choose, there will always be a transaction fee involved for every withdrawal.
The fee will depend on the payment method you choose. Their payment system is very simple, in my opinion. I like the fact that they offer PayPal as a payment method, because that is the most convenient and most used payment method today.
If you are interested in more sites that pay via PayPal, I recommend you check out the top sites that pay via PayPal.
How much money can you make?
With GPT sites, since there really is no lack of opportunities you can work on to earn rewards, the earning potential will mostly rely on how well they pay you for every activity you complete.
In EarnX's case, most of their paid offers don't really pay that well. For example, an offer that will ask you to post an original YouTube video will only net you €0.25. For a task that isn't very simple, it doesn't reward a lot.
The offers on their offerwalls will reward you with an amount that is within the industry standard, which is around €0.1 to €0.2 but it is definitely not among the highest paying.
So, even though they have a low payout threshold, it will still take quite some time to reach because the site really doesn't pay that well.
That's why I would say this GPT site doesn't have a very good earning potential. If you want to earn a significant amount, you will have to invest A LOT of time.
Can you use it on mobile?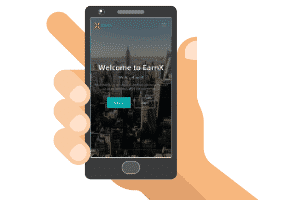 There are specific offers on their offerwalls that will require the use of a mobile device to complete it (i.e. downloading and installing mobile apps).
However, EarnX doesn't have an app you can download so you can convenient complete these offers.
You will have to access their site from a mobile web browser to do so. Fortunately, their site is mobile-friendly, so you won't have a hard time completing the mobile offers.
But for other offers and activities though, I would suggest you work on it from a laptop or a desktop because the site can be a bit spammy. Every now and again, when you click on a link on the site, a pop-up window will appear.
So, it can get quite annoying and inconvenient when done on a mobile device because you will have to keep closing these windows. That's why it is best to just work on it form a computer for convenience.
Who can join EarnX?
EarnX is available globally. You will be able to join the site regardless of where you live. It will also automatically detect which you country you live in when you sign up.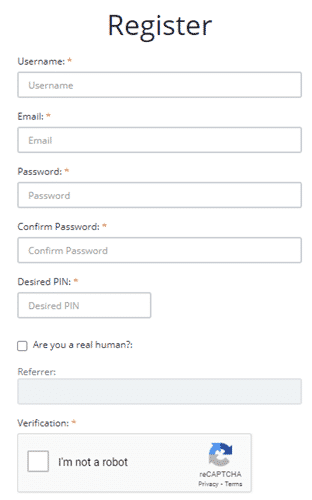 To sign up as a member, you just have to fill out their registration form. Provide your username, email address, password and PIN. Make sure to remember your PIN because you will need to input it every time you have to withdraw your earnings.
After you've submitted the registration form, you have to check your email and click on the activation link that will be in the email they will send you.
Most of the time, you will find their email on the Spam folder. So, make sure to check your spam folder if you can't find the email in your inbox.
Once you've activated your membership, you can log in to the site and start earning.
Can you get support?
If you have any questions about the site or your account, you can first check their FAQ page to see if you can find the answers you are looking for. Their FAQ page isn't that comprehensive though but it discusses most of the basic topics you need to know.
If you can't find the answers to your question, you can submit your inquiry by submitting a support ticket. You can access their support ticket system by clicking Support and hitting Contact. Just fill out the form and wait for their reply.
They typically reply within 24 hours during Mondays to Fridays. So, if you submitted your ticket on a Friday, expect to receive a reply on Monday, the week after. But overall though, I would say that they do provide decent support for their members.
Final Verdict
EarnX is a legit GPT site that will pay you for completing offers and other activities. It has a few nice features but it also has a few drawbacks you need to consider.
So let's finish this review with a summary of its pros and cons to help you get a full overview before deciding if you should join this site or not.

Pros:
Low payout threshold
Offers payment via PayPal
Available globally

Cons:
Low rewards
Site is a bit spammy
Fewer opportunities than most GPT sites
EarnX, in my opinion, is not a bad site. But it isn't that good either. Therein lies the problem. There are simply better options out there. Yes, they do have a low payout threshold and they offer convenient payment methods.
But, the low rewards they offer really makes their low threshold a bit useless, in my opinion. If you want to earn a decent amount, you will have to spend more time, which can be spent on sites that have better earning potential.
Also, the spammy pop-up ads that randomly pop up at times, it's a deal-breaker, in my opinion. It just destroys the usability and is really annoying.
I would only recommend you join this site if you really need to join a lot of GPT sites. But if you are looking for primary sites to join to earn extra cash online, I would suggest you check out the top survey and GPT sites in your country instead.
The sites on this list all offer higher rewards so you won't have to spend a lot of time to earn decent money. Plus, you will also find a site you can join regardless of where you live.
If you have any comments, questions, or have any experiences with EarnX yourself, I would love to hear from you in a comment below.