There are plenty of ways you can earn extra cash online but the main problem is finding the best sites to join. Without doing proper research, you really won't have any idea if a site that offers an opportunity for you to earn extra cash is any good.
If you are reading this article, then you must have encountered eGlobal Panel during your search for sites to join. So, you must be wondering is this site legit, or is it a scam? Well, let me answer your question right away.
Yes, eGlobal Panel is a legit survey site that does pay you for participating in their surveys. But this doesn't mean eGlobal Panel offers a good way for you to earn extra cash. To answer that question, we must first consider a few things.
This eGlobal Panel review will give you an inside look of the site so you'll know exactly what to expect before you even sign up as a member.
That way, you can properly decide if this is a site you should invest your time into. After all, the goal here is to find a site that will make the best use of your time.
What is eGlobal Panel and what does it offer?
As mentioned above, eGlobal Panel is a survey site that promises to reward you for answering their surveys.
It is a UK-based survey site and is owned by a company called eDigital Research. However, a quick check of their site shows that it has since been acquired by MARU Group.
So now, eGlobal Panel is owned by the same company that made Maru Voice UK. Let me just make it clear that you can, however, join it even if you are not from the UK – but more about who can join later.
Now, to get a clear understanding of how good this survey site is, we have to take a closer look at the earning opportunities it offers. So, here's how you can earn from eGlobal Panel.
Option 1 – Paid surveys
Since it is a survey site, the main way you can earn is by answering surveys. They also make it clear on their homepage that this is the main earning opportunity they offer.
They claim their surveys are regular and short in length and you can choose which surveys you complete.
Part of it is true since the surveys they offer are really just short surveys. So, it won't take long to complete.
However, the regular part isn't that true though, which I will talk about later. If there are surveys available for you to answer, what happens is, eGlobal Panel will send you an email notifying you there is a survey available.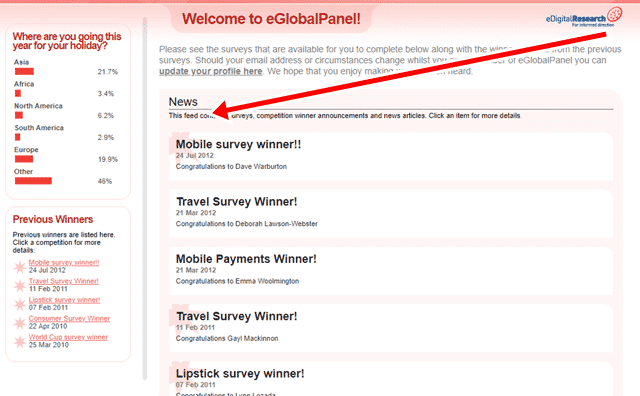 You will then find the survey on the member dashboard (refer to the photo above) and it will be listed under News. Just click on the survey and it will open a new window where you can answer the actual survey.
All you have to do is complete the survey. Once you are done, you will receive the reward promised. As for their reward system, I will talk about it later.
Option 2 – Contests
eGlobal Panel holds contests but it isn't clear if their contests are held weekly or monthly. This seems to be the main issue with their site as well. They are not upfront with how their site works.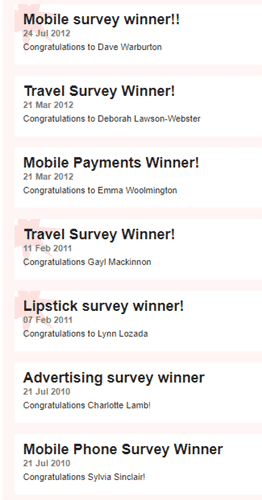 As you can see in the photo above, they announce contest winners but the problem is, the last winner is dated July 24, 2012, which is a very long time ago. I'm not sure if they just don't update their dashboard anymore or their contests are not available anymore.
From what I can gather, you will be able to join their contests when you complete a survey. As for the prize, they say you can win cash prizes but there is no way to verify.
So, there's little information about it. Plus, I would not really depend much on this type of earning opportunity since the winners are chosen randomly.
I would say that the only reliable way to earn from this site is through their surveys.
How do you get paid?
They mention on their FAQ page that they offer an incentive like vouchers for shopping online or cash prizes as reward for answering surveys.
The weird thing about their dashboard is, they don't actually have a way to track down what you've earned.
Normally, survey sites will have an account balance where you can check how much you've earned.
But eGlobal Panel doesn't use this kind of system. This leads me to believe that every time you complete a survey, you will receive the reward right away and it will be sent to you via email.
Since they only pay you e-vouchers, it is certainly possible and is probably the reason why they don't use the account balance system because they don't need it. Again, the problem here isn't the reward system they actually use, but that they are not transparent as to how they will reward you.
Everything is left to your interpretation, which can certainly be problematic and not reassuring. If you prefer sites that will allow you to earn cash and are more transparent with their rewards, I recommend you check out the top sites that pay via PayPal instead.
How much money can you make?
We've already established that they won't reward you with cash but with e-vouchers instead.
So, technically speaking, you won't make any money from this site. Although e-vouchers can be considered as money, in my opinion, it would still have been better if they offered cash rewards as well.
As I've mentioned earlier, they claim surveys are sent regularly. So, if we are to base their earning potential on that claim, we can say that you can earn a decent amount of e-vouchers. But in my experience, that is hardly the case.
Plus, most of the feedback from other members say that you will hardly receive any surveys when you become a member of this site. So, since there is only one way for you to earn from this site, if there aren't any surveys available, then you won't be earning anything.
This is the main drawback of a site that offers only one way for you to earn. That's why I would say that eGlobal Panel has a very low earning potential. The surveys are few and far in between, which can really affect the earning potential of a site.
Can you use it on mobile?
A quick look at their site and you will know that it is fairly outdated. You will be able to access their site on a mobile device by using a web browser. But the problem is, their site's design is not responsive.
So, in order for you to clearly read the content, you will have to zoom in. That's why I would say that their site is not mobile-friendly. It's also not surprising because their site looks like it hasn't been updated in years, in my opinion.
If you want to conveniently work on surveys, you will definitely need to do it on a desktop or laptop. This significantly affects the usability of the site for the worse.
Who can join eGlobal Panel?
The only good thing about this site, in my opinion, is that it is available globally (hence the name).
You will be able to join the site regardless of where you live. You just need to be at least 16 years of age to do so.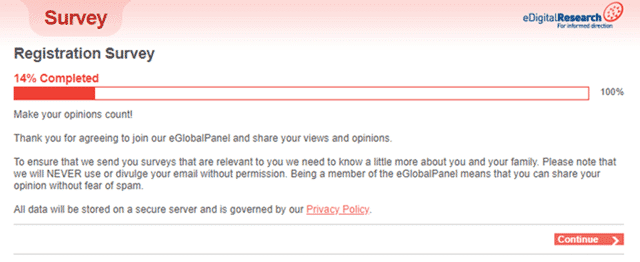 To become a member, you have to fill out their sign-up form and answer a short survey to complete the registration process. Once you are done signing up, they will inform you that you will be emailed when there are surveys available for you.
Part of the reason why, in my opinion, there are only a few surveys available for members is, it could be they are only targeting a specific location (mainly the UK since they are a UK-based site). That's probably why members say that it only offers a few surveys because they are not located in the UK.
So, even though the site is global, the real opportunities are only available if you live in the UK. But then again, even if you live in the UK, there are still better sites to join, in my opinion. For a list of UK-based survey sites, I suggest you check out the top survey sites in the UK.
Can you get support?
It's already pretty obvious that the main problem of this site is it is not very clear about what it has to offer.
So, if you are contemplating if you should join this site and you base your decision on what you can find on their site, then, unfortunately, you won't find anything useful.
They have a FAQ page but it doesn't really discuss in detail what the site offers, especially the rewards you will get. So, you are left with more questions. And the only way to resolve these questions is by talking to their support team.
They do provide you with a way to communicate with their support team through email. You can email them at eglobalpanel@edigitalresearch.com. Although I'm not so sure that email address is still available since the site edigitalresearch.com doesn't exist anymore.
Overall, I would say that their site could use more work in terms of providing support for its members.
Final Verdict
eGlobal Panel is a survey site that rewards you for answering their surveys. It doesn't have much to offer, in my opinion. It has very glaring disadvantages.
So, let me finish this review with a summary of its pros and cons so you can get a clear outline of what the site has to offer. That way, you can better decide if you should join this site or not.

Pros:
The surveys they offer don't take long to complete
No payout threshold

Cons:
Not transparent with their rewards
Limited earning opportunities offered
Their site is not mobile-friendly
Doesn't offer cash rewards
To put it simply, there are far better survey sites than eGlobal Panel. In my opinion, they don't have much to offer. Plus, transparency plays a huge part in my book when deciding if a site is any good or not.
The fact that they don't clearly outline what you can get out of answering their surveys is what makes this site, not a good choice. If you go through their site, you won't be reassured that your time will be well spent, in my opinion.
If you are looking for sites to earn extra cash from on a regular basis, I would suggest you instead check out the top survey sites in your country. The sites on this list are very transparent with what they have to offer.
They also have good earning potential and offer cash rewards as well. Plus, you will be able to find a site you can join regardless of where you live.
If you have any comments, questions, or have any experiences with eGlobal Panel yourself, I would love to hear from you in a comment below.