Forthright is a site that claims to be a great place to share your opinion and get paid for it.
But is Forthright really legit or a scam site to stay away from?
You, of course, need to know this before spending any time on the site – and you have come to the right place to find out:-)
This Forthright review will give you an inside look and show you all the details about what the site really offers so you can easily see if it will be worth your time or not.
What is Forthright Surveys and what does the site offer?
Forthright is also called Be Forthright but it is the same survey site. It used to be called InnoPoll but changed its name to Forthright and its website address to beforthright.com.
The name says a lot about what the site offers. According to the dictionary, forthright means to be direct, frank, or outspoken.
I think this is a very appropriate name for a survey site where you can get paid to share your opinion.
But a great name is one thing. What you really need to know is, of course, how good the site is and what opportunities it offers.
So let's go over that below.
I have made a video tutorial that will give you an inside look of Forthright and show exactly how it works. You can also read all the details below the video:
Option 1 – Forthright surveys
On Forthright you can find a few different types of surveys.
One of them is the Forthright surveys that are exclusive just for Forthright members.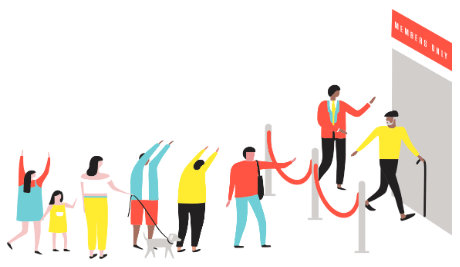 It offers a decent amount of surveys but not as many as some other sites. So you should not necessarily expect to get these surveys every day.
Also, just be aware that even though these surveys are particularly for Forthright, this does not mean you are guaranteed to qualify.
There will be surveys you do not qualify for or are not able to complete. But just because it happens once in a while does not mean you cannot find surveys you will qualify for.
How often you qualify depends on the demographic group they are looking for, and this differs from survey to survey.
So sometimes you might qualify for several surveys in a row and other times you might not qualify for many surveys in a row. It is, therefore, not possible to say exactly how often you will qualify.
You will be told about new surveys either via email invitation or by a text message to your phone. This depends on your settings so you can decide this yourself.
Option 2 – Partner surveys
In addition to the Forthright surveys, you can also find surveys from partner sites on the platform.
This is where you can take surveys through a survey router, which means you can click and scan for available surveys from third-party partners.

The surveys you can find here are also offered on other survey sites, so whether they are worth taking on Forthright or on other sites depends on what your overall favorite sites are.
On Forthright you can maximum take 3 of these partner surveys per day. And there is no guarantee that there will be any available.
It can be a nice way to get an extra chance to earn on Forthright, but the top paying survey sites often have more of these kinds of surveys and without a maximum.
Option 3 – Loyalty bonus
Forthright is offering a loyalty bonus that I think is a great feature.
When you try to take a survey and end up not qualifying or not being able to complete it, you will get a loyalty credit.

Once you have 3 loyalty credits, you get a $2 bonus into your Forthright account.
So this is kind of a consolation prize if you feel frustrated about not qualifying for surveys. Then you know that after it has happened three times, you will still get a small reward for it.
Just be aware that this is only for the Forthright surveys. You do not get credits when not qualifying for the partner surveys.
How do you get paid?
As you can see from the above, Forthright is quite simple and it is easy to get an overview of what it offers as it does not have too many opportunities, but this also makes it very easy to use.
But to find out if it is something you want to spend time on, you also need to know how you will get paid.
There are several ways you can get paid and they are actually pretty good.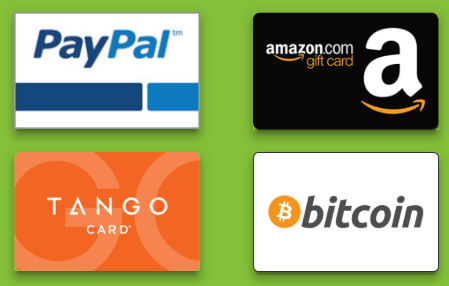 You can get paid in cash through PayPal, get Amazon gift cards, Bitcoin, or Tango Card. You can also choose to donate your earnings to charity.
There is no minimum payout threshold, so you can choose to take your money out every time you have taken a survey, or you can choose to wait until you have a bigger amount and then take them out.
Forthright also offers instant rewards which means that you will basically get your rewards right away after finishing a survey.
To use this option you, however, need to verify your phone number.
How much money can you make?
BeForthright offers easy access to earn a little extra by sharing your opinion.
But it is not one of the sites that offer the most opportunities. You can find some nice surveys here, but you will not necessarily find opportunities every day.
So it can be a way to earn a little extra cash, but it will definitely not make you rich or anything near a full-time income.
Can you use it on mobile?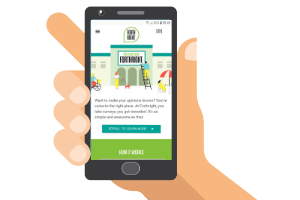 Being able to take surveys on the mobile is, in my opinion, a great option to have.
This makes it possible to earn by sharing your opinion when it fits into your schedule during the day or when you just have 10 minutes to spare.
Forthright does not have an app, but its website is very well optimized for mobile. So you can log in to the website through the browser on your phone, and it will then almost feel like it is an app you are using.
It does not give you any more or any fewer opportunities, but it gives you the option to use any device to take surveys if you want to.
Be aware that some of the surveys themselves might not be optimized very well for mobile. So sometimes when taking the surveys, you might still have to scroll in and out quite a bit.
Who can join BeForthright?
It is a little confusing who can join Forthright. Because when you get to the site you can join no matter the country you are from, and you can choose between more or less all countries during the sign-up process.
But once you are inside, it seems like it is actually only for people living in the USA. The reason I am saying this is that when you are filling out your profile, you have to use a US postcode.
So it is a little strange that you can choose any country during the sign-up, but have to have a US postcode.
I have checked with Forthright themselves, and they have confirmed that the site at the moment is only available in the US. They told me they are planning to expand to other countries but could not say anything about when.
There are, however, so many great US survey sites, so you should be aware that Forthright is NOT the one that will give you the most opportunities here.
If you do not live in the US, you can instead check out the best survey sites in your country here.
One thing I just want to make you aware is that the joining process is a little different than on most other sites as you do not choose a password when you sign up.
You first have to join, then you ask to get an email with an access link on the site, and then once you are inside, you can set a password.
I spend quite a bit of time figuring this out, so just wanted to share that here.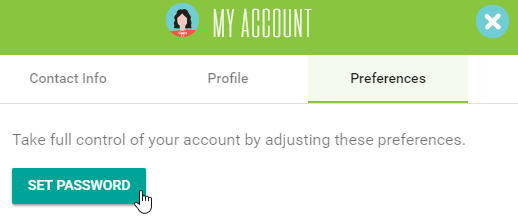 You find this option by going to "my account" and here click "preferences". Then there is a button as you can see in the image above.
After you set your password, you can then login on any device with your password.
Can you get support?
Being able to get support is important on any survey site. If you need support on Forthright, you have a couple of options.
You can write to them on their Facebook page or you can send an email to their support (you can find this email address on the website).
From what I can see on their Facebook page, the support is fast at getting back to people when they comment about issues they have.
In most cases, they are, however, asked to write the support email, so if you need help, it makes more sense to just write the support email right away.
I have tried to write to the Forthright support email myself. I fairly quickly got a good answer. It was not the best and most useful service, and I was not impressed, but they did get back to me which is a good sign.
Final verdict
Forthright is definitely a legit survey site. But this does not necessarily mean it will be worth your time.
So let's finish this review by summing up the pros and cons so you can get a better overview before deciding to join or not.

Pros:
Free to join
No payout threshold
Gives loyalty credit if you do not qualify for a survey

Cons:
Limited earning opportunities
Confusing to see where it is available
A little bureaucratic joining process
Support not impressive (in my experience)
Overall, Forthright is a very simple survey site which makes it easy to use. It offers good payout methods and has no payout threshold.
However, the joining process can be a little confusing and it is unnecessarily bureaucratic to set your password.
Also, it has limited earning potential, so even though it is easy to use, you should definitely also join some of the top paying survey sites in your country as well to get enough opportunities.
If you have any comments, questions, or have any experiences with Forthright yourself, I would love to hear from you in a comment below.