Are you looking for a way to earn cryptocurrencies? There's a site called GetDoge.io that promises you will be able to earn bits by simply doing activities on their site.
So, the question now is, if it is a legit site? Or is it a scam you need to stay away from? Let's address this issue right away because this is one of the most important things we need to verify.
Yes, GetDoge.io is a legit site that will reward you with cryptocurrency. But the real question now becomes, if this site is worth joining or not? To answer that question, there are a few things we must consider first.
This GetDoge.io review will give you an honest inside look so you will learn all the details and can decide for yourself if you should join this site or not.
What is GetDoge.io and what does it offer?
GetDoge.io is mainly a Paid-To-Click (PTC) site that offers plenty of ways for you to earn rewards. The name is derived from the popular meme "Doge" that became popular in 2013. The meme typically consists of a picture of a Shiba Inu dog.
If this is your first time hearing about PTC sites, I would suggest you read our ultimate guide to PTC sites first so you can get a clear picture of what you should expect from this type of site.
Now, to fully understand how the site works, we have to take a closer look at the earning opportunities it offers.
This is also a good way to figure out the earning potential of the site. So, here's how you can earn from GetDoge.io.
Option 1 – Claim free bits
As advertised on their homepage, you can claim free bits on this site. Specifically, you can claim free bits (bits is the currency they are using and not to be confused with the cryptocurrency called Bitcoin) every 5 minutes you are logged in on the site.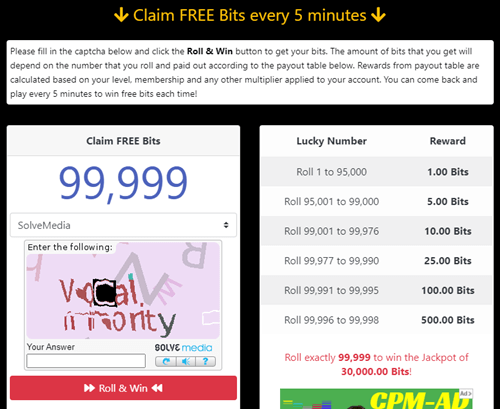 As shown in the photo above, you have to solve the captcha and then click the Roll & Win button to get your bits. The amount of bits you get will depend on the number you roll. You will then have to refer to the payout table for the reward you will receive.
Rewards from the payout table are calculated based on your level, membership and any other multiplier applied to your account (I will talk about their membership later). It's a relatively simple way of claiming free rewards.
Option 2 – Shortlinks
Shortlinks are another way for you to earn rewards on this site. All you have to do is visit the shortlinks listed in the section.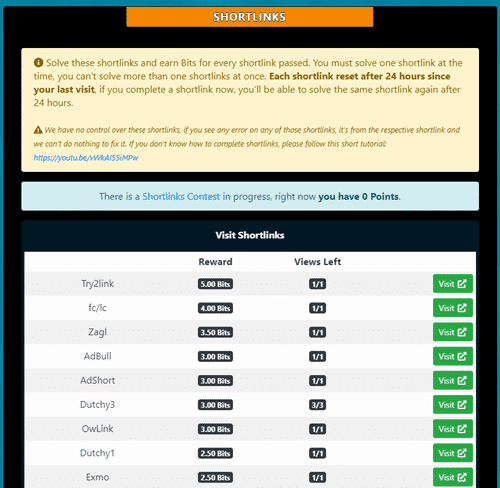 Just click the Visit button (refer to the photo above) and a new browser tab will open. You have to follow the trail of Next buttons that you can click on to claim the reward. So, look for the Next button in the new browser tab that will open. Sometimes, it can take a few seconds to load.
You will know when you are at the end of the trail when you encounter a Get Shortlink button. All you have to do is click that button and then you are done. The reward will then be credited to your account.
The process usually takes less than a minute to complete. But be warned though, there will be plenty of ads that will pop up, so it can be a bit annoying if you hate ads.
Option 3 – Paid ads
Paid ads are a staple on every PTC site. In case you don't know what this is, it's basically a way to earn rewards by simply viewing an ad.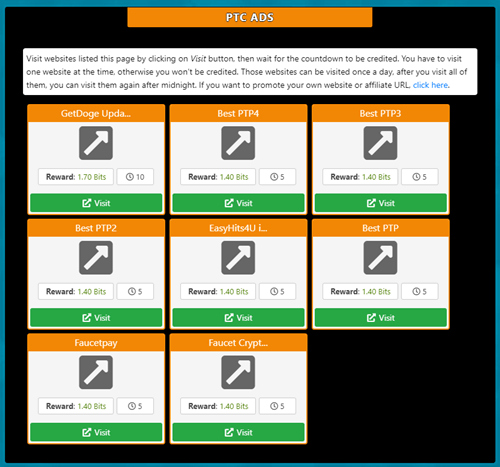 In GetDoge.io's case, when you view a paid ad, it will open a new browser tab. Then it will display the ad you have to view and you will also see a progress bar loading at the top of the page. When the progress bar fully loads, it will ask you to solve a captcha.
After you finish solving the captcha, you will receive the reward promised for viewing the ad. You can then close the tab and go back to viewing the next available paid ad.
Fair warning though, since it really doesn't take too much effort and time to complete, don't expect to earn a lot from this kind of earning opportunity.
Option 4 – Jobs
You can also do jobs to earn more bits. The jobs you have to do on GetDoge.io will mostly involve you having to promote the site.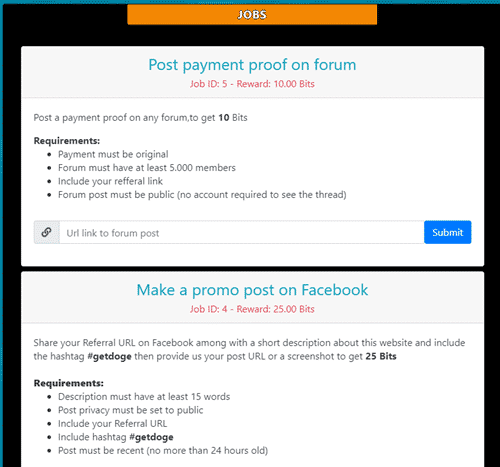 As you can see in the photo above, most, if not all of the jobs available will ask you to promote the site in one way or another. As an example, the photo above shows you have to post a payment proof for GetDoge.io on a forum.
There are additional requirements you need to meet and you have to meet them all to receive the reward. Once you have done the job, you have to submit the link of your post for verification.
As soon as GetDoge reviews your work and approves it, you will then receive the reward.
The amount of bits you will receive will vary depending on the task you have to do. Typically, the most rewarding job is the one that will ask you to post a video on YouTube promoting the site.
Before you do any of the jobs though, make sure you understand what it is asking you to do. This will ensure that you will receive the reward for the job.
So, read all the instructions as many times needed until you know all the things you need to know. And choose wisely – because, in my opinion, the rewards you get for the jobs will, in most cases not be worth the effort required.
Option 5 – Achievements
Achievements are like bonuses you will earn for reaching a certain milestone on the site.
I like this opportunity because you don't actually have to do anything special apart from doing what you are supposed to do on the site anyway, which is to be an active member.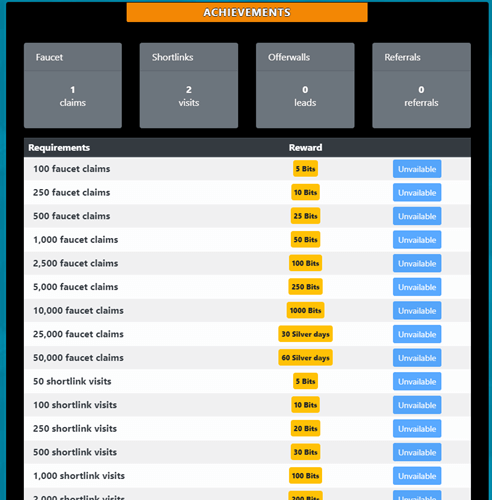 For every achievement you unlock, you will receive a special bonus. Once it is unlocked, all you have to do is go to the Achievements page and claim your reward. It's that simple.
Option 6 – Investment game
Investment game is more of a gambling game rather than a straight up earning opportunity.
Most PTC sites have this type of opportunity where you will have the chance to either win or lose your earnings.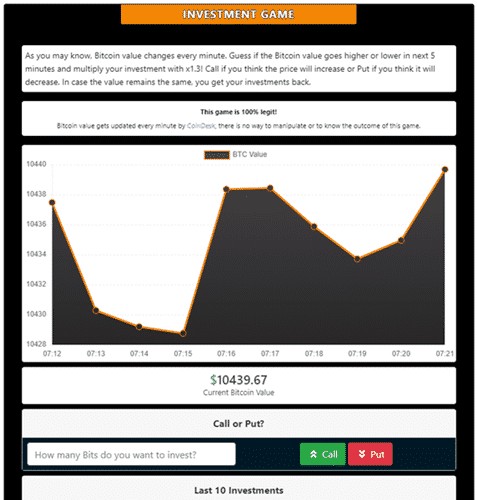 The game works like this. You just have to guess if the Bitcoin value goes higher or lower in next 5 minutes. If you make the right guess, you will win 1.3 times the money you gambled. If the value of the Bitcoin doesn't change, you will get your money back.
You have to use the bits you've earned as rewards to play this game. So, you have to carefully consider how much you'll bet and not get carried away. Remember, this is a 50/50 gamble and if you are not careful, you might end up losing all your earnings.
Option 7 – Monthly lottery
Another game of chance you can join is their monthly lottery. Again, this is not a surefire way of earning rewards from the site. But if you win, you will win big.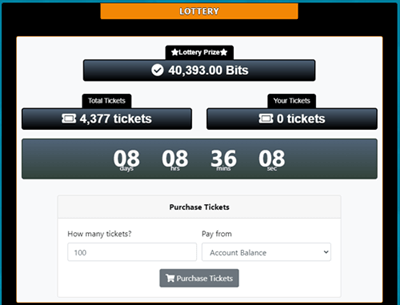 Every month, GetDoge.io holds a lotter where you can win thousands of bits. All you have to do is buy an entry for it. Each entry will cost 10 Bits.
The prize will vary depending on how many people have joined the lottery. The more people join, the higher the prize (just like how a lottery works).
You can have as many entries you want. But again, I urge you to exercise restraint with this because you might end up losing all your earnings.
The lottery ends every 1st day of the month, at 00:00 and the winner will be announced on the lottery page. So, make sure to check it out at the start of the month if you joined.
Option 8 – Offerwalls
GetDoge.io also has offerwalls you can take advantage of to earn additional rewards. Offerwalls are basically in-site platforms that promote specific websites and mobile apps through paid offers.
And paid offers are like short tasks you can do to earn rewards. Most of these offers will either ask you to answer a survey, download an app, sign up to a website, play a game, watch a video, or register to a certain site.
GetDoge.io has more than 10 offerwalls available. So, you are guaranteed you won't run out of ways to earn rewards. This is a good thing because if you run out of shortlinks and ads to complete, you can always work on the paid offers on offerwalls to earn additional rewards.
When you complete an offer, it will first show you what the instructions you need to follow. So, make sure to take note of them before you start working on an offer. Because again, if you miss one step, you will wind up not receiving the reward promised.
Once you complete the offer, the reward might not be credited to your account right away. This is normal because offerwalls need some time to verify everything before they award you your bits. So, don't worry if the reward isn't credited to your account right away.
Just make sure to track the offers you do just in case the reward still doesn't show up in your account after a few days. If that happens, you have to contact their support team (which I will talk about later).
Option 9 – Contests
GetDoge.io also holds monthly contests for the top shortlinks and offerwalls earners. There is also a contest for the member with most referrals.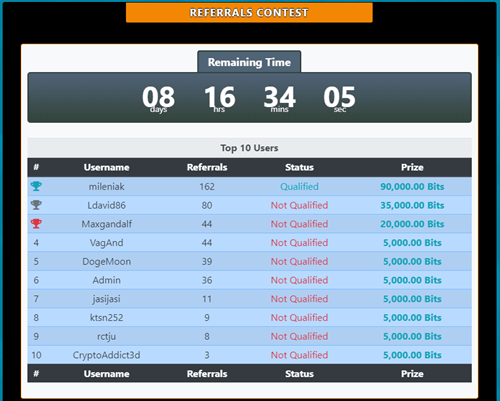 Each contest will have a set of requirements for you to qualify. You have to meet all the requirements to receive the prize. For example, for referral contests, you have to be one of the top 10 members in terms of getting referrals (I will talk about this next).
But to qualify for the prize, you must have at least 100 active referrals which is kind of a strange condition, in my opinion.
Every contest will end every 1st day of the month, at 00:00. The prizes will be awarded after that time period. It's a nice goal you can set since you will be able to earn a handsome reward if you qualify.
Option 10 – Referral program
Lastly, you can earn bonus rewards for inviting other people to join the site. Most online rewards sites have a referral program and GetDoge.io is not an exemption.
To invite a person to join the site, you simply have to share your invite link with them. But make sure to remind them to be active on the site. Otherwise, you won't benefit from their referral program.
The reason for this is, you will receive 5% of their faucet claims, 5% of their offerwalls earnings and 5% of their shortlinks earnings for life. So, the only referrals that will have any value to you are those who will be active on the site.
Plus, you must be active daily to receive commissions from your referrals. If you don't login for more than 240 hours, you won't receive commissions until you login again.
Overall, the percentage and the conditions for their referral program are quite poor compared to many other sites.
How do you get paid?
If you were hoping to earn cash or gift cards from this site, then you will be disappointed.
GetDoge.io will only allow you to earn cryptocurrency, specifically Dogecoins. If this is your first time hearing about Dogecoins, it is a cryptocurrency featuring a likeness of the Shiba Inu dog from the "Doge" Internet meme as its logo.
It started out as a joke currency but then started to gain traction when it was used an Internet tipping system. Now, it can be used in various ways just like Bitcoin.

Technically speaking, you can withdraw your earnings anytime you want without having to reach a certain threshold like most other online rewards sites will ask you to do. But in GetDoge.io's case, you actually have to claim free bits at least 50 times before you can withdraw your earnings.
Once you've done that, you can withdraw it to your Dogecoin wallet or via Faucetpay (a micropayment wallet and earnings platform). You can withdraw any amount you want as long as you have anything to withdraw.
However, the withdrawal waiting time will actually depend on your membership level (I will talk about this on the next section).
For example, as a basic member of the site, you will have to wait for approximately 5 days if you choose to withdraw it via your Dogecoin wallet.
If you upgrade your membership, the waiting time will be shorter. So, even though they don't have a threshold you need to reach, you still have to wait some time before you can withdraw your earnings.
If you prefer to earn cash and have a less complicated withdrawal process, I would recommend you instead check out the top sites that pay via PayPal.
How much money can you make?
If you read my guide on PTC sites (link at the start of this review), then you probably know that they don't typically offer the best earning potential.
The good thing about GetDoge.io is, it has plenty of ways for you to earn rewards. So, even though it doesn't pay you that well, you can still earn a decent amount if you are patient enough and have a lot of time to put into it.
Also, the value of Dogecoins will change from time to time, so you can't expect to earn the same amount on a regular basis.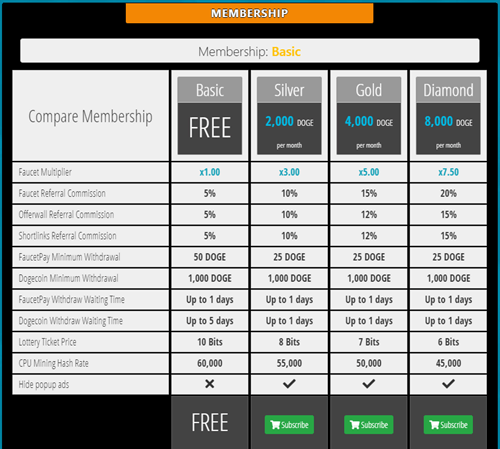 But as mentioned earlier in this review, you can upgrade your membership level to receive some perks which are mostly geared towards you being able to earn more. Another benefit of upgrading your membership are reduced waiting time for withdrawals.
You can pay for the upgrade using your earnings on the site, which is a nice touch because you don't have to spend your own money to avail of it. You just have to make sure you have a solid plan to get back what you spent for the upgrade.
But overall, I would say that GetDoge.io does have a decent earning potential for a PTC site. This is mainly because they have many earning opportunities offered (although some of them will involve gambling your earnings).
You just have to be quite patient since most of their earning opportunities don't pay that well.
Can you use it on mobile?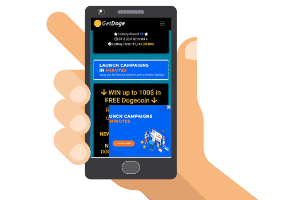 GetDoge.io doesn't have a mobile app so you can comfortably work on the activities from your mobile device.
And to be honest, I would really suggest you only work on this site on a laptop or desktop. This is because the site is quite spammy.
There are pop-up ads that appear every time you click something on the site. This significantly affects the user experience in a negative way, in my opinion. It can get quite annoying to keep closing these pop-up ads.
And when you do that on a mobile device, it will get unbearable pretty quickly. So, I really do suggest you only use it on a laptop or desktop, unless of course if you are completing an offer that will ask you to install a mobile app.
Who can join GetDoge.io?
Anybody can join GetDoge.io. That means you can sign up as a member regardless of here you live.
You just need to make sure you have a Dogecoin wallet or Faucetpay account before you register because you will need it to withdraw your earnings.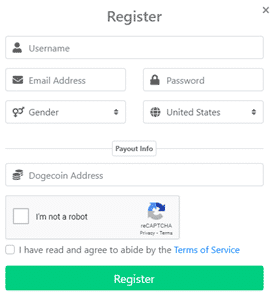 To register as a member, you just have to fill out their sign-up form. Take note that it will also ask you to provide your Dogecoin wallet address. You can actually skip that part during the registration process. You can add that later once you are done registering.
Just go to your account settings and you will be able to add your Dogecoin wallet or Faucetpay address. I would suggest you immediately do this after registering so that you can withdraw your earnings without any issues.
Can you get support?
The site does have an FAQ page but it's not that helpful. It barely touches on most of the common topics or issues you need to know about the site.
But, they do provide you with a way to contact their support team. You can use the contact form provided on their website to send in your inquiries.
So overall, I would say they do have decent support for their members. I just wish their FAQ page would be a bit more useful.
Final Verdict
GetDoge.io is a PTC site that will reward you for doing different micro-tasks. It has a couple of good features but it also has a few limitations you need to consider.
So let's conclude this review with a summary of its pros and cons so you'll have a better overview of what the site is capable of. Hopefully, it will be able to help you decide if you should join this site or not.

Pros:
Offers plenty of earning opportunities
Available globally

Cons:
Low rewards
Limited payment options offered
The site is a bit spammy
Not really suited for mobile use
If you don't mind earning cryptocurrency, then GetDoge.io can be a decent site to join. This is because they offer plenty of ways to earn. So, with a little bit of patience, you can earn a decent amount.
The site is quite spammy though. You'll have to close a lot of pop-up ads when using this site. If that doesn't bother you, then go ahead and sign up as a member.
But if you are looking for a site where you can earn cash or even gift cards, I would suggest you check out the top survey and GPT sites in your country instead. The sites on this list all have good earning potential and offer more flexible payment options.
Plus, you will definitely find a site you can join regardless of where you live.
If you have any comments, questions, or have any experiences with GetDoge.io yourself, I would love to hear from you in a comment below.