Online paid surveys can be a great way to make some extra money and is a very popular way because it is so easy to get started and usually does not take any investment at all.
GoldOpinions.com claim they are the right site to join if you want to make really good money by taking online survey.
But is Gold Opinions a scam or really a great and legit opportunity?
Honestly, there are some important things you NEED to consider before joining so you know what you are getting into.
In this GoldOpinions review, you will get all the untold details so you know exactly what to expect and will easily be able to find out if this is worth it for you or not.
What is GoldOpinions.com?
GoldOpinions is a member site, where you can supposedly earn money by doing online surveys. I have not been able to find any information about when the site was started and who is behind the site, which is always a red flag but more about the red flags later.
Before you join, there is not a lot of information about what the site really offers. All you can see is that you can join to get access to high paying surveys and choose between a large range of rewards.
The site mentions that you can make between $500-$5000 per month and that it is really up to you to decide how much you want to make, depending on how much time you put in.
However, I have a lot of experience with paid surveys and if you look carefully it is possible to get a better understanding of what they really offer.
I have created a video that explains everything about Gold Opinion. You can also read all the details below the video:
Recommended: See the Top Paying Survey Sites in Your Country
Even though it might, at first sight, look like you can find paid surveys there, it is important to understand they are NOT offering paid surveys on GoldOpinions itself.
It is instead what is called a survey aggregator where they just collect surveys from actually paid survey site and connect you to them.
Sites like this can be ok to join if they actually give you good advice (which they honestly rarely do), but let me just reveal right away that when it comes to GoldOpinions there are some serious issues, in my opinion.
I will go over all these in detail in just a minute so you can take all this into consideration. But let's first go over what it costs to join GoldOpinions.com.
What does it cost to join?
Usually, paid survey sites are free to join.
GoldOpinions has a monthly fee you have to pay as a member. The site is very open about this and also explains why you have to pay.
The reason supposedly is that usually survey sites take commissions every time you do a paid survey from the company the survey is done for, but GoldOpinions does not. Therefore, you will get higher rewards for the surveys you do, but they still have costs to cover, and therefore they charge you a monthly fee.
Fair enough reason, and nice that the site explains it that clearly. I am however not completely convinced this is the real reason, but I will get more into that later. Now back to what the membership fee is.
The price is $27 per month. That includes unlimited updates and support. There is however a trial period the first 7 days. You can get your first 7 days for $1.

On the site, it says that it is a 3-day promo, and you can only get this introductory offer for a limited period (see picture), but I have checked it on many different days, and the date for the expiration always happens to be the day after you see the offer:-)
In fact, when I first reviewed and checked out Gold Opinion four years ago (from the date of the update of the review), it also had a special 3-day promo.
So it seems this "special" offer will never expire but it will just show a new date every time you visit the site.
So do not worry about having to take advantage of this offer quickly – it will still keep being there.
Tip to get an extra bonus if you join!
If you decide to join (and please read the full article before you decide to join), then there is a little tip to get an extra joining bonus.
Just try to leave the site by closing down your browser. Then a pop-up message will come up asking if you are sure you want to leave. Say that you want to stay on the site, and then a special offer will come up.
This is an offer that will give you an extra $50 joining bonus from GoldOpinions' partners. It does however not say who the partners are or anything else which is quite strange.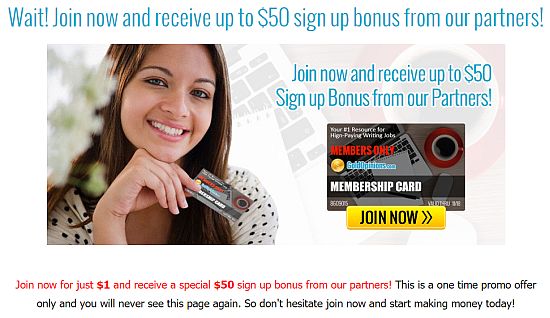 It also says that this is a one-time offer and that you will never see this offer again. I can from personal experience say that this is not true. I have tested it several times and tried it even a few years apart, and every time I get this offer, so not really true that it will not show up again.
Who can join?
If you should decide to join Gold Opinion after reading this review, you can join no matter where in the world you live. It is available in more than 150 countries.

Usually, that is also the case with survey sites that charge a fee for joining. They are interested in giving as many people as possible the chance to join and pay:-)
GoldOpinions red flags revealed
Before joining any survey site (and I have joined hundreds) I always take a close look at what it offers and what kind of info I can find about it – especially if it charges a fee to join.
When it comes to GoldOpinions I found quite a lot of red flags. That is why I eventually ended up not joining and why I do NOT recommend it.
Let me just make it clear that this is based on my personal opinion and my general experience with paid survey sites where I have taken probably thousands of online surveys.
But I think these red flags are important for you to know – then you can take all this information into consideration and make your own informed decision.
Red flag #1 – It charges a fee:
Honestly, whenever I see a survey site charging a fee, I become very suspicious. This is one of the main signs that you should stay away from a survey site.
Contrary to some other survey sites like Click4surveys that are trying to hide the fee at first, GoldOpinions is at least very honest about the fees from the beginning, which I appreciate.
It is, however, the first time I have seen a survey site charging a monthly fee. Usually, it is a one-time joining fee, but $27 a month is quite expensive compared to other sites that charge a fee.
But if it is as good as it promises, it would still be a good deal. I am however not convinced about this based on my experiences with paid surveys.
In general, you have to know that you will just get access to a list of survey sites and paid surveys. This is information you can easily find for free online. Therefore, you should NEVER pay to join a survey site.
You will likely see many people online trying to convince you it will be good to join – I actually get comments on my YouTube Channel more or less every week from people trying to get others to join Gold Opinions.
This does NOT mean it is because people actually think it is great to join – it is because GoldOpinions has an affiliate program where people can make quite good money if they convince others to join.
Unfortunately, some people do not care about what they recommend as long as they can earn by doing it. And I have not seen one single person who promotes it who actually gives real proof – usually, they just repeat what it says on the sales page of GoldOpinions.
So be careful even if you see positive GoldOpinion reviews. In my experience, they are mostly just out to earn commissions by promoting and there are a lot of details they do not tell you.
Red flag #2 – Promises you can make a living:
At GoldOpinions.com you can see it is supposedly possible to make $500-$5000 per month.

This means that you could potentially make a living from it and they even say that you can do it full-time if you want to.
This is NOT how paid survey sites work. In some cases, you can make $500 per month (depending on the country you live in), if you join several of the best survey sites, but making $5000 per month is not realistic with surveys.
I know the site does not promise this, but I think it is dishonest when a site indicates that it is possible to make a living from doing surveys. Because that is not really how it is.
It is possible to make some nice extra money on the side, but if you are looking for a full-time income online, you definitely need to look elsewhere.
Red flag #3 – Uses hype and fake scarcity techniques
In general, companies would, of course, like you to buy right away when you visit their site, but some companies use fake scarcity claims to get you to do this.
I have given you a couple of examples about how GoldOpinions does this above. For example, it says that the 7-day trial is a time-limited offer, and the special joining offer when you try to leave the site, is also not so special as it is there every time.
Tricks like this, does in my opinion damage the overall credibility of the site, and if it lies about things like this, what else is it lying about?
Red flag #4 – Use of network logos:
Right under the top header, there are some logos of famous networks and websites and it says "as seen on".

This is a great way to create trust. One thing that seems strange to me is however that there are no links to the actual articles or mentionings of GoldOpinions.
If a site has really been shown on these networks, it would be normal to link to them. I have searched every one of these networks and was not able to find any mentioning of GoldOpinions.
The only article I found on these websites that were close to this topic was on Working Mother, but the article just talked about paid surveys, and NOT about GoldOpinions. So seems a bit strange to me, and as a claim that does not prove anything other than it should make you more suspicious.
Red flag #5 – The testimonials are not real
On GoldOpinion you can see several testimonials from supposed members telling about how great experiences they had and how much they have earned.

However, I did a Google search of the image from the testimonial above, and it showed up and several stock image platforms.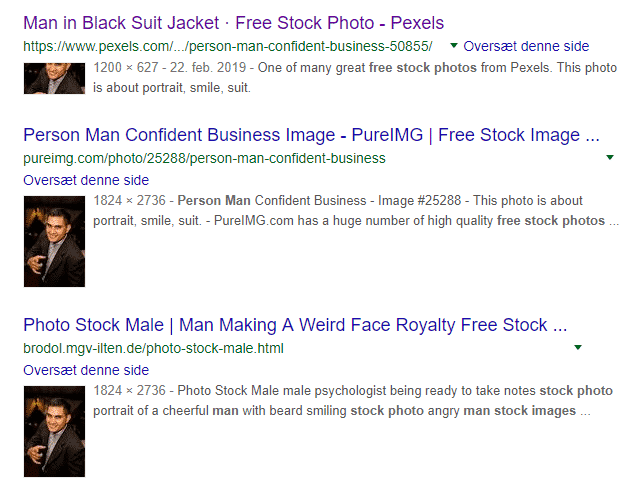 It, therefore, seems like they are using stock images for some of their testimonials. To me, this is a huge red flag.
If the platform really was as great as it claims, it should not be a problem at all to get testimonials from actual members, right?
Final verdict – legit or scam?
From the above, I think it is clear to see that I am NOT a big fan of GoldOpinions.com.
You might get some ideas out of joining and get access to some paid surveys, but it just has so many red flags you have to take seriously into consideration before joining, in my opinion.
So let's finish this review by summing up the pros and cons so you can get a better overview before making your final decision.

Pros:
Honest about the fee for joining
Money-back guarantee

Cons:
Charges a fee for joining
Expensive monthly membership
Dishonest about "special" offers
Refers to famous brands without proof
Indicates you can make a living
Overall, I cannot say you will get nothing out if joining GoldOpinions. But it is definitely NOT a site I will join or recommend joining because it has to many red flags, in my opinion.
There are especially two major deal-breakers – that you have to pay to join and that it claims you can make a living by taking paid surveys.
This, to me, makes it a site to stay away from as you should NEVER pay to join a survey site and you should NEVER trust a site that claims you can make a really good full-time income by taking surveys.
Therefore, I would instead suggest you check out the best paying survey sites in your country. These sites are completely transparent about what they offer, they are free to join, and you can actually earn on the sites.
If you have any comments, questions, or have any experience with GoldOpinions.com yourself, I would love to hear from you in a comment below.