Are you looking for a site that can help you earn extra cash? Then you might have already encountered a site called GPTBox and are considering joining it. But before you hit the sign-up button, it would be wise to read up on the site first so you'll know what to expect.
Also, you have to figure out if this site is a scam or if it is legit. After all, the goal here is to join a legit site that will really allow you to earn extra cash.
This GPTBox review will reveal all the details you need to know about the site (including whether it's legit or not) so you can decide if it is really worth joining or not.
What is GPTBox and what does it offer?
GPTBox, as the name suggests, is a Get-Paid-To (GPT) site that will pay you for participating in the different online tasks. It is indeed a legit GPT site that will pay you for completing their offers and other earning opportunities.
Now, to fully understand how the site works and how well you can earn from it, we have to examine the earning opportunities it offers. So, here's how you can earn from GPTBox.
Option 1 – Offerwalls
If this is your first time hearing about offerwalls, they are basically in-site advertising platforms that will pay you for completing short tasks/offers (hence the name offerwalls).
Most of the tasks you will encounter on their offerwalls will ask you to answer surveys, play games, download apps, and register to certain sites.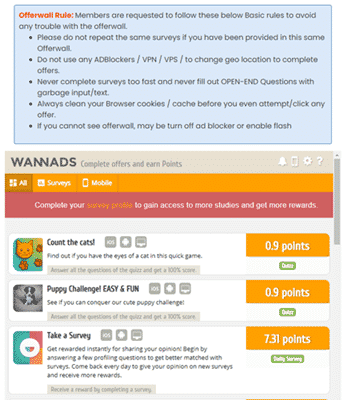 What's interesting about GPTBox's offerwalls is, there are plenty of offerwalls you can choose from. In fact, as of writing this review, there are 33 offerwalls you can choose from. That's probably the most offerwalls I've encountered in one GPT site.
But why would you care how many offerwalls there are on a GPT site? Well, the simple answer is, there're will be more opportunities for you to earn. And that's one of the main things you should be looking for in a GPT site. The more opportunities to earn rewards, the more money you can earn.
However, what is even more important is that the offers pay well. And this is where GPTbox falls a bit short. There are just sites that pay more for the offers you take.
To complete an offer, just click on any offerwall you want to work on and choose any offer you want to do. It will then show you the instructions/steps you need to follow to complete the offer as well as the reward you will get for completing it.
Make sure to take note of the instructions because if you miss just one, you will not be able to complete the offer and you will not earn the reward. So, before you start working on an offer, make sure you fully understand what it is asking you to do.
Option 2 – Daily surveys
GPTBox also gives you access to daily surveys you can answer to earn additional rewards. These surveys are provided by survey routers like Samplicious.us, Yuno Routers, and Your-Surveys.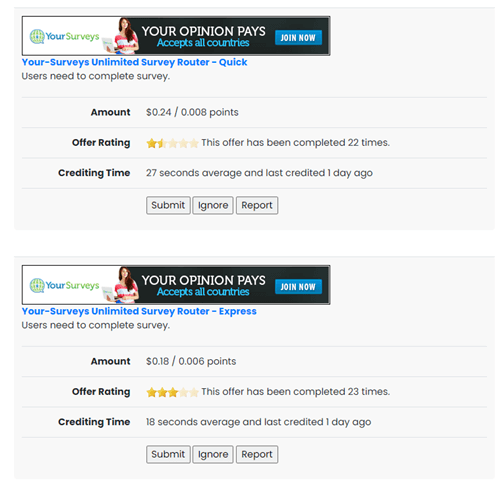 To answer a survey, just click it and if you qualify, you get to answer the survey. If you don't, then you simply move on to the next daily survey offer on GPTBox.
If you are able to complete the actual survey, you have to go back to the Daily Surveys page and click the "Submit" button of the survey offer you completed to receive the reward. The site will first have to verify if you were indeed able to complete the survey before you will receive the reward.
So, don't expect to receive the reward right away. But make sure to take note of the surveys you complete in case you still haven't received the reward in a couple of days. If that happens, you have to contact their support team for verification (I will discuss later how you can do this).
However, just be aware that many of the surveys you can find on GPTbox can be found on other sites as well but in many cases for a significantly higher reward.
Option 3 – Paid-to-sign-up offers
Paid-To-Sign-Up (PTSU) offers are offers that will ask you to sign up to a certain website.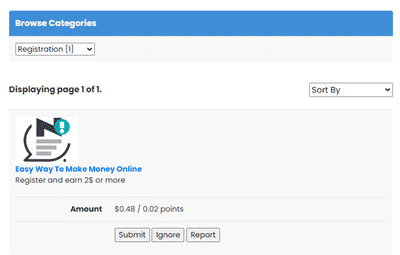 You have to click on the PTSU offer you want to work on. It will then show you the instructions/steps you have to do. Again, you need to make sure you follow every step to earn the reward.
Once you've completed the offer, go back to the PTSU page and click the "Submit" button. Again, you have to wait for the offer to be verified before you will receive the reward.
Just be aware that many of these offers do not pay very well in relation to the time you have to spend, so it is definitely not the best earning option, in my opinion.
Option 4 – Referral program
Most (if not all) GPT sites have a referral program. GPTBox is no exemption. You will be able to earn bonus rewards by inviting other people to join the site.
To invite someone, you just have to share your invite link with them. When they click the link and sign up to GPTBox, they will become your referral. You will then receive a 15% commission every time your referral earns on the site.
Plus, you will also receive a 10% commission if your referral purchases something on the site (ads, banner impressions). So, in order to earn from this opportunity, you have to make sure the person you invite is really interested in earning from this site.
Recommended: Check Out the Top GPT Sites
How do you get paid?
Some offers and surveys on GPTBox will reward you with points, some will reward you with a certain amount, while some will reward you with both. They will all be reflected in your GPTBox account.
But what will you do with the points you've earned?
Well, you simply have to convert it to cash to withdraw it. 1 point is equivalent to $0.01. So, if you have earned 100 points that means you have earned $1.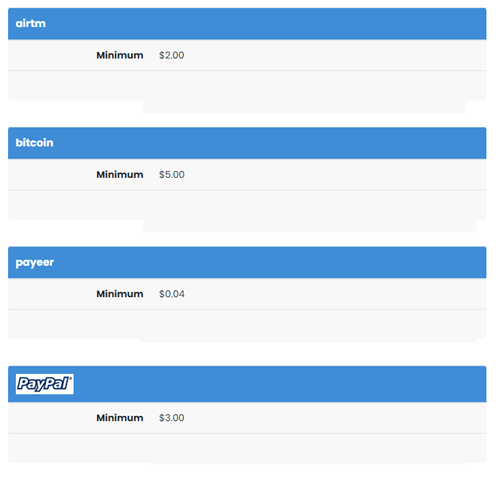 You can then withdraw your earnings in several ways (refer to photo above). You can withdraw your earnings via PayPal, AirTM, Payeer, Perfect Money, Webmoney, or you can convert it to Bitcoins.
The threshold you need to reach to withdraw your earnings will depend on the payment method you will use. For example, if you choose to withdraw your earnings via PayPal, you will need to earn at least $3. But for Payeer, you will only need to earn $0.04.
But overall, the payout threshold of their payment methods are relatively low, which means you will be able to quickly withdraw your earnings.
If you are interested in more sites with a low payout threshold, I recommend you check out the fastest paying sites.
How much money can you make?
Most of the offers found on GPTBox will reward you with around $0.1 to $0.3, which isn't that great. So, even though their payout threshold is relatively low, you will still have to complete a lot of offers just to reach it.
So, it doesn't exactly have a high earning potential. But the main strength this GPT site offers is, it has plenty of earning opportunities available. That means you will be able to earn rewards on a regular basis.
That's why, in my opinion, it can serve as a decent secondary site to earn from. You just have to be a bit more patient because it doesn't offer the highest rewards.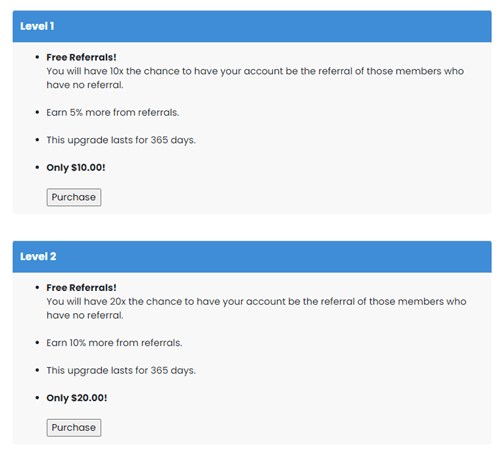 The site does offer a way for you to earn more. As you can see in the photo above, you can upgrade your membership to a premium membership. In return, you will earn more from your referrals and you will be assigned a certain number of referrals by the site.
These referrals will come from sign ups that were not referred by anyone. It's a bit of a risk because the upgrade costs a significant amount. The upside is, it will last for a year. But before you upgrade your account, I suggest you have a solid plan to make sure you will be able to earn back the money you spent for the upgrade.
That's the best way to go about the upgrade. Also, you can use your earnings to pay for the upgrade, so you don't have to shell out your own money.
However, just be aware that it will not be worth it for all. In fact, I would strongly advise you NOT to pay for an upgraded membership if you are relatively new to sites like this as chances are, you will not be able to make them back.
Can you use it on mobile?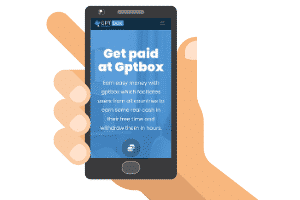 GPTBox doesn't have a mobile app you can download, but you will still be able to access their site from a mobile device. You just have to use a mobile web browser.
Their site is optimized for mobile use, so you won't have any problems navigating through the site or reading all the content properly. This will help you complete offers that will require you to download mobile apps.
It's good that you can conveniently work on offers from a mobile device because it will help you become a more efficient earner since you will be able to earn anytime and anywhere (as long as your mobile device has an internet connection, of course).
Who can join GPTBox?
The site is available more or less worldwide.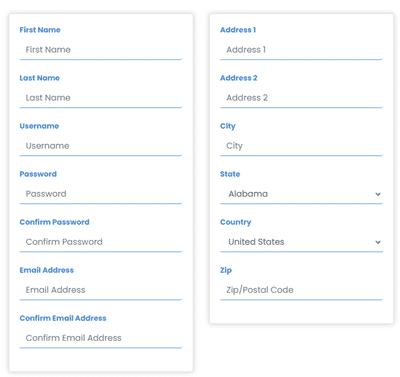 To become a member, you simply have to fill out the registration form found on their website. You will have to provide your full address.
But once you are done with the form, you can immediately log in to the site and start earning. You don't even have to confirm your registration like you usually would in most site.
Can you get support?
GPTBox does have a FAQ page you can refer to if you have any questions about the site or your account. However, it really doesn't discuss most of the basic topics, so it's a bit useless, in my opinion.
So, if you have any questions and the FAQ page can't answer them, you can just submit a support ticket. Just go to their Help section and click the Send Support Ticket. Fill out the form and wait for their reply. This is pretty useful especially if you want to follow up on rewards that were not awarded to your account.
Now, if you have any problems with their offerwalls, you have to use the support button of that specific offerwall because GPTBox doesn't provide support for offerwalls since the offerwalls have their own support team.
Final Verdict
GPTBox is a legit GPT site that offers a couple of good features. It also has some limitations you need to consider.
To finish this review, let me summarize the pros and cons of the site to give you an overview of what the site has to offer so you can decide if it is really worth your time or not.

Pros:
Offers payment via PayPal
Has plenty of offerwalls you can choose from
Available globally

Cons:
Low rewards
FAQ page is not very helpful
In my opinion, GPTBox is not a bad GPT site. You just have to be a bit more patient because of the low rewards they offer. On the bright side, they have plenty of offers you can do, so you won't really run out of things to do to earn rewards.
It can serve as a decent secondary site to earn from. But if you are looking for primary sites to earn from, I would instead suggest you check out the top survey and GPT sites in your country. The sites on this list all have better earning potential since they offer higher rewards.
And you will also be able to find a site you can join regardless of where you live.
If you have any comments, questions, or have any experiences with GPTBox yourself, I would love to hear from you in a comment below.