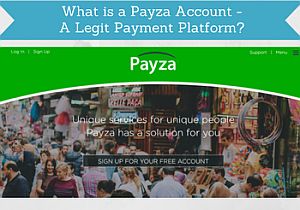 Payza can be used for a number of different things. I first heard about Payza because several of the survey sites I am using offer Payza as a payout method.
But what is a Payza account, and what else can you use it for, and is it even a platform worth joining? In this article, I will give you all the details, so you can easily decide, if it is a service that fits your needs.
Update March 2018: Be aware that since this review was first published, Payza has been shut down in the US. It is now only available in Europe.
What is Payza?
Payza was created in 2011 and is an online payment platform that is available in more than 190 countries and in more than 25 currencies.
In 2017, Payza won the Online Payment Method Award. It is award that is given to the payment solution that gives the best mix of security, compliance, and best overall user experience for merchants and the end-users. The award was given by the Merchant Payments Ecosystem, which is a yearly event focused on merchant payment acceptance.
That Payza has won this award definitely adds to its credibility, and makes it interesting to look into for anyone receiving or sending money online. So let's look further into what Payza can be used for.
What can you use Payza for?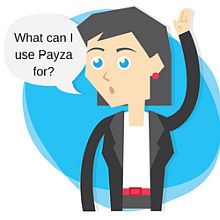 Payza can be used for many purposes, if you are sending or receiving money online. In this article, I will mostly be focusing on how you can use it as a consumer. But Payza also has plenty of opportunities for merchants. For more details about these, you can visit the website through the link further down in the article. Some purposes you can use Payza for are:
Get paid from online reward portals:
If you are making money on online reward portals and survey sites, Payza is more and more often becoming a payout method you can choose. This is the way I first heard about Payza, and why I started looking further into what the site has to offer. Some sites I am a member of that offer Payza as a payout method are ClixSense, Superpay.me, and Points2fun.
Send and receive money:
You can use Payza to send or receive money to anyone that has an account, whether a private person or a merchant. You can use it to send money to people in the 190 countries that Payza is available in at the moment. If somebody needs to pay you, you can also use Payza to request that payment.
Shop online:
According to Payza, you can use your account to shop online in thousands of shops. As there are millions of shops online, I have not been able to make a list of the sites that accepts Payza payments. On Payza's own site, the answer to which shops it can be used for is that there are thousands of shops it can be used for, so it is not possible to make a list of it. So if you have some favorite online shops, and you are interested in using an online payment service to shop in it, it is better to check at the specific shop which payment methods it accepts before signing up for Payza or any other service for that matter. It is however free to sign up for an account, so there are no cost involved in signing up.
If you are not interested in using your money in your Payza account to shop for or to send to someone else, there or other ways you can get access to your money, which I will now go into.
Below you can see a short video from Payza itself that explains what it offers:
How can you withdraw money from your account?
One thing is to know that you can receive money from for example online survey sites and from people all over the world. But sometimes it can also be nice to be able to get the money out in cash or into your "normal" bank account. At least I prefer using payment solutions that also gives this option. Payza gives the following options in this area. Be aware that some withdrawal methods require that you have verified your account. You can do this once you are a member and logged into your account.
Bank transfer:
You can choose to get the money in your Payza account transferred into your local bank account. This is one of the features you need to have a verified Payza account to use. I personally like when this option is available and only uses payment platforms that gives this option. But that of course all depends on personal needs and preferences, but I think it is great to have this option.
When transferring money to your bank account, it takes Payza 3-5 days to process the payment once you have requested the transfer. After that, it takes your bank 2-4 business days to process the transaction. So you should have the money in your account within 10 business days.
Bank wire:
To use this option, you need to connect your bank account to your Payza account. Payza mentions that you have to be aware that your bank might charge you an additional fee to receive money this way, so you should check with your bank. Once you have requested a wire transfer, It takes 2-4 business days for Payza to process the payment and then further 2-4 days for your bank.
Bitcoins:
You can exchange and transfer your money from your Payza account into Bitcoins. To do this, you need to have your own Bitcoins wallet. As I am at them moment not using Bitcoins myself, this is not an option I know much about. So you can read the details about how you exchange your Payza funds into Bitcoins on Payza's website through the link below. From you have requested payout like this, it takes 1-10 days to process.
Payza prepaid card:
This is a card you can order and load with your Payza funds. You can then use it more or less as a normal MasterCard to pay online, pay in shops and withdraw money in ATMs. Be aware that this option is not available in all countries. You can see if it is available in your region, once you are logged into your account. At the moment, it is only available in US dollars.
What are the fees?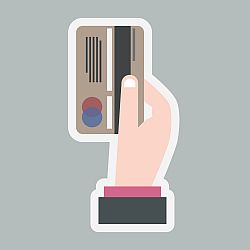 One aspect that is very important for any online payment platform is of course what the fees are to use it. This can vary from platform to platform and from country to country, so it is important to look into before deciding which service to use.
Below, I have given an overview of some fees involved in using Payza. Be aware that this is not a full list.
Payza fees are a bit complicated as they depend a lot on where in the world you live, and it has not been possible for me to mention all the different fees for over 190 different countries.
So the fees below are just examples, and I have focused on giving the fees involved in the options that I have mentioned in this article.
Also, be aware that Payza can change these fees at any time, so make sure to check the newest fees at the website itself, if you decide to join.
Opening an account:
It is free to open and have an account at Payza. The fees are paid for using certain of the services, but not for just having the account.
Sending and receiving money:
Sending money to other people is free. Receiving money has a fee. The exact fee will be a percentage of the amount + an extra fee. The percentage depends on the payment method the receiver is using, so you have to check the website for further details, as there are quite a few different fees and percentages, so you have to check what it would be for your exact situation.
Withdrawing money to your bank account:
The fee for this depends again a lot on where in the world you live. If you live in the US, the fee is only $0.50, but in most parts of Europe it will be around $4 + a currency exchange fee. Be aware that your bank might charge additional fees, so to be sure about the exact costs, you have to check with your local bank as well.
Bank wire:
This option is not available in all countries. But from what I have checked, the fee for using this option will be around $15 in most countries.
Prepaid card fee:
There are a number of fees in relation to the prepaid card. First of all, you have to pay $19.95 for shipping and handling when first ordering the card. There are also fees in relation to withdrawing in ATMs, loading your card, inactivity fee and more. I will not go into all the fees in relation to the prepaid card here, as there are too many to mention them all and all the variations depending on the country you live in. So make sure to check the full details and costs in your specific country before ordering a card.
Can you get support?
If you should run into any problems or have any questions, Payza has quite a few options for support. On the website itself, there are a lot of extra info and guides, but you can also contact the support through email, if you do not find the answer. Payza also offers support on Twitter and Facebook, so you can also contact them there instead, if that is your preferred method.
Conclusion
So is Payza worth joining? It really depends on a number of different things. Especially where in the world you live, and also of course what your needs are.
Personally, I live in Northern Europe and prefer withdrawing money to my local bank account. For me, Payza is a bit expensive for this particular purpose compared to certain other sites.
I, therefore, prefer using Payoneer instead. But the situation might be very different for you, and you might have other preferred methods to use your money, live in another part of the world, etc.
So to find out if it is the worth joining for you, you first need to look at what your needs are, what Payza offers in relation to this, and what the costs are.
Also, please be aware of the update I have posted in the beginning of this article – since I first published this article, new information has come out about Payza, and it has been shut down in the US. Because of this, several of the web services that used to use Payza now longer offer this option.
If you have any comments, questions, or have any experiences with Payza yourself you would like to share, please feel free to leave a comment below.