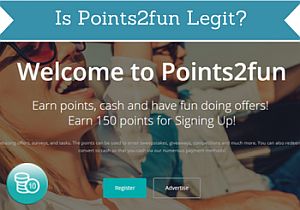 Points2fun is a brand new survey site that just started in June 2017, so maybe you have not heard about the site yet. But is Points2fun legit or is it a waste of your time?
I have joined it from the beginning to test it and in this Points2fun review, I will tell you all about my experiences with the site so far, so you can find out if it is a site you want to join or stay away from.
What is Points2fun and what does the site offer?
Points2fun just started in June 2017, so it does not yet have a lot of history. It has its head quarters in New York, but that is all the background info that is available.
It is a site where you can earn points and cash through a number of different activities. The site has a lot of offers (not all are that great in my opinion, but will get more into this later), and below you can find a quick overview of these:
Surveys and offers:
Through the earn section, you can take different surveys or other offers. So far the amounts of surveys available is very low where I live (Northern Europe). There are quite a lot of other offers, and some of them might be interesting depending on what you interests are. You can for example sign up for some contest or download some games and earn points. Be aware that these offers are from third party providers, and often you have to give your phone number or other details to participate. That can be fine, but you have to be aware that they will probably use it to contact you, so be sure to read the conditions before using the offers, so you know what you are saying yes to.
PTC:
PTC (Paid to click) is small ads that you have to click and spend a certain amount of seconds on an ad/website to earn some points. Just be aware that it will only make you very little money. PTC in general has a bad reputation as there is a lot of fraud going on in this business. For that reason, the popular survey site ClixSense recently decided to remove PTC from their services. That does however not mean that it is not legit to earn this way on Points2fun, but just to give you an idea on what kind of offers that you can do here, and what the general opportunities with the different options are.
Traffic exchange:
Traffic exchange is similar to the PTC option. It is where you can earn to visit a certain website. In general, Traffic exchange is a service that web owners use to increase that amount of traffic to their websites. It is like PTC, in some cases, a service that is controversial as not all the traffic exchange services are legit.
Watch videos:
There is a bunch of videos you can watch and earn some points by watching. There are all kinds of different videos from entertainment, sports, politics and much more. The length of the videos varies. However, you will not get paid a lot. On the videos page it says you will get paid, but you cannot see how much you will get for each video before you start watching, which it usually does on sites that offer similar options. But from testing it, I have found out that it will give you around 1 point for a video. I have tested several videos, and only get 1 point no matter what the length of the video is. That is equivalent of 1 cent, so it will really not make you a lot, and you should only spend time watching the videos, if it is something you really want to watch anyway.
Like Facebook pages:
There are some Facebook pages that you can like and earn from liking them. It only gives around 10 points to like a page. Personally, not an option I want to use to earn, but it might be interesting for you. From an advertiser's point of view, I do not understand why anybody wants to buy likes. Buying likes is easy, but it can end up hurting your Facebook page, if it is people that will never interact with your page and do not really care about it.
Traffic Grid and Refback:
So far there is not really information on Points2fun about what these 2 options are how much you can earn on it. So cannot say too much about it yet.
Crowdflower:
This is small online tasks you can do to earn a bit of extra points.
Referrals:
You can invite other people to join the platform and get a commission every time they earn on the platform. You can also earn a smaller percentage from people your referrals invite, and you can rent referrals. For the good sites with a lot of activity, referrals can be a nice way to make a bit extra. But before getting too excited, be aware that it is not as easy as it sounds to invite people you know and get them to join. First of all, you have to join yourself and make sure it even gives opportunities for the people you want to refer. If you invite people and they do not have any opportunities, or if they do not find it interesting, neither you nor they will earn anything.
Offers for advertisers
If you are an advertiser or have your own website, Points2fun offers a number of different ways you can promote your page. It can be by buying PTC ads, traffic exchange, buy likes on Facebook etc. Before you use these options, you should however first consider if it will be worth it. Getting traffic is not all, if it is not the right traffic. Then it can instead end up being a waste or hurting your website. This is a whole science in itself, so will not go into details about that here, but just want to make you aware the option is there, and to think before using it. If you want to advertise a product or website, there are methods that are better in my opinion. It might take longer and more effort, but you will also get a lot better long term results. But it very much depends on your service or product whether the options on Points2fun are worth using, or if you should go in another direction. But now you know the option is there.
Point2fun levels
There are 4 different levels. You start at the lowest level, and as you earn points, you will move up. As you get to higher levels, there will be different added bonuses and advantages as you can see in the table below. But the added bonuses are really not very big, so will not make a huge difference.
How do you get paid?
A very important aspect of any survey site or online reward portal is of course how you can get paid. At Points2fun you will earn either points or cash, and these can be used for different purposes and be paid out in different ways. In my experience, most of the opportunities will earn you points. You will for example get 150 points joining bonus, which is equivalent of $1.5.
The cash you earn can be paid out through PayPal or Payza. The points can be used on gift cards or on the Points2fun marketplace, where there is a number of products you can choose from. The gift cards you can get for example for Amazon, ebay, Itunes and Starbucks.
How much money can you make?
This is a good question. Like any other survey site it depends on how much time you are willing to put into it, and where in the world you live. Here now when the Points2fun has just opened, I am however not impressed with the possibilities.
Several of the opportunities and the site seems to not have been properly implemented yet, and I cannot say if they will be or not.
Who can join?
Anyone can join as long as you are above 18 years old and understand English. You can join already when you are 13 years old with parents' consent.
This does however not mean that there will be the same opportunities in all countries. Be aware that you are not allowed to use a proxy on Points2fun.
Concerns about Points2fun
I have a few concerns about Points2fun after testing it, and will here share it with you, so you can take that into your considerations as well before deciding whether to join the site or not.
Promotion methods:
I do in general become suspicious when survey sites make claims about huge earnings and indicates that you can make a living from it. I found out about Points2fun due to claims like this and spam.
I have a Twitter account where I share when I have new article on PaidFromSurveys.com, and a few days in a row, I suddenly got a lot of comments from users with more or less the same message. Different users, but all with the Points2fun logo as their profile picture, and commenting on one of my posts about how great a site Points2fun is and how easy it is to make money their. They posted these on a post I had with another review. Seems a bit spammy to me, and I in general dislike methods like this. I cannot say for sure that it is the official site that is behind it, but can only say that it looks strange that all these users have the logo as their profile picture and promoting on exactly the same of my posts.
Also the claims made are not true. One of the comments was that this person has made tons of money on Points2fun. This is not true. So far there are only very few members and as a member I can see statistics over the top earners (see picture below). This statistic showed me that the top earner has made $0.0110. I myself quickly came into a shared second place – (number 4 on the list below) with a whopping $0.0100:-)
An official place where I think the site is exaggerating is when you are about to register. Here it says that you can chance your finances forever by joining. In my opinion this implies that you can make a living from joining this site. Maybe it will change into that eventually, but I have never seen that an online rewards platform will be able to make any one rich but joining and doing the daily tasks there. It can often give some nice extra cash on the side, but the legit sites are usually also very clear about this and do not promise too much.
Usability:
Another aspect of Points2fun that I do not like is that it is very confusing to use. Several of the opportunities that are there are not very well explained, and the whole site is in general confusing to navigate on. This is of course a question of personal preferences, and this might also improve over time, but so far this my experience about it.
Conclusion
Points2fun is a very new site. That is also why I cannot be too hard in my conclusion of the site. So far it does seem like a legit site, but I do however not like some of the promotion methods and claims the site uses, it is very difficult to navigate, and so far the possibilities to make money is very low.
All this might change as the site matures. Only time will tell. I will keep an eye on the website and keep testing and update my review here accordingly. But for now, I will say that there are many sites that are better to join, if you want to make money on surveys or on online reward portals.
If you have any questions or any experiences with Points2fun yourself you want to share, feel free to leave a comment below.
Points2fun
Money/time ratio

Frequency

Usability
Summary
Points2fun just started in June 2017. So far I am not impressed with the opportunities and earning potentials. It is confusing to use, and the site uses exaggerated claims in their promotion. Too early to make any definite conclusion about the site yet, but so far I would suggest to join other sites instead.