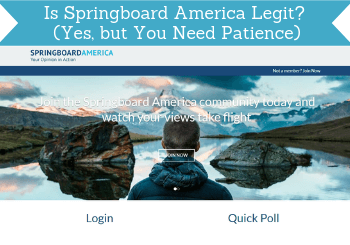 Springboard America is one of the many survey sites you can join.
But the question is, is Springboard America legit?
For all intents and purposes, let me just reveal right away that it is a legit survey site that delivers what it offers. In this case, it pays you to answer the surveys they provide.
The jury is still out though on whether or not Springboard America is proven to be a good use of your time and actually worth it.
This Springboard America review will answer your questions and more so you know all the details before deciding to join or not.
Let's get right to it.
Disclosure: Some articles on this website contain affiliate/sponsored links. Click for more info.
What is Springboard America and what does it offer?
As you already know, Springboard America is a survey that promises to reward you for sharing your opinions.
This survey site is owned by Maru/Blue, which is a market research company that prides itself in knowing premium quality data.
According to themselves, they partner with only the most reputable companies, brands, and organizations and provide them with important data that they gather from the surveys they offer to you.
Seeing as it is a survey site, you can probably guess how you can earn rewards, but I'll present it anyway so you will know all the details about exactly how it works and how good the opportunities are there.
Here are the earning opportunities that Springboard America offers.
Option 1 – Paid surveys
That's no surprise there. Your main earning method with Springboard America is through paid surveys.
Once you become a member, you are eligible to take the surveys they offer you.
When you log in to the website, you will then see all the available surveys you can take.
Normally, just like with other survey sites, you will also receive an email notifying you that there is an available survey that you can take.
As for the frequency of the available surveys, a lot of members have reported that Springboard America has a low survey invitation frequency.
For a survey site that mostly relies on paid surveys, having a low invitation frequency is really a red flag.
That will only mean that you won't be able to pile up the reward points as quickly as you would hope (I'll explain more on this later).
Option 2 – Prize draw
Another common method of earning rewards from survey sites is through a prize draw.
Unfortunately, with Springboard America, there isn't really a lot of information on their website regarding the prize draws that they hold.
So I did my due diligence and found out that they basically have three types of prize draws: recruiting, participation and profiling draw.
For the recruit sweepstakes, you get the chance to win $1,000. The prize is drawn annually. For the participation sweepstakes, there will be one winner of $500 and five winners of $50, which will be drawn monthly.
As for the profiling sweepstakes, there will be 10 winners of $100 each, which will also be drawn monthly.
In my opinion, the rewards for the prize draw are actually a bit underwhelming considering that you will have to rely on luck in order to get the rewards.
Other sites actually have higher prizes offered in their prize draws.
It is, of course, still some nice extra money you can get if you are really lucky – but it is not money you can really count on. So, in my opinion, joining Springboard America just for the prize draws are definitely not worth it.
But if you like what else it has to offer, it is nice you have an extra chance for some winnings even though the prizes are not as high as on some other sites.
Option 3 – Referral/associate program
Another way for you to earn rewards from Springboard America is through their referral program.
But again, they failed to include the information about their referral program on their website. When I looked around on the internet, I found out that you will be able to earn $2 for each friend you invite to join the platform.
So, it's a pretty straightforward process, but again, the reward is pretty low. Unless you can refer 50 people or more, this method of earning isn't really very reliable.
There are other sites that actually have a better referral program structure. One example is SurveySavvy.
It's a better referral program in my opinion because aside from earning rewards for referring people, you also get a percentage of your referral's income.
This structure can have a significant impact on your total earnings, especially if you have plenty of friends you can invite.
In Springboard America's case, there really isn't any other incentive for referring a member aside from the $2 reward.
So, if you think about it, the rewards that Springboard America offers are actually underwhelming compared to other better survey sites.
==>Click to Check Out Springboard America for Yourself<==
How do you get paid?
With Springboard America, you actually have several ways of redeeming the reward points that you've accumulated.
But let me just explain to you first how their system works. When you successfully complete a survey, you will be awarded points that will be credited to your account within 30 days of completion.
Here's the kicker. Once you hit 5,000 points, which is the cash equivalent of $50, you can then request for payment.
Based on their terms and conditions, you can redeem your rewards in three ways. You can either transfer the rewards to your PayPal account or use virtual or physical Visa.
You can also choose to exchange your reward points into gift cards from popular retailers like Amazon.
This, at the very least, makes the reward claiming process a bit more convenient for you. Having the option to claim your earnings via PayPal makes it much easier.
How much money can you make?
The main issue about income generation in Springboard America is actually its high payment threshold.
The $50 payment threshold is actually higher than most of the good survey sites.
If you want a site that allows you to claim your rewards as soon as possible, you can check out the fastest paying survey sites.
The thing with high payment threshold is, you have to do a lot more before you can actually receive the rewards.
That means you have to answer more surveys and refer more members before you can ever hope to request for payment.
You also have to consider that fact that the frequency of their survey invitations is quite low. It will basically take you a couple of months to reach the threshold – or maybe even more in some cases.
To answer the question, the minimum amount of money you can earn with Springboard America is $50. But in order to reach that amount, you'd have to answer several surveys in a span of several months.
So in my opinion, it is a big letdown for them. There are better sites that pay better and faster.
Recommended: Click to See the Best Survey Sites in Your Country
Can you use it on mobile?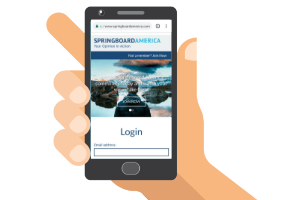 You see, the problem with Springboard America is that their site actually provides very little information about what they offer and what you can get from them.
The desktop version of their site actually looks good if you only consider the aesthetics side. The same is true for the mobile version.
The mobile version of their site seems responsive. You will be able to view all the content properly in all the pages.
And to answer the question, yes, you can use it on mobile but only through a mobile browser. They don't actually have an app you can download and log in to answer the surveys.
In my experience, sites that actually have an app you can download and install so you can answer surveys on your mobile device is much more convenient.
It also gives the assurance that they did invest time and resources in order to give you the best user experience as possible.
But it is still great that you can use Springboard America on mobile and tablet so you can earn from any device if you decide to join.
Who can join Springboard America?
In order to register for Springboard America, you have to be 14 years of age or older.
You also have to be a resident in one of the 50 states of the United States or the District of Columbia.
Also, according to their terms and conditions, employees of MARU, its subsidiaries and affiliates, and members of their immediate family are not eligible to participate.
But as of this writing, they are not accepting any new members if you go to their website and try to join. As to why that is, I can only guess that there are already too many members for them to cater.
However, here at PaidFromSurveys.com we have been able to get an invitation link that should give you access to register if you live in the USA.
You can find this link at the bottom of this review.
Can you get support?
A quick look at their Contact Us page shows that there is a way for you to contact Springboard America just in case you have any inquiries.
In fact, you actually have a couple of ways to contact them. One is through email.
By clicking the here link in the Email section, it should open up the new message window in your Microsoft Outlook program or any email sending an application that you've installed in your computer.
If you have none, let me save you the trouble of looking for their email address. Here's their email address for their support team: support@springboardamerica.com.
The other method of contacting them is through postal mail. Their address is written in the contact page, so you can just send your letter to that address.
Most survey sites though have more convenient ways to contact them because they provide a contact form that you can fill up in case you want to contact them.
A quick look at their social media pages shows that they aren't as active as they should be.
They have not posted for a while as of writing this review. But, you can send them a message if you have any questions. I'm just not sure if they will reply or not.
Final Verdict
Springboard America is definitely a legit survey site.
It does reward you with cash by completing their surveys. Here's an overview of what you are getting into in case you want to register.

Pros:
Surveys offered are relatively short
Has the option to request payment via PayPal
Has a decent amount of gift cards to choose from when redeeming rewards

Cons:
High payment threshold
Getting support isn't very convenient
Low survey invitation frequency
Low rewards per survey completed
As you can see, there are more pros than cons. That doesn't bode well for Springboard America. The inability to quickly earn money and the low rewards are the major issues that this site is facing, in my opinion.
There are simply better survey sites that offer better rewards and allow you to earn a lot quicker. Plus, it is only limited to U.S. residents so if you do not live here you need to look for other options
If you live in a different country, I recommend you check out the best survey sites in your country to find better opportunities.
How to join Springboard America?
As mentioned earlier, at the moment you cannot register just by going to the website as they do not accept members that way.
However, if you want to register, you can click the button below which is an invitation link that gives you access to register.
Just be aware that there are limited spots every month, so in case there are no more spots this month just come back and try at the beginning of the next. Also, you can ONLY join from the USA.
If you have any comments, questions, or have any experiences with Springboard America yourself, I would love to hear from you in a comment below.
Springboard America
Money/time ratio

Frequency

Usability
Summary
Springboard America is a legit survey site that rewards you with real money for answering their surveys.
But you need a lot of patience in order to start receiving rewards. That's because it has quite a high payment threshold. Plus, the frequency of the survey invitations is quite low as well.
You will need a lot of patience in order to accumulate enough rewards to request for payment.
Instead, I suggest you check out the best survey sites in your country to find better opportunities.
Or
Click to Check Out Springboard America for Yourself (ONLY for the US)