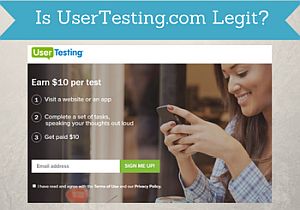 UserTesting.com is a platform where you as a consumer can give feedback to companies about their websites and get paid for the feedback. But is UserTesting legit and worth the time, or is it just another scam?
I am a member of the platform myself, and in this UserTesting review, I will give you the details about what the platform has to offer and my experiences with it, so you will know whether it is a platform you want to join or not.
What is UserTesting?
UserTesting is a platform that helps companies increase the usability on their website and help eliminate bad user experiences. To make this happen, it needs testers/users to give feedback to websites and let companies know how their experience is.
This is what makes the site interesting from a user perspective, as that gives you a chance to make a bit of extra money by giving this feedback.
By joining, you can become a tester and do video feedback of you sharing your thoughts while navigating on different websites. Sounds like a pretty cool way to make a bit of extra cash so far right? But let's go a bit deeper into what the platform is about before you decide whether it is for you or not.
How does it work?
Once you have become a panel member on UserTesting, you will get a notification when a new test is available. You can then apply to take this. Often it is a very specific profile you need to have or come from a specific part of the world to be able to participate. So even though you become a member, you might not get very many opportunities.
When you get a test, you will first get a description of the task. It can be a specific situation like for example "imagine that you are interested in visiting this museum and looking for information about it". This scenario is something you have to have in the back of your head while taking the test, and give feedback according to.
All tests on UserTesting are video feedback. That means that you will have a screen recorder that records how you navigate on the specific website, and at the same time you will have to explain you thoughts and give feedback to certain questions in a microphone. This way the companies will receive a video of how you navigate on their website and all your thoughts while doing so.
It might sound a little complicated at first, but it is actually a lot more simply that it sounds. It is easy enough for everyone to do, as long as you are used to using websites.
One thing that is important to know is that the quality of the videos you make is important. The companies are only interested in genuine and useful feedback and therefore there is a rating system. After each video you have made, the website owner will give you a star rating 1-5, and this will produce an average rating for you over time. People with higher ratings have a better chance of getting more tests, as websites owners of course prefer feedback from people that are doing a good job, instead of people that are rushing.
Once you are a member, there is a whole section about things you can do to make sure to get good ratings. But in short, you will be fine as long as you are taking it serious and giving genuine and honest feedback.
The below video is an official video from UserTesting.com that explains very well how you do a test, so you can get a better idea about how it works, and what you need to do:
Do you need special equipment to participate?
You do not need to have any fancy equipment that most people do not already own to become a tester at UserTesting. You can do tests on Mac or PC, but also on ios and android mobile devices.
You need a specific screen recorder tool on your device, and will be guided to install this as you sign up, and it is a free tool to download.
You also need a microphone, so you can record your feedback. It does however not need to be a fancy microphone. You can just use a headset that you are using for a mobile phone, which you probably already own.
How much money can you make?
You should not expect to make a living from doing these tests. UserTesting is very honest about this, and do not promise that you can make a huge amount of money.
The platform has a slogan on the website that is "Join the solution", which very clearly shows that the focus for you should be to give feedback and have your thoughts heard, and not on making a huge amount of money on it. But it is still a nice reward you get for a test. You get $10 for a test, and on average it takes 20 minutes, which is pretty good.
However, you might not be able to take a lot of tests. It very much depends on where you live and what kind of companies that are currently looking for feedback. So do not expect to be able to take tests every day. Maybe in some countries you will be able to take several a week, but compared to paid survey sites, where you can often take several surveys a day, you will not have many opportunities.
I myself have been a member for several months, but have still not been able to qualify for a session and get paid. I do however also live in a Northern European country, and UserTesting says that it has most opportunities to English-speaking countries. But also other countries have opportunities. In my time as a member, I have for example seen tests for Spanish, Belgian, and Japanese-speaking people also.
Who can participate?
UserTesting allows members from a long list of countries to join. On the website, you can see a box with the different continents (see picture), and by clicking the little arrow you will get a full list of the countries in that part of the world. And it is a lot of countries. As mentioned above, that it accepts members from your country does however not mean that you will get many opportunities to actually take a paying test.
To join you need to live in a country that accepts PayPal, as that is the only way you can receive your rewards.
Also, you should only join if you enjoy speaking your thoughts out loud and feel comfortable doing this while recording it.
Be aware that you can NOT take tests while you are traveling. UserTesting will detect, if you login from a different country than where you have registered yourself, and this can lead to you being disqualified as a user or get really low ratings, which will make it more difficult for you to qualify in the future.
How do you sign up?
It is fairly easy to sign up. You do however need to spend a little more time than many other sites where you can get paid to give feedback. The reason for this is that UserTesting only uses video feedback, and needs to make sure that members are comfortable doing this and can live up to a certain quality. Therefore, you will have to do a little test to become a member.
First, you just put in your email on the UserTesting website, and you will then have to verify your email by clicking a link in an email you receive. After that, you can take the test to become an actual member.
The test takes around 5-10 minutes. At first, you will be taken to a screen where you can download the screen recorder. Then just follow the instructions step-by-step. You have to do a 5 minutes sample video, where you record your screen and voice. When you follow the steps on the website, there will also be an example so you can see how it is done before you start yourself. I would advise you to watch this tutorial as it can be a bit confusing to figure out what you need to do, if you do not watch it first.
When you are doing the sample video, make sure to speak your thoughts out loud as much as possible, speak clearly and be honest. Then you will have the best chance of getting approved for the panel. There is no need to think too much about what you are saying. It is about what you are thinking and what your experience is, so there is no right or wrong.
After you have submitted your video, you will get a confirmation email, and within a week you will get the answer. Personally, I already the next day got an email that I was approved for the panel, so it does not necessarily take up to a week.
Conclusion
So is UserTesting a legit platform worth joining or not? Well, it is definitely legit as it is free to participate, it pays pretty well for the time spent, and does not promise too much. But let's recap the pros and cons to see whether it will be worth joining: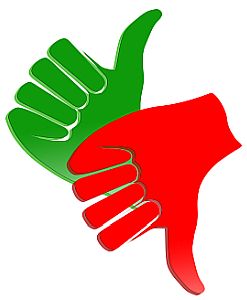 Pros:
Pays pretty well for time spent.
Fun tasks.
Available in many countries.
Cons:
Not necessarily any tests to do, even if you become a member.
Not very often opportunities.
A little confusing to do the initial sign up test
As you can see, UserTesting has both good and bad sides. If it is worth joining depends a lot on where you live, and your expectations. You should only join, if you would like to give feedback just once in a while, but do not expect to be able to do it very often. But if that is ok with you, it can be a fun and interesting way to make a little of extra money. If you would like to join platforms, where you can give feedback more regularly or even several times a day, you can instead consider joining some of the legit survey sites. They will most often not pay as well for your time, but if you join the good ones, you will have many opportunities to make a bit of extra cash, so in total it can give a lot more income.
If you have any questions or comments, please feel free to leave a comment below. If you have any experience with UserTesting.com yourself, I would also love to hear your experiences. As mentioned, I have not had very much luck with the platform because of the country I live in, so would be great to hear how it is in your country as well.
UserTesting
Money/time ratio

Frequency

Usability
UserTesting summary
UserTesting can be a fun way to make some extra cash. It does however not necessarily give you very many opportunities (if any) depending on where you live. At first, it is a bit confusing to use, but if you live in a country where you get regular opportunities, it can be worth learning how to use, and an easy way to make a bit extra money.