Jobs2Shop is a Get-Paid-To (GPT) site that promises to reward you with real money for doing the tasks they offer.
The question is then, is Jobs2Shop legit?
Let me just reveal right away that the answer is YES! Jobs2Shop is a legit GPT site that does pay you for the things you do for them.
But is it worth your time though?
This Jobs2Shop review will answer that question as well as provide you all the necessary information you need in order to make an informed decision about joining or not.
So let's get to it then.
What is Jobs2Shop and what does it offer?
As mentioned above, Jobs2Shop is a GPT site that will reward you with real money as well as other items for doing their tasks.
Since it is a GPT site, you can expect that there are several ways for you to earn money.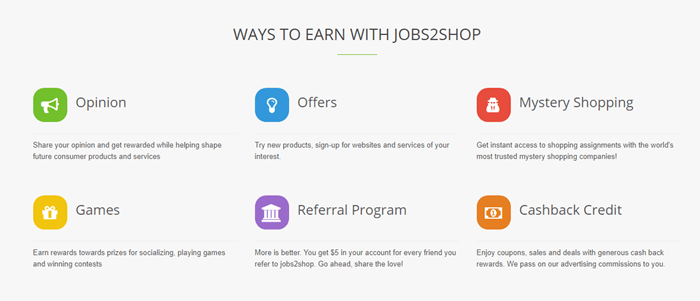 Let's discuss each earning method more in detail below so you can see exactly what to expect.
Option 1 – Paid Offers
For GPT sites, one of the most common earning methods will be the paid offers.
With Jobs2Shop.com, you will be offered to do tasks and each task will have a specific reward that will be credited to your account once you finish the task.
You will, for example, be asked to register to websites, watch videos or read emails.
Part of their paid offers is doing trials. This is a bit tricky because most trial offers will require a credit card before you can sign up.
Of course, the trial offer will have a specific period where it is free. But the thing is, you have to cancel it before the trial period ends. Otherwise, it will automatically charge you as soon as it ends.
Personally, I don't do this kind of offer since obviously, I have to keep track of when it will end. And sometimes, if you forget, you won't be able to reverse the charge.
So instead of earning money for the offer, you wind up spending.
But if you set a reminder for yourself, some of these kinds of offers can give you some really nice earnings.
And that goes for the paid offers in general. You just have to read the exact conditions so you know what you need to fulfill to get your rewards – if you then choose the best options it can be a good way to boost your earnings.
Option 2 – Paid Surveys
This is another pretty common way to earn money on GPT sites and a method I personally think is great for earning some extra cash.
Jobs2Shop also offers paid surveys that you can take. This works just like in survey sites.
You are provided surveys that you can answer. Each survey will have a corresponding reward. Once you complete the survey, you will then receive the reward.
Sometimes it won't be credited to your account immediately after you finish the survey.
There will be a time period where your answers to the survey will be verified. As soon as they see that everything is in order, then the reward will be credited to your account.
The rewards for the surveys on Jobs2Shop are decent and average compared to other similar sites.
The opportunities are not super impressive, in my opinion, but it definitely is a way to earn a bit of extra money on the platform.
Option 3 – Playing Games
Another common method of earning in GPT sites is playing games. Jobs2Shop also offers this kind of earning opportunity.
All you have to do is play the games that they offer.
Once you log in to their dashboard, you will be able to see all the available games you can play in the Games section.
Just choose which one you want to play and continue playing it until it says that you've qualified for the reward.
In my opinion, this is one of the fun ways to earn in GPT sites. As you can see, it isn't boring compared to watching ads or videos or even doing free trials.
The only downside to this type of earning method is that it doesn't reward you with a lot (I'll discuss it later).
So it can be a fun way to earn but if you are on the site mainly just to earn as much as possible you should be careful not getting carried away and spending all your time on the games.
Option 4 – Mystery Shopping
This is actually the main focus of Jobs2Shop, hence the name.
This type of earning method will ask you to do in-store purchases. In return, they will reimburse you for what you paid for.
Now you may ask how you will earn with this type of opportunity. Well, the next part of the mystery shopping is to do product testing. This is where you will actually get paid.
All you have to do is test the product and provide feedback. They will then pay an additional fee for it.
A lot of feedback from members say that they can earn up to $85 for the product trials that they do.
Of course, the products you will be buying will be the products of their advertisers. It's actually a pretty clever advertising method since you might wind up actually liking the product and buy it regularly.
But at the same time, it is a pretty good option to earn. Just be aware that you are not guaranteed there will be product tests for you regularly.
But if you see one of these options being available, it might be worth considering as the rewards for the time is pretty high.
Option 5 – Cashback Credit
The way cashback credit works is that Jobs2Shop provides you with access to buying online products through them.
Once you buy the product, you will then receive a percentage of the money you spent to buy that product.
The reason why Jobs2Shop can afford to do this is that they have partnered with different online shops. These online shops pay a commission to promote their products.
So in effect, the rewards you get are actually part of the commission that Jobs2Shop get from these sites.
If you like purchasing products from online stores, this can be a viable earning opportunity – or more correctly a way to save money. But money saved is money earned, right:-)?
How do you get paid?
Unlike other GPT sites, there is only one way for you to get paid in Jobs2Shop.
Payment will be done via PayPal. They have stopped issuing checks due to issues caused by people printing fraudulent checks, which caused problems with their bank.
Personally, I think PayPal is one of the best ways to get paid from GPT sites anyway as it is fast and easy. But before you sign up to their site, just make sure you have a PayPal account.
The payment threshold you need to reach before you can request for payment from Jobs2Shop is $25.
It's a bit high, in my opinion, but still, a reasonable amount that is not too difficult to reach. Though there are other sites that pay quicker. If you are interested in that, you can check out the quickest paying survey sites.
One thing to note though, Jobs2Shop won't be able to redirect the payment to another PayPal ID. So you need to be extra careful when providing your PayPal ID.
Another thing to note regarding the payment you receive; according to their terms and conditions, you will normally receive the payment during the 20th day of the month.
How much money can you make?
So how much will you actually be able to earn as a member of Jobs2Shop?
Well, the answer to that will naturally depend on your activity. The beauty of GPT sites is that you won't have to rely on one specific earning opportunity to accumulate rewards, unlike survey sites.
So, if there aren't a lot of paid surveys offered, you can just earn money from the other earning opportunities.
To give you a clear picture of how much you can earn, a lot of members say that you can earn $2 from answering surveys, $0.50 from reading emails, $0.10-$0.25 for playing the games offered and up to $85 for product trials.
As to how often the product trials are available, unfortunately, I won't be able to provide any information about that (you'll know why in the later section).
Also, you will receive a $5 bonus just for signing up. So that makes it easier for you to reach the payment threshold.
So it is possible to make some extra money on Jobs2Shop. But it is, in my opinion, not one of the best options even though it does give you some opportunities.
Can you use it on mobile?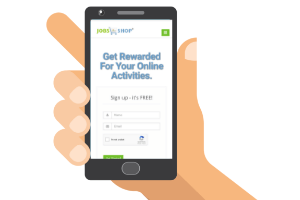 For mobile users, unfortunately, Jobs2Shop doesn't have an app you can download and install so you can work on your tasks on a mobile device.
But, you are able to access their website via a mobile browser. You can just log in to their website using the browser on your mobile device and work on your task from there.
The good news is, their website looks optimized for mobile use.
That means you will be able to see all the content properly without having to scroll left to right.
So you can still use it while you are on the move, which makes you more efficient in earning money.
This also helps you reach the payment threshold a lot quicker.
Who can join Jobs2Shop?
Unfortunately, as of this writing, Jobs2Shop isn't accepting any new members.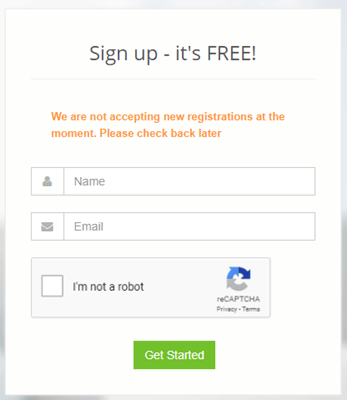 But just in case it opens up again and you decide to sign up, you have to be at least 18 years of age in order to register to Jobs2Shop. It has, however, been quite a while since they were open for registration.
You also have to be a resident of the United States in order to join.
Upon registering, you have to provide your real name, phone number, and address as well. This is important since this can be grounds for termination of your membership.
If you provide fraudulent information and they find out, they can terminate your membership.
Jobs2Shop also doesn't allow more than one member in the same household, mailing address, computer, and PayPal account.

They will also terminate your membership if you have been inactive for 6 months. Being inactive means that you have failed to earn any cash amount within a period of 6 months.
The rewards you have earned as a member are also non-transferable.
So if you are a member and decide to take a break from using the platform, then make sure to cash out before taking the break so you do not risk end up losing your earnings.
Can you get support?
Since I wasn't able to register as a member, I wasn't able to check if they do have a support system in place.
But upon reading their terms and conditions, they did mention that you can contact them by emailing at support@jobs2shop.com.
They also mentioned that you can create a support ticket if you have any issues with your account. So that confirms that they do have a support system in their dashboard.
I checked their Facebook page and it seems that they haven't been active for a while now. But you do have the option of sending them a message.
As to how long it would take for them to reply to your message, unfortunately, I couldn't find any information about that.
They do, however, provide their phone number as well as their postal address at the bottom of their website. You can call that number if you need to talk to them.
Final Verdict
Jobs2Shop is a legit GPT site. But as to the question of whether or not it is worth your time, in my opinion, it can be a viable secondary site for you to earn some money.
The only problem is they aren't accepting any new members as of writing this review.
But in the event that they open their site for new members, here are the pros and cons to help you decide whether you want to sign up or not.

Pros:
You can request payment via PayPal
Plenty of earning opportunities

Cons:
Can only request payment via PayPal
Only available in the U.S.
Payment threshold a bit high
Not open for new members all the time
All in all, Jobs2Shop is a decent GPT site to earn from if you happen to be able to join. There are several decent earning opportunities, plus you also get a sign-up bonus, which is pretty nice.
In the meantime, while they aren't accepting any new members yet, I recommend you check out the top GPT sites that you can join.
There are plenty of sites to choose from. Joining any of these sites will allow you to earn a bit of income since these sites pay relatively well.
If you have any comments, questions, or have any experiences with Jobs2Shop yourself, I would love to hear from you in a comment below.