Keenworkers is a site that promises you'll be able to earn by doing quick and easy jobs. So, I understand if you might be tempted to join this site.
But before you hit the Register button, there are a few things you need to know. I know you are probably asking yourself if this site is a scam or legit? That's a valid question and a very important one to boot.
So, let me answer it right away so we can discuss other aspects of the site. No, Keenworkers is not a scam. It is indeed a legit micro-jobs site that will pay you for doing simple jobs. But is it worth it though? That's another story.
This Keenworkers review will give you a detailed inside look so you'll know exactly what to expect before you even sign up for this site. That way, you can decide if it is the right option for you or not.
What is Keenworkers and what does it offer?
Keenworkers, as mentioned above, is a micro-jobs site that will pay you for doing simple jobs like signing up for websites and offers, downloading apps, and a lot more. It's a lot like RapidWorkers.
But in order to fully understand how this site works and how well you can earn from it, we have to take a closer look at the earning opportunities it offers. So, here's how you can earn from Keenworkers.
Option 1 – Micro-jobs
The bulk of your earnings on Keenworkers.com will come from doing micro-jobs.
If this is your first time hearing about this term, online micro-jobs are a type of temporary work where you can complete tasks for a small reward.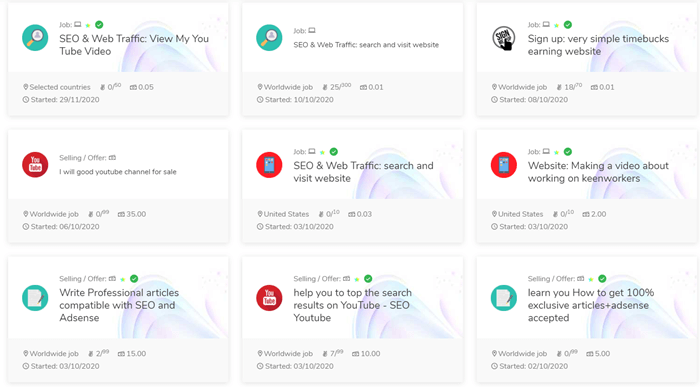 When you log in to their site, you will immediately see all the available micro-jobs you can do. You can even filter it so you can narrow down your search for jobs you want to do. But before you work on any micro-job, you have to set your working skills (refer to photo below).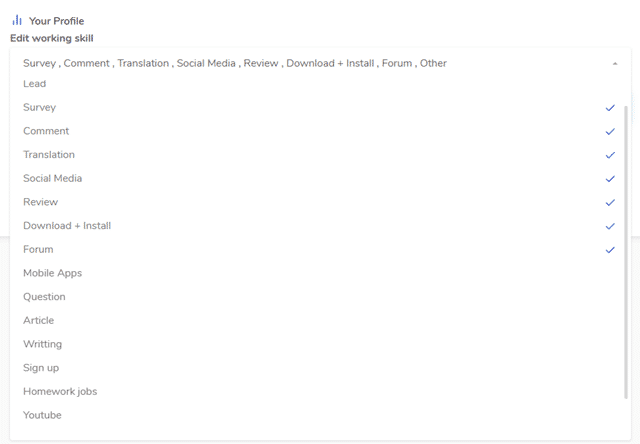 To set your working skills, just go to your account settings and click "My Working Skills". Then, just choose the skills/jobs you want to do. Make sure to be honest when choosing your skills. Don't choose a skill you are not comfortable doing.
Once you've set your working skills, you can now start working on micro-jobs. When you click on a job, it will show you the instructions to complete the job. Make sure to take note of each step. If you want to do the job, you have to click the "Apply Now" button on the Job Details page and hit the "I accept" button.
Most of the jobs will require you to submit proof (except for Paid-To-Click jobs) so make sure you have read the proof requirements carefully before submitting the proof. If you submit the wrong or false proof, you will be marked Not-Satisfied by the employer.
That will mean you failed the micro-job. And if your success rate for jobs will fall below 30%, you will not be able to do any job and withdraw your earnings (which I will talk about later). That's why it is important to only do jobs you are comfortable doing and those that you know you can do.
If, on the other hand, the employer is satisfied with your work, he/she will then mark your job as "Satisfied" and will pay you the amount stated in the job offer. It will be credited to your Keenworkers account instantly.
However, you just need to be aware that not all jobs have very clear descriptions, so it can sometimes be a bit confusing to figure out the exact tasks.
Also, not all jobs pay well – in fact, some pay very poorly so you have to choose the jobs you do carefully. But I will go more into details about the full earning potential later.
Option 2 – Referral program
You can supplement your earnings from micro-jobs by participating in their referral program. In case you don't know, a referral will allow you to earn additional rewards by inviting people to join the site.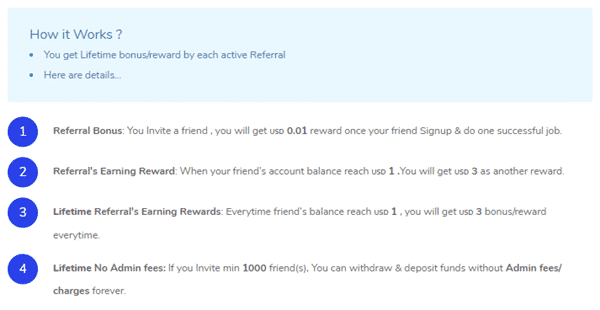 The way Keenworkers' referral program works is, when you invite a person using your referral link, they have to sign up to the site using that link. When they do, they will now become your referral. You will then get $0.05 once your friend does one successful job.
One thing to note though, in the photo above, it says you are supposed to receive $3 when your referral earn $1.
That's actually quite high and an unrealistic amount. You will usually not find a referral program that pays more than what the referral is earning.
So, I checked their referral guidelines and the values are a bit different than what it seems like at first. The actual reward you will receive when your referral's account balance reaches $1 is actually just $0.05 and not $3.
And if your referral's balance reaches $3, you will earn another $0.05. So, what they put in the referral section of their site is actually a bit misleading. The real rewards are quite low.
Recommended: Check Out the Top Survey Sites in Your Country
How do you get paid?
For every job you complete, you will receive a certain amount in US dollars which will be stored in your Keenworkers account balance. Once you've earned $1, you will be able to withdraw your earnings.
Now, it says on their site that you will be able to withdraw your earnings via PayPal or Payeer. But during my testing, the only available option was Payeer. I'm not sure if this is a regional thing or if this is the only option they offer now.
But usually PayPal is always available in my country so it seems it is just not an option as a payout method on Keenworkers anymore and it is quite bad that they have not updated their website with this info, in my opinion.
Anyway, I do like the fact that they have a very low payout threshold ($1). This means you will be able to withdraw your earnings quickly since you don't have to earn a lot to do so.
If you are interested in more sites that have a low payout threshold, I recommend you check out the fastest paying sites.
The only downside of Keenworkers' payment system is, they have quite a high transaction fee of 10% for every withdrawal you make. But this transaction fee will be waived once you are able to get 500 referrals (which is quite hard to do, in my opinion).
So overall, the payout conditions and options are quite poor compared to more or less all other Get-Paid-To sites I have tested.
How much money can you make?
Most of the jobs offered on the site will pay you around $0.05 to $1. These are for short jobs.
For longer jobs that involve more work, you can get paid around $10 to $30 but you don't find those jobs quite often and you will have to put in more effort for those kinds of jobs.
And in my opinion, if you factor in the effort you have to put in to complete tasks on Keenworkers, the pay you will receive is actually quite low. And you also have to think about the transaction fee that will be deducted from your earnings.
That's why overall, I would say the site has poor earning potential. It has a very low time-to-money ratio, in my opinion.
Can you use it on mobile?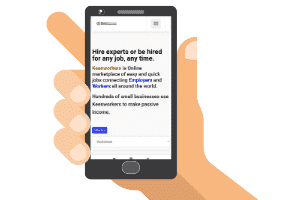 Keenworkers doesn't have a mobile app you can download but you can still access their site from a mobile device through a web browser.
The good news is, their site is optimized for mobile use. So, you'll be able to navigate through the site conveniently and you'll be able to read all the content without zooming in.
That being said, there are only a few jobs available on the site that you can conveniently do on a mobile device. Most of the jobs are recommended to be done on a laptop or desktop. Remember, every job you do has to be done accurately and properly and doing it on a laptop or desktop will make it easier for you to do so.
That's why I would only recommend you use your mobile device when a job specifically tells you to complete it from a mobile device.
Who can join Keenworkers?
Keenworkers is available globally so you can sign up regardless of where you live.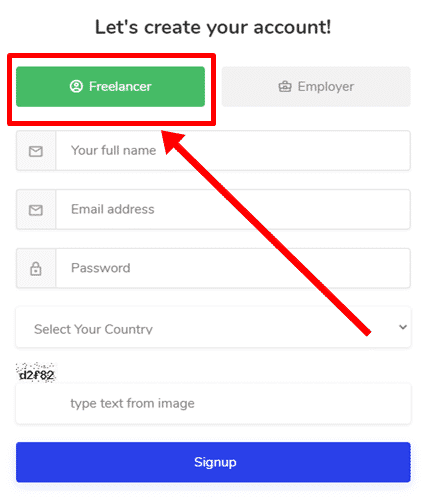 To become a member, you have to register as a freelancer and not an employer (refer to photo above). Then, all you have to do is provide your login details and set your country.
Once you've done that, Keenworkers will send a confirmation email. Just click the confirmation link to complete the registration. You will then receive $0.2 as a bonus for signing up.
One thing you need to keep in mind though is, even though Keenworkers is available globally, not all jobs posted on the site are available globally. Some jobs have geographic restrictions. You will know if you are eligible to apply for the job if you see the "Apply" button in the job details page.
If the "Apply" button isn't available, then the job is most likely not available in your country. When that happens, you simply move on to other job offers.
Can you get support?
Keenworkers has a FAQ page and guidelines page that discusses most of the basic topics you need to know. However, some of the information they provide aren't updated (a good example is the referral rewards).
So, if you have a question that can't be answered by their FAQ and guidelines pages, or if you want to contest the "Not Satisfied" rating of an employer, you can submit a support ticket. You can create a ticket by logging in to their site and going to their Support Dashboard.
Overall, I would say they have a decent support system in place because they make it easy for you to get in touch with their support team. But I do wish they would update the information they provide on their site to avoid any misunderstandings.
Final Verdict
Keenworkers is a legit micro-jobs site that will pay you for completing simple jobs. It has a couple of good features but it also has some drawbacks you need to be aware of.
So, let me wrap up this review with a summary of its pros and cons to give you a better overview of what the site has to offer. This should help you decide if the site is really worth joining or not.

Pros:
Has a low payout threshold
Available globally
Their site is optimized for mobile use

Cons:
Limited payment options offered
Has a high transaction fee for withdrawal of earnings
Their referral program has very low rewards
Low pay for most jobs
Keenworkers isn't really a good site to join, in my opinion. The main reason for this is the low pay for many of the jobs offered. So, even though they have a low payout threshold, it will still take some time to withdraw your earnings.
Plus, they have a high transaction fee for withdrawals. So, the small amount that you will earn will become even smaller when you withdraw your earnings.
However, if you are looking for a site with more flexible payment options and better overall earnings, I would instead recommend you check out the top survey and GPT sites in your country. The sites on this list all have good earning potential.
You will surely find sites that offer multiple payment options and sites that have no transaction fees for withdrawals.
If you have any comments, questions, or have any experiences with Keenworkers yourself, I would love to hear from you in a comment below.