Joining a Get-Paid-To site can be a good way to earn a bit of extra money. That is if you join the right one.
If you've encountered Looney Cash and are wondering is it a legit GPT site or a scam, then you are on the right track.
Let me answer that question right away so we can proceed to discuss other important details of the site. Yes, Looney Cash is a legit GPT site that does pay you for completing offers and other activities.
But is this the right GPT site for you though? This Looney Cash review will examine in detail everything the site has to offer so you can decide if you should join this site or not.
So, without further ado, let's get this ball rolling.
What is Looney Cash and what does it offer?
As mentioned, Looney Cash is a GPT site that will pay you for completing certain activities. Just like with other GPT sites, it offers plenty of earning opportunities.
But in order to truly gauge this site's earning potential, we have to take a closer look at the ways you can earn from Looney Cash.
So, here are the methods you can earn from Looney Cash.
Option 1 – Paid Offers
By far, the most common earning opportunity you will find on GPT sites are paid offers. Looney Cash is no different. It also has paid offers you can complete to earn rewards.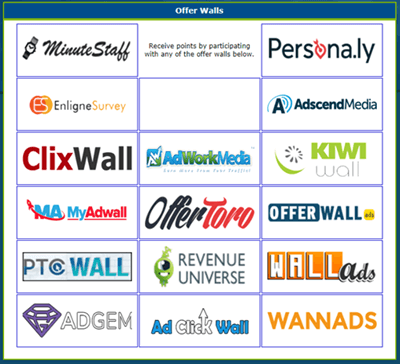 Paid offers are basically tasks you can complete to earn rewards. When you log in to the site, you will find all the available paid offers under the All Offers tab. You will also find paid offers in their offer wall section.
The paid offers you will find on Looney Cash will usually either ask you to answer a survey, sign-up to a website, play games, answer quizzes or download apps.
But regardless of what it will ask you to do, what you need to make sure is you follow the instructions provided by the offer down to the last step. You have to do this in order to earn the reward for the offer.
If you miss a step, you will most likely not receive the reward. But once you've completed all the steps and finish the offer, you will then earn the reward, which will be reflected in your account balance.
Option 2 – Paid Surveys
Another way you can earn rewards on Looney Cash is by answering paid surveys.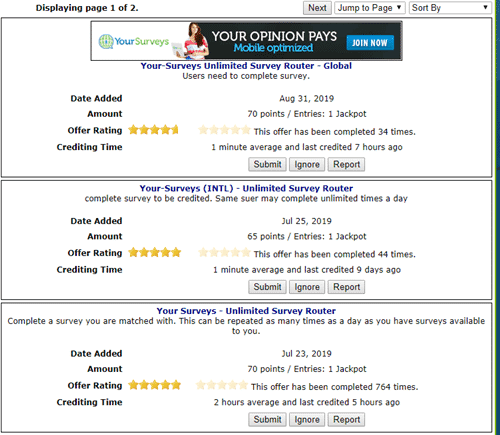 However, they don't offer the surveys themselves. Instead, they list down sites where you can take the surveys. So, in reality, it is not them that are offering the paid surveys but other sites instead.
When you click on a paid survey offer on Looney Cash, it will redirect you to the site that offers the survey.
You will have to provide your basic information first (it's more or less like a registration process, but you don't actually sign up for the site).
The site that offers the survey will use the information you've provided to qualify you for a survey.
If you qualify for a survey, you get to answer the actual survey they offer. If you don't, they will tell you right away so you can just proceed with the next offer.
One thing to note from paid survey offers like this is, the reward you will get will sometimes actually be lower than the reward that the site themselves offers. This is because Looney Cash will receive a commission for referring you to the site.
And then you, on the other hand, will only receive a percentage of that commission as a reward. So, in effect, you are really just receiving a small percentage of the reward that the site offers.
If you want to receive higher rewards from survey offers, I suggest you check out the top paying survey sites in your country instead.
Option 3 – View Ads
You can also earn rewards by viewing ads. Looney Cash also offers this type of earning opportunity, which you will typically encounter on Paid-To-Click sites.

The premise is pretty simple. All you have to do is click on the ad offer and wait for several seconds.
It will open up a new window and you will then be asked to select the right captcha code to confirm you've viewed the ad.
Once you've selected the right code, you have to wait a few seconds before the message says you can go back to Looney Cash. When that message appears, you can close the window and go back to Looney Cash.
You will then receive the reward promised.
One thing to note about the ad offers is that it is quite limited. There aren't a lot of offers you can click on. So, you won't really earn much from this type of earning opportunity, in my opinion.
Plus, the reward you will get will be very low. So, it's not the best way to earn rewards on Looney Cash, in my opinion.
Option 4 – Contests
Looney Cash also holds contests for its members. If you are one of the winners of their contests, you will receive a prize, usually in the form of a significant amount.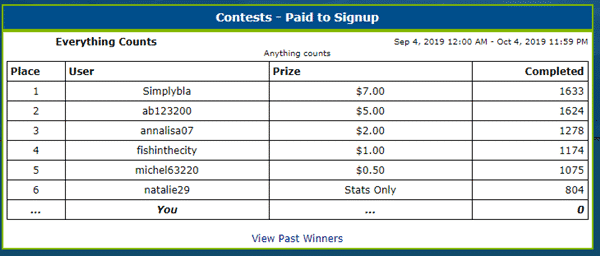 Their contests usually revolve around members who have completed the most offers within the month. This is not really an earning opportunity per se since you are not guaranteed to win anything.
But in my opinion, it can be a nice goal to reach because you will receive a nice amount if you are one of the winners. The prizes will range from $1 to $10. It's not much, but it's a nice incentive to have if you get lucky.
Option 5 – Referral Program
You can invite people to join Looney Cash, and Looney Cash will give you something in return.

For every person you invite, you stand to earn 15% of the earnings they make. So, every time they earn something on Looney Cash, you will receive 15% of that amount.
You will also receive 15% of the purchases they make on the site (I will talk about this later).
This, in my opinion, is a good bonus to have, because it allows you to have a passive income and it doesn't take a lot of effort to refer people to the site.
Take note that the commission you will receive will not be shouldered by your referral, but by Looney Cash instead.
Their referral program also goes down 2 levels. This means if the person you invited becomes a member and also invites another person to join the site, that person will become your level 2 referral as well.
In that case, you will earn 10% of their earnings as well as purchases.
How do you get paid?
Every offer you complete on Looney Cash will reward you with a certain number of points. You can then use the points you've accumulated and exchange them for rewards.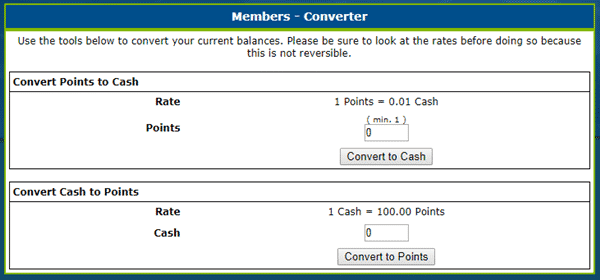 There are two types of rewards offered on Looney Cash. You can opt for a cash reward via PayPal or you can exchange your points for gift cards from Amazon or Walmart.
If you choose to convert your points into cash, you can use the points converter to turn the points you've accumulated into its cash equivalent. Every point is worth $0.01 and you will need at least $1 in order to withdraw via PayPal.
If you win contests (which will typically reward you with a certain amount and not points), you can choose to convert that amount into points. Every $1 will be worth 100 points.
You can then use the points to exchange for gift cards. For Amazon gift cards, the minimum worth of gift card you can exchange for will be $1 (100 points). For Walmart gift cards, it will be $5 (500 points).
It's pretty good, in my opinion, that they offer a very low payout threshold. This, at least, ensures you can withdraw your rewards rather quickly.
If you are looking for similar sites like this, I recommend you check out the fastest paying survey sites as well.
How much money can you make?
The amount of money you can make from a GPT site like Looney cash will depend on how active you are on the site.
Basically, the more offers you complete, the more rewards you will get. And as you can see, the more points you have, the more cash rewards or gift cards you can redeem for.
The good thing about Looney Cash is, there are always plenty of offers you can do. The downside is, the rewards are pretty low. So, don't expect to earn a lot from this site.
If you want to earn a significant amount, you will have to invest a significant amount of time to complete more offers. It's not really surprising because this is how GPT sites usually work.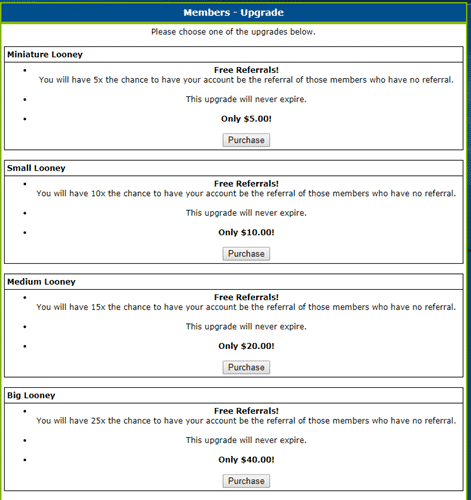 However, they do offer a way for you to increase your earnings. This is through upgrading your membership level. This also ties up to the referral program mentioned above because this is the purchase I was talking about earlier.
If you choose to upgrade your account, you will receive benefits that are geared towards their referral program. You will basically have the chance to get more referrals.
However, you have to be aware that you have to pay to upgrade your membership.
If you avail of the upgrade, you will get the chance to make a person who registered to the site without being referred to, become your own referral. You will basically be buying referrals. The number of chances you can get referrals will increase as the upgrade cost increases.
That is how their membership upgrade works. I'm not really a fan of this type of "spend more to earn more" form of boosting your income because it really defeats the purpose of joining the site, in my opinion.
I prefer sites like PrizeRebel that also have membership levels but where you do not have to pay to upgrade but just move up the ladder the more active you are.
However, you can take advantage of this type of boost if you plan it properly so you can make sure you get your money back.
Also, most long-time members just use the money they've earned to avail of these upgrades (yes, you can do that). This, in my opinion, is the best way to go about upgrading your membership level.
Can you use it on mobile?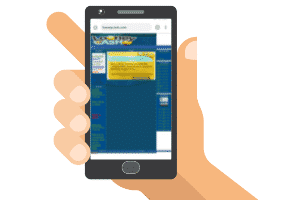 If you were hoping to use your mobile device to work on offers, you will be able to do so by using a mobile web browser. This is because they don't have a Looney Cash mobile app you can download.
Their website is not very mobile-friendly though, so navigating through the site using your mobile device won't be very convenient.
That's why I don't really recommend you work on it on your mobile device since most of the offers will open up new tabs on the browser. It can be quite troublesome in the long run when there are plenty of tabs opened on your mobile web browser.
In my opinion, it is best done on a computer. You will be much more comfortable completing offers and it will be a bit faster.
Who can join Looney Cash?
Looney Cash is available globally. It doesn't matter where you live. As long as you have an internet connection, you can sign up and become a member of the site.
You do have to be at least 13 years old or older in order to join. But if you want to withdraw your earnings via PayPal (which is the only way you can do it if you want to receive cash), you will have to be at least 18 years of age in order to do so.
That's because the age requirement for registering for a PayPal account is 18.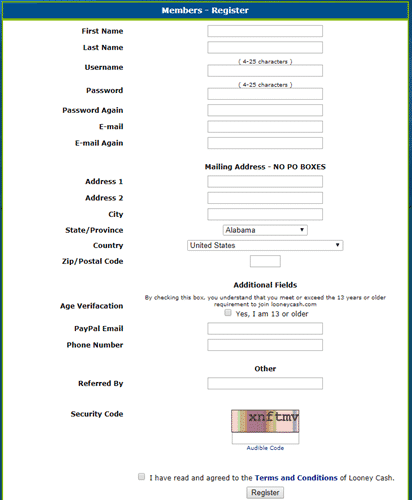 Their registration is fairly straightforward. All you have to do is fill out the form and provide your phone number and PayPal email address.
Once you've done that, you can submit the form and you will be a member of their site.
Can you get support?
If you want to inquire about something or need help with an issue you are experiencing with your account, you can contact their support team by filing a support ticket.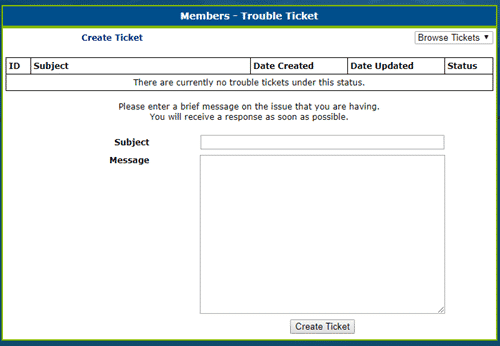 This, in my opinion, is the better way of providing support to members because it allows you to track the progress of your inquiry.
You can also use their FAQ section if you want to look for the answers on your own. Their FAQ section covers a decent amount of basic topics, in my opinion.
Final Verdict
Looney Cash is a legit GPT site that will pay you for completing offers and other activities. It does have its merits and some drawbacks as well.
Here's a summary of its pros and cons to guide you on your decision.

Pros:
Convenient payment option offered
Low payout threshold
Available globally

Cons:
Low earning potential
Limited payment options available
The design is outdated and not very user-friendly
Although Looney Cash offers a convenient payment method, the lack of other payment methods available hurts its versatility, in my opinion.
But, it can be a decent secondary site to join because of the low payout threshold, which will allow you to withdraw your earnings quite quickly. Just don't expect to earn a lot from it.
If you are looking for GPT sites that pay more, I suggest you check out the top GPT sites instead.
The GPT sites on this list all have good earning potential and they generally offer more payment options. Plus, you will find a site that will fit your needs regardless of where you live.
If you have any comments, questions, or have any experiences with Looney Cash yourself, I would love to hear from you in a comment below.