Loop Surveys, as the name suggests, is a survey site that promises to pay you for answering the surveys they offer.
But is Loop Surveys legit and really worth your time?
Let me just put you at ease right away and say, yes, Loop Surveys is a legit survey site. It does pay you for completing survey offers.
But the real question is, is it worth your time becoming a member of their panel? It can't be answered by a simple yes or no. We have to dig deeper to find the answer.
This Loop Surveys review will reveal all the important details so you can decide for yourself if it is indeed a good site to become a member of or not.
What is Loop Surveys and what does it offer?
Loop Surveys is a survey site that has been around since 2017. It is owned by The Logit Group, an accredited Canadian research company.
They have more than 250,000 members in their panel as of this writing and it is growing.
We can find out why if we take a look at how you will be able to earn from this survey site. That's because earning potential is one of the main reasons why people flock to a survey site.
So, here's how you can earn from Loop Surveys.
The earning opportunity – Paid Surveys
The beauty of what Loop Surveys offers is its simplicity, in my opinion. There is only one way for you to earn from this site, and that is through completing pay surveys.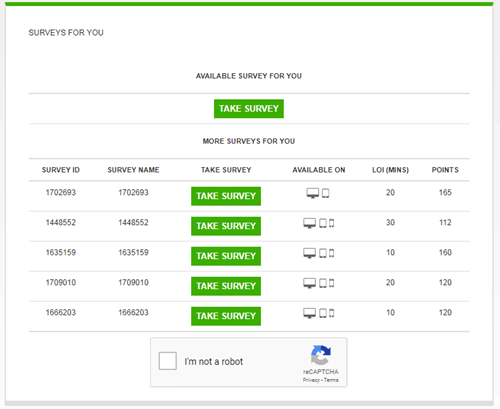 While it might be limited in terms of opportunities, that doesn't necessarily mean it's a bad thing.
You can say that this makes it a lot easier for you to earn rewards because there are no gimmicks. You simply answer and get rewards and patiently build up your reward balance (which I will talk about later).
When you log in to their member dashboard, you can go to the My Surveys section to check if there are available surveys you can take.
As you can see in the photo above, you will immediately see all the information you need to prioritize which surveys to take.
You will see the estimated time of completion, which can be very useful if you are a bit strapped for time. You will also see the reward for completing the survey, which can help you figure out which ones to take first.
Plus, you will also see if you are able to take the survey on a mobile device. That can prove to be valuable because you have the choice to take it even when you are not in front of your computer.
What I noticed though when I was answering a survey is, their site seems to be glitchy at times. Sometimes, when I click a survey offer to take, it just goes back to the same page.
I'm not sure if it's because there's something wrong with their site or if the survey is not available anymore. If it's the latter, there should be a message informing you that the survey is no longer available.
That would be a much smoother process, in my opinion. It's small things like this that can make or break a site.
Anyway, glitches like this tend to be fixed so hopefully, you will not experience this too often.
How do you get paid?
When you complete a survey, you will be rewarded with a certain number of points. This is the currency Loop Surveys uses.

As shown in the photo above, once you've accumulated 2,500 points, you will be able to cash out your earnings. 2,500 points are equivalent to $25, which, in my opinion, is quite a high payout threshold.
When you cash out your earnings, you won't be given a choice on how you can cash out.
Unlike other survey sites where they give you an option of which payment gateway to use, with Loop Surveys, you will only be able to cash out via a Visa prepaid card.
You do have the option to receive a virtual or physical prepaid Visa card. Obviously, the physical prepaid Visa card takes longer to receive because it will be sent to you via postal mail.
In my opinion, even though Visa gift cards as a reward can be great, it would have been better if Loop Surveys also offers other payment methods like PayPal. That way, you have another choice if you do not want a prepaid Visa card.
How much money can you make?
This is the golden question. The amount of money you can make from a survey site will most likely dictate whether you join their panel or not.
Practically speaking, it would be best if the site has a pretty good earning potential.
The factors that will affect the earning potential of a survey site are the frequency of survey invites and the amount of the reward you will receive when completing a survey.
From what I can see on their site, most of the surveys reward you with at least 100 points and some, even more.
That would translate to at least $1 per survey. It's not a bad amount, but it also isn't good considering that you need to hit $25 before you will be able to request for payment.
That would mean you will have to answer at least 25 surveys before you can hope to request for payment.
That's quite a lot considering there aren't really that many surveys you can answer on a regular basis. That means it will take quite a long time to reach the threshold.
If you are interested in survey sites that will allow you to earn quickly, you should check out the fastest paying survey sites instead.
Overall, the high payout threshold just hurts the earning potential of Loop Surveys.
Can you use it on mobile?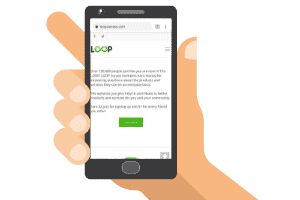 As you may already know, you will be able to use this survey site on a mobile device.
But if you were expecting to download a Loop Surveys app so you can answer surveys on a mobile device, you will be disappointed.
They don't have a stand-alone app you can download. However, you will be able to access their site on a mobile device using a mobile web browser.
And the good news is, their site is optimized for mobile use, which means you can conveniently navigate through their website without having to zoom in just to read the content.
One thing to note though is, there is an app called LoopSurvey, but it is not for the website. It's owned by a completely different company. So make sure you remember that the next time you try to Google for their website.
Who can join Loop Surveys?
If you live outside of the US or Canada, then, unfortunately, you won't be able to join their survey panel. That's because this survey site is only for residents of the two countries.
If you live in the US or Canada, you also have to be at least 16 years of age in order to join.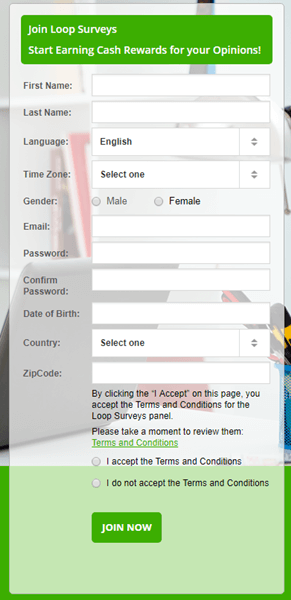 To register as a member, just click the Join Now button. You will then be taken to a registration form (which is shown in the photo above). Just fill out the form and submit it. You will then receive an email asking you to confirm your membership.
Simply click the confirmation link and then you are done. You can now log in to the site and start taking surveys. Best of all, once you complete your registration, you will receive a 200 point bonus.
Can you get support?
If you encounter any issues on Loop Surveys, or if you just want to ask a question, you will be able to do that by using the contact form they provide on their site.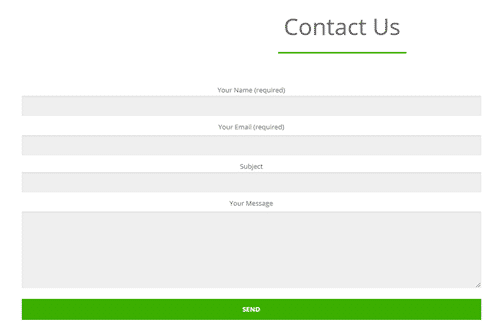 Just fill out the form and submit your question. The reply to your question will be sent to the email address you provided in the contact form. So make sure to check your email from time to time if you have a reply from them.
However, I have been in contact with them a few times and it can take some patience to get an answer, in my experience, so just be prepared for this.
Loop Surveys also has an FAQ section that covers most of the common topics you will encounter on the site. They also have a Twitter page you can visit, but it hasn't been active for quite some time now. In fact, it hasn't even tweeted yet.
So, if you want to talk to their support team, I suggest you use the contact form instead. Overall, they have a decent support system, in my opinion.
Final Verdict
Loop Surveys is one of the many legit survey sites out there. It has its advantages and disadvantages.
If you still haven't come to a decision on whether you should join or not, let's finish this review with a summary of their pros and cons to help you out.

Pros:
Mobile-friendly site
Decent support system
Decent reward per survey

Cons:
High payout threshold
Low earning potential
Only has one payment option
It is quite clear that Loop Surveys has both disadvantages and advantages. But its disadvantages aren't something you can ignore, in my opinion.
The fact that it takes too long for you to withdraw your earnings due to the high payout threshold makes it a less than an ideal choice of survey sites to join.
As an extra site, it can be ok to join, but your time will be better spent on other survey sites that have better earning potential and more payment options, in my opinion.
So, I suggest you check out the top survey sites in your country instead. You will find plenty of survey sites on this list with better earning potential than Loop Surveys. Plus, they all have more than one payment option.
If you have any comments, questions, or have any experiences with Loop Surveys yourself, I would love to hear from you in a comment below.