There's a Get-Paid-To (GPT) site called Lootprize that claims you will be able to earn instant rewards by completing simple tasks, watching videos, and testing apps. So, at first, it definitely seems like a very convenient way to earn.
But is Lootprize legit or is it a scam to stay away from?
You need to know this before joining any site that claims you can make money as a member.
This Lootprize review will help you figure out the answer to that question as well as help you decide if this is a site worth investing your time into or not.
So, let's go ahead and take a closer look at what it has to offer.
What is Lootprize and what does it offer?
As explained above, Lootprize.com is a GPT site where you can earn by doing micro-tasks.
And let me just reveal right away that it is indeed a legit GPT site that will pay you for doing the earning opportunities it offers. However, this doesn't necessarily mean it is a good idea to join the site.
You have to figure out if you are able to earn a decent amount from it and to do that, we have to examine how you will be able to earn from Lootprize.
So, here are the earning opportunities it offers.
Option 1 – Answering quizzes
This kind of earning opportunity is fairly straightforward. From time to time, you can answer quizzes to earn coins which is the currency Lootprize uses (I will discuss later what you can do with your coins).

As shown in the photo above, you will immediately see how many coins you will earn for each quiz you answer. You will also see the requirements to complete the quiz offer.
As you can see in the photo above, they make it clear that you have to answer with accuracy to receive your reward.
So, make sure to answer the quizzes thoroughly.
Most of the quizzes you will encounter will usually require you get a certain score before you will receive the reward.
Option 2 – Watching videos
Watching videos is probably the most effortless way of earning from this site. Yes, you can watch videos to earn rewards.

The videos you can watch will come from sister sites of HideoutTV, so it will work the same way as HideoutTV.
You actually don't get rewarded by watching videos. Instead, you will be rewarded by watching the ads that will be played before the video, during the videos, and in between the videos.
If a video doesn't have ads, you have to find to keep watching until you find one. So, even though it is a very effortless way of earning, it is not exactly the most efficient one.
Plus, the rewards you will earn will be very low. That's why I suggest you only do this if there's nothing else you can do on the site.
Option 3 – Paid surveys
Another way to earn coins on Lootprize.com is to answer paid surveys. Lootprize doesn't have its own surveys. So, it basically just acts as a survey router providing you with surveys from other sites.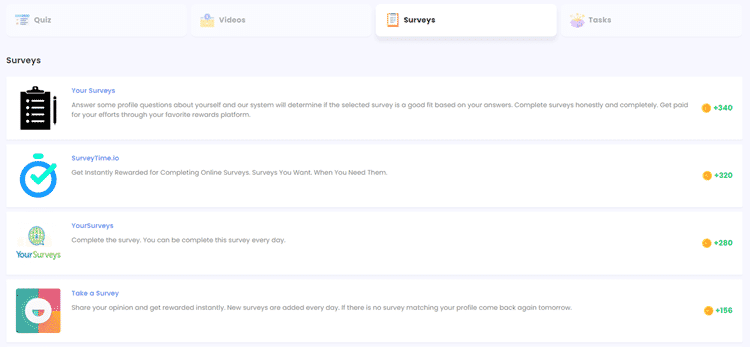 As shown in the photo above, you will immediately know how many coins you will earn for answering a survey. When you click a survey, it will take you to the site hosting the survey.
Sometimes, it will ask you to provide your email address and then ask you to answer a set of qualifying questions. But other times, it will just ask the qualifying questions right away. You have to answer these questions so that the survey provider can determine if you are included in the group the survey is intended for.
If you qualify, you get to answer the actual survey. If you don't, then you just have to move on to the next survey available. Once you complete the survey, you will receive the reward. But sometimes, it won't reflect in your Lootprize account right away.
This is because the site that hosted the survey still has to verify all the information you've provided. Once they see everything is in order, they will then send the reward to Lootprize and Lootprize will reward you with the appropriate number of coins.
One thing to note with their paid survey is, since they act as a router, there will be a decent number of surveys available at any given time. The downside is, the rewards you will earn aren't quite comparable to what you can earn if you answer a survey as a member of an actual survey site.
Option 4 – Micro-tasks
As mentioned at the beginning of this review, you can earn by completing micro-tasks. These are actually similar to paid offers that you usually encounter on other GPT sites.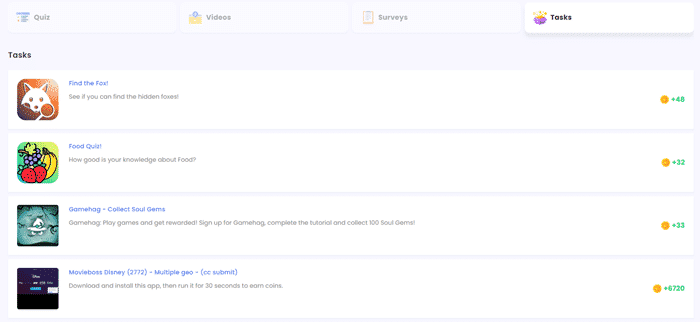 These micro-tasks are really just a combination of the other three opportunities listed above. They will usually just ask you to answer surveys or quizzes or watch videos. Other times, you will have to register for a certain site or download a mobile app.
Every task will tell you how many coins you will earn and what you need to do to complete it. So, make it a habit to read the instructions carefully before you start doing any of the tasks.
Once the task is completed, the reward will be credited to your Lootprize account. But sometimes, tasks won't pay you right away. You have to wait several hours before it will be credited to your account (just like with the paid surveys).
Option 5 – Referral program
Lastly, you can also earn bonus rewards by inviting people to join the site. You simply have to share your invite link with people you want to invite. When they sign up using your link, they will become your referral.

With Lootprize's referral program, you can share your invite link via Facebook, Twitter, VK, or Reddit. You can also just copy your link and email it to people you want to invite.
As for the reward you will get, you stand to earn up to 20% of the points your referrals will earn. For example, if a referral answers a survey and they receive 100 points, you will then receive 20 points which will be covered by Lootprize.
It's a nice form of passive income, but you have to make sure the people you invite are really interested in earning on the site. Otherwise, you will just be wasting your time.
How do you get paid?
Every activity you do on Lootprize will earn you a certain number of coins. You can then exchange your coins for rewards as soon as you reach the threshold required for the reward you want to redeem.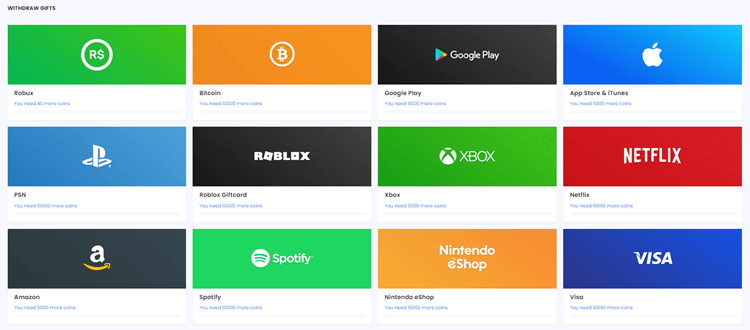 There are several rewards to choose from. You can choose to redeem Robux, various gift cards (Amazon, eBay, Netflix, etc.), or you can convert your coins into a prepaid Visa card or Bitcoin.
They don't have a PayPal option, so you'll just have to redeem prepaid Visa cards if you want to earn cash.
For prepaid Visa cards and Bitcoin withdrawals, you will only need to earn 10,000 coins which will be equivalent to $10. For some gift cards, you will only need to earn 5,000 coins (equivalent to $5).
I like the fact that they have a relatively low payout threshold. It makes it easier to reach and you won't have to wait a long time to start withdrawing your earnings.
How much money can you make?
For a GPT site, Lootprize doesn't have as many earning opportunities available. So naturally, the earning potential will suffer.
Most GPT sites have plenty of earning opportunities you can do mainly because they have several offerwalls and plenty of surveys.
But with Lootprize, although they have a decent number of earning opportunities offered, the number of offers per opportunity isn't that many. So, you risk running out of things to do.
Plus, the rewards they offer aren't really that high. So, even though they have a low payout threshold, it will still take some time to reach it. That's why I would say the earning potential of this site isn't really that good.
Can you use it on mobile?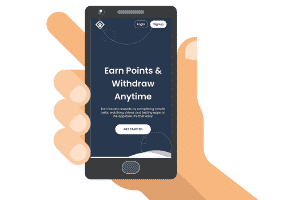 If you want to work on Lootprize from a mobile device, you will have to use a mobile web browser to do so as the site doesn't have a mobile app you can use.
The good news is, their site is optimized for mobile use, so you won't have any problems navigating through the site. You also won't have to zoom in just to read the content which is very important.
Another good thing about being able to use it on mobile is that you will be able to earn even when you are not in front of the computer. This makes you a more efficient earner because you can earn anytime and anywhere.
Who can join Lootprize?
Lootprize doesn't care where you live. As long as you have internet connection and you are at least 18 years of age, you can become a member.
The registration process is very easy. All you have to do is fill out their sign-up form and confirm your membership. Once you've done that, you can start earning.
Can you get support?
If you have questions about the site, you can log in to the site and check out their FAQ page. It covers most of the basic topics you need to know.

If you can't find the answers you are looking for, you can send your inquiry using the contact form provided on their Support page. You can also join their Discord server if you want to chat with a representative.
Although I do wish their Support page was accessible without having to log in to the site. But overall, I would still say they have a decent support system in place since they offer a way for you to get in touch with their support team.
Final Verdict
Lootprize is a legit GPT site that will reward you for doing micro-tasks. It offers a couple of good features but it also has some limitations you need to factor in.
Now, let's conclude this review with a summary of its pros and cons to give you a better overview of what the site has to offer so you can decide if you should join this site or not.

Pros:
Relatively low payout threshold
Has a mobile-friendly site
Available globally

Cons:
Low rewards
Doesn't offer PayPal as a payment option
Doesn't have as many offers as most GPT sites
In my opinion, Lootprize is not a bad GPT site. The problem is, it's not a good one either. It doesn't have as many offers as most other GPT sites and the rewards are quite low.
So, it will take quite some time for you to earn a decent amount from it. I would only recommend you join this site if you are really curious about testing as many GPT sites as possible.
But if you are looking for main sites to earn from and want to prioritize your time, I would recommend you check out the top survey and GPT sites in your country instead. The sites on this list all have good earning potential that you will be able to earn a decent amount on a regular basis.
Plus, you will find sites you can join regardless of where you live.
If you have any comments, questions, or have any experiences with Lootprize yourself, I would love to hear from you in a comment below.