LootValley is a website that promises to pay you for trying out apps and completing surveys. So, if you are looking for a way to earn extra cash online, then you might be considering joining this site.
But before you hit the sign-up button, I suggest you read this LootValley review first.
This review will help you find out if LootValley is a scam or if it really is a legit way to earn.
You will also learn all about exactly how it works and how you can potentially earn, so you can figure out if this site is really worth investing your time into or not.
And at the end of this review, I will also give my recommendation to help you come to a decision. So, let's go ahead and take a closer look at LootValley.
What is LootValley and what does it offer?
LootValley is a GPT (Get-Paid-To) site that will reward you for doing small tasks. It is indeed a legit site that will really reward you for doing so.
Now, in order to figure out if it is worth joining or not, we first have to examine the earning opportunities it offers. This is a good way to understand how the site works. So, here's how to earn from LootValley.
Option 1 – Trying apps
As mentioned earlier, one way to earn from LootValley is by trying out apps. In order to use this earning opportunity though, you have to download their mobile app (I will talk about their app later).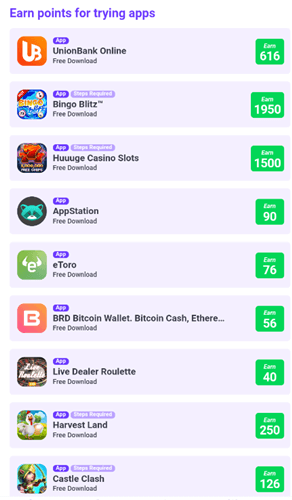 To start earning by trying apps, you have to log in to their mobile app. You will then see something similar to the photo above. Simply choose which app you want to try and it press it. It will then open a new page displaying the instructions you need to follow.
Make sure to take note of all the steps you need to do because if you miss one, you will end up not being able to complete the offer. Once you are ready to try the app, just click on the "Download App" button on the details page and it will take you to the app store.
Just proceed with the installation and when it is installed, you can start doing what you need to do to complete the offer. When you've done everything that needs to be done, you can close the app and you can start working on the next offer.
As for the reward, you will receive it right away if you followed all the instructions properly. It will be credited to your LootValley account balance.
Option 2 – Paid surveys
Another way you can earn rewards from LootValley is by answering surveys. However, they don't really offer their own surveys. Instead, they rely on survey providers like PeanutLabs and Yuno Survey to supply their members with paid surveys.

The good thing about this earning opportunity is, you can do this both on your computer and on your mobile device. So, it's a more versatile earning opportunity.
To start answering a survey, just pick a survey provider. During my testing, there were only two available providers (PeanutLabs and Yuno). Once you've clicked on a survey provider, it will ask you to provide basic info like your age, gender, etc.
If there are surveys available for you based on the information you provided, you will have to go through a round of qualification questions to determine if you really belong to the demographic group the survey is intended for.
If you qualify, you get to answer the actual survey. Once you complete the survey, you will receive the reward promised. But if there are no available surveys for you or if fail to qualify for the survey, you will just have to move on to the next available survey provider.
It takes a bit of patience to qualify for these particular surveys in my experience. So, don't expect to always qualify for them.
Option 3 – Contests
LootValley also holds contests from time to time. To join their contests you will need tokens and the only way to earn tokens is to complete the other earning opportunities of LootValley (paid surveys and testing apps).

You will earn one token for every 20 points you earn on LootValley. The token will serve as one entry for the contest. The prize for their contests will usually be cash. However, during my testing, there weren't really any contests available. So, don't expect this to be available all the time.
It's also not something you should consider as a source of income from this site since it is really a game of chance. If you win, consider yourself very lucky.
Option 4 – Referral program
Lastly, you can earn additional rewards by inviting other people to join the site. This is called a referral program and I do find their referral program to be quite simple compared to some other GPT sites.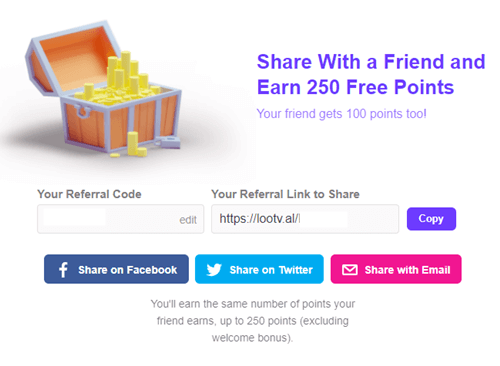 The condition you need to meet to receive the referral reward is very easy. They just have to either input your referral code during registration or click on your invite link to sign up for LootValley. Either way, it's very easy to meet. Usually, in my experience, referral programs will require the referral to be active on the site before you will receive the reward.
But with LootValley, once the condition is met, you will immediately earn 250 points and your referral will also receive 100 points. Aside from that, you'll earn the same number of points your referral earns on the site but only to a maximum of 250 points.
It's a fairly good deal, in my opinion. Not a lot of GPT sites structure their referral program this way. So, it's more incentive to promote the site and invite other people to join it.
However, to find out if it will be worth it, let's go over what the points are actually worth and how you can get them out.
Recommended: Check Out the Top GPT Sites
How do you get paid?
LootValley uses a points-system for their rewards. Every app you try, survey you answer, or referral you get, you will earn a certain number of points and it will be credited to your LootValley account balance.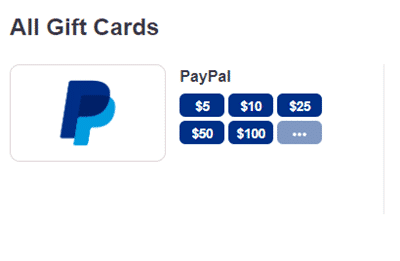 You then have the option to exchange your points for gift cards or even cash through PayPal. The availability of rewards will actually depend on the country you live in. In my case, the only reward available in my country is PayPal.
So, I can only cash out via PayPal. And speaking of cashout, you can do so once you've earned a minimum of 5,000 points. That will be equivalent to $5.
I like that fact that they have a low payout threshold and they offer PayPal as a payment option. It is, in my opinion, one of the most convenient payment options around today.
Now, if you are interested in more sites that have a low payout threshold, I suggest you also check out the fastest paying sites.
How much money can you make?
The amount of money you can earn from LootValley will depend on how active you are on the site. However, I wouldn't really say this site has a great earning potential for one main reason.
For a GPT site, it doesn't offer a lot of earning opportunities. So, your earnings will be a bit stunted.
Usually, in my experience, GPT sites (the great ones, at least) have a lot of earning opportunities which makes it a good way to earn rewards on a regular basis.
The available apps you can try will range from 10 to 15 at any given time, which is not bad. But if there aren't any more apps to try, you'd have to rely on surveys to earn more rewards. And since there is no guarantee you will qualify for surveys, you can't really rely on it a lot.
You might be able to earn a decent number of points in the beginning since they do pay a decent amount (points earned from trying apps will range from 50 to 2,000 points), but in the long run, you will run out of ways to earn. And that's not a good sign for a GPT site.
That's why overall, I would say that LootValley can only serve as a decent secondary site to earn from.
Can you use it on mobile?
As explained earlier, LootValley does have a mobile app you can download. And you will really have to download it so you can try out apps.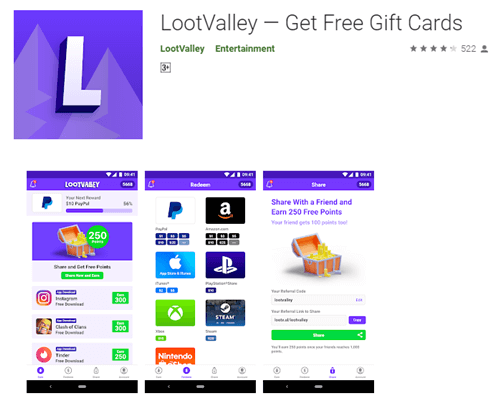 There's one thing you need to remember though. It seems their app is only available for download on the Android app store. Their download link for iOS users doesn't work anymore. And I tried searching the iOS app store and I can't find it.
You can download the iOS version of the app from other sites but I don't recommend it though. It is best to only download from verified sources like Google Play. So, if you are a iOS user, then LootValley isn't really for you.
Who can join LootValley?
LootValley is available globally. You can register as a member regardless of where you live. All you have to do is provide your email address.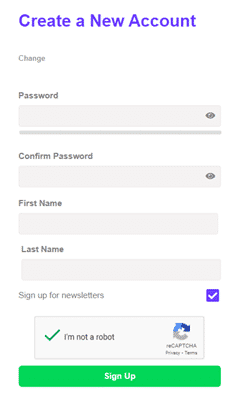 Then, it will ask you to provide more information like your password and full name. But once you are done with the sign-up form, you just have to confirm your registration by clicking on the confirmation link that will be sent to you via email.
Once you've done that, you can now log in to LootValley and start earning. But I do have to say that even though it is available globally, the availability of earning opportunities will still depend on the country you live in.
There are some countries where there are more opportunities to earn and there are some where there are only a few available. And as I've explained earlier, the available payout methods will also depend on your country.
Can you get support?
In terms of providing support for their members, they do provide a way for you to contact their support team. You can just fill out their contact form which can be accessed by logging in to the site or app and going to their "Help" section.
But the one thing I noticed was their FAQ page isn't working anymore. If you go to their FAQ page and click any of the questions, it will take you to a Zendesk page that doesn't exist anymore. In other words, their FAQ page is nonexistent.
That's the only flaw to how they provide support for their members.
Final Verdict
LootValley is a legit GPT site that will pay you for trying out apps and answering surveys. It does have a few interesting features, but it has its limitations as well.
Let me wrap up this review with a summary of its pros and cons so you can see an overview of what the site has to offer. Then, you can decide if this is really a site you should join or not.

Pros:
Offers payment via PayPal
Has a relatively low payout threshold

Cons:
Limited earning opportunities offered
Some details of their site have not been update (non-existent FAQ page, non-existent iOS download link for app)
Overall, I would say LootValley isn't really a great GPT site. It doesn't offer a lot of earning opportunities and for a GPT site, that's actually quite rare. And that's the main reason why you can't really expect to earn a lot from it.
I would only suggest you join this site if you really need another site to earn from. Otherwise, I would recommend you check out the top survey and GPT sites in your country instead.
The sites on this list all have significantly better earning potential than LootValley and most of the sites on this list all have plenty of earning opportunities and multiple payment options available regardless of where you live.
If you have any comments, questions, or have any experiences with LootValley yourself, I would love to hear from you in a comment below.