MadMoneyGPT, as the name suggests, is a Get-Paid-To (GPT) website that claims to pay you for completing their offers.
But is MadMoneyGPT legit?
This is a great question to ask. There are so many GPT sites today that it is practically a necessity to verify if a GPT site is legit before you join.
Let me just clear it up right away so we can continue with the more important question. Yes, MadMoneyGPT is a legit GPT site. It does pay you for completing their offers.
Is it worth your time though? This is the more important question I was talking about. Before you join a GPT site, you need to evaluate if a site is worth your time or not. That way, you will be able to maximize your time.
This MadMoneyGPT review will tell you all you need to know about the GPT site, so you can determine if this is a good fit for you or not.
What is MadMoneyGPT and what does it offer?
As already mentioned, MadMoneyGPT is a GPT site that will pay you for completing their offers.
It has been around since 2010, which is quite a long time for a GPT site, in my opinion.
Since it is a GPT site, you can expect there are plenty of ways to earn rewards. And to be able to get a clear picture of the site's earning potential, we need to understand how you will be able to earn from MadMoneyGPT.
So, here are the ways you can earn from this site.
Option 1 – Paid offers
Paid offers are the bread and butter of any GPT site. This is where most of your income from MadMoneyGPT will come from.
If you are not familiar with paid offers, think of them as small tasks you can do to earn rewards. When you log in to MadMoneyGPT's site, you will see all the offers you can complete on their offerwalls.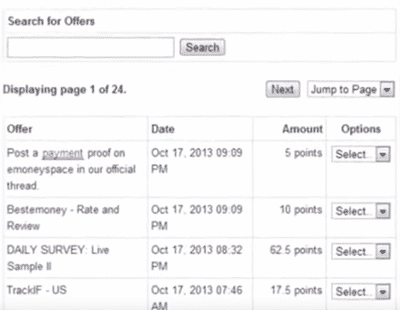 There are two types of offerwalls, regular offerwalls, and mobile offerwalls. All you have to do is pick an offer you want to complete. The offer will have a set of instructions you need to follow.
Once you finish the offer, you will receive the reward promised, which will be credited to your MadMoneyGPT account.
Most of the offers will ask you to complete a survey, play a game, register to a site or answer quizzes. But, there are also other offers that will ask you to do other things.
The important thing to remember is, you have to follow the instructions provided. Otherwise, you won't receive the reward.
Option 2 – Paid surveys
Another way to earn rewards from MadMoneyGPT is to complete paid surveys. Although they are also one of the offers you can do in the offerwalls, MadMoneyGPT also has a specific section for paid surveys.
They have several survey types you can take. There are daily surveys available. There are also surveys from other sites you can take. MadMoneyGPT also has surveys they exclusively offer.
But regardless of the type of survey, one thing remains constant with paid surveys. You have to complete the survey before you will receive the reward.
Before you can complete a survey though, you have to qualify first by answering a set of qualifying questions. This is done to ensure you belong to the demographic the survey is targeting. If you qualify, you can then proceed to the actual survey.
If you don't qualify, you can simply move on to the next survey offer. In my experience though, the rewards you earn from completing surveys in GPT sites is a bit lower compared to the rewards you will earn from actual survey sites.
If you really want to earn from completing surveys, I suggest you also check out the top survey sites in your country.
Option 3 – Click ads
Although this type of earning opportunity is commonly found in Paid-To-Click sites, it is not uncommon to see it on GPT sites as well. And MadMoneyGPT also offers it.
The process of earning rewards from clicking ads is simple. Just click an ad offer. View the ad window that will be opened for several seconds (usually around 10 seconds) and then you will receive the reward.
The reward you will earn from this offer won't be very high. But this is only natural because it doesn't really take too much effort to do.
It can be an easy way to add a bit to your point balance (I will discuss this later), in my opinion. But, I suggest you prioritize doing paid offers and surveys first.
Option 4 – Watch videos
Another way to earn rewards from MadMoney is to watch videos.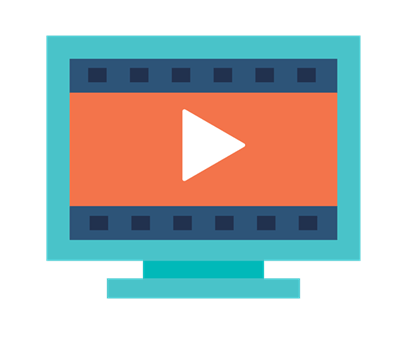 When you log in to their website, you can view all the available video offers in their Video section. The videos will be hosted on a different site.
So, when you click on a video offer, a new window will appear. You will then have to start watching the video to earn the reward.
Usually, you will see an instruction telling you how long you need to watch in order to get the reward for the offer. Sometimes, it will ask you to watch until the end and sometimes, it will only ask you watch for about a minute or two.
This can be a fun way to earn some rewards, in my opinion. But, it can eat up a bit of your time and do not give high rewards.
So, I suggest you only do this after you've finished doing all the other offers available on the site.
Option 5 – Paid To Sign Up
Doing a Paid To Sign Up (PTSU) offer is another way to earn rewards on MadMoneyGPT. As the name suggests, you have to sign up to a certain website in order to earn the reward.
Usually, the offer will ask you to do a trial of some sort or sign up for a specific site through someone's invite link. You have to be carefully when doing this kind of offer because sometimes, it will ask you to provide your credit card information.
Although if an offer will ask you to do a free trial, you have to take note of when the trial period ends so you can cancel your subscription. You have to cancel your membership/subscription to avoid being automatically charged.
This is how most paid-to-signup offers work. So, before you do any offer, make sure to take note of the trial period if there is on. Some PTSU offers will also ask you to do something else aside from signing up to the website.
Some will ask you to complete a set of tasks or download stuff from their website. Either way, you have to do this to meet the requirements for completing the PTSU offer.
Option 6 – Contests
MadMoneyGPT also holds contests you can join to win rewards. I would really not consider this an earning opportunity, but I just thought I'd include it since you can earn a significant amount if you win any of their contests.
One example of a contest they hold is their referral contest. If you are the top referral of the month, you will win a prize (usually a significant amount).

They also hold daily contests as you can see in the photo above.
It can be a good way to earn extra rewards, but then again, that is if you are lucky enough to win or active enough to end at the top of their earning lists.
How do you get paid?
Now that you know how you can earn from this GPT site, the next thing you need to learn about this site is how you will get paid.
For every offer you complete, you will earn a certain number of points. Once you've accumulated the required number of points, you will be able to redeem or withdraw your earnings.
The minimum amount you can withdraw is $1. It is a pretty low payout threshold, in my opinion. And it is probably the only thing I like about this GPT site.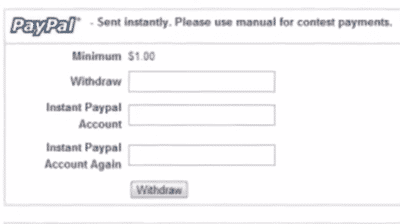 You can withdraw your earnings via PayPal, which is good because it is the most convenient and most common payment method today.
They also provide you with an option to redeem Tango gift cards instead. If you are not familiar with a Tango gift card, think of it as a universal gift card you can use.
Let me explain. Let's say you have a $5 Tango gift card. You can use that Tango gift card and exchange it for an Amazon gift card instead. Just log in to their website and go to their rewards catalog and choose the Amazon gift card with the appropriate value.
The good thing about their rewards catalog is that it is quite extensive. So, in reality, you can use the Tango gift cards you've earned from MadMoneyGPT and exchange for a more specific gift card of your choice.
It's a long process, in my opinion, but it gives you more choices of what gift card to get.
How much money can you make?
This is probably the most important factor you have to consider when deciding if you want to join a GPT site or not.
Ideally, you will want to make the most out of your time by joining a GPT site that has good earning potential. This means you can earn a decent amount within the smallest amount of time possible.
To do that, a GPT site must have plenty of offers that will pay you well. And this is where MadMoneyGPT falls short, in my opinion.
Although it has several earning opportunities, it still doesn't have decent earning potential. Based on feedback from long-time members, the rewards of their offers are pretty low.
So, even though there's a consistent number of offers you can do on a regular basis, you will have to spend a lot of time just to hit the $1 threshold.
In my opinion, you are better off completing offers from other GPT sites or even survey sites that pay better than MadMoneyGPT.
That way, you get to earn the best possible amount at the shortest time possible.
Can you use it on mobile?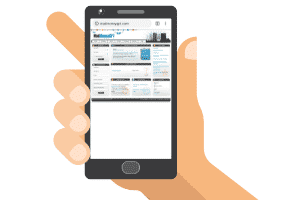 As you may have noticed, MadMoneyGPT offers mobile surveys. That means you will be able to work on your mobile device with this site.
However, if you are expecting to download a MadMoneyGPT app to your mobile device, you will be disappointed.
The only way you can work on offers on their site from a mobile device is by logging in to their site using a mobile web browser.
Unfortunately, their site is not optimized for mobile use. So, it would be a bit inconvenient to work on offers using your mobile device because you will have to zoom in just to read the content properly or click a link to an offer properly.
So, in reality, them offering mobile surveys and their lack of mobile optimization doesn't really add up, in my opinion. What's the point of having mobile survey offers if you can't work conveniently on your mobile device, right?
And speaking of their site design, there's really a lack of relevant information on their website. Apart from the things you can see on their homepage, there really isn't a lot of information on what their website can do.
It's as if they don't want you to learn more about their site.
Normally, a site like this has a page explaining what their site is all about and what you can get out of it. That way, you will be more motivated to register and become a member.
It can be a bit problematic, especially for someone who isn't very familiar with GPT sites. This is just my opinion, but these are the little things that tell you what the value of a site is.
Who can join MadMoneyGPT?
This GPT site is available globally. Anyone can register and become a member.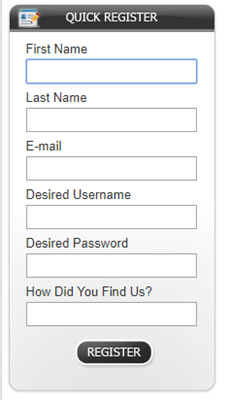 In order to become a member, you just have to fill out the quick registration form (shown in the photo above), which can be found on their homepage.
It will then take you to another page that will ask for more details. Again, this is one of the design flaws of their website. The label on the photo says Quick Register, but in no way does it allow you to register quickly.
Instead, you will be redirected to the real registration form.
The registration form will require you to provide your login details and address. Once you've completed the form, you will then have to confirm your registration by providing a confirmation code.
The code will be sent to the email address you provided in the registration form. As soon as you provide the code, you will then be able to log in to their website. You only have to do this once.
As for the age requirement, you will have to be at least 18 years of age in order to join. They do not state this specifically on their website, but it is the age required to open a PayPal account.
So, if you ever want to convert your earnings into real money (which I assume you will), you will have to be 18 years of age or older.
Can you get support?
If you want to get in touch with their support team, you can use the contact form they've provided on their Contact Us page.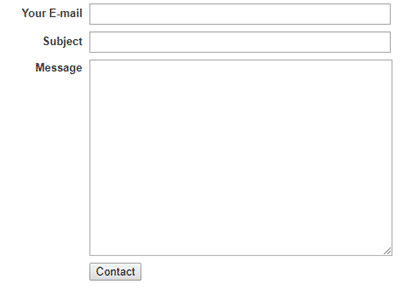 They also have an FAQ section, but in my opinion, it's won't be a big help if you ever encounter any problems or have any questions. That's because it doesn't cover a lot of topics and the answers are pretty short.
They do have a support page you can access if you log in to their website. This, at least, can be useful for you.
If you want to contact them via their social media pages, they have a Facebook page, but it hasn't been active for quite some time. So, I suggest you use their contact form or support page if you want to get a hold of their support team.
Final Verdict
MadMoneyGPT is a GPT site that will pay you for completing offers. It has some good qualities but it falls short in many aspects.
So let's finish this review with a summary of its pros and cons to give you an overview of what the site has to offer so you can come up with a decision on whether you should join their site or not.

Pros:
Has several earning opportunities
Low payout threshold
Payment via PayPal is available

Cons:
Low earning potential
Poor website design
Lack of relevant information on their website
The main drawback of MadMoneyGPT is its poor earning potential.
Even though it has several earning opportunities, you simply won't be able to earn a significant amount of money unless you devote a lot of time (way more than you should on a GPT site, in my opinion).
The poor website design also doesn't help. You are better off working on offers from sites with better earning potential that are easier to use.
If you are looking for good GPT sites, I recommend you check out the top GPT sites instead.
You will find plenty of GPT sites on this list with way better earning potential than MadMoneyGPT, in my experience.
If you have any comments, questions, or have any experiences with MadMoneyGPT yourself, I would love to hear from you in a comment below.