The increase in the popularity of micro-task sites has made it easier for you to earn extra cash online. The premise is simple, complete a micro-task and get paid.
There are actually plenty of sites that offer this kind of opportunity so it becomes practically impossible to distinguish which ones to join without doing proper research. One such site is called Minijobz.
So is Minijobz a scam or is it a legit way to really earn online?
The answer is no. It is not a scam. It does pay you for completing micro-tasks. However, it being legit doesn't necessarily mean it offers a good and efficient way of earning extra cash.
This Minijobz review will show you all you need to know so you can decide if it is indeed a good fit for you or not.
What is Minijobz and what does it offer?
Minijobz is a micro-task site that specializes in pay-per-action. In other words, you get paid for every task you do. It is able to earn by connecting advertisers (employers) with workers.
Minijobz is a streamlined online rewards site. It only offers one way for you to earn. And in order to fully comprehend how well you can earn from this site, we have to take a closer look at the earning opportunity it offers.
So, here's how you can earn from Minijobz.
The earning opportunity – Micro-Tasks
As I mentioned, Minijobz is a streamlined site. It only offers one way for you to earn. Unlike Get-Paid-To sites where you can earn in a lot of ways, the only way you can earn on this site is by completing a micro-task.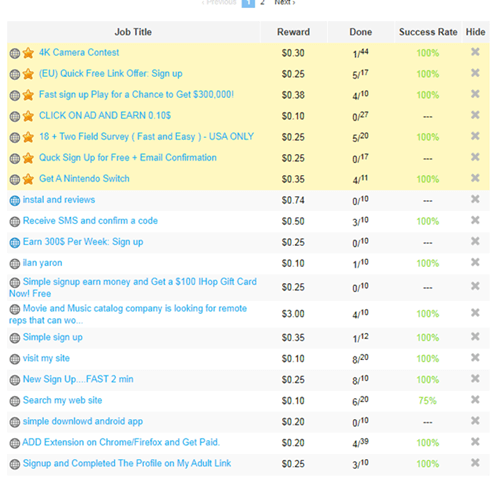 As the name suggests, micro-tasks are really just short tasks you can do to earn some money. The tasks listed will vary from having to sign up to sites, doing web searches, trying out apps and other stuff.
So in that sense, it still offers several ways to earn but they are all posted on the same list – in this way it is very similar to RapidWorkers if you have heard about that platform.
When you log in to the site, you will immediately see all the tasks available. To work on a task, you will have to apply for it first. If the employer approves your application, you can start working.
Now, this is something you need to remember when doing micro-tasks. You need to be careful when choosing a task you want to do and remember, you will need to submit proof that you've completed the task.
You need to make sure that the task you choose will be something you will be able to complete. That's because, with Minijobz, you will have to maintain a good success rate in order to keep earning. If you apply for a job and end up not completing it, your success rate will take a hit.
If that keeps happening, you won't get accepted for any more tasks and not be able to withdraw your earnings. You will need to maintain at least a 25% success rate to keep earning from this site.
Take note that the success rate is influenced not only by completing the task but also by providing real proof of completion. So, if an employer sees you've submitted fake proof that you've completed the task, your success rate will also be decreased.
So, don't, for a second, ever think that you can just send fake proof of completion and get away with it.
That's why diligence is also important when working on this site. You need to be diligent enough to finish the task and submit proof.
Also, before even taking any tasks, make sure to read carefully what you have to do. I have, for example, seen a lot of the types of tasks where it says you just have to sign up to win a gift card.
The reality of these types of contests is that it will be very hard to win and on the sign-up page you get to, you will mostly have to agree to be contacted by A LOT of advertisers just to register.
So not all tasks are as great as they might seem at first so choose wisely if you join and look carefully at anything you might have to register for before you give up your personal details.
How do you get paid?
Every task you complete on Minijobz will earn you a certain amount. It will then be credited to your Minijobz account.
You will then be able to request payment once you've accumulated at least $5. Payment can be done via PayPal or Payza. But, there is a kicker with their payment option. There will be a 20% transaction fee deduction for every payment you request.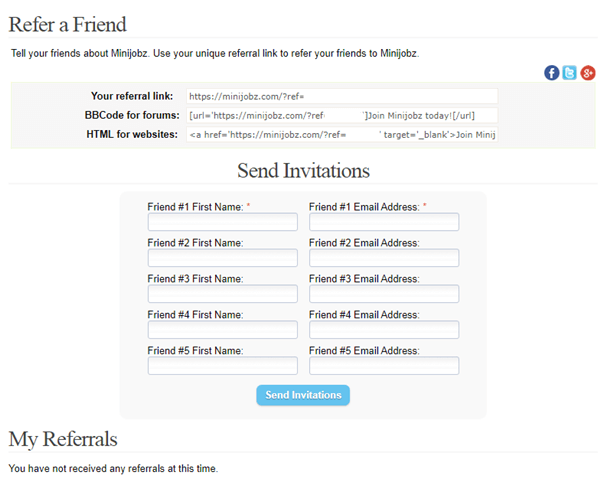 That, in my opinion, is a very high transaction fee. However, you will be able to waive that fee once you are able to invite 30 people to join the site (refer to photo above). Take note that they have to register to the site to be counted as your referral.
Typically, referral programs will reward you for every person you invite. But with Minijobz, it actually becomes more of a necessity in order to maximize your earnings.
So, if you are interested in joining this site, this is the first thing you need to work on because 20% is a significant amount and getting to that 30 referrals isn't that easy.
I do, like the fact that they do have a low payout threshold, which will allow you to withdraw your earnings quickly.
If you are interested in more sites that have a low payout threshold, I suggest you check out the best sites with low payout threshold as well.
How much money can you make?
A micro-task site like Minijobz will allow you to earn a significant amount if you complete a lot of tasks. Another thing that contributes to its earning potential is how well they pay.
Unfortunately, most of the tasks offered in Minijobz will only pay you in pennies. So, you can't really expect to earn a lot by completing just one task. You will need to finish a lot of tasks in order to earn a significant amount.
The reason for this is that the tasks are created by other members and usually they post jobs that will give them a commission and then give you a small part.
But that means they are acting as middlemen and that means the rewards will often be lower than if you work on many other Get-Paid-To sites.
And considering the fact that there also is a 20% transaction fee for every payment request you make, I would say that earning a significant amount from this site can be quite hard (unless you are able to successfully refer 30 people).
Overall, Minijobz, in my opinion, has a low earning potential. There are plenty of other sites that pay better.
Can you use it on mobile?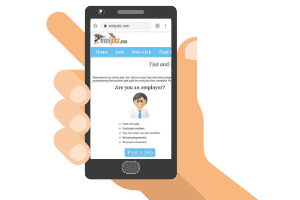 Theoretically speaking, you will be able to access the Minijobz site on a mobile device. You can use a mobile web browser to log in to the site. The problem is, their site is not optimized for mobile use.
So, you will have a hard time navigating through the site. In my opinion, this site is best used on a desktop or laptop. It's not surprising really because the nature of the earning opportunity it offers is really intended for computers and not mobile devices.
This makes it a less versatile site to earn from because you will need to sit in front of a computer in order to earn.
Who can join Minijobz?
One good thing about Minijobz is, it is available worldwide. Anyone can join the site. You just have to be at least 18 years of age to register.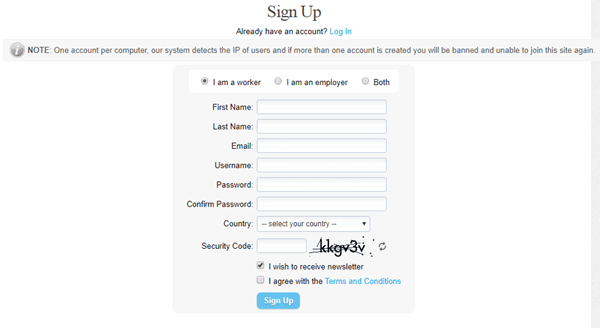 To become a member, you simply need to fill out the registration form. It will then send an email containing the activation link for your account. When I registered to the site though, it took about an hour before I received the activation email.
In my experience, activation emails don't usually take that long to be received.
So, you will need to be a bit patient when you register for the site. The good thing is, you will receive a $1 sign-up bonus once you've activated your account.
Can you get support?
This is where the site has failed a little, in my opinion. Normally, sites like Minijobz will have a section or page that will explain the ins and outs of being a member.
However, you really can't find any page on their site that talks about what you need to do as a worker.
They have an FAQ section but it only talks about topics for employers. So, if you are interested in becoming a worker, you won't find any information on their FAQ page.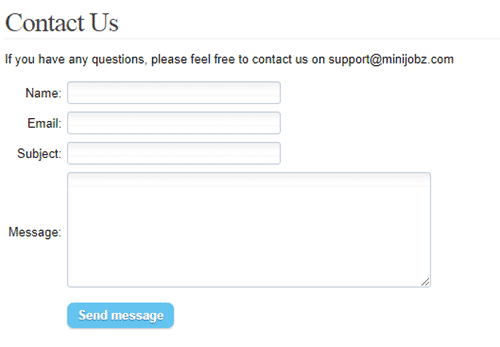 You will naturally have some questions you want to be answered. Fortunately, they do have a contact form you can use to send in your inquiries. But again, they could minimize the number of inquiries they will receive if they just provided a separate FAQ section for their workers.
The contact form though can be very useful when you become a worker. If ever you encounter any issues with a task you are working on (like an employer tagging your proof of completion as fake), you can dispute it by using their contact form and sending your grievance.
Overall, they do provide a decent way for you to contact their support team. But they stand to gain more if they just provided more information for potential workers, in my opinion.
Final Verdict
Minijobz is an online micro-task site that does pay you for completing the tasks they offer. The site has some good qualities and glaring drawbacks as well.
To sum up this review, here's a list of its pros and cons to better give you an overview of what the site has to offer to help you decide if you should join or not.

Pros:
Available globally
Low payout threshold
Payment via PayPal is available

Cons:
Limited earning opportunities offered
Low rewards
Site is not mobile-friendly
The high transaction fee for withdrawals
All in all, Minijobz's drawbacks make it a less than ideal site to join if you want to earn extra cash, in my opinion.
The low rewards and high transaction fee makes it harder for you to earn a significant amount even though it has a low payout threshold.
You will have to complete a lot of micro-tasks just to reach the threshold and that will naturally take a lot of time. The one redeeming factor of this site is that it is available globally. So, if you are in real need of sites to join to earn extra cash, this can be an option, but not a good one, in my opinion.
Your time will be better spent working on sites that pay better and have less or no transaction fee when withdrawing your earnings. For a list of these sites, I suggest you check out the top GPT sites.
The sites on this list all have good earning potential and they pay relatively well. Plus, you will also be able to find a site that you can join regardless of where you live.
If you have any comments, questions, or have any experiences with Minijobz yourself, I would love to hear from you in a comment below.