Mobeye claims to be an app where you can earn by answering short surveys from your mobile phone.
That sounds like a relatively easy way to earn, right?
But is Mobeye app legit and really worth it or is it a scam to stay away from?
Both these concerns are valid and crucial and this Mobeye app review will address both questions and other things as well.
It will reveal the full truth of what the app has to offer so you can determine if it is really worth your time or not. So, let's go ahead and start the review.
What is Mobeye and what does it offer?
Mobeye is a micro jobs app that will ask you to complete short tasks in exchange for rewards.
It is indeed a legit app that will pay you for completing tasks. It's a lot similar to Premise, which is another app where you can complete short tasks that asks you to take photos (among other things).
Here's a short video explaining what the app does.
Now, to understand exactly how this app works and how well you can earn from it, we have to take a closer look at the earning opportunity it offers. So, here's how you can earn from Mobeye.
The earning opportunity – Mobeye tasks
This app only offers one way for you to earn and that is by completing Mobeye tasks. When you log in to the app, you will immediately see all the available tasks you can book.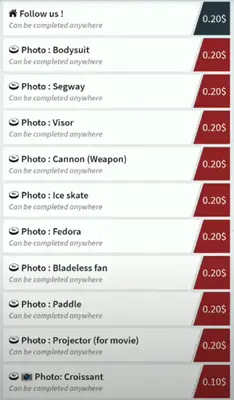 You can view tasks in list mode or you can set it to map mode so you can easily view tasks that are near your location.
Once you see a task you are interested in doing, just press it and it will show you the details of what you need to do to complete it.
Usually, tasks will ask you to take photos of products and other things. Sometimes, there will be tasks that will ask you to answer surveys. These are the tasks that are easier to do because you don't have to go out of the house to complete it.
Once you know what the task will ask you to do, you will have to book it by pressing the "Book Task" button. The task will then be taken out of the list so no other member will attempt to do it. You will then have two hours to complete the task.
If after two hours you have not completed the task, the reservation is automatically canceled and the task becomes available for other members. So, make sure to only book a task when you are ready to do it.
Once you've completed the task and you have submitted all the requirements, Mobeye will review your work. When it sees that everything is in order, you will receive the reward promised.
But as you can see, you have to make sure you do everything you are asked to do – if not, you risk not getting paid and will have wasted your time.
One thing you need to remember about their tasks is, you can only take on one task at a time. You can't book multiple tasks at the same time. This is to prevent members from hoarding tasks, which is a good way to make sure there are tasks for everyone, in my opinion.
Recommended: Check Out the Top Survey Apps
How do you get paid?
For every task you complete, you will earn a certain amount which will be credited to your Mobeye account balance. You can then withdraw your account balance once it reaches (or exceeds) £7.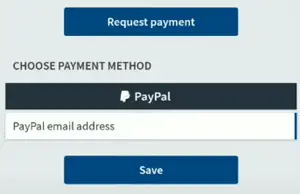 The only payment method Mobeye offers is PayPal. So, if you are interested in using this app, I would suggest you make sure you have a verified PayPal account first.
To withdraw your earnings just go to the "Payments" tab of the app and press the "Ask a payment" button. Input the amount you want to withdraw and hit submit. You will receive the money within 5 business days, so don't expect to receive it right away.
Their payment system is really very simple. I like the fact that the threshold is relatively low. You won't have to wait that long to withdraw your earnings. If you are interested in sites that have a low payout threshold, I recommend you check out the fastest paying sites.
How much money can you make?
The amount you can earn from Mobeye will depend on how often you complete tasks and where you live (with the latter being the main determining factor).
You see, your location will determine how many available tasks you get access to. So, it matters little how willing you are to do tasks if there aren't a lot of tasks you do in the first place.
If you live in a city where there are plenty of Mobeye tasks, then the earning potential of the app will be quite decent. But if you live in a city (or outside a city) where there are a few tasks, then you won't exactly be earning a lot.
Typically, in my experience, if you live in an urban area, you will usually have access to more tasks compared to if you live in a rural area.
As for how well the app pays, you will usually earn around $0.1 to $0.2 per task, but there are other tasks that offer more rewards, they're just not that common.
So, if there is a task that requires you to spend money just to get to the location of the task, then it isn't worth doing, in my opinion.
The best way to take advantage of this app is if you are out and about and you have spare time, you can just open the app and check if there are tasks you can do nearby. That way, you can earn a bit extra but without spending too much time going to and from tasks.
Overall, I would say the earning potentially of this app isn't really that bad. Just don't expect to earn a lot from this app.
Can you use it on a desktop?
Mobeye, as mentioned earlier, is a mobile-only platform. It doesn't have a web version that will allow you to work on tasks on your laptop or desktop. And considering the type of earning opportunity it offers, you won't really find the need to use a laptop or desktop.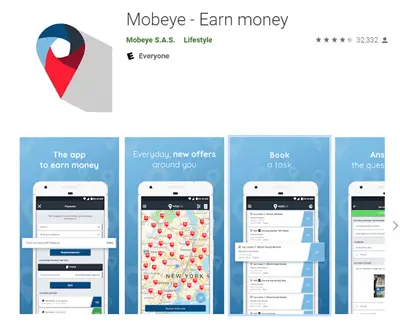 As for their app, it works on both Android and iOS devices. So, compatibility won't really be an issue. The app is also user-friendly. You will easily get used to how the app works since the user interface is very intuitive.
Who can join Mobeye?
There isn't any information on their site about which countries this app is available in but if you base it on the language options of their site, you can come to the conclusion that the app is available in these countries:
France
Spain
Italy
Germany
Netherlands
United States
United Kingdom
South Korea
Japan
But the best way to determine if the app is available in your country is to check your app store if it is available for download. If it isn't, then that means it's not available in your country.
To become a member, you have to be at least 18 years old. Simply fill out their registration form and once you are done, you can log in to the app and start taking on tasks.
If you do not use your account for 12 months, your membership will be revoked and you will lose all your unclaimed earnings.
Can you get support?
If you have any questions about the app or your account, you can first refer to their FAQ page. It discusses the most common topics you need to know. If you can't find the answers you are looking for, you can go to the support section of the app to get in touch with their support team.
Overall, I would say Mobeye offers decent support for their users since they provide a way for you to get in touch with their support team.
They also reply to the comments on the pages in the app stores which shows they do care about your overall user experience of the app, which is a good thing.
Final Verdict
Mobeye is a legit micro jobs app that will pay you for completing short tasks that, for example, require collecting information and photos. It has a couple of good features but it also has some drawbacks you need to be aware of.
So, let me finish this review with a summary of its pros and cons to give you an overview of what the app has to offer. That way, you can determine if this app is a good fit for you or not.

Pros:
Their app is user-friendly
Has a relatively low payout threshold
Offers a convenient payment method (PayPal)

Cons:
Limited earning opportunities offered
Availability of tasks will mostly depend on your location
Quite low rewards considering the time you have to spend
In my opinion, Mobeye is a decent secondary app you can use to earn additional money. It's not really a good main source of extra cash since most of the tasks don't pay that well and the availability of tasks will mostly depend on your location.
If you live in an area where there are plenty of tasks available on a regular basis, then you can earn decent money. However, if you live in an area where there are a few tasks available, it will take quite a long time for you to reach the threshold and withdraw your earnings.
That's why if you are looking for an app that can be a steady source of extra cash, you are better off joining apps or sites that have more earning opportunities offered.
I would suggest you check out the top survey and GPT sites in your country if that is the case. The sites and apps on this list all have good earning potential regardless of where you live.
If you have any comments, questions, or have any experiences with Mobeye yourself, I would love to hear from you in a comment below.