Are you on the hunt for mobile apps to earn extra cash from? If so, there's an app called Mobile Performance Meter that claims all you have to do to earn is use your mobile phone like you normally would.
It's definitely a very interesting claim, but I admit, it sounds kind of fishy. That's why I've decided to take the app for a spin to see if it really does what it claims to do.
In this Mobile Performance Meter review, I will share everything I have learned about the app so you will know exactly what it does and you can determine if it is worth using or not.
What is Mobile Performance Meter and what does it offer?
Mobile Performance Meter is a Get-Paid-To (GPT) app that will reward you for letting the app run in the background of your mobile phone. That's all you really need to do to earn. It is indeed a legit app because you will really receive rewards.
But the question is, is it worth using? To arrive at a conclusion, you must first understand how the app works, and to do that, we have to examine the earning opportunities the app offers. So, here's how to earn from Mobile Performance Meter.
Option 1 – Data gathering
The primary way of earning from Mobile Performance Meter, as mentioned above is to just let it run in the background and collect data. After you've installed the app, you will have to go through the set-up process which the app will walk you through.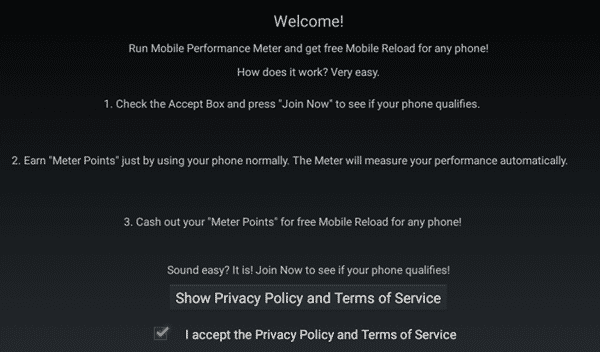 When the app is already installed and you've completed the set-up process, all you have to do is let the app run in the background so that it will collect data. But what kind of data will it collect exactly?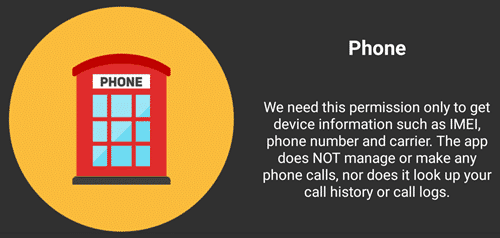 As shown in the photo above, it will only collect data like the International Mobile Equipment Identity (IMEI), mobile number, and carrier, so you don't actually have to be worried that the app will collect sensitive information like your password or bank account number.
When you are ready to earn, you just have to open the app and let it run in the background. You will then earn 5 to 10 meter points per day depending on the data gathered.
The app also doesn't consume much of your device's battery. It's almost like it was never there because you won't feel the difference. That's the best thing about this app, in my opinion.
Option 2 – Paid surveys
Another way to earn rewards from this app is through their paid surveys. Take note that this opportunity will only be unlocked after you've used the app for at least two weeks.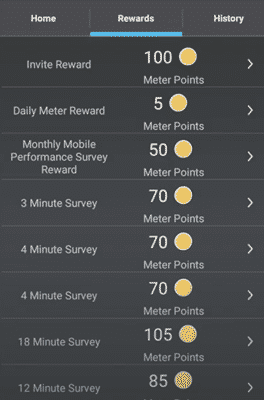 The surveys are also very easy to answer. You still have to go through a qualifying process like you normally would with paid surveys from other sites and apps.
Most surveys will only take about 5 minutes to complete and when you do complete one, you will earn a certain number of meter points (around 50 to 100 points per survey). They didn't have that many surveys when I tested it, so you can't really consider it as a reliable way of earning rewards, in my opinion. Just think of it as a bonus way to earn more points.
They do reward you with 2 meter points if you fail to qualify for a survey. It's not much, but at least you get something out of it, which is a good thing, in my opinion.
Option 3 – Referral program
Lastly, you can earn additional rewards through the app's referral program. It works like any other referral program where you will have to invite other people to use the app.
You can share your invite link with the person you want to invite and when they click the link and install the app, they will become your referral. They must first earn meter points by using the app in order for you to receive the reward which will be 100 meter points.
Their referral program is very simple but it doesn't offer a very high reward. Just think of it as a way to boost your meter points earning and not really the primary way to earn.
Recommended: Check Out the Top Passive Income Apps
How do you get paid?
As explained above, you will earn meter points for every earning opportunity offered by the app. But what can you do with the meter points you've earned?
Well, you can use them to redeem various gift cards. Unfortunately, gift cards are the only rewards offered, so if you were hoping to earn cash, then this app is not for you.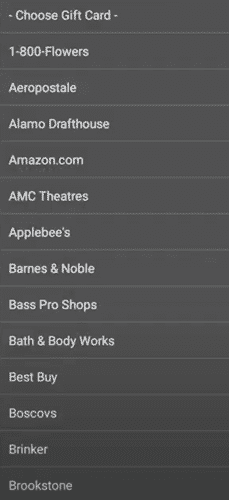 You will have plenty of choices when redeeming gift cards, but by far, the most popular one are the Amazon gift cards. The minimum amount you can redeem will be $5 which will be worth 500 meter points.
You will typically receive the gift cards after a few hours but sometimes, it can take up to a couple of days. That being said, you still won't have to wait that long to receive your earnings.
Overall, the reward system of Mobile Performance Meter is pretty easy to understand and I like the fact that it has a relatively low payout threshold of $5. It won't take long before you can start redeeming gift cards.
If you are interested in more sites/apps where you can earn Amazon gift cards, I would recommend you check out the best sites to earn Amazon gift cards.
How much money can you make?
The amount you can earn from Mobile Performance Meter will mostly depend on how often you let it run in the background and how often you are able to complete surveys. But let me just make it clear, this app won't make you rich.
At most, you can earn around $5 to $10 (500 to 1,000 meter points) per month by letting it run in the background and answering surveys as often as you can. That's not a bad rate, in my opinion, but it's not that good either.
That's why I would say the earning potential of this app isn't that good. However, I would say it can be worth using because you don't really need to put in a lot of effort to earn. That is really what makes this app an option to consider.
Can you use it on a desktop?
Mobile Performance Meter is a mobile-only app, so you will really need a mobile device, specifically a mobile phone to earn from it. I say mobile phone specifically because as explained earlier, you will be able to earn by letting the app gather mobile numbers and network carrier information.
If your device doesn't have a sim card, it's not capable of making phone calls and therefore the app won't be able to collect data.
The app will only work with an Android device, so this app is not for you if you are an iOS user.
It is very easy to use and you won't encounter any pop-up ads when using it, which makes the user experience quite pleasant, in my opinion.
And as I've mentioned earlier, the app will not eat up a lot of your device's battery, so you don't have to worry about your device's battery life.
Who can join Mobile Performance Meter?
There's no information on their site or app page that says which countries it is available in, so the best way to find out if you are able to use this app is to go to Google Play and search for the app. If it will appear in the search results, that means you can use it and you are eligible to join.
The app doesn't use the typical registration process you will encounter in other apps where you will have to fill out a sign-up form. When you install the app and open it for the first time, it will walk you through the set-up process which will mostly consist of giving permission to the app.
When you are done with the set-up process, you can start earning right away. This kind of system means one thing you need to be aware of – the app will be bound to your device and you can't really install it on other devices and use the same account.
That's the main downside I found about the app. If you somehow need to uninstall the app or your mobile device breaks, you will lose all your earnings.
Can you get support?
Mobile Performance Meter's website is essentially non-existent, so if you have any questions about the app, you will have to log back into the app and press the question mark icon on the upper right-hand corner so you can access the support page.
If the support page is of no use to you, you can just get in touch with their support team via email. You can email them at mpmsupport@embeemobile.com.
Overall, I would say the app has a decent support system in place for its members since it offers a convenient way for you to communicate with their support team. But I do wish they would work on their website and provide useful information. That would provide a more seamless user experience, in my opinion.
Final Verdict
Mobile Performance Meter is a legit GPT app that will reward you for letting the app run in the background and collect data. It has a couple of good features, but it also has some limitations you need to consider.
Let me end this review by summarizing its pros and cons so you can get an overview of what the app has to offer. Then, you can decide if you should use it or not.

Pros:
The app is user-friendly
Offers a passive form of earning
Low payout threshold

Cons:
Limited earning opportunities offered
Doesn't offer cash rewards
If you are eligible to use the app and you don't mind earning gift cards instead of cash, then I would recommend you use Mobile Performance Meter. The main reason it can be worth considering is that it offers a passive form of earning. Not a lot of apps offer that kind of opportunity.
You just need to set your expectations properly because you won't earn a lot from this app. It can serve as a nice secondary app to earn from, in my opinion.
But if you are looking for a primary way of earning extra cash, I would recommend you check out the top survey and GPT sites in your country instead. The sites and apps on this list all have good earning potential and most of them offer cash rewards.
Plus, you will definitely find a site or app you can use regardless of where you live.
If you have any comments, questions, or have any experiences with Mobile Performance Meter yourself, I would love to hear from you in a comment below.