At first glance, MoneyGuru.co looks like a promising website to join. This Get-Paid-To (GPT) site promises to pay you for installing apps and doing other activities. It even offers you a $10 joining bonus.
Sounds too good to be true, right? So, before you join this site, there are a few things you need to consider.
First of all, is MoneyGuru legit? Does it really allow you to earn money?
This is a little tricky to give a straight answer for to be honest. MoneyGuru.co has A LOT of red flags you need to be aware of.
This MoneyGuru.co review will reveal all the untold details, so you'll know exactly what to expect.
And in general, it will show you what to look for before joining any site – Think of this as a perfect example of a site to stay away from.
What is MoneyGuru.co and what does it offer?
As explained above, MoneyGuru.co is a GPT site that promises you will earn from clicks on your referral link, referral sign ups, and completing simple tasks like app installs, surveys and incentive offers.
It offers a few earning opportunities and we'll closely examine each one so you can better understand what this site is offering.
I'll also explain what is wrong with their earning opportunities. Because many legit sites are offering seemingly similar earning options but there are some big differences you need to be aware of.
So, I made a video that gives you an inside look and show everything you need to know before joining, You can alos read all the details below the video:
Option 1 – Paid offers
Paid offers are short tasks you can complete to earn rewards. On GPT sites, these paid offers can usually be found on offerwalls or as a standalone section.

In MoneyGuru's case, you will find the paid offers on their Task Wall section.
As you can see in the photo above, each paid offer is worth $5. That's actually a very high reward. In fact, it is the highest I've seen for similar paid offers.
That alone will raise the eyebrows of more experienced GPT members. In my experience, paid offers like the ones MoneyGuru.co offers will pay, at most, around $1 to $2 and these offers are quite rare and will only be offered sparingly.
Normally, you will only earn $0.5 or even less for similar paid offers. So, if you see a similar paid offer that pays this kind of money, the reasonable knee-jerk reaction should be doubt.
Yes, you should doubt that because no legit GPT site will pay that amount of money for a simple offer.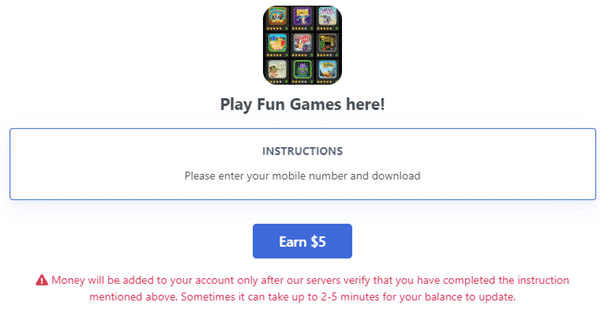 Plus, if you decide to complete an offer, it will first ask you to provide personal information like your mobile number or email address to proceed.
Legit GPT sites don't actually ask you for this kind of information (at least not while you are completing offers).
If they ever ask you for this kind of information, they will do it while you are registering to the site. That's usually how it goes.
And when it comes to MoneyGuru, you have very good reason to be careful about the information you share as I will explain more about later.
Option 2 – Review wall
Review wall is a unique opportunity that I've only ever encountered on this site. It's basically an offer that will pay you a certain amount for reading a review of their site.

As you can see in the photo above, each offer promises to pay you $1 for simply reading a review of the site.
It will redirect you to a certain blog site that hosts the review and you have to stay for 5 minutes before you can earn the reward.
Again, it's supposedly a very simple and effortless way of earning.
So, I understand it can be very tempting but what it is actually doing is, the site is trying to drive traffic to these certain websites by promising to reward you for visiting it.
And they probably hope this can boost the rankings in Google for these overly positive reviews of MoneyGuru.co that does not show all the important details at all.
By doing this they hope most people will find these reviews when searching for info about MoneyGuru instead of the thorough reviews that reveals all the red flags they do not want you to know about.
That's how it works.
Option 3 – Referral program
Their referral program is almost believable.
It is structured like most other referral programs from other GPT sites. You will basically get paid $5 to share your personal link and then earn $5 for every person who signs up on it.
The suspicious detail here is the amount you will earn.
Normally, in my experience, referral programs that are structured to reward you right away as soon as the person you invite signs up will only net you a few cents or $1 at most.
There are other referral programs where you can earn more but they usually have an additional condition that needs to be met before you can receive the reward.
Usually, the referral has to complete a few offers first before you will receive your bonus. That's how it usually works.
So to make it clear – it is NOT realistic that you will get $5 just for getting a person to sign up without any further condition for a referral program like this.
Option 4 – Social tasks
Another way you can earn rewards from this site is by performing social media tasks. First, social media tasks aren't really a very common thing to find in GPT sites.
Only a few legit GPT sites offer this kind of opportunity like, for example, Timebucks.

But with MoneyGuru.co, you get paid just to upload videos on YouTube, post something on TikTok, Twitter Instagram or Facebook. If you think about it, it's actually quite a suspicious offer.
Especially because they will supposedly pay you quite high rewards and you have to post info about MoneyGuru to promote them.
Earning $10 for simply doing a small social media task is certainly unbelievable.
They just want you to spread the word about MoneyGuru but as you will see later, you should not waste your time doing this, in my opinion
Recommended: Check Out the Top GPT Sites
How do you get paid?
The thing with MoneyGuru.co is, if you are a novice to these kinds of sites, you would certainly think it is a legit site. That's because they will really give you the reward promised once you complete an offer/task.
Yes, for every paid offer or task you complete, the reward will be credited to your account balance. They supposedly even offer different payment methods like PayPal, Cash App, Venmo, Bitcoin or check.
However, they will require you to reach a balance of $100 (which is very high) before you can withdraw your earnings.
It's actually a smart thing for them to do. They require a very high payout threshold so you will be forced to complete more offers and tasks. That way, the site can get more information out of you and get you to promote them more.
Now, when you reach the threshold, you can withdraw your earnings through any of the aforementioned payment methods they offer. But what seems to happen is, when you withdraw your earnings, they will simply say that you are not eligible to receive the reward.
Any site that has this high a payout threshold is definitely something to be suspicious about.
I have not seen any legit site that will require that. But what I have mentioned so far are not the only red flags when it comes to MoneyGuru.
There are several more you need to be aware of before joining.
Red flags revealed
Apart from the red flags you can find when it comes to their earning opportunities, there are actually a few more red flags you will encounter on this site even before you join.
Let me elaborate on these red flags so you'll know what to look for the next time around.
Red flag #1 – Absurd terms and conditions
The first thing you need to look at before you join a site is their terms and conditions.
This is basically your best friend when you want to join an online rewards site. Terms and conditions must be legal and reasonable.

In MoneyGuru.co's case, by simply reading their terms and conditions (T&C), you will know right away that there is something wrong or suspicious about the site.
It says in their T&C that you have to be at least 99 years or older to avail of their features and services.
That alone should make you doubt the legitimacy of their site. It's actually a very funny situation because I have never encountered a condition that is blatantly unreasonable. They actually have grounds to deny you payment because you didn't meet their terms.
That's probably the defense they will use if somebody complains. That's why it is important to always read the terms and conditions of a site before you join, specially the section that talks about the eligibility of members.
Red flag #2 – Fake testimonials + payment proof
Figuring out if a testimonial or payment proof is fake or not actually requires a bit of detective work on your end.
Fortunately, there are a few tools you can find online to help you do your investigation. One tool I find useful is the site called Who.is.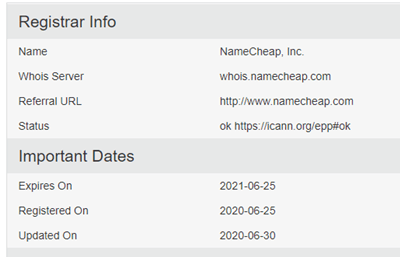 As you can see in the site above, the domain MoneyGuru.co was registered last June 25, 2020. But if you look at some of the testimonials and payment proofs provided on the site, some them were dated in May and even as far back as January, 2020.
So, how can a site that was just registered last June 2020 issue payment on dates where they were not supposed to exist yet?
The answer is, as you might have guessed, pretty simple. That's because they didn't pay those people.
The testimonials they've posted were carefully made to make you think that they really do pay their members. But in just a few simple steps, you can really figure out if a site is telling the truth or not.
Red flag #3 – They will share your details
I have seen sites like MoneyGuru before and this made me suspicious as soon as I saw it. So I took a look at their privacy policy.
I understand if you would skip that because they have a really long privacy policy that would make most people skip reading it.
So let me just show you a very important part of it you need to know about.

As you can see in the image above, by joining you are basically giving them the right to share your personal information (and they try to collect quite a lot).
According to their privacy policy, they might share your info with: "parent companies, subsidiaries, trusted agents and affiliated Services that we own and/or operate ("Affiliates") and (y) our vendors, advertisers, merchants, survey partners, joint business venturers and other trusted service providers".
This basically means they can share your info with a lot of people and you have no idea who they will share it with.
This can be a good business for them but not great for you as this will clearly open you up to a lot of spam.
Red flag #4 – Bogus parent company and location details
Lastly, one of the most obvious things that you can easily spot to figure out if a site is legit or not is the parent company and location details provided on a website.
A legit site usually doesn't have any problems giving you the link to the site of their parent company.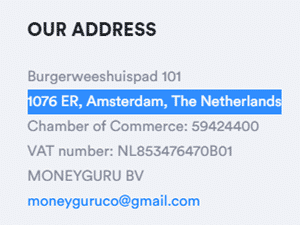 But in MoneyGuru.co's case, they don't actually link the site to their parent company. While this can be understandable sometimes, the real nail in the coffin was the address they provided. As shown in the photo above, their company is located in 1076 ER, Amsterdam, The Netherlands.
By simply Googling that address, you will find out that it is an address for a different company that manufactures electronic products (a pretty popular camera brand for that matter).
That alone tells you that they have something to hide, which should automatically make you suspicious.
Final Verdict
As we've established, MoneyGuru.co has a lot of red flags. But let's finish this review by summarizing everything so you can get a better overview.

Pros:

Cons:
Extremely high and suspicious payout threshold
They will share your personal info
Makes exaggerated earning claims
Uses fake payment proof and testimonials
Has absurd terms that make it easy for them to close down any account without warning
The type of site MoneyGuru.co is running has actually been copied many times. In fact, this is just a copy-cat site. Its only purpose seems to be to get your personal information which they can sell to other interested parties.
So, to be clear, MoneyGuru.co is a malicious site you should avoid. Any site that offers outrageous rewards are always too good to be true. And by remembering the red flags mentioned above, you should be able to spot similar sites to stay away from a lot easier from now on.
Now, if you want to earn REALISTIC extra cash online, I would suggest you instead check out the top survey and GPT sites in your country.
The sites on this list are all legit and offer good earning potential. Plus, you will definitely find a site you can join regardless of where you live.
If you have any comments, questions, or have any experiences with MoneyGuru.co yourself, I would love to hear from you in a comment below.