MyPointSaver is a Get-Paid-To (GPT) site that promises to reward you for completing the offers they present.
But is MyPointSaver a scam? Or is it legit? Let me just answer that right away to save you some time. Yes, MyPointSaver is a legit website.
Now, you have to ask yourself, is this a good site for you? Because not all legit sites are worth your time.
That's what we are here to talk about in this MyPointSaver review. After reading this review, you will know everything you need to in order to decide if this is really the site for you or not.
So let's get going.
Important Update: MyPointSaver closed
MyPointSaver does no longer exists. According to themselves, their business was not able to get through Covid-19 and it was therefore forced to close down.
You can instead check out some great free alternative ways to make money online here.
What is MyPointSaver and what does it offer?
As mentioned, MyPointSaver is a GPT site that will reward you for doing the tasks they offer.
It says on their website they are a participant in the Amazon Services LLC Associates Program. So it doesn't come as a surprise that what they offer as rewards are Amazon gift cards.
And that they are a part of the Amazon Associates program also means they will get commissions by sending you to Amazon – that is why you will see quite a lot of ads for Amazon products on the site.
This is just background info and does not really say anything about your earning options which is what really matters to decide if it is for you or not.
According to their website, their goals are to provide users with the highest earning, most exciting and enjoyable experience possible.
So now, let's take a look at how you are able to earn rewards from this site. I have created a video tutorial that shows you everything. You can also read all the details below the video:
Recommended: Click To See The Top GPT Sites
Option 1 – Paid Surveys
MyPointSaver acts as a survey router so you can answer surveys and earn rewards.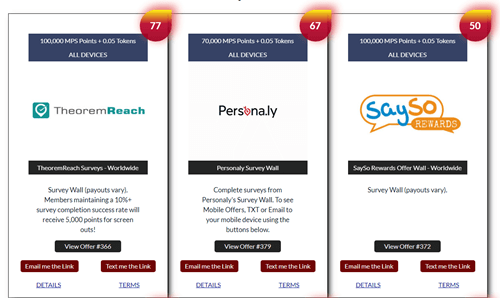 The way this works is, when you log in to the dashboard and go to the surveys section, you will be presented with several survey offers from other websites.
Each survey offer displays the reward you will get. Once you click the offer, you will then be redirected to their website so you can answer surveys to earn reward points.
Keep in mind that most of the sites will have an initial question set in order to determine if you are eligible for the survey. If eligible, you will then proceed to the survey.
If you don't qualify, you will then be told you didn't qualify. This is a good system because it allows you to save time since you'll know right away that you didn't qualify for the survey. You can then move on to the next offer.
The advantage of a survey router is you will have access to a lot of surveys even when you are on the same platform.
The downside is, the reward you will get is usually a bit lower than what you will get if you were to take the surveys directly from the website that offers it and it can sometimes take a bit of patience to find the surveys you qualify for.
The rewards for the surveys on MyPointSaver are actually quite low compared to some of the same surveys on other sites.
But this depends on how many you take and more, but we will go more into the point system and the rewards later.
Option 2 – Video Watching
Another option to earn points on MyPointSaver is by watching videos.

To watch videos, just go to the videos section of the dashboard and select an offer. This will then open a new window where you can view the video.
Take note, you will not be able to switch browser tabs when doing this since the video will pause if you do. And in order to receive the reward, you need to finish watching the video.
You can, however, open other windows and the video will not pause. So, you can still do other things while the video is playing.
It can be an entertaining way to earn a bit extra, but just be aware that the video offers on GPT sites, in general, gives very low rewards so it takes a lot of patience – that is also the case on MyPointSaver.
Option 3 – Paid Offers
Since it is a GPT site, you can expect that there will be paid offers available.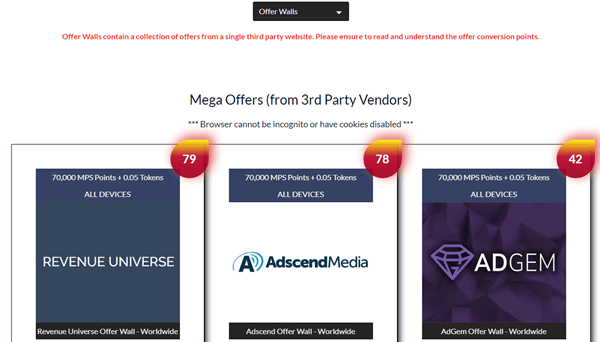 Paid offers are the bread and butter of most GPT sites.
With this earning opportunity, you will be asked to do all sorts of things like play browser-based games, answer quizzes, join contests, sign up to websites or basically just about anything.
Now, MyPointSaver (MPS), doesn't have its own paid offers. It's basically more like the paid surveys. MPS will act as a router to different sites that have offer walls.
To do an offer, you simply have to click the view offer and you will be redirected to the offer wall of the respective site. Just click the green button that displays the reward points you will get for doing the offer and a new window will pop up.
That's where you can do the offer presented. Once you complete the offer, the reward points will then be reflected in your account. It's a pretty straightforward process.
Just remember, you have to meet all the requirements before the reward will be credited to your account.
You can find some good offers here that can boost your earnings, but many of the exact same offers are also available on other sites, so whether it is best to take them here or not depends on which sites you overall like the best.
This review will help you find out if MPS is the site for you to take these offers or not.
Option 4 – Tasks
Tasks work a bit like the paid offers, the only difference is, the task will come from MPS and not from other sites. From time to time, you will receive a task that will ask you to do something like register to a site or perhaps do a free trial.
Regardless of what kind of task is offered, the logic stays the same. You have to complete all the requirements of the task in order to get the reward.
It is not really the best option for MyPointSaver, in my opinion, and it can be a bit confusing. But if you are a member anyway, it can be worth checking out the section once in a while.
Option 5 – Referral Program
MyPointSaver also has a referral program that you can take advantage of. For every person you invite to join the platform, you get to earn 50,000 points.
This might sound like a lot but before getting too excited make sure to read the section below about the actual worth of the points.
You are allowed to refer as many people you like via Facebook. If you will be using the referral link method though, it will only be limited to 50 referrals per day, which in my opinion is more than enough.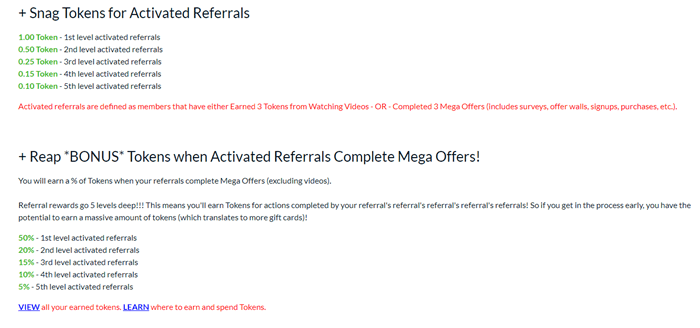 But their referral program doesn't just stop there. It actually has a 5-tier system. What that means is you actually get to earn points from your referral's referral too. It will go as far as 5 levels.
As shown in the photo above, you get to earn tokens (which I will explain the purpose of it later) for every level of referral you have.
Aside from that, you can also earn bonus tokens for every mega offer your referral and your referral's referral complete. This will be 5 levels deep as well.
In my opinion, this is one of the better referral programs being offered. Not only will you stand to earn from your direct referral, but you can also earn from their referrals, up to 5 levels deep.
So if you work on this, the earning potential can be quite significant.
However, because of the overall opportunities on MyPointSaver, it might not be so easy to earn this way anyway.
And I can tell you from experience that it is not as easy as it might sound to get a good consistent number of people joining through your link.
Recommended: Click To See The Top GPT Sites
How do you get paid?
Now let's move on to the next most important part of this review. Let's talk about how you get paid.
If you are expecting to get paid in cash, then, unfortunately, MyPointSaver doesn't do that. As mentioned in the earlier part of this review, you will only be able to get Amazon gift cards as a reward. You will have a chance to win PayPal gift cards though, which I will explain later.
MyPointSaver uses a point system as their reward. So in order to redeem gift cards, you have to exchange it for points. For every 700,000 points, you can exchange it for a $1 Amazon gift card. But that exchange rate will vary though since MPS has a VIP system.
Now, this is where the tokens come into play. Your VIP status will level up when you accumulate a certain number of points.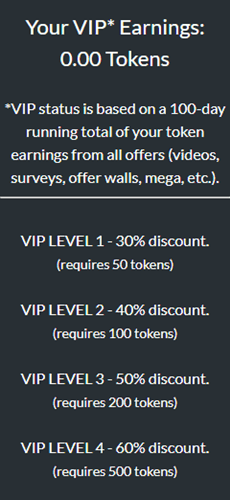 As seen on the photo above, your VIP status will be based on a 100-day running total of the tokens you've earned from all offers.
When your VIP status goes up, the required number of points for every $1 Amazon gift card will be significantly reduced. In my opinion, this is actually a smart move by MyPointSaver because it provides more incentives the more you complete offers.
If you are wondering if the tokens will just be for leveling up your VIP status, then you've got another thing coming. You can actually use the tokens you've earned to gain entry to Wheel of Prizes contest.
Each spin of the wheel will cost 5 tokens. There's a 25% chance that you get nothing from the spin. The remaining 75% will be distributed to prizes like another free spin, reward points or gift cards.
If you think about it, it's actually a good bonus to have because you can just use the tokens you've accumulated to win rewards. The odds are in your favor, so it's a pretty decent trade-off. I recommend though you don't spend points just to buy tokens for spinning.
If you don't want to exchange the points for gift cards, you can also use it to enter their auction. In their auction hall, you will have to use the points you've accumulated to bid for a specific item.
The problem with this though is, it won't be an efficient way for you to spend your points on since you will be competing with other members. You will tend to overspend just so you can win the bidding.
The other way for you to spend your points is to join their sweepstakes. This is where your chance to win actual money comes in. You have a chance to win a PayPal gift card if you join their sweepstakes. Each entry for the sweepstakes will cost 25,000 points.
There are plenty of sweepstakes available, so you can choose which one you want to join in. But then again, you really can't rely on this because it will all be based on chance.
Another game of chance you can avail of is their Scratch Cards. You can buy a scratch card which is worth 10,000 points and you can win random prizes.
In my opinion, these games of chances won't really be worth it because you have to spend points just to enter. You are better off saving the points for actual rewards.
So there are quite a lot of reward methods but the whole reward system is just overly complicated and confusing, in my opinion.
The fact, you need such a huge amount of point to get a $1 gift card makes it very difficult to quickly figure out what you get for your time – but maybe that is deliberate.
Anyway, if you like Amazon, then there are survey sites with Amazon gift cards as rewards that are a lot easier to use and where it is faster to earn, in my opinion.
How much money can you make?
As you already know, you won't be able to earn real money on MyPointSaver, but gift cards can be as good as real money too.
So to answer the question, your earning potential on this site will really depend on how active you are.
Basically, the more offers you complete, the more points and tokens you get. And when you get more tokens, it will translate into more rewards.
But if you really want to see how much you can earn from this site, let me just tell you right now, don't expect too much because you will just be disappointed.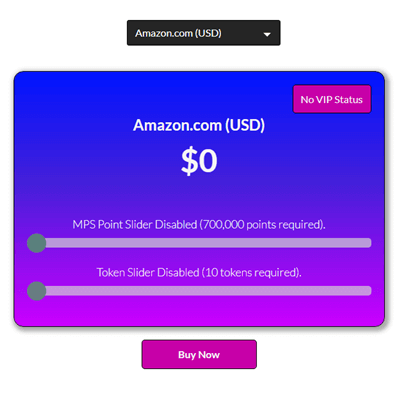 It will cost you 450,000 points just to get a $1 gift card from Amazon.
Even if you factor in that you earn around 5000 to 20,000 points per offer, you will still need to do a lot of offers just to reach 450,0000 points.
This is A LOT of points you need and it has even been lowered since I first joined and tested MyPointSaver – at that time it used to 700,000. It is now still high but at least it has improved a little.
You could argue though that it will cost less once your VIP status goes up. But that will take quite some time considering the number of tokens required just to move up one level with your VIP status.
Unless you've recruited a lot of people to join the site, expect to do a lot of grinding on offer walls, paid surveys and video watching just to earn a significant amount.
All in all, the earning potential of this website just pales in comparison to the top GPT sites.
Can you use it on mobile?
The good news is, MyPointSaver has an app you can download and install in your mobile device so you can work on offers even if you are not at home.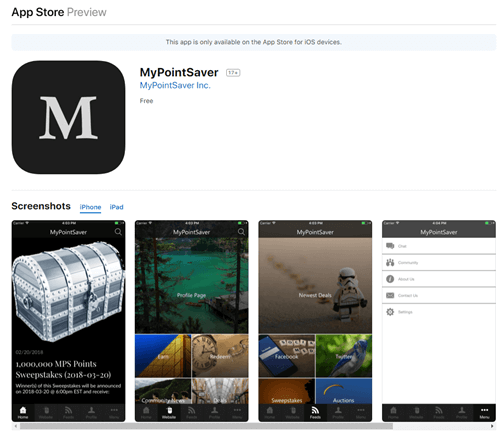 I always applaud sites that provide an app for their members. That's because it will make you a more efficient earner since you have the option of earning rewards even if you are not in front of the computer.
You will be able to maximize your time with the help of a mobile app. You can work on offers while you are commuting, standing in line and a lot more situations.
Their app is also user-friendly, which in my opinion, is a huge bonus.
Who can join MyPointSaver?
As for who can join MyPointSaver, the good news is anybody can join as long as he or she is 18 years of age or older.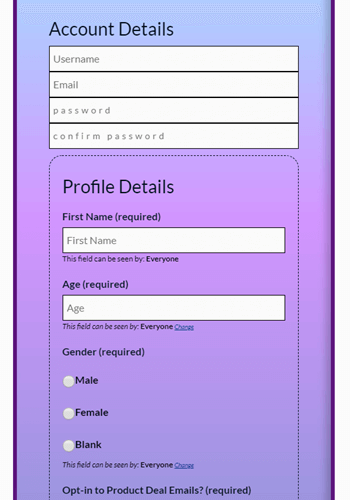 During the registration process, the site will not ask you where you reside. So I can surmise that you don't have to reside in a specific region in order to be eligible to become a member.
But according to their terms of use, you have to reside in a country that is not sanctioned by the United States or Canada.
You are not allowed to use a Proxy or VPN connection when using the site. There is a maximum of two users allowed to use the same device. Additional users will be immediately banned.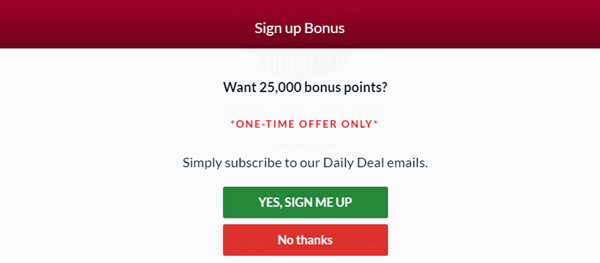 After registering, you will also be given a chance to receive a bonus. As shown in the photo above, you can get a bonus of 25,000 points if you opt into their daily deals emails.
That will mean you will receive daily emails from MyPointSaver. So if you don't like getting this type of emails, you have to decline that offer.
Can you get support?
If you need help, you can contact their support via email. You can email them at support@mypointsaver.com. Unfortunately, they don't have a contact form you can use to send a message.
So every official correspondence with their support team will have to be done via your email client.
They do have a Facebook page that is quite active, which is a good sign. You can also message the page and they will typically reply within a few hours. So you do have that option if you can't wait for the email.
In my opinion, this isn't very reliable though as they will normally just advise you to contact their support team via email if you have any concerns about your account.
Final Verdict
MyPointSaver is a legit GPT site that will reward you for completing their offers. Unfortunately, you can't earn cash by completing offers as they only reward you with gift cards from Amazon.
To help you make a decision about whether to join or not, let's finish this review with a summary of their pros and cons.

Pros:
Plenty of earning opportunities
Good referral program
Has an app you can use to access your account on a mobile device

Cons:
Limited rewards offered
Low earning potential
Limited ways to contact support
Confusing point system
As you can see, even though MyPointSaver has plenty of earning opportunities, it still has a low earning potential. Plus, you don't really get to earn cash. Some would argue though that gift cards can also be good as cash.
If you are into Amazon gift cards though, this can be a good site to earn these gift cards, simply because you can conveniently work on it on your mobile device. However, there are still better sites for this as I mentioned earlier.
Overall, no matter if you are looking to earn cash, gift cards, or just looking for a site that has a higher earning potential, I suggest you check out the top GPT sites.
That list has several sites you can choose from that are tried and tested. They are all easier to use and gives higher earning potential than MyPointSaver, in my experience.
If you have any comments, questions, or have any experiences with MyPointSaver yourself, I would love to hear from you in a comment below.