News Pie is a mobile app that claims you can earn just by reading news articles.
It almost sounds too good to be true, right?
So is News Pie App legit and really a way to earn or is it another scam you need to stay away from?
That concern is valid. After all, before you use any app, you want to make sure it is legit. So, let me address this concern right away. Yes, News Pie is indeed a legit app that will pay you for reading news articles and doing other earning opportunities it offers.
Now, the question is, should you join this app? That's a whole different story. And to answer that question, there are a few things we have to consider. This News Pie app review will give you an inside look so you'll know what to expect from this app before you even download it.
That way, you can make an informed decision about whether it is really worth joining or not. So, let's get this review started.
What is News Pie and what does it offer?
News Pie is essentially a Get-Paid-To (GPT) app that will reward you for reading current news and stories from all of your favorite media outlets. It is a lot similar to Cashzine, which is another app that offers the same kind of earning opportunity.
Now, let's talk about how you can earn from this app so you'll understand how this app works and how well you can earn from it.
I have, therefore, made a video that gives you an inside look and shows exactly how you can earn from News Pie. You can also read all the details below the video.
Option 1 – Reading articles
One way to earn rewards from News Pie is to read their featured articles. This opportunity is really very simple. Just log in to the app and you will immediately see all the available articles you can read.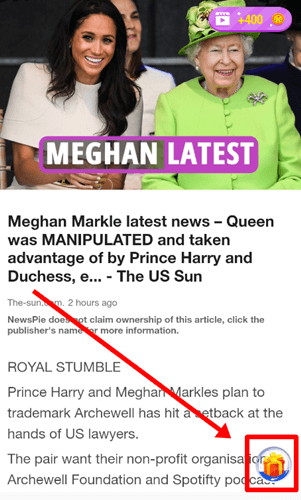 Just choose which article you want to read and press it. You will then be taken to the article page.
If you look at the photo above, you will notice a gift icon located in the lower right-hand corner of the screen. This is actually what you need to take note of when reading the article.
You see, when you keep scrolling up or down the article, that gift icon will start filling up. Once it is full, you will see the icon move. Just press it to open the gift box. You will then receive a random prize.
The prizes you can get will vary. You can get a certain number of pies (the currency the app is using) or mysterious fragments you can use to collect more pies.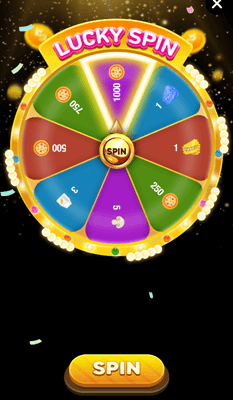 Sometimes, you will even be asked to spin the wheel. The prizes you can win from this spin-the-wheel game will usually be pies or mysterious fragments. Plus, you can also win a ticket for their lottery (which I will discuss next).
As you may have already figured out, you don't actually have to read the article. You just need to show activity so that the gift box will fill up. As explained, you can just scroll up and down. You can keep doing this on an article a few times, but you will eventually have to open a new one to fill the gift box.
The articles they feature are from popular websites, so I would say they are also often worth reading, in my opinion.
Option 2 – Lottery
News Pie holds two types of lotteries: monthly and daily. The idea is really simple. You need to use a ticket to join any of the lotteries they offer.
To play their lottery, you will have to pick a combination of 5 images. Once you've set your combination, just scroll down and press the "Buy Now" button. If you have an existing lottery ticket, it will just be deducted from your account.
If you don't have one, you can buy one for 1,000 pies. The winner will be announced once the lottery is over. The prize money will be taken from all the lottery ticket purchases for that specific draw. During my testing, the prize for the daily lottery was $10 and for the monthly lottery, it was $62.
So, it's really not a significant amount. That's why I would suggest you only join their lottery if you get free tickets. I would suggest you avoid purchasing lottery tickets with your pies. That won't be the best use of the pies you've earned from the app.
Option 3 – Daily tasks
Another way you can earn rewards is by completing their daily tasks. When you log in to the app, you can view the daily tasks you need to complete to earn rewards.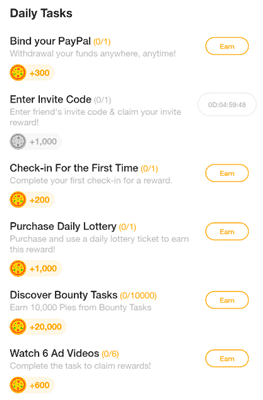 The tasks will involve doing certain activities inside the app like checking in, buying a lottery ticket, and working on other earning opportunities. It acts as a sort of checklist of what you need to do for the day.
Once you've completed the tasks, just go back to the Daily Task page and claim your reward. It's that simple.
Option 4 – Watching video ads
From time to time, when you are reading articles, you will see a video icon displayed in the upper right-hand corner of your screen (refer to photo below). This is another way to earn more pies.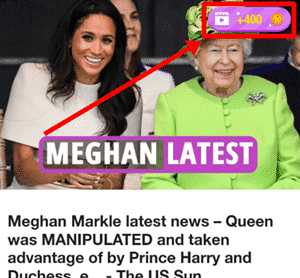 Just press that button and a video ad will appear. It will have a timer. Once the timer is done, you can close the ad and a notification will appear telling you you've just earned a certain number of pies.
This earning opportunity won't appear often. So, if ever it does appear when you are reading articles, I suggest you watch it right away.
Option 5 – Bounty tasks
Bounty tasks are like the paid offers you will encounter on other GPT sites and apps. In case you don't know what a paid offer is, it is a short task that will usually ask you to answer a survey or quiz, watch a video, download a mobile app, or sign-up for a website.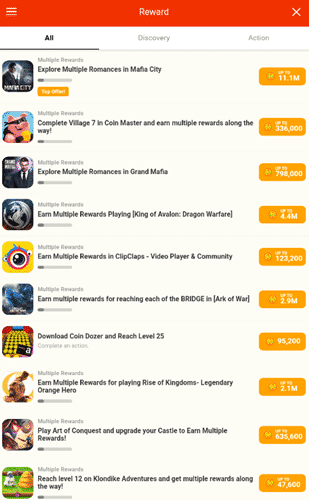 To view all the bounty tasks offered, just go to the Rewards section of the app and press the Bounty Task icon. You will then see something similar to the photo shown above.
Just choose which one you want to work on and press it. It will then show you the instructions you need to follow to complete the task. Make sure to follow all the instructions down to the letter because if you miss even one step, you won't complete the task and you won't earn anything.
Once you've completed the task, a notification will show up telling you you've just earned a certain number of pies. During my testing, most of the tasks asked me to play certain mobile games. So, if you love playing games, then this is a good opportunity for you.
Option 6 – Referral program
Lastly, you can earn rewards through their referral program. If you are not familiar with this term, it is basically an earning opportunity that will reward you for inviting other people to join the app.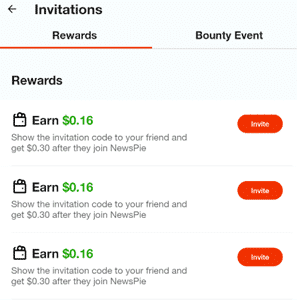 To invite a person, you can send them your invite link via email or you can share your invite QR code with them. Once they join News Pie using your link or QR code, they will become your referral.
But before you will receive your reward, your referral must remain active on News Pie for a certain period of time after registering. The rewards will be incremental. You will receive your first reward upon your referral's registration.
Then, you will receive another reward when your referral reaches 3 days of being active. Lastly, you will receive another reward when your referral has been active for at least 7 days.
Their referral program is relatively straightforward. But you have to make sure you invite people that are really serious about earning from the app. Otherwise, you will just be wasting your time.
Recommended: Check Out the Top Survey Apps
How do you get paid?
As explained above, for every earning opportunity you complete, you will earn a certain number of pies. This is their term for points. You can then exchange the pies you've earned for cash via PayPal.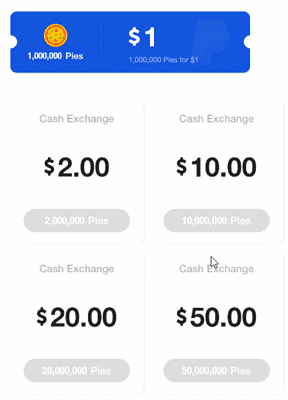 PayPal is the only payment option News Pie offers, which is good because it is one of the most convenient payment methods around. But if you don't have a PayPal account, I would suggest you sign up for one before you register to this app.
To withdraw your earnings to your PayPal account, you will need to earn at least 2,000,000 pies. That sounds like a lot, right? So, you might be thinking you will receive a significant amount. But 2,000,000 pies is actually only worth $2.
So, technically speaking, News Pie has a low payout threshold because it will only require you to earn $2 to withdraw your earnings. Their payment system is pretty simple and I like the fact that they offer payment via PayPal.
If you are interested in more sites that offer a convenient payment method, I would recommend you check out the top sites that pay via PayPal.
How much money can you make?
The amount of money you can earn from News Pie will depend on how actively you are using the app. The one good thing about this app is, you won't run out of ways to earn since it has a decent number of earning opportunities.
However, the one downside of this app is it doesn't pay well. The number of pies you will earn from reading an article will range from 200 to 500 pies. If you get very lucky, you will earn 1,000 pies. But considering you will need to earn 2,000,000 pies just to withdraw your earnings, it will really take some time before you can reach it.
It will take you weeks to reach their payout threshold, which isn't a really good use of your time, in my opinion. You are better off investing your time on other sites and apps that pay better because the earning potential of this app is simply too low.
Can you use it on a desktop?
News Pie is a mobile-only platform. So, you will definitely need a mobile device to work on the earning opportunities it offers.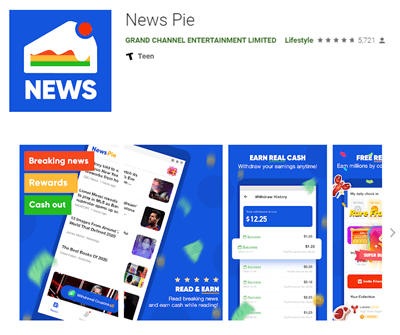 As for the app, it is available in both Android and iOS app stores. So, there won't be any compatibility issues. The app itself is also user-friendly. You will easily get used to how it works.
Apart from the video ads you have to view from time to time, there aren't any annoying pop-up ads that will appear. So, the overall user experience isn't negatively affected.
Who can join News Pie?
News Pie is available globally. That means you can register as a member regardless of where you live. You just have to be at least 18 years of age to sign up.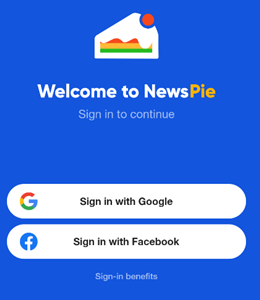 To register, you can use your Facebook or Google account. Those are the only two options you have. Once you are done with the sign-up form, you can log in to the app and start earning right away.
Can you get support?
If you have any questions about the app, you can refer to their FAQ page first. It discusses some of the important topics you need to know about the app. It's not as comprehensive as you might hope, so there's a high chance you won't find what you are looking for.
If that happens, you can just get in touch with their support team. You can submit your inquiry through the contact form provided on their support page.
Overall, I would say the app has a decent support system in place since it offers a way for you to communicate with their support team.
Final Verdict
News Pie is a legit GPT app that will pay you for reading articles and completing the other earning opportunities it offers. It has a couple of interesting features, but it also has some limitations you need to consider.
Let me finish this review by summarizing its pros and cons to give you an overview of what the app has to offer. That way, you can decide if you should really join this app or not.

Pros:
Offers plenty of earning opportunities
Offers payment via PayPal
Available globally

Cons:
Low rewards
Their FAQ page doesn't offer a lot of useful information
Will take weeks or months to reach the payout threshold
Overall, I would say News Pie isn't a good app to join. The reason why I say this is, the app really has a very low earning potential since it doesn't pay that well. So, even though it has a low payout threshold, it will still take some time before you can reach it, which defeats the purpose of a low payout threshold, in my opinion.
And if you are looking for an app where you can read interesting articles, there are better apps for that, in my opinion. The bottom line is, News Pie simply doesn't offer any reason for you to use it, in my opinion.
That's why I would recommend you check out the top survey and GPT sites in your country instead. The sites and apps on this list all have good earning potential. You won't have to wait that long to earn a decent amount.
If you have any comments, questions, or have any experiences with News Pie yourself, I would love to hear from you in a comment below.