There's a site called Offeronia that claims you can receive free products by simply completing tasks.
Now, it sure sounds like a "too good to be true" deal, so I understand if you are a bit hesitant before signing up. This is what this review is for. This Offeronia review will determine if it is a scam or if it is indeed a legit site that holds true to its claim.
Not only that, this review will also show you everything the site has to offer so you can decide if it is really a site worth signing up for or not. So, let's get to it.
What is Offeronia and what does it offer?
Offeronia is a legit Get-Paid-To (GPT) site that will reward you for completing short tasks. It offers several ways for you to earn rewards.
And in order for you to clearly understand how well you can earn from this site, we have to take a more in-depth look at the earning opportunities it offers.
So, here are the ways you can earn rewards from Offeronia.com.
Option 1 – Task lists
The bulk of the rewards you will earn from Offeronia.com will come from performing tasks on their task lists.
You can access their task lists by logging in to the site and clicking on the Earn Gems link on the left side of the dashboard.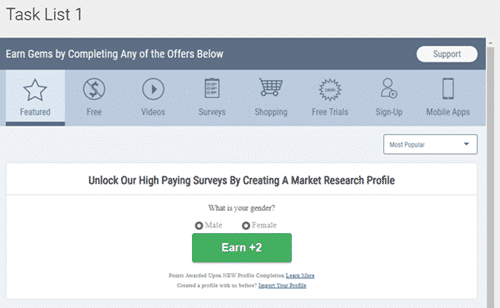 You will then see something like the photo shown above. If you've been a member of other GPT sites before, then you might be familiar with what is shown in the photo above. In reality, the task lists that Offeronia offers are simply what is called an offerwall.
An offerwall is a form of in-site/app advertising platform that promotes mobile apps and other websites through paid offers. These paid offers will basically ask you to do something like answer a survey or quiz, watch a video, download a mobile app, signing up for free trials or websites, and a lot more.
Every offer will show the reward you will get when completed, as well as the requirements you need to meet to complete it. So, make sure to carefully read the requirements because if you miss one step, you won't earn the reward.
When you complete an offer, you will receive gems (more about what these are worth later) and it will be credited to your Offeronia account balance.
Option 2 – Video creation
In Offeronia, you can also create YouTube videos to earn rewards. There is a kicker though. These videos have to either be an introduction video about Offeronia or an unboxing video of a product that you received from Offeronia.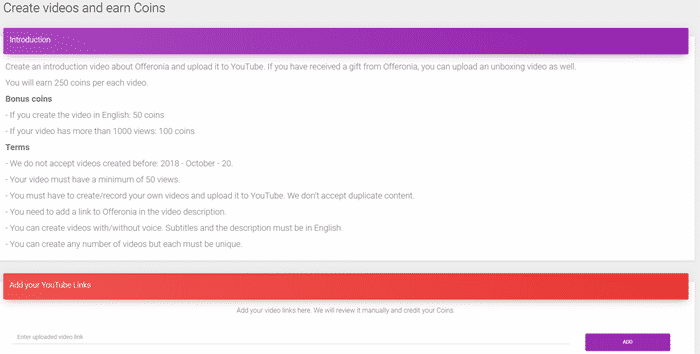 As shown in the photo above, you will earn a certain number of coins for uploading videos. If you noticed, the previous opportunity offered gems as rewards instead of coins. Later on, I will explain to what the difference is between these two rewards.
But the premise for this opportunity is relatively simple. Create a promotional video about Offeronia to earn rewards. And once it is uploaded in YouTube, you submit the link for verification. In order for your video to be verified, it must meet these terms:
Must have a minimum of 50 views
You need to add a link to Offeronia in the video description
Videos can be with or without voice and subtitles and the description must be in English
Videos must be unique
Once all of those conditions are met, your video will be approved and you will receive the coins promised.
It takes quite a bit of effort so the value for your time is not big for this option but if you like creating videos, it might still be worth doing.
Option 3 – Referral program
You will also be able to earn more coins by inviting other people to join the site. You simply have to share your invite link with the person you want to invite. Once they sign up using your link, they will automatically become your referral.
You will earn up to 50 coins per referral. The number of coins you will receive will depend on the country of your referral. And if you already have 30 or more referrals, the number of coins you will receive per referral will be doubled.
It's a pretty straightforward referral program and I like that there isn't any other condition you need to meet to receive the reward.
But the coins you maximum can get per referral are, however, quite low compared to many other referral programs, so even if you get really good at referring people, you will find it hard to earn a lot with Offeronia's referral program.
Option 4 – Download and promote apps
You can also promote mobile apps to earn more coins. To do this, go to the Earn Coins section of the dashboard and click on Download and Promote.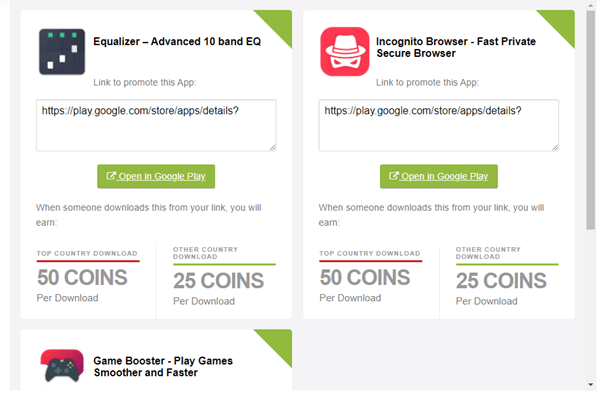 You will then see something similar to the photo above. All you have to do is copy the download link for the app and share it with your friends or post it on Facebook. When someone downloads it from your link, you will get coins depending on the user's country.
Before you can earn the coins though, the user must use the downloaded app for more than 15 minutes. That's the condition that needs to be met for you to earn from this opportunity.
Option 5 – Facebook banner posting
Lastly, you will also be able to earn coins by posting banners on Facebook. These banners are intended to promote an offer found on Offeronia.
All you have to do is go to the Post Banners section under Earn Coins and download the banners and save it to your computer or phone. Then, you have to join Facebook groups that are related to the topic the banner refers to.
Post the banners in the groups you've shared. Take a screenshot of the post and upload it on Offeronia. The site will then verify your screenshots and credit your coins within 48 hours.
Personally, I think this is kind of a spammy earning method.
Also, you will risk getting banned from a lot of Facebook groups by posting ads like this in them and it is just not worth the few coins you will get for it, in my opinion.
How do you get paid?
As explained above, you will earn two types of rewards on Offeronia. For doing tasks on their task lists, you will earn gems. You can then use these gems and redeem different rewards.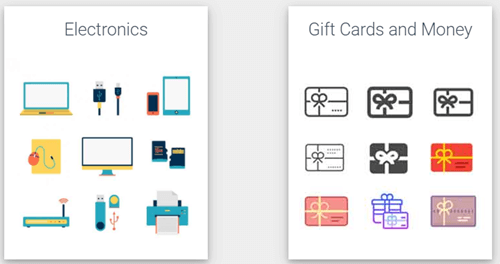 You have the option to convert your gems to cash through PayPal. You will need 800 gems to redeem a $10 PayPal gift card. You also have the option to redeem other gift cards from Amazon, iTunes, Google Play, and more.
If you prefer to redeem products like electronic devices, they also offer that kind of reward. You can, for example, as of writing this review redeem an iPhone X for 12,500 gems or you can redeem JBL Bluetooth speakers for only 450 gems. There are a few other electronic devices you can redeem.
As for coins, they can be used to bid in their auction. Every day, Offeronia will list items and anyone can bid and win them. If you won an item, you have to order it by paying the highest bid in coins. If you fail to order the item within two days after auction ends, you won't be able to claim the item.
The items you've won in their auction or redeemed in their gem store will be shipped to you for free. It usually takes 3-8 weeks to receive your item. So, you'll need to be quite patient.
They do ship globally, which is good. At least, you won't have to worry if they ship to your country or not.
Overall, although their rewards system is a bit more complicated than other GPT sites, I do like that they offer PayPal as a reward option because it is a very convenient way to withdraw your earnings.
If you are interested in more sites that pay via PayPal, I recommend you check out the top sites that pay via PayPal.
How much money can you make?
Normally, with GPT sites, the amount of money you can earn will mostly depend on how well a site pays.
This is because GPT sites don't usually lack in earning opportunities offered. But in Offeronia's case, the only guaranteed earning opportunities they offer are those found on their task lists.
And the paid offers found on their task lists aren't as many as what you can find on other GPT sites. So, I would say they have a limited number of earning opportunities offered.
You can't really consider the coins you've earned as guaranteed rewards because you have to win an auction in order to receive a reward.
As for how well they pay, most of the offers will only reward you around 5 to 50 gems, which isn't a lot.
To put it into perspective, 800 gems is worth $10. So, 50 gems is only worth around $0.625. That's why I would say this site has a low earning potential because of the low rewards they offer.
Can you use it on mobile?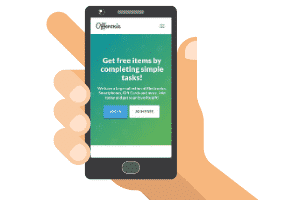 Offeronia doesn't have a mobile app you can download, but you will still be able to access their site from your mobile device using a web browser.
And fortunately, their site is optimized for mobile use. This means you can conveniently read all the content without zooming in.
You can also easily click on their links. This can be pretty useful especially if you plan to work on offers that will ask you to download mobile apps.
Overall, I would say that working on the site from a mobile device is very viable. Their site is also not spammy, although you'll encounter the usual ads from time to time, but not to the extent that it will be annoying.
Who can join Offeronia?
Offeronia is available globally. This means you will be able to sign up as a member regardless of where you live. You just have to be at least 13 years of age to join the site.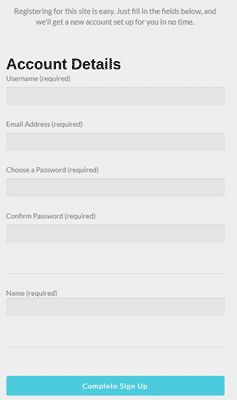 To sign up as a member, simply fill out their registration form. They will then send you a confirmation link via email. Just click the link to complete your registration.
Once your registration is confirmed, you can log in to the site and start earning. That's how easy it is to join their site.
Can you get support?
The FAQ page of Offeronia does tackle the most basic questions you will encounter and they explain the answers well. But if your inquiry can't be answered by their FAQ page, then you have to get in touch with their support team.
Their site doesn't have a contact form, so you'll have to send your inquiry via email at support@offeronia.com. It's not ideal, but at least they offer a way for you to get in touch with their support team.
That's why, overall, I would say they have a decent support system in place because they provide a way for you to contact their support team.
Final Verdict
Offeronia is a legit GPT site that will reward you for completing offers and tasks. It has a couple of good features but it also has its limitations you need to be aware of.
So, let's wrap up this review with a summary of its pros and cons to give you an overview of what the site has to offer so you can decide if it is worth your time or not.

Pros:
Available globally
Offers payment via PayPal
Relatively low payout threshold

Cons:
Limited earning opportunities offered
Low rewards
Some of the earning methods requires you to spam
In my opinion, if it weren't for their reward system (gems and coins), this site would have been better. You can't really count the coins you've earned as money. It's like counting your chickens before they hatch (or so to speak).
Offeronia offers decent reward options and it has a relatively low payout threshold. The problem is, they offer limited ways to earn guaranteed rewards. And to make things worse, they don't pay that well. So, the low payout threshold will really be irrelevant.
You will still need to wait a long time to redeem your rewards. That's why it's not a site I would recommend you join unless you are really in desperate need for more GPT sites to join.
I would recommend you check out the top survey and GPT sites in your country instead. The sites on this list all have good earning potential and offer guaranteed ways to earn.
If you have any comments, questions, or have any experiences with Offeronia yourself, I would love to hear from you in a comment below.