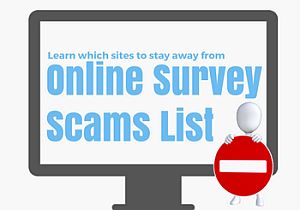 The main purpose of this website is to give people information about paid surveys, and how to use this opportunity to make some extra money.
While testing sites, I do however also often find sites that are not good at all. I really dislike these sites and the way they try to lure money out of people instead of helping them to make some. If you have read some of my reviews, you will also have seen that I try to warn against it when I find a site that is not worth joining. But to make it even more clear which sites to avoid, I have here made this online survey scams list.
What are survey scams?
Before getting to the list itself, I just want to explain what I mean about survey scam sites. In my opinion, a survey site is not necessarily a scam site just because it is a bad site with poor rewards. Personally, I do also not like to spend too much time on those, and are also making this clear in my reviews which ones are pretty much a waste of time.
That does not make them a scam. They are not trying to cheat you as such. But unfortunately there are sites out there trying to really cheat you. By cheating you, I in this context means that they will try to lure money out of you. All the worthwhile survey sites are free to join, and you should not pay anything to join a site to get access to surveys. These sites will often promise you all kinds of unrealistic earnings and promise you can get this very easily by buying access to their secret method.
I really dislike this method and sites that try to sell a dream to people only to end up cheating them. And that is why I have made this list – to show you which sites to I recommend to stay away from, and you will spend your time and money in a better way.
This is not a complete list of all the realy bad survey sites that exist. There are unfortunately many. But I will continue to update this list every time I find a new site that belongs on the list. I have also written an article about general advice about how to spot a survey scam. In that article you can check what signs to look out for, when you join a survey site, so you can also judge for yourself. If you find a survey site that you think looks like a poor quality site, and is not on my list, feel free to let me know in a comment below, and I will check it out asap and put it on the list, if it belongs there.
List of survey scams
The list below is in alphabetic order, and not in order of which site is worse than the other – they are all just sites to stay away from in my opinion. It will continuously be updated:
CashSurveysOnly.com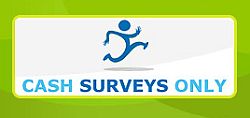 This site offers you a membership that gives access to a list of surveys that pay cash. The membership costs around $35. It promises you unrealistic earnings from surveys, and tries to convince you that you can easily make a living online by doing surveys. At least at this site, they do not try to hide the fact that it costs money to join, until after you have signed up. But it still does not make it worth signing up for.
Read full article about CashSurveysOnly.com
Click 4 Surveys


This site promises to give you access to paid surveys that can make you enough money to live from more or less without any effort. It has among other things a very convincing presentation video and unrealistic claims on the site. Not until after you have decided to join and put in your email, you will be told that it costs money to join. Then if you do not join, they will start to spam you with emails with sneaky titles to get you to join. And even emails that make it look like you already have made money, if you just click there links, and they will send a lot of them. It will cost you around $34 to join, and it is definitely not worth it.
Read full article about Click 4 Surveys
Dollar Cell


Dollar Cell is a bit different than the other sites on this list, but nonetheless a scam. It is not as such a survey site, but a site where you will earn good money just by getting people to click a link to their website. You even get $25 to sign up. And you will quickly see your account go up when people visit their website. The scam comes when you then want this money paid out. You have to fill out some surveys before you can get the money paid out. They will probably be paid to get people to do these surveys, and they will take you a long time to do. But at this point you already have a lot of money in your Dollar Cell account and are therefore willing to do a long survey for free to get the money withdrawn. It will just never happen – they will never end up paying. The site is not a scam in the way that it charges you to join, but that you will spend a lot of time promoting them and then doing surveys without ever getting anything paid out. It will not end up costing you any money, but you can end up wasting a lot of time.
Read full article about Dollar Cell
LegitPaidOnlineSurveys


This site is at least straight away telling that it costs money. But that is the only honest thing about it. It is selling an e-book that is supposed to give you information about how to make a lot of money on surveys. The earning claims per survey and per hour are however completely unrealistic, and the whole site is full of information just trying to trick you into paying for information that is not worth paying for.
Read full article about LegitPaidOnlineSurveys.com
Maximum Paid Surveys


This site offers a free ebook with tips about paid surveys. The book is however full of links that sends you to scammy sites that will try to get your personal info by claiming that you have just won a big prize. Maximum Paid Surveys also has a paid membership, where it claims you can learn to make a lot of money. It is cheap compared to other sites that charges a joining fee, as it only costs $5. When looking closer at the site, it does however seem like the real purpose it is not to teach you about paid surveys, but to push ypu towards buying a much more expensive online business program. Even though it is cheap to join, it is still definitely not worth it.
Read full article about Maximum Paid Surveys
Paid Surveys at Home


This site promises to connect you to a big amount of really high paying surveys, so you can make as much money you like with very little effort. In general, it is a big warning sign when any site promises huge money from no effort. It is also one of the sites that "forgets" to tell you it costs money until after you have given your email and tried to sign up. It cost $36, but not worth a penny of it.
Read full article about Paid Surveys at Home
Surveys4checks


A site that is at least honest about the fact that it costs money to join. That is the only good thing to say about this site. It will cost you $49.99 to join. The site promises you unrealistic earnings and that you can learn secret tricks to make thousands of dollars every month and that it is is only up to you, how much money you want to make. It uses all kinds of tricks on the site to convince you that it will be a good investment – it won't be.
Read full article about Surveys4checks
Take Surveys for Cash


This site promises to teach you a secret trick to make thousands of dollars on surveys every month, and an unrealistic joining bonus of $50 and a free holiday worth hundreds of dollars. All this just to get you to pay $48 to join to learn a trick that does not exist. There is no secret trick when it comes to surveys, so do not fall for it, and do not join this site.
Read full article about Take Surveys for Cash
Where do I find legit survey sites?
There are luckily also many legit survey sites that will make it possible for you to make some extra money. The most important advice is to only join the ones that are free to join. They can still be of very different quality, and how many opportunities you will have on the sites will depend a lot on where in the world you live.
If you want to get an overview of the sites I have found to be the best, you can check out my top 10 through the link below. All the sites on this list are free to join.

Let me know of you have any questions, comments or if you know of a site that belongs on the list above that I have not put there yet. Just leave a comment below, and I will get back to you asap.