If you are interested in getting paid to share your opinion, one of the newer sites you might have come across is OpinionShaper.co.uk.
But is OpinionShaper legit and worth it or a scam to stay away from?
I decided to find out myself and have tested and research this upcoming survey site thoroughly.
In this OpinionShaper review, I will give you an inside look and all the details so you can find out exactly what it offers and if it will be worth your time before joining.
What is OpinionShaper and what does it offer?
OpinionShaper is a fairly new paid survey site where you can get paid to share your opinion.
It is owned by Market Research Partners Limited and they work with a wide variety of well-known companies that use market research to get feedback and find out what people really think about their products/services.
So by joining, you will get to share your opinion and influence some of the top brands. But at the same time you will also get paid.
Let me just reveal right away that OpinionShaper is a legit survey site so you will actually get paid for your time.
But to find out if it is really worth your time, we need to look deeper into how good opportunities it offers.
The earning opportunity – Paid surveys:
OpinionShaper is a very easy-to-use site as it only offers one option.
You can just take paid surveys. The advantage of this is that there are not any distractions on the site. You can easily get an overview once you log in to the dashboard.
However, you do not really have to log in often because once you have been accepted as a member, you will get an email when there is a new survey available.

Usually, you will get a survey very quickly after you have been accepted (more about how to join later).
A unique thing about OpinionShaper.co.uk is that they are good at screening before they even send a survey invitation to you.
This means they only send survey invitations to you if there is a very high likelihood you will qualify for it.
This is quite unique and can save you some of the frustrations you can sometimes encounter on certain other survey sites where it can take a lot of patience to find the surveys you qualify for.
I have only seen one other survey site (PaidViewpoint) that offers this great targeting so this is definitely a big plus of OpinionShaper, in my opinion.
Just be aware that is does not mean you will always qualify. There will still sometimes be surveys you do not qualify for. But you will have a bigger chance of qualifying than on many other sites.
Also, the surveys are usually quite easy to answer and fairly short. On average the surveys you find on OpinionShaper are around 5 minutes.
How do you get paid?
Before joining any survey site, it is very important to know how you will get paid so you are sure it offers payout methods you like before investing your time.
As for OpinionShaper, it offers some quite good payout methods and conditions, in my opinion.
You can get paid in cash via PayPal or choose between gift cards from, for example, Starbucks, Amazon, Argos, Apple Store, and more.

The payout threshold starts at £5 but it will depend on your chosen reward.
As you can see in the image above, the lowest threshold is for PayPal and for some gift cards you have to be a bit more patient to be able to get your earnings.
But overall, a threshold of £5 to get paid in cash puts OpinionShaper among the survey sites with the lowest payout threshold.
You just need to be aware that you will not necessarily get surveys every day or every week from OpinionShaper so it can take some weeks before you can cash out the first time.
When you complete surveys you will get paid in points. But the conversion ration is quite easy. 100 points = £1. So you need to earn 500 points to reach the payout threshold.
How much money can you make?
As with all other paid survey sites, you need to be aware that if your goal is to make a full-time living online, this is not for you.
Paid surveys is a way to have your voice heard and earn a bit of extra cash on the side at the same time – and OpinionShaper is great for this. You just need to do it with the right expectations.
Compared to many other survey sites, you get quite decent rewards for your time on OpinionShaper. Usually you will earn between 10p and 50p per survey.
It might not sound like a lot, but the surveys are also very short and if you get a longer survey it will pay more.
In general, you will get 1 point per question you answer in a survey.
You can currently not see how much you will get for a survey before you start it but I have asked them about this and they have told me they are considering making this clear in the email invitations.
But you can see right after completing a survey have much you got for it.

But what I really like is that once you know that you will approximately get 1 point per question you answer, it is quite easy to see how much you will potentially earn as soon as you start the survey.
Overall, you just need to be aware, as I already mentioned earlier, that you will not necessarily get paid surveys every day or every week.
That depends entirely on the companies that are currently looking for feedback and how well your profile fits the surveys.
So I would not suggest to make OpinionShaper your only survey site but as one of your options it can be great because it does not require a lot of extra effort.
Can you use it on mobile?
Being able to take surveys on mobile is very convenient and this is possible on OpinionShaper.
They do not have an app but as long as you have access to your emails on your phone, you can answer the surveys.
You will just click the link in the survey invitation and in most cases be able to take it on your phone.
There might be some surveys you can only do on desktop/laptop, but then you will usually be told in the survey invitation.
Who can join OpinionShaper?
As mentioned earlier, OpinionShaper has the unique feature that they only send survey invitations if there is a very high likelihood you will qualify.
This also means they are a bit strict with who can join. First of all, as you have maybe guessed from the website address of OpinionShaper.co.uk, it is only available if you live in the UK.
So it is one of the purely UK survey sites and if you live in other countries you will not be able to join.
And do NOT try to cheat by using VPN or anything like that. Because they manually review every single application.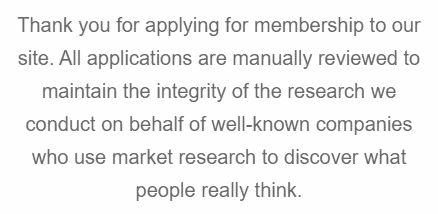 Very few survey sites have a manual selection process like this but this is also the reason they can target the surveys so well.
But if you live in the UK and do everything honestly, there is a very big chance of getting approved.
After you have applied you will receive an answer within 24 hours and then you will usually receive your first paid survey shortly after that.
Can you get support?
Being able to get support is important on any survey site. Hopefully you will never need it, but you need to know the option is there if you should run into problems.
OpinionShaper has a pretty good FAQ section and this is a good place to start if you need help. Here you can also find an email address if you should need further help.
I have been in contact with their OpinionShaper myself and they are very friendly and helpful which is always a big plus, in my opinion.
So if you should need help, there are pretty good options to get it on OpinionShaper.
Final verdict
OpinionShaper.co.uk is definitely a legit paid survey site. But whether it will be the right option for you or not depends on your preferences.
So let's finish this review by summing up the pros and cons so you can get a better overview before deciding if you should join or not.

Pros:
Only send survey invitations when you have a high chance of qualifying
Low payout threshold
Pays in cash

Cons:
Not a huge number of available surveys
You cannot see the total reward before starting the survey
Overall, I think OpinionShaper has a lot of great things going for it.
I especially like how good they are at targeting their surveys so you have a big chance of qualifying once you get an invitation. Also, they have a low payout threshold and you can get paid in cash via PayPal which is very convenient.
The only thing you need to be aware of is that it does not offer a huge number of surveys. So you should still join other survey sites as well.
But as an extra site, OpinionShaper.co.uk can definitely be a good option if you live in the UK because it is so easy to use and does not require a lot of extra effort.
If you have any comments, questions, or have any experiences about OpinionShaper yourself, I would love to hear from you in a comment below.