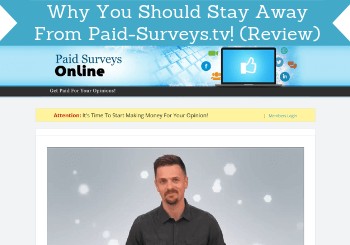 Paid-Surveys.tv presents the site as a place you can make real financial changes in your life.
You can supposedly get a lot of financial freedom by learning the right approach to taking surveys through the site.
I have taken thousands of paid surveys myself, and have joined hundreds of sites – I know when to be careful about joining a site.
In this Paid-Surveys.tv review, I will show why this is a site I recommend staying away from – you NEED to know this before joining!
What is Paid-Surveys.tv and what does the site offer?
What is a little confusing about Paid-Surveys.tv is that the presentation video on the joining page is talking about another site called Gold Opinions.
The reason for this is that the owner, Lauren Anderson, is the same. Apparently, they decided to just reuse the same video for this site.
From what I can see, what the two sites offer is very similar.
If you are not used to taking paid surveys, it might not be so clear what this is. But you will be shown places, where you can take paid surveys.
So you basically have to join just to get access to a list of survey sites.
According to the site, it however seems like really great survey opportunities compared to other survey sites, as you are told it can make you big money and you can get a lot of freedom from joining.
This of course sounds great in theory, but with the number of survey sites I have tested myself, I am very skeptical towards Paid-Surveys.tv.
Below I will show you why, so you know what you are getting into, if you decide to join.
Recommended: Click to See the Top Recommended Survey Sites in Your Country
How do you get paid?
One thing that is VERY important to understand about Paid-Surveys.tv is that you will not actually make money on this site itself.
It will just give you access to a list of places where you can potentially take paid surveys. But you are not earning directly on Paid-Surveys.tv itself.
There are many sites like this that just gather a list of places you can take surveys, but does not really offer you to earn on the site itself. For example Survey Voices and a site like Survey Bee.
However, even though I think the sites just mentioned above are a waste of time and does not really give you any value, Paid-Surveys.tv takes it to a new level in my opinion.
The reason I am saying this is that compared to other regular survey sites, it has a lot of warning signs.
Warning signs before you join!
Before joining any survey site, I look for certain signs to see if it is worth joining or not.
In the case of Paid-Surveys.tv I could quickly see it was a site I do NOT want to join, as it has quite a few big warning signs.
I want to share what I spotted and my experience about these signs, so you can take this into consideration before joining.
Warning sign #1 – There is a cost
This is the biggest warning sign you can find when it comes to survey sites.
The legit and great survey sites where you can actually earn on the sites themselves are ALWAYS free to join and use.
Paid-Surveys.tv charges you $27 to join.
I know you are told you will get access to a really good list of survey sites and it can change your life – but you should never pay to join a survey site.
It simply does not make sense. There are so many great sites you can join for free.
In addition to this, I strongly doubt you will get the freedom you might want to by joining Paid-Surveys.tv, as I will explain more about below.
Warning sign #2 – Big money claim
Often when a survey site charges you to join, it at the same time promises you can make really big money.
This is also the case for Paid-Surveys.tv.
You are told that there is big money in paid surveys. Compared to certain other sites that charge a fee to join, this is a clever way to formulate the claim.
A site like Take Surveys for Cash for example say you can make $3,500 per month, and it then creates certain expectations.
Paid-Surveys.tv however just mentions you can make big money. But what big money means is relative. For some people, this might mean a couple of hundred dollars per month and for others, it might mean many thousands.
So in a sense, it will be difficult to say that Paid-Surveys.tv does not live up to its claims, as it does not explicitly promise too much.
You can also see that the site does not guarantee any specific kind of earnings if you look in the earning disclaimer.
Here it says that any claims or representations of income are not average. And that there is no assurance you will do as well as the examples on the sales page.
So let me make one thing clear when it comes to paid surveys – it is definitely a legit and real way to make money online. You can make some really nice extra money on the side, if you join the best survey sites.
BUT it will NOT make you a full-time income or make you rich.
So if you get the idea from Paid-Surveys.tv that this might be possible, you will very likely be disappointed. It is simply not realistic to make that kind of money on paid surveys.
It is a great and easy way to earn online, but it is NOT a get-rich-quick thing or a way to make a lot of money fast.
Do not join survey sites in general, if this is your expectations. And especially do not join survey sites that claim this is possible.
Warning sign # 3 – The survey sample
On Paid-Surveys.tv there is a survey sample that is supposed to give you an idea about how easy it is to make money by taking surveys.
This survey sample has 20 very easy questions, and it will only take a few minutes to take. You are told that a survey like this would pay $25.
If this was true, it would be amazingly easy to make money with surveys, and probably one of the fastest ways to earn online.
This sample is however NOT a realistic survey. I have taken thousands of surveys, and you can once in a while find a survey that will pay $25 or more.
This is however far from the average, and if you do get surveys like this, they will take a lot longer than just a few minutes to do.
In fact, at the end of this survey sample, Paid-Surveys.tv reveals that you should not necessarily expect to earn this easily.
Here they mention that actual paid surveys might be longer – I can tell you based on my experiences that they for sure will be longer, if they will pay $25.
So do not take this survey sample as any kind of sign of the potential of joining Paid-Surveys.tv.
Warning sign #4 – Claims you have to hurry
The final warning sign and reason Paid-Surveys.tv is a site I will stay away from, I want to show is the claim about you having to hurry.
You are told that the price might go up, if you do not hurry and join right away.
Do not let a claim like this stress you out. It has said this for a long time.
I can of course not guarantee that the price will not change at some point, but it has not changed for a long time at the time of writing this review.
Also, as mentioned earlier, you should never join a survey site that charges a fee anyways, so it does not really matter if they would end up changing the price.
Who can join?
If you still want to give Paid-Surveys.tv a try, you can join it no matter where in the world you live.
I would however instead strongly suggest you to check out the list of the best survey sites in your country – these are all sites that are free to join, and where you will actually earn on the sites themselves
Final verdict – scam or legit?
I honestly do not think Paid-Surveys.tv has much to offer, and I saw a lot of warning signs on the sales page and therefore decided not to join.
But let's sum up the pros and cons, so you can get a better overview before deciding if it is for you or not.

Pros:

Cons:
Uses exaggerated survey sample
Makes it look like you can make a living
It charges a fee to join
You are not earning on the site itself
Any survey site that charges a fee is, in my opinion, a site to stay away from. This is the biggest warning sign on Paid-Surveys.tv. In addition to this, it indicates that it might be very easy to get financial freedom by taking surveys.
You can earn some nice extra money by taking surveys, but it is simply not realistic to do it for a living and earn a full-time income online with very little effort like this.
Because of these claims and warning signs, Paid-Surveys.tv is NOT a survey site I recommend.
If you want to earn some extra money by sharing your opinion, I instead recommend you to check out the top survey sites that are all free to join and use.
If you have any comments, questions, or have any experiences with Paid-Surveys.tv yourself, I would love to hear from you in a comment below.
Paid-surveys.tv
Money/time ratio

Frequency

Usability
Summary
Paid-surveys.tv has some BIG warning signs. First of all, you have to pay to join. This alone is a clear sign it is a survey site to stay away from. It however also has other warning signs, and it is therefore a site I do NOT recommend joining.