Joining an online rewards site to earn extra cash can be a very convenient option. Especially if the site offers good earning potential. You can earn a decent amount by simply doing short tasks which you can do at home or anywhere really if you use a mobile device.
One site that promises this kind of opportunity is called PaidViewer. This site claims that you'll get paid for completing offers. But is their claim legit? Or is PaidViewer a scam you need to stay away from?
This PaidViewer review will give you the lowdown so that you will not only be able to verify its legitimacy, but you'll also be able to figure out if the site is worth investing your time in to or not.
So, let's take a deep dive into what PaidViewer is all about.
What is PaidViewer and what does it offer?
First and foremost, let me address the elephant in the room. PaidViewer is a legit Get-Paid-To (GPT) site that will pay you for completing offers. It has been around since 2017. So it has good mileage, so to speak.
Now, to understand how you can earn from this site, we have to take a closer look at its earning opportunities. That way, you will more or less know what you need to do to earn and how well you can earn from it.
So, here's how you can earn from PaidViewer.
Option 1 – Paid offers
The main earning opportunity PaidViewer offers is the paid offers available on their offerwalls.
In case you don't know what an offerwall is, it is an in-site advertising platform that is designed to promote websites and mobile apps through offers.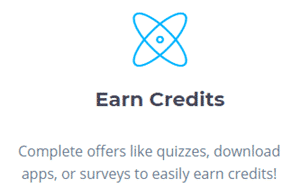 When you complete these offers, you will then receive the appropriate compensation.
PaidViewer only has a few offerwalls available, which means you will eventually run out of things to do to earn rewards, which is not a good thing. This severely impacts the site's earning potential.
Their paid offers will usually ask you to either answer a survey or quiz, watch a video or ad, play games, or download mobile apps. Each offer will have a set of instructions you need to follow. Make sure to read and understand these instructions because failure to follow even one instruction will mean you won't earn the reward.
So, make it a habit to read and understand all the instructions for every offer before you start working on it. Once you've completed the offer, you will receive the reward. However, the rewards for some offers will take time to be credited to your account.
This is because their offerwall still has to verify the steps you did or the answers you've provided. So, don't worry if you don't get rewarded right away. Just take note of every offer you complete so you can track the rewards.
If you still didn't receive the reward after a few days, you can contact the support team for the offerwall you worked on since every offerwall has their own separate support option.
Option 2 – Daily giveaway
PaidViewer holds daily giveaways where you can win 5,000 credits which is equivalent to $5. They also hold mega giveaways where you can win as much as 25,000 credits ($25).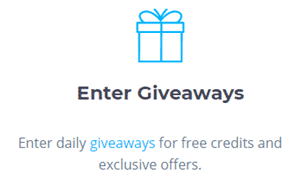 To join their giveaway, you simply have to complete a paid offer. Every paid offer completed gives you one entry to their daily giveaway. So, the more paid offers you complete, the higher your chance of winning their daily giveaway.
Of course, there's no guarantee you'll win their giveaway, so you can't really count on this earning opportunity as a steady source of rewards. Think of it as a bonus to what you can earn from their paid offers.
Option 3 – Referral program
Lastly, you can also earn passive income through their referral program. If you are not aware of what a referral program is, it is a program where you will be rewarded for inviting people to join the site.
All you have to do is share your invite link with the person you want to invite. Once they sign up for the site using your link, they will become your referral.
You will then receive 15% of whatever your referral will earn from the site. PaidViewer will shoulder the commission and it will not be deducted from your referral's earnings.
It's not that much, but if you manage to invite a lot of people that are really serious about working on the site, this can be a nice source of passive income.
Of course, you need to make sure the person you invite is really interested in the site. Otherwise, you won't earn anything.
How do you get paid?
Every activity you complete on PaidViewer will earn you a certain number of credits. You can then convert the credits you've earned to certain rewards.

As shown in the photo above, you have several options for redeeming your rewards. You can choose to convert your credits to cryptocurrency like Bitcoin or Ethereum. For Bitcoin payments, you will only need to earn 1,500 credits. For Ethereum withdrawals, you will only need 500 credits.
1,000 credits will be equivalent to $1. They also offer other reward options like Discord Nitro, Steam or Roblox credits. However, if you want to get paid in cash, unfortunately, they don't offer that kind of payment method.
If you prefer to get paid in cash, I suggest you instead check out the top sites that pay via PayPal. But I do like the fact that they have a low payout threshold. That means you don't have to wait that long to get paid.
How much money can you make?
The thing with PaidViewer is, compared to other GPT sites, they have fewer earning opportunities offered. Plus, most of the offers you can complete on the site will only earn you around 50 to 100 credits, which is quite low, in my opinion.
Surveys will reward a bit more, but you have to take into account that you will have to qualify for surveys in order to actually get paid. So, there's no guarantee you'll be able to earn from every survey you answer.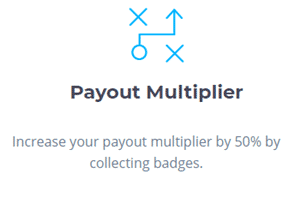 The rewards PaidViewer offers are a bit low, in my opinion, but they do have a system where you'll be able to earn more. This is called their payout multiplier. For every badge you earn on this site, you will be entitled to a certain payout multiplier.
The more badges you earn, the higher the multiplier you will have. If you are wondering how to get these badges, think of them as milestones. You will earn badges along the way as long as you keep completing paid offers.
So, in a sense, your earnings on PaidViewer will increase as long as you keep being active on the site. It's their way of rewarding active members. But overall, I would still say the site has a low earning potential. You will need a lot of patience to earn a significant amount.
Can you use it on mobile?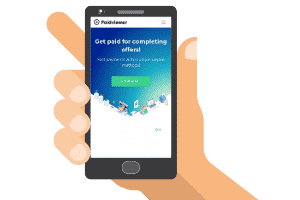 PaidViewer doesn't have a mobile app you can download, but you will be able to access their site from a mobile device using a web browser. Fortunately, their site is optimized for mobile use. This means you don't have to zoom in to read all the content properly.
You will also be able to click on links fairly easily. This can come in handy when you are working on offers that will ask you to download mobile apps.
And in a sense, it does help you become a more efficient earner because you can earn rewards even when you are not in front of a computer.
Who can join PaidViewer?
PaidViewer is available globally. You will be able to sign up as a member regardless of where you live. There is no membership fee required to join this site. But you do have to be at least 18 years of age or older to register.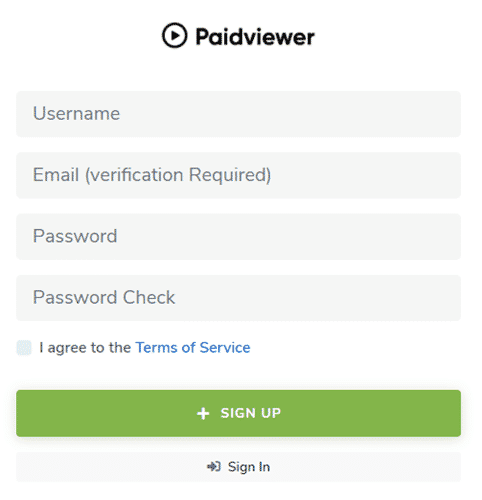 To sign up as a member, all you have to do is fill out their sign-up form. They will then send you a confirmation email once you've submitted the form. Just click the confirmation link in the email and you are good to go. You can log in to the site and start earning.
Can you get support?
If you have any questions about the site or your account, you can refer to their FAQ page. However, don't expect much from their FAQ page. It only discusses the bare necessities (so to speak).
So, if you can't find the answers you are looking for, you will have to contact their support team. They don't have a contact form on their site, but you can email them at offers@paidviewer.com.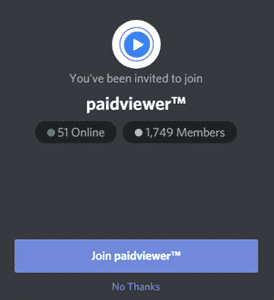 They also have a Discord server you can join so you can chat with a PaidViewer representative. If you want your inquiry to be attended to immediately, this would be your best option, in my opinion.
Overall, I would say they do have a decent support system in place for their members. I like the fact that you can chat with a representative through their Discord server.
Final Verdict
PaidViewer is a legit GPT site that will pay you for completing offers. It has a couple of good features, but it also has certain limitations you need to be aware of.
So, let's wrap up this review with a summary of its pros and cons to give you an overview of what the site is all about, so you can decide if it is really worth joining or not.

Pros:
Has a low payout threshold
You can communicate with a support representative through their Discord server

Cons:
Low rewards
Doesn't offer any cash rewards
Limited earning opportunities for a GPT site
PaidViewer, in my opinion, isn't really a bad GPT site. However, it's not a standout site either. It doesn't offer anything that other better GPT sites don't already have. In fact, it offers less.
Most GPT sites usually offer cash rewards. But with PaidViewer, all you can really earn is cryptocurrency, Steam, or Roblox credits. I would only suggest you join this site if you absolutely need another GPT site to join.
Otherwise, your time will be better spent on other sites with better earning potential and payment options. For a list of these sites, I recommend you check out the top survey and GPT sites in your country.
The sites on this list all have good earning potential and most of them offer cash rewards. Plus, you'll be able to find a site you can join regardless of where you live.
If you have any comments, questions, or have any experiences with PaidViewer yourself, I would love to hear from you in a comment below.