Panda Cash Back, as the name suggests, is a cashback website that will allow you to earn rewards when you shop from certain stores online.
Cashback websites can be a good way to earn an extra bit of money especially if you shop online frequently. But to get the most out of it, it is important you join a legit site.
So, is Panda Cash Back legit? Let me just answer this right away to save you the trouble of researching more on the web. Yes, Panda Cash Back is a legit cashback website.
This doesn't automatically mean though that this cashback site is worth your time. With cashback sites, it is important you join the right one since there are many poor sites that are mostly a waste of time.
To determine if this site is the right one for you, this Panda Cash Back review will examine all the details so you can figure out if it is really worth your time or not.
So, let's take a closer look at this cashback website.
What is Panda Cash Back and what does it offer?
As you already know, Panda Cash Back is a rebate platform that will reward you for shopping online.
It is a US-based company and its headquarters is in Michigan.
If you are unfamiliar with cashback sites, it's basically a website that provides some sort of rebate of a purchase you make from an online store.
Or more precisely, you will get a certain percentage of your spending into your cashback account.
In this case, it means that if you shop online through Panda Cash Back, you would get a percentage of your spending into your Panda Cash Back account every time you shop.
To consider it a good cashback site, the offers must be beneficial to you in one way or another. However, if you don't regularly shop online, then this kind of website is not for you.
You are better off joining a survey site or Get-Paid-To site instead if you want to earn a bit of extra cash. But if you frequently shop online, you might find this site interesting.
So, here's how you can earn from Panda Cash Back.
Option 1 – Cashback Offers
The bulk of the rewards you will earn from Panda Cash Back will come from cashback offers.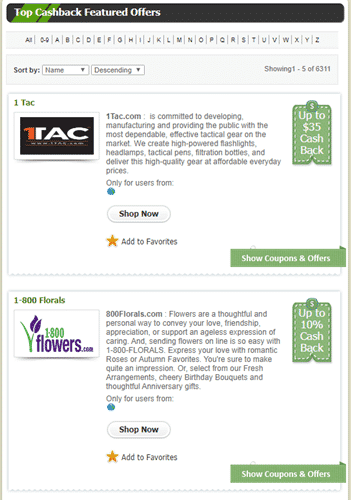 To avail of a cashback offer, you simply have to log in to their website and click the offer you like. Once you click the Shop Now button, it will link you to the site for the offer.
You simply have to make a purchase from the site to get the reward for the offer.
You see, the way cashback sites work is, once you make a purchase from their partner online retailer, the cashback site will receive a commission for the sale.
The cashback site will then share a percentage of the commission with you. It's a pretty straightforward process really and when you join a good cashback site, it is a win-win situation. You get cashback from things you would have bought anyway online and the site earns a bit as well.
The more you shop, the more rewards you will get (I will discuss later how you will be able to redeem your rewards).
Option 2 – Coupons
This isn't really an earning opportunity per se, but it's a nice addition to what Panda Cash Back has to offer.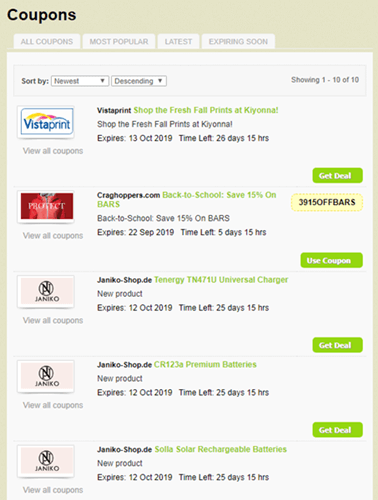 You will be able to avail of coupons from their partner online retailers. If you see a coupon you will be able to use, just click the Get Deal or Use Coupon button and follow the steps to redeem it.
Of course, you will have to spend money to use the coupon, but you will be able to save a bit of money by doing so.
Again, this works best if you were going to buy the product anyway.
Option 3 – Referral Program
Panda Cash Back also has a referral program you can take advantage of. As you can see in the photo below, their referral program is pretty straightforward.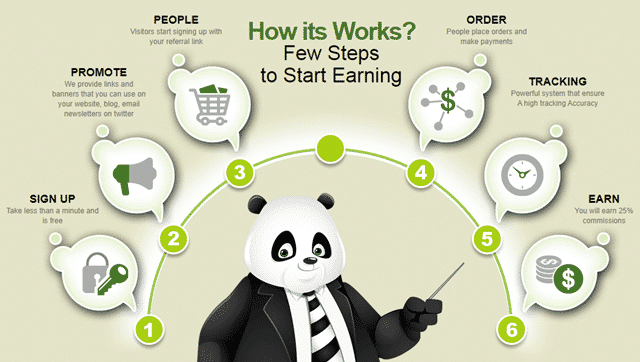 All you have to do is refer a friend to their website. You can do so by providing them your referral link. You can also refer people to join the site by embedding banners to your own blog or website.
Every person that clicks the banner and signs up to become a member will become your referral.
For every purchase your referral makes, you will earn 25% of what they will receive as a reward.
In my opinion, even though the commission you will get won't really be much, it is still a nice bonus to get since it doesn't really require any effort on your part.
And if you've piled up a lot of referrals, the commission will start to rack up and will help you redeem your rewards a little quicker (which I will talk about next).
How do you get paid?
For every cashback offer you complete, you will receive a certain amount, which will be credited to your Panda Cash Back account.
Once you've accumulated $15 on your Panda Cash Back account, they will send you a payment via PayPal on the next payday. You will know when the next payday is if you check your account balance.
In my opinion, even though the threshold is relatively high, their payment system is a bit more convenient compared to other sites.
That's because you don't have to process it yourself since they will send the payment automatically. You can just keep purchasing online and wait to receive a bit of money back.
How much money can you make?
Cashback sites don't really give you the opportunity to earn a lot of money. But, the good thing about it is, you will be able to earn back a percentage of what you've spent.
And as the saying goes, "Money saved is money earned." However, if you compare Panda Cash Back with other cashback sites, the earning potential really just pales in comparison.
That's because other cashback sites offer other ways for you to earn without having to spend your own money.
One good example is Swagbucks. Although Swagbucks is not a pure cashback site, what makes it a good option is it provides other ways for you to earn.
Compared to Panda Cash Back where your only way to earn rewards is to spend your own money or get rewards from your referrals, Swagbucks is a bit more versatile and has better earning potential, in my opinion.
Can you use it on mobile?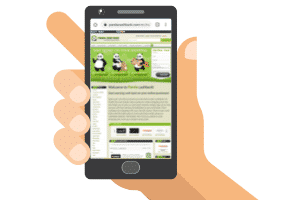 You will be able to access Panda Cash Back on your mobile device using a mobile web browser. If you were hoping they would have a standalone app you can use, then you will be disappointed.
Their site is optimized for mobile use. However, the way the mobile version of their site is designed makes it slightly more inconvenient to navigate through the website because the links and buttons are quite small.
If you are using your mobile phone, you will have to zoom in to click the buttons or links. It is best done on tablets or iPads, in my opinion.
Who can join Panda Cash Back?
What I like most about Panda Cash Back is it is available globally. Anybody can join their site. You do have to be at least 18 years of age or older in order to register.
The registration process is fairly easy at the start.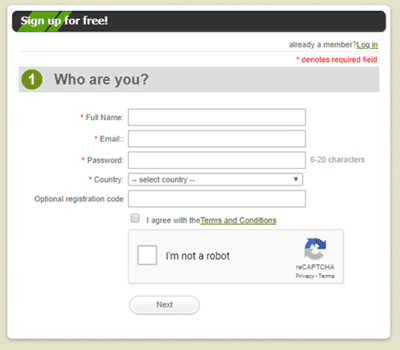 But here's where the problem starts for Panda Cash Back. Once you complete the registration form (shown in the photo above), when you click the submit button, you will get a 404 error.
And when you receive the confirmation email to activate your account, you will encounter the same problem. When you click the activation link, it will only open up a 404 error page again. So, technically, you won't get to complete your registration process.
You won't be able to log in to your account because the site will ask you to activate your account first. You will end up having to contact their support team (which I will discuss next) to verify your account.
Now, I'm not sure why this error is happening. It could be a missing page on their site, or worse, it could be that they have stopped accepting new members.
Maybe it is just a temporary glitch but I tested it over several days and kept getting the same error.
Again, you will have to wait for their support team's response to clarify this issue. I have contacted them but as of updating this review it has been more than 10 days and I have still not heard back from them. I will update if I at some point hear from them.
But in my opinion, this severely affects the usability of the site, which is not good.
Can you get support?
Speaking of support, you will supposedly be able to contact their support team by filing a support ticket.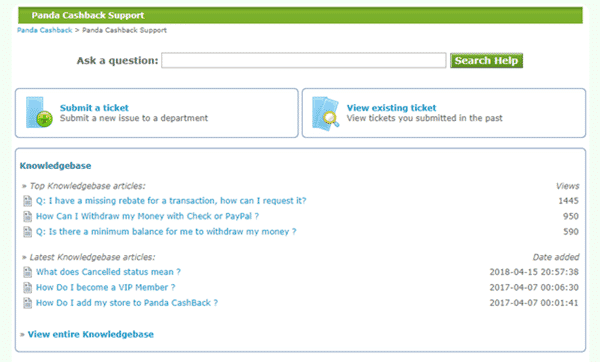 This ticketing system helps you track your inquiries a lot better, in my opinion. Plus, they also provide a Knowledgebase that contains most of the common issues encountered by members.
Their Knowledgebase can be useful if you are trying to resolve an issue you are encountering on your own.
As mentioned above, I have tried to contact their support myself to ask about the error during registration. It has now been more than 10 days and I have still not heard back from them.
So the support is definitely NOT impressive and I am not sure if I ever will hear back from them. If I do, I will update this review.
But it seems like you should not expect quick help if you need it.
Final Verdict
Panda Cash Back is a legit cashback site that does reward you for shopping online. But, let me just tell you right away, this is not for everyone.
So let's finish this review with a summary of its pros and cons to give you a better overview of what the site has to offer before deciding if it is for you or not.

Pros:
Has plenty of cashback offers
Will pay you automatically once you reach the payout threshold
Anyone can join regardless of where they live

Cons:
Low earning potential
Registering to become a member is a bit troublesome
Site is a bit inconvenient to use on a mobile phone
Slow/no support
While Panda Cash Back will allow you to save money because it provides rebates for online purchases you do, it simply lacks the earning potential to become a primary site to earn from.
It can be a decent secondary site if you regularly make online purchases from some of their partner online retailers. However, the error during registration and the lack of support for this is a huge issue, in my opinion.
Therefore, I would suggest you focus on other options instead. You can check out the top 10 cashback sites here instead.
The sites on this list aren't pure cashback sites but they offer that option as well as other ways to earn money. This makes these sites a bit more ideal because they have better earning potential.
If you have any comments, questions, or have any experiences with Panda Cash Back yourself, I would love to hear from you in a comment below.