If you shop online frequently, there are plenty of ways you can save. One way is to use an app that will allow you to save money or at least find a way to get the best deals. But which app should you use?
Well, there are plenty of options, but we'll be talking about a specific one for this article. Paribus is an app that promises you will be able to earn cash back effortlessly.
Now, the question is, is it legit or is it a scam? That's a very important question so I'll address it right away. Paribus is indeed a legit app that does what it claims to do.
But is it worth using though? That's a question that can be answered by examining a few things. This Paribus review will give you the full details of the platform has to offer so you can determine if it is an app worth using or not.
What is Paribus and what does it offer?
As mentioned above, Paribus is an app that will allow you to earn back a percentage of what you spent on your online purchases. It is owned by Capital One, an American bank holding company specializing in credit cards, auto loans, banking, and savings accounts.
It offers quite a unique opportunity for you to earn and save money. Now, let's take a closer look at the earning opportunities it offers so you can fully understand how this platform works and how well you can earn from it.
Option 1 – Reimbursements
This is the main feature of Paribus and an option I have not seen on other platforms. As they claim on their homepage, by using their app, you can find out if stores owe you a refund and claim it effortlessly.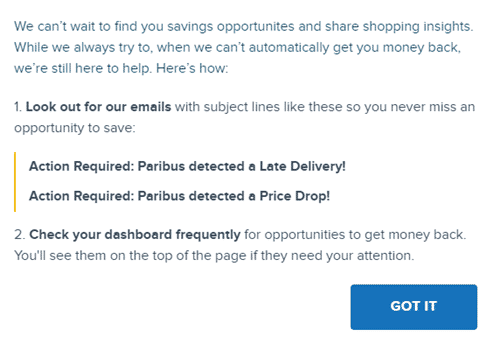 The app will notify you if there are refunds for the product you bought online when it decreases its price or if the product was delivered late (only for Amazon purchases). It works sort of a price adjustment app so to speak.
Let's say you bought a pair of Nike shoes for $100 today. But a few days later, that same pair of Nike shoes is being offered at a discounted price of $95.
The app will then notify you that you will be able to claim a $5 refund since the price dropped within a certain time period. So, all you have to do is click the claim button to get the refund.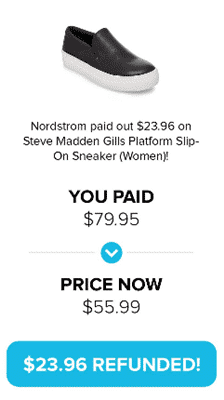 The app does it by scanning your emails for online receipts of your recent purchases. Yes, you read that right. It will scan your email, so it's a bit invasive, but not something you have to worry about. They do promise that they are using the best security system to make sure your data is not compromised.
They also promise they don't share your data with anyone else. And considering it is owned by one of the biggest credit companies in the US, you can take their word for it.
Now, let's go back to how the reimbursements work.
Once the app finds you are owed a reimbursement either for price drops or late delivery service (you are actually entitled to a reimbursement fee if your package was delivered later than the promised date, but this is only for Amazon purchases), it will typically be credited within 3 to 7 business days depending on the retailer.
Retailers typically refund it to your original form of payment, but this depends on the internal policies of each retailer. You don't have to worry about it though because Paribus will do all the heavy lifting for you. All you have to do is click a button to claim the refund.
So if you ever shop online, it can be an easy and great way to get back some money you would otherwise likely have missed out on.
Option 2 – Browser extension
Paribus also has a browser extension you can use to help you with your online shopping and it is called Capital One Shopping.
This browser extension, however, will only be available if you sign up through their website and not through their app.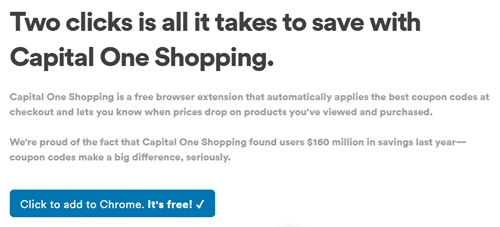 Technically speaking, this isn't an earning opportunity per se, but a way to save money. But as the saying goes, "money saved is money earned".
What this browser extension will do is to apply any available coupon codes for the product you purchased to your cart at checkout. So, you don't have to manually search for coupons code you can use because the extension will automatically apply the coupon code with the best value.
It also does searches for a better price while you shop at Target, Best Buy, and more. You'll see a little pop-up if a better offer is found, including tax and shipping details.
So, you will be able to find the best deals easily and it will help you save some money. You can consider it an online shopping assistant that will help you save money.
Recommended: Check Out the Best Cashback Sites
How do you get paid?
You already know that reimbursements will be credited directly to the mode of payment you used to complete your purchase. So, if you used your credit card, the reimbursement will be credited to your credit card. If you used your PayPal account it will be credited to your PayPal account, and so on and so forth.
Typically, the refund will be credited within 3 to 7 business days. As you can see, their payment system is a bit different compared to other cashback sites and apps. The refund will be processed by Paribus, so you don't actually have to do anything. So, I would say they have a very convenient payment process.
If you are interested in sites that offer convenient payment methods, I would also suggest you check out the top sites that pay via PayPal.
How much money can you make?
As with all earn-when-you-spend platforms, the amount of money you can make will mostly depend on how often you shop online. If you shop online frequently, you stand to earn more from this platform because there will be more chances of getting reimbursements.
You see, this kind of platform will only be beneficial if it has a lot of partner stores because then there is a bigger chance the shops you use anyway are a part of it and that gives you a chance to potentially save money.
And in that regard, I would say Paribus is pretty good because it hass a lot of partner stores (refer to photo below).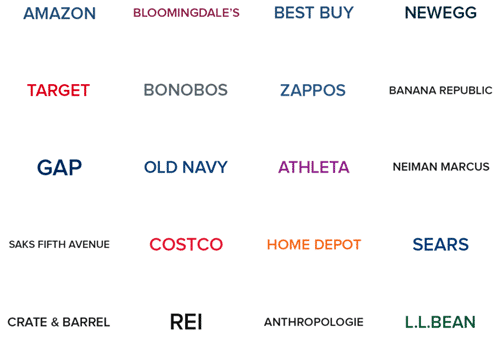 The real value this app offers is how it will be able to help you save money through refunds. This is the only app that I've encountered that will allow you to get refunds if the price of the product you bought drops. Why does this matter?
Well, this will make it easier for you to shop online because you don't have to think about whether it is the best time to buy a product or not. You can just simply buy it now and get refunded later if the price drops.
This is because most major retailers have reimbursement programs where you can get reimbursed for the difference between the purchased price and discounted price if it is within a certain time period (i.e. 1 week). So, it works more as a safety net for online shoppers.
These are the features that help make Paribus very useful. Of course, all of these are useless if you don't really shop online. So, if you're not the online shopping type of person, then this app is not for you.
Can you use it on a desktop?
If you want to take advantage of their reimbursement feature, you will really need your mobile device.
Unfortunately, their app is only available for download on the iOS app store. So, if you are an Android user, then Paribus is not for you.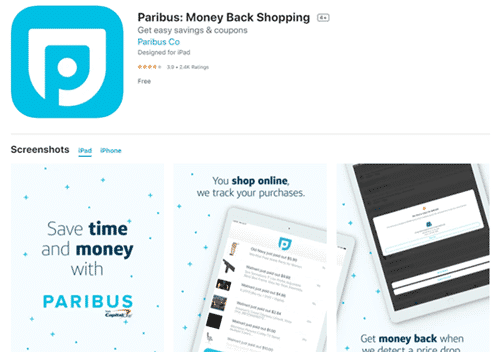 Their app is very user-friendly. You can easily navigate through the app because the user interface is intuitive.
As for their browser extension, it will only work on a laptop or a desktop using browsers like Chrome, Firefox, or Safari.
Who can join Paribus?
Paribus is only available in the US. So, if you don't live in the US, then this platform is not for you. You are better off joining other apps or sites.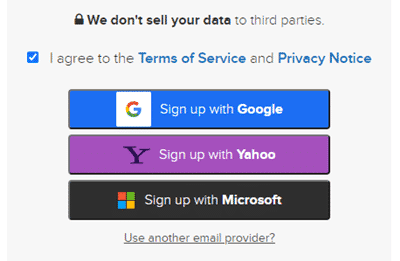 You also have to be at least 18 years of age to register as a member. Registration is free and all you have to do is sign up using your Google, Yahoo, or Microsoft account. These are your only options, so if you don't have any of the accounts mentioned, you have to create one first before you register.
One thing to note is, since the app will be scanning your email, the account you should use to sign up should be the same account you use for your online purchases.
Can you get support?
Paribus has a comprehensive FAQ page you can check out if you have any questions about their platform or your account. If you can't find the answers you are looking for, you can email them at support@paribus.co or you can log in to the site and go to their Help center to get in touch with their support team.
Overall, I would say they have a decent support system in place since you can get in touch with their support team easily.
Final Verdict
Paribus is a legit app that basically acts as your price adjustment assistant. It has a couple of unique features but it also has some limitations you need to consider.
So, let me end this review with a summary of its pros and cons to give you an overview of what it has to offer. That way, you can better decide if this is a good fit for you or not.

Pros:
Offers an effortless and unique way to earn
Their app is user-friendly

Cons:
You have to spend to earn
Limited earning opportunities offered
If your main goal is to simply earn without spending any money, then Paribus is not the right fit for you. In order to earn from this app, you have to shop online.
But the real value this platform offers is that it will help you claim reimbursements easily, which not a lot of (if any) platforms offer. So, if you frequently shop online and you are eligible to join, I would suggest you use the app for that reason. It will help you save more.
Now, if you are just looking for sites you can earn from without spending any cash, I would recommend you check out the top survey and GPT sites in your country instead. The sites on this list all have good earning potential and most of them offer cash rewards.
Plus, you will definitely find a site you can join regardless of where you live.
If you have any comments, questions, or have any experiences with Paribus yourself, I would love to hear from you in a comment below.