Playsmart is an app that claims you can win real prizes for simply playing games. There are actually a lot of apps that offer this kind of earning opportunity, so you have to be selective when it comes to choosing the apps you should use.
First and foremost, you need to make sure if this app is really legit or if it is just a scam. This Playsmart app review will help you with that and more. It will show you the full details of everything the app has to offer so you'll know exactly what the app can do before you even start using it.
That way, you can properly decide if it is really an app you should be using or not. So, let's go ahead and get this review started, shall we?
What is Playsmart and what does it offer?
At its core, Playsmart is a Get-Paid-To (GPT) app that will reward you for playing mobile games. It is a lot like Mistplay which is another app that will reward you for playing mobile games.
It is indeed a legit app since you will really earn rewards for playing the games they feature. Here's a short video explaining what the app does.
However, that isn't really the best indication on whether it is worth using or not. To find out if Playsmart is a good fit for you or not, we have to first take a look at the earning opportunities it offers. By doing so, you will understand how the app works and you can get an idea of how well you can earn from it.
So, here's how to earn from Playsmart.
Option 1 – Playing featured mobile games
The primary way to earn rewards from this app is by playing their featured mobile games. To start playing, you just have to log in to the app.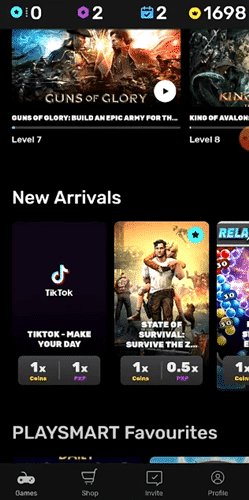 Then, you will see something similar to the photo above. You will see all the available games you can play. When you see a game you are interested in, just press it and it will take you to the app page of the game. Just download and install the game on your mobile device.
Once it is installed, go back to Playsmart and you will find the game you installed. Just press it to start playing. That's the most important thing you need to remember. You have to open the game using the Playsmart app so that it can track your progress and award the appropriate number of coins.
If you just open the game directly without going through the Playsmart app, you will not receive any reward. And speaking of rewards, when you are playing the game, you will receive a certain number of coins (depending on the coin multiplier) for every level you achieve in the game.
For every game listed, you will also see its coin multiplier. Some games have a 5x coin multiplier. That means you will receive 5x the number of coins for every level you achieve within the game.
But here's the thing. At some point, the number of coins you will earn will be fewer than the original. So, when you reach higher levels, you will receive fewer and fewer coins.
This is a pretty common occurrence in apps like this. They design this system to encourage you to try out different games and not just stick to one game all the time. The reason for this is, this is how they earn money. The game developers pay them to promote their games and they do that by featuring the games inside their app.
So, if they can get more people to try out different games, they earn more. That's why they pay less the longer you keep playing a certain game.
Option 2 – Referral program
The other way to earn rewards from this app is by participating in their referral program. If you've been a member of other GPT sites and apps before, then this will be very familiar to you.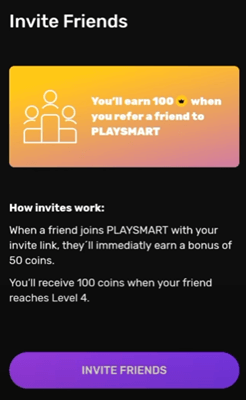 To earn from their referral program, just invite other people to join the platform through the invite button in the referral section. When they join the app using your invite, they will immediately receive 50 coins as reward.
As for your reward, you will receive 100 coins once your referral reaches level 4 in any game they play. So, you really need to make sure the people you invite are really interested in using the app. Otherwise, you won't really earn anything from this opportunity.
Recommended: Check Out the Top Sites To Earn Money By Playing Games Online
How do you get paid?
As explained above, you will earn a certain number of coins whenever you reach a certain level in the game you are playing. And as mentioned, the number of coins you will receive will depend on the coin multiplier of the game.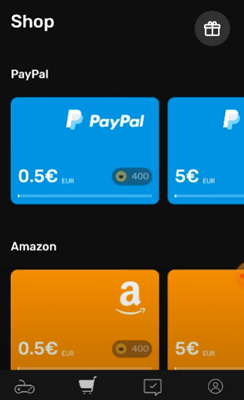 Now, in order to redeem rewards, you have to earn enough coins to redeem the reward you want. As you can see in the photo above, there are several rewards you can choose from.
You can convert your coins to cash via PayPal once you've earned at least 400 coins. That's the threshold you need to reach.
That will be worth €0.5. By the way, the currency it will be using will depend on where you are located. If you live in Europe, then the currency will be set to Euro. But if you live anywhere else, the currency will be set to Dollars.
But when you actually receive the reward, the currency will be in Euro even if the app is using Dollars.
Aside from PayPal withdrawals, you can also convert your coins to various gift cards. The gift cards that will be made available for you will depend on your location though. The threshold will still be the same (€0.5).
Their payment system is relatively simple and I like the fact that they have a very low payout threshold because you can withdraw your earnings quickly. If you are looking for more sites that have a low payout threshold, I recommend you also check out the fastest paying sites.
How much money can you make?
The thing with this kind of app in my experience is, you can't really expect to earn a lot from it. Sure, it has a low payout threshold of €0.5. But on average, you will be able to reach that threshold by playing for around 8 to 10 hours.
That's not exactly the best use of your time. That would also mean the rewards the app offers is quite low. So, I would say the earning potential of this app is very low. However, it does offer a few fun and interesting games you can play.
That, in my opinion, is the real value Playsmart offers. It will introduce you to plenty of fun games you can play to pass the time.
Can you use it on a desktop?
Playsmart is a mobile-only platform. That means you will really need a mobile device to use it. And considering you will need to play mobile games, I don't really see a need for you to use it on a laptop or desktop.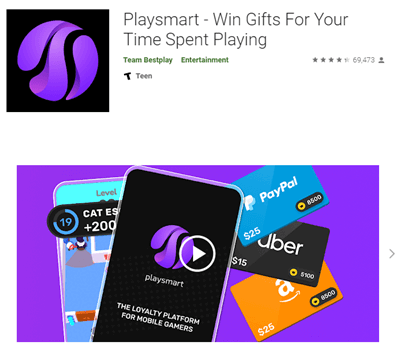 As for their app, it is only available for download through the Android app store. It doesn't have an iOS version. So, if you are an iOS user, then this app is not for you.
As for their app, it's fairly easy to use. You will be able to navigate through the app with relative ease. It's also not spammy like some other apps that offer the same kind of opportunity. Overall, the app provides a positive user experience, in my opinion.
Who can join Playsmart?
Playsmart is available globally. That means you can register as a member regardless of where you live. But you do have to be at least 18 years of age to join.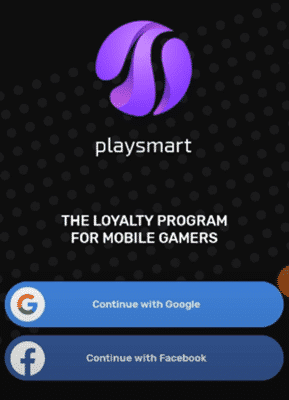 To register, you have to first download and install the app. Then, you can choose to sign up using your Google or Facebook account. You can also sign up using your own login credentials.
Once you finish the registration process, you can log in to the app. The one thing you need to make sure before you start playing is that you have to set the app to track the data usage. The app will actually guide you on how to do that, so you just have to follow the instructions.
When you are done setting up your account, you can start the earning process.
Can you get support?
The app is relatively simple to use, so you shouldn't encounter complicated issues. But if you have questions about the app or your account, you can go to their support section and you can contact their support team through that page.
Overall, I would say the app has a decent support system in place for their members since they offer a convenient way for you to get in touch with their support team.
Final Verdict
Playsmart is a legit GPT app that will reward you for playing their featured games. It has a couple of good features, but it also has some limitations you need to be aware of.
Let me wrap up this review with a summary of its pros and cons so you can get a clear picture of everything the app has to offer. Then, you can decide if you should really use this app or not.

Pros:
Has a low payout threshold
Offers payment via PayPal

Cons:
Limited earning opportunities offered
Low rewards
Only available for Android devices
If you are looking for a primary source of extra income, I would say Playsmart is not the ideal app to use. You simply can't earn a lot from it because it doesn't pay that well. It will take you quite a long time to earn a decent amount.
But if you are just looking for an app that can help you pass the time, then this can be a decent option since it will introduce you to many fun games. Just think of the rewards as a bonus.
Now, for a list of great sites and apps to earn from, I would recommend you check out the top survey and GPT sites in your country instead. The sites and apps on this list all have good earning potential. You won't have to invest a lot of time to earn a decent amount.
If you have any comments, questions, or have any experiences with Playsmart yourself, I would love to hear from you in a comment below.