PointsPrizes is a GPT (Get-Paid-To) site, where you can seemingly earn money in a lot of different ways.
But is PointsPrizes legit or a scam platform to stay away from?
I have joined and tested it myself to see what it really offers.
In this PointsPrizes review, I will share all the details with you so you can see exactly what you get as a member if it even works, and what you have to be aware of to find out if it is for you or not.
Disclosure: Some articles on this website contain affiliate/sponsored links. Click for more info.
What is PointsPrizes and what does the site offer?
PointsPrizes was started is 2016, so it is a fairly new GPT and survey site compared to many others. It has its headquarters in France, but it has opportunities for many countries (more about this later).
Let me reveal that when I first tested the platform, I was not too excited about it. But after having written my initial review, there have been several improvements to the platform and I have now updated the review to include them.
It is in itself a great sign when a GPT site keeps working on improving itself and takes the feedback of its users into consideration. This alone does, however, not automatically mean it is the best option for you, because it might still not be.
But let's start by going over the ways you can earn money on PointsPrizes so you can see if that sounds interesting to you.
Option 1 – Paid surveys:
Paid surveys are, in my opinion, a great way to make some extra money on the side, and PointsPrizes offers a decent amount of these.
It gives you access to several survey routers, where you are able to take surveys from third-party providers. Since the platform has quite a lot of partners, it also means that you can find a good amount of opportunities here.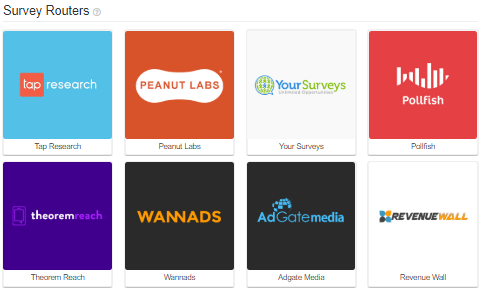 The amount of surveys that are available to you depends a lot on the country you live in.
But that advantage of survey routers is that you, in general, can find a lot of opportunities. The disadvantage is then that you will quite often not qualify for the surveys offered so sometimes it can take some patience to find the ones you qualify for.
I do, however, like that PointsPrizes gives you access to so many survey options in one place. It is just not so easy to see exactly what you get for each survey before you take them compared to the top survey sites.
However, in my experience, the rewards per survey are average compared to most other sites where you can get paid to take surveys.
So the paid surveys on PointsPrizes can be a good way to earn some money here – just be aware that you will not qualify for all the surveys. But with a bit of patience, you can find many opportunities.
Option 2 – Paid offers:
PointsPrizes has many offer walls, where you can find paid offers. They are divided into the top offers and the regular offer walls.
It is all kinds of offers – you can, for example, earn a reward by signing up for contests, getting free trials for products/services, downloading apps, and some of the offer walls also have additional paid surveys.
The difference between top offers and offer walls is that when you click top offers, you get an overview with some specific offers highlighted. If you click the offer walls, you get a list of all the offer walls PointsPrizes has as partners and then you can explore them by yourself to look for the right offers for you.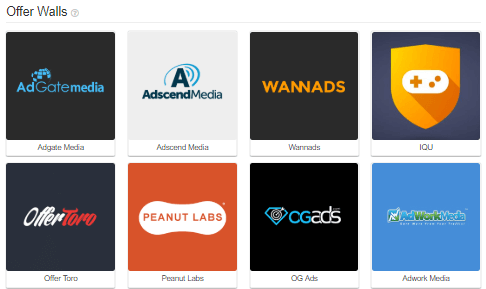 The image above shows just some of the offer walls you can find on PointsPrizes as it has quite a lot of them so I could not fit all of them into one picture.
Some of these offers can give really good rewards, but make sure to check the conditions before you join. I have noticed that especially the top offers are often contests, where you can win a really cool prize – but be aware that often you have to give your phone number for this, which can lead to a lot of sales calls.
So make sure you look into the conditions of each offer before taking any – if you do, you can find some great ways to boost your earnings in this section.
Option 3 – PointsPrizes coupon codes (get one here):
You are supposed to be able to find PointsPrizes coupon codes around the web and on the social media channels of PointsPrizes. With these codes, you can get free points.
It does however not seem like they are posted very often on the social media channels, so do not expect too much from this. In fact, the majority of the posts on PointsPrizes facebook page are links to blog posts about all kind of random topics that mostly have nothing to do with GPT options.
I have, however, been able to get a PointsPrizes promo code because I have this website. So if you use the coupon code "PAIDFROMSURVEYS100", you will get 100 points for free into your account right away.
In addition to the coupon code above that you get specifically because you are visiting PaidFromSurveys.com, I was able to do some more research and found a couple of codes that worked for me – by writing "DELTA100", I got 100 points, and by writing "PLASMA25" I got 25 points. So you can try these out, and see if they still work.
In the coupon section of PointsPrizes, you will also see that you can unlock coupons and get some free points.

You just have to be aware that you have to work for these points. To unlock the code, you have to choose and take an offer from the pop-up that shows, when you try to unlock the coupon.
The coupon codes can give your account a little boost, but it is not something that really makes a difference in the long run. So it is nice to use them to get a little extra points, but do not spend too much time chasing them, in my opinion.
Also, the points you get from coupon codes falls within what PointsPrizes calls bonus points – there is a limit of a total of 750 points you can earn as bonus points, so it is not a way to make consistent earnings.
Option 4 – Watch videos:
You can also earn by watching videos on PointsPrizes. There is quite a lot of video options in almost any category you can think of.
So no matter what you are interested in, you can likely find some interesting video to watch.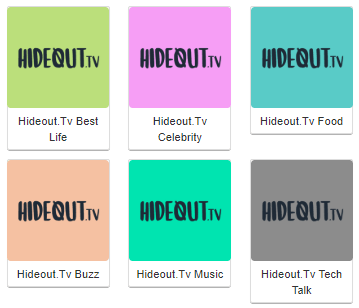 However, you have to be aware you will not earn very high rewards for watching them, so in my opinion, they are only worth watching, if they are about a topic, you want to watch a video about anyway.
If you do it just for earning, there are many better ways to earn and spend your time on PointsPrizes.
Option 5 – Refer other people:
You can earn commissions by inviting other people to join PointsPrizes. You get a link you can share, and if people join through this link, PointsPrizes will pay you a commission of 10% of everything they make (it will not make their rewards smaller).
PointsPrizes has advice on the platform about how you can share this link and start earning this way. The advice make it sound very easy, but be aware that it is not as easy as it sounds, and many of the advice will not give you many results.
One of the advice is for example to share your link in Facebook groups – the problem about this is that most groups will ban you for spamming them with a link like this, and the ones that do not are usually overflooded with similar links, so nobody can be bothered to really follow these groups anymore.
It is definitely possible to make money by referring other people, but just be aware that it might not be as easy as the advice and "training" on PointsPrizes make it sound.
Option 6 – Get paid to play games:
If you like playing small online games, you can earn a bit by using the games section on PointsPrizes.
However, this section might not be so easy to find at first. It is located in the offer wall section as one of the offer wall options even though it is not as such an offer wall.
You can find A LOT of different small games here.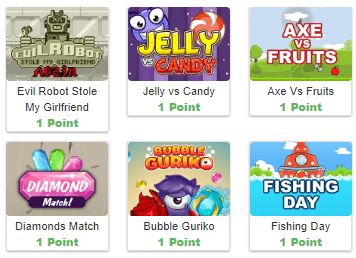 You will get 1 bonus point for playing a game. Just be aware that this is bonus points and as I mentioned earlier, this means there is a limit to how much you can earn.
You can maximum earn a total of 750 bonus points and this includes the coupon code as well, as I mentioned earlier. Also, be aware that you have to make sure to disable any adblocker you might have to be able to earn by playing the games.
But the games can be a fun way to earn a bit extra but it is not really a great long-term way to earn.
Option 7 – Daily Poll:
Every day there is a short poll you can do on PointsPrizes. You will only earn 5 points, but it will also not take you long to do.
So if you are using the platform anyway, the daily poll can be a way to make a tiny bit of extra money.
Option 8 – Giveaways and chat
PointsPrizes has one more option. They have a chat server with around 150,000 users where you can chat with other members.
You will not as such earn by participating and chatting but as a member of the chat community, you get the chance to get hourly giveaways of between 10-100 points.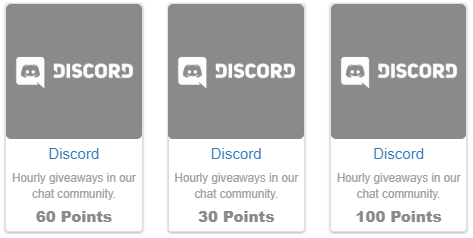 There is no guarantee you will win these giveaway points, but as an extra way to get a chance to earn it might be worth checking out if you like chatting with people from all over the world.
Below I have created a video tutorial of PointsPrizes, so you can get an inside look and see for yourself exactly what it has to offer, and how to use the earning opportunities there if you decide to join.
How do you get paid?
Every time you take a survey, an offer or anything else on PointsPrizes, you get paid in points. These points can then be exchanged into a number of different prizes like for example PayPal, Google Play, iTunes, Amazon, a variety of online games, and more.
Personally, I like sites that pay through PayPal, so I am happy to see this is a payout option on PointsPrizes. And there are some pretty good other rewards as well, in case you are not such a big fan of PayPal.
However, the point system on PointsPrizes does not make it super easy to see exactly how much you earn. Most other sites that use a point system have made it quite simple so that a point, for example, equals 1 cent. Then it is easy and fast to see what you get before you take a survey or an offer.
On PointsPrizes 1 point is in most cases worth around $0.0066. The exact value can, however, vary depending on the reward you choose, which makes it even more confusing. But in general, it means that you need 3,000 points to get a reward of $20.
$20 is also the payout threshold, as this is the minimum amount you need before you can get a reward. A bit high payout threshold in my opinion, but still an acceptable threshold.
However, for some rewards the threshold is a litlle higher.
How much money can you make?
As you can see, PointsPrizes has quite a lot of different ways to earn. It also means that there are some decent chances of earning some extra pocket money.
Exactly how much you can earn depends a lot on your effort of course and then the country you live in. PoitsPrizes mentions itself in its help section that countries like USA, Canada, UK, and Australia have the most options as most advertisers are willing to create offers for these countries.
They also mention that there are quite good options in countries like France, Germany, and the Netherlands. In all these countries it should be quite easy for you to earn some extra money.
In other countries, you can also earn and there are ways to earn in more or less all countries but in some, it takes more patience than in others.
Overall, you can definitely make some extra money on PointsPrizes, but do not expect it to make a full-time income online or anything close to this. So you just have to do it with the right expectations and then it can be a way to earn a bit extra.
Can you use it on mobile?
PointsPrizes is very easy to use on your mobile devices because it has its own app. You can download it both on Google Play and the App Store.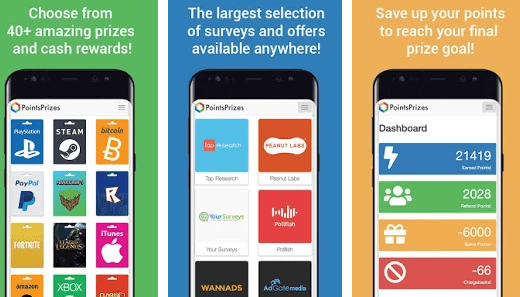 Using the app can be an easy way to make some money once in a while during the day.
The offers are more or less the same whether you use the app or a desktop but with the app, it just gives you easier access so it is nice they have this option, in my opinion.
Who can join PointsPrizes?
You can join PointsPrizes no matter where in the world you live. The amount of available surveys and offers do however vary depending on the country you live in as mentioned above. So even if you can join from your country, there is no guarantee that you will have good opportunities.
In the help section on PointsPrizes it, however, says that you have to be at least 18 years old to join.
But they also mention that they do not enforce any age restrictions though and that many of their prizes, such as gift codes, can be easily used by those under 18.
So it seems like you can still join even if you are below 18 but there might just be some restrictions in the payout options you can use.
Can you get support?
If you should need support, it looks like there are plenty of ways to get in contact with PointsPrizes' support staff.
You can, for example, send them an email, ask through live chat on the website, or send a direct message on Facebook or Twitter.
I have have been in contact with PointsPrizes myself and sometimes I have received quick and helpful answers and other times it has taken a lot of patience to get a reply.
So if you need help, you might need a little patience depending on how lucky you are.
How do you join (and what to be aware of)?
It is very easy to join PointsPrizes – actually almost too easy:-)
You just have to give your email, and then you will get access to the platform. You have to confirm your email by clicking a link in your inbox. I did not receive this email at first, but once you are logged in, you can request to have it resend under the account settings, in case you also do not receive it.
When I first joined PointsPrizes I was a little concerned about that you do not need to create a password. I was wondering if it was really safe you just had to put in your email to get access without a password – it did not seem safe enough for me.
This is, however, one of the areas where PointsPrizes has made an update since I initially tested the site. If you wish to, you can now create a password once you have logged in.
You do this by going to your account settings and you can then set a password.
You do, however, not have to. It is now an option you have if you like me feel safer by creating a password.
PointsPrizes explain in their FAQ section why you might not want to use a password but just your email – they say it is a hassle to have to memorize another password, and sites can easily be hacked anyway.
This is of course in a way convenient and easy, but personally, I definitely still prefer to have a password and I am happy they have introduced this option.
You can join PointsPrizes by clicking the button below the final verdict of you decide it is for you.
Final verdict
PointsPrizes definitely seems like a legit site to make some extra money, and it is an actual company registered with an address in France.
But let's sum up the pros and cons so you can get a better overview, before deciding whether you want to join or not.

Pros:
Good payout options
Many different ways to earn
Available worldwide

Cons:
A bit confusing point system
Some rewards are lower than on similar sites
The payout threshold is a little high
PointsPrizes has both pros and cons. A lot of it comes down to personal preferences.
I think it is a site that has some potential, and you can definitely make some extra pocket money on the platform.
Compared to other similar sites, I think it is a decent option and I like the fact that they have done a lot of improvements on the platform since it first was launched.
I still think there are better survey and GPT sites in most countries, but PointsPrizes is a legit site that can be worth checking out and it gives some different ways of earning and it will be easy for you to start earning if you use the coupon codes I gave earlier in this review.
If you want to join, you can just click the button below. It will take less than 1 minute to register and then you can start earning right away.
If you have any comments, questions, or have any experiences with PointsPrizes yourself, I would love to hear from you in a comment below.