If you live in the UK and are looking for ways to earn extra cash, one good way to do that is to join a survey site.
That's because you will be able to easily and conveniently earn some extra cash simply by answering surveys and other online micro-tasks.
That is, of course, if you join a good survey site. Now, if you're doing your research and have encountered a survey site called PopulusLive, you might be wondering, if it is worth your time?
This PopulusLive review will give you an inside look so you can see exactly what it offers and decide if you should join this site or not.
What is PopulusLive and what does it offer?
As stated above, PopulusLive is a survey site that pays you for participating in their surveys.
It's a UK-based survey site. So, if you don't live in the UK, this site is not for you (you can check out survey sites in other countries here).
Now, in order to get a good grip on how good this survey site is, we have to take a closer look at how you will be able to earn from this site. So, here are the earning opportunities it offers.
Option 1 – Paid Surveys
The main way you can earn from PopulusLive is by answering paid survey offers.
The way it works is, once you become a member of their panel (which I will talk about later), you will now be eligible to receive survey offers via email.
This is important to remember. You don't need to log in to the site in order to answer surveys.
You just have to check your email regularly because every survey offer will be sent via email. It will contain the link to the survey, so all you have to do is click on it.
When taking the survey, you will first have to answer a set of qualifying questions to determine if you belong to the group the survey is targeting. If you do, you get to answer the actual survey. If you don't, the process stops there.
Now, when taking the survey, there are a couple of things you need to keep in mind (as shown in the photo above). PopulusLive has added quality control checks to all their surveys.
Points will not be credited to your account if your answers are illogical or if a minimum amount of time has not been spent taking part in a survey.
So, you need to take your time when answering each survey and make sure your answers are as logical as possible.
This is to avoid members just going through the survey as quickly as they can so they can get the rewards. The panel has actually devised a way to get the best possible answers from each survey offer they present.
Once all the conditions are met, you will then be awarded the points promised. It will be credited to your account. I will discuss later what to do with the points you've earned.
Option 2 – Monthly Draw
This is not an earning opportunity per se since it doesn't really guarantee you will earn something for it because it will be purely based on chance. But, PopulusLive does hold a monthly prize draw for its members.

The prize for the draw is £250, which will be paid via check. So, if you ever win, they will send you the check via postal mail.
Now, members who tried completing a survey offer for the month and failed to qualify will automatically be entered into the monthly draw.
So, you don't actually have to do anything else in order to join the monthly draw.
In essence, this opportunity sort of acts as a consolation reward for those who didn't qualify for any survey offer.
How do you get paid?
Now, on to the getting paid part of this article. As mentioned, for every survey you complete, you will receive a certain number of points that will be credited to your PopulusLive account.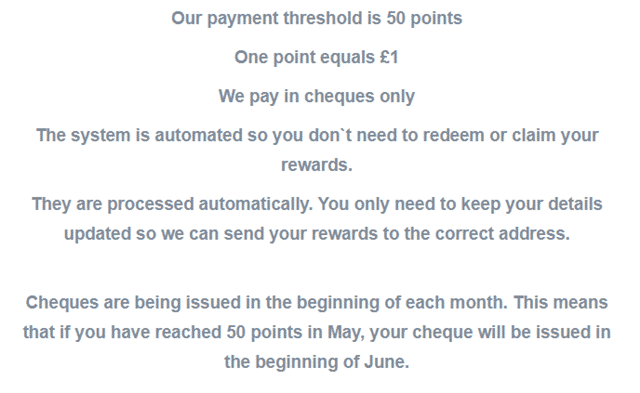 The beauty of PopulusLive's payment system is that everything is automated.
As you can see in the photo above, in order to get paid, you need to reach 50 points to get paid. To put it into perspective, 1 point is equal to £1. So, in reality, their threshold is a bit high at £50.
So, if you reach 50 points within the month, expect to receive a £50 check within the next month. Every payment will be processed at the beginning of each month.
But since all payments will be sent via postal mail, expect to receive the check in the middle of the month or onwards.
It's a convenient system, in my opinion. The only problem is, it's quite hard to reach the threshold every month since it's really quite high.
You will need to answer a lot of survey offers to do so. But if you do not reach it within one month, your rewards will roll over to the next month until you reach the threshold.
But it can take some patience to get there.
If you prefer to earn a lot quicker, I suggest you check out the fastest paying survey sites instead.
How much money can you make?
The amount of money you can make from a survey site will mostly depend on how often you receive survey offers and how many you can actually complete.
Of course, it goes without saying, the more offers you receive, the more chances of earning.
Typically, PopulusLive pays £1 for every 5 minutes you spend completing online surveys. It's a decent amount, in my opinion. So, the only question now is how often do you receive survey offers?
There is no clear answer to that question, unfortunately. Suitable panelists are selected at random for a survey, so you may receive many in quick succession or similarly, you may go a while without receiving one.
So, overall, I would say that this site doesn't really have great earning potential.
But it is still a decent survey site, in my opinion, mainly because of the convenience it offers (I'm talking about how they process their payments).
Can you use it on mobile?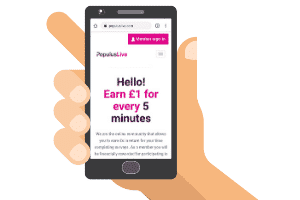 Seeing as you will receive survey offers via email, technically speaking, if you are able to access your email on your mobile device, you will be able to answer surveys on it.
But as whether or not it offers a convenient way for answering surveys on a mobile device, they don't really mention it on their website. In my experience though, with sites like this, it is best to use it on a desktop or laptop.
However, I'm in no way saying that it's not possible. All I'm saying it is much more convenient if you do it on a computer.
With that being said, their site is optimized for mobile use because you will be able to read all the content properly without having to zoom in or scroll left and right.
So, there's a good chance that the surveys they offer are the same way as well.
Who can join PopulusLive?
As mentioned in the early part of this review, PopulusLive is only available for UK residents.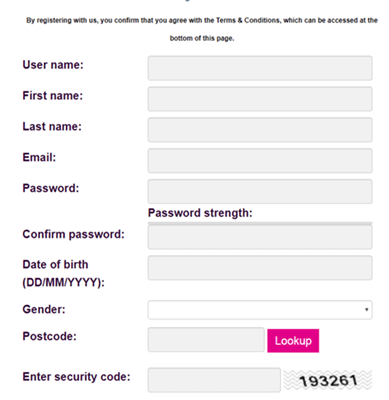 In order to join their panel, you have to be at least 16 years of age or older and have a permanent address in the UK so they can mail your check to that address.
To join the panel, you simply have to fill out the registration form and confirm your registration by clicking on the confirmation link on the email you will receive from them once you've completed the registration form.
Once you've done that, you will be a full-fledged member of their panel. Now, if you are also looking for other UK-based survey sites, I suggest you also check out the top survey sites in the UK.
Can you get support?
With every survey site, you will always want to make sure you will be able to get support in case you need it. And with PopulusLive, you do have that option, just not what you would hope for.
They do have an FAQ section that discusses most of the important topics about the site.
But if you want to get in touch with their support team, you will have to email them at info@PopulusLive.com since they don't have a contact form on their website.
Normally, survey sites have contact forms you can use if you ever feel the need to send in your question. But PopulusLive doesn't offer that convenience though.
But, providing an email address you can use is good enough since it will still allow you to get in touch with their support team and get support through that method.
It would just have been better if they also had a contact form on their website. That's all I'm really saying.
Final Verdict
PopulusLive is a legit survey site that does pay you (in cash) for answering their surveys. It has some nice qualities and a couple of limitations as well.
Here's a summary of its pros and cons to give you a good idea of what to expect.

Pros:
Payment is processed automatically
Highy monthly draw prize
The registration process is pretty simple

Cons:
Limited earning potential
Limited payment methods available
High payout threshold
If PopulasLive had a lower payout threshold, they would have been a better survey site, in my opinion.
The high payout threshold makes it a less than ideal site to join. Plus, it offers limited earning opportunities. So reaching that threshold will really require a lot of patience.
However, the fact that it processes payments automatically relieves some of the stress for you. That's why, in my opinion, PopulusLive can serve as a decent secondary site to earn from. Just don't expect to earn quickly from it.
If you are looking for sites that will allow you to earn a lot quicker, I recommend you check out the top survey sites in your country instead.
The sites on this list all offer several earning opportunities, which translate into better earning potential.
Plus, you will still be able to find sites you can join even if you live outside of the UK.
If you have any comments, questions, or have any experiences with PopulusLive yourself, I would love to hear from you in a comment below.