Are you looking for a site you can earn extra cash? Perhaps you've been doing some research and encountered a site called Prizat.com and you are now wondering should you join this site?
Well, answering this question isn't as easy as saying yes or no. There are several things that need considering.
First, is it legit or is it just a scam? This is the first thing you need to verify whenever you are interested in joining a site. So, let me answer this question right away. Yes, Prizat is a legit Get-Paid-To (GPT) site that will pay you for completing different activities.
Now, is it worth joining? To answer this question, as I've said, we need to consider a few things. This Prizat review will explain everything the site has to offer so you will know exactly what to expect.
That way, you can make a more informed decision on whether joining this site is a good idea or not.
What is Prizat and what does it offer?
As mentioned above, Prizat is a GPT site that promises to reward you for doing different small online tasks they offer. Since it is a GPT site, you can expect to earn in several ways.
Now, to truly understand the earning capability of this site, we need to take a closer look at the earning opportunities it offers.
This will help us gauge how well you can earn from the site and also, it will give you a good idea on how the site works, in general.
So, here's how you can earn from Prizat.
Option 1 – Paid offers
A GPT site won't be a GPT site if there aren't any paid offers available.
If you are new to this, let me explain to you what a paid offer is. It's basically a short task you can do to earn a reward. In Prizat's case, you will find the paid offers on their offerwalls.

As shown in the photo above, Prizat has five offerwalls you can choose from. Each offerwall will have unique paid offers you can do.
Most of the paid offers you will find on these offerwalls will usually ask you to answer surveys, complete micro-tasks, play games and answer quizzes.
There are some unique offers found on each offerwall. If you prefer mobile offers, you can do the ones from Personaly. If you prefer playing games, AyetStudios has several offers that will ask you to play games.
To complete an offer, all you have to do is click it. It will then show you the details of what you need to do to complete it.
It is important to take note of the instructions they give because if you miss one, you will wind up not getting paid.
After you've successfully completed the offer, you will receive the reward promised.

The good thing about how some of their offerwalls present the paid offers is, you will know the type of device you need to use to complete it.
As shown in the photo above, offers that need to be done on a computer have a computer monitor icon while those that need to be done on an iPhone or iPad have the Apple logo.
For Android devices, you will see the Android logo as well. It's important to note that each offerwall presents its offers a bit different than the others. So, don't expect they are all the same. But in general, the process for completing an offer will remain the same across all offerwalls.
Option 2 – Special offers
Another way you can earn from this site is by taking special offers. These special offers are a lot like paid offers, but they are much simpler to do. Plus, typically, you will only find one at any given time.

As you can see in the photo above, when I logged in, the special offer available was to subscribe to a YouTube channel.
So, just as an example, to receive the reward, you just have to log in to YouTube using the same email address you used to sign up for the site.
Then, just hit the subscribe button and you are all set. You will then receive the reward promised. So, if you see an offer like this it can be worth considering as it pays relatively well considering the amount of work you have to do.
Option 3 – Referral program
As with most GPT sites, you can also earn additional rewards by joining their referral program.
For the uninitiated, a referral program is where you get to earn additional rewards for inviting other people to join the site.
When you invite a person to join and they sign up to the site using your invite link, they will become your referral.
Unfortunately, they don't really mention on their site what you will earn for doing so. In my experience, you will usually earn a certain amount of the currency the site is using.
Plus, you will get a commission for whatever your referral will earn on the site. But again, Prizat didn't specify on their site how their referral program works, which, in my opinion, makes it a bit less interesting and enticing.
How do you get paid?
Every activity you complete on Prizat will earn you a certain number of points. You can then exchange the points you've earned for various rewards.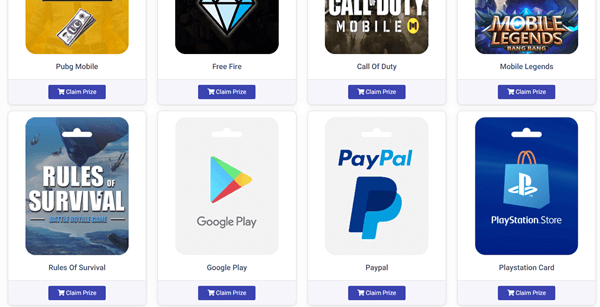 The good thing about Prizat is they have a good number of rewards you can choose from. You can redeem gift cards, game currency, gaming platform currency, and even convert your points to cash through PayPal.
To redeem a reward, you just need to meet the required number of points. For PayPal, you will only need 1900 points to redeem $1.
Other rewards will have a different required number of points. But I do like the fact that you only need to earn $1 to withdraw your earnings via PayPal. This makes it easier to get paid.
If you are interested in more sites with a low payout threshold, I suggest you also check out the fastest paying sites.
How much money can you make?
One thing I noticed about Prizat is, it doesn't have as many earning opportunities offered compared to other popular GPT sites out there.
Although you still won't run out of things to do, the number of opportunities are noticeably fewer.
So, this can affect the amount of money you can make on the site. With fewer opportunities, of course, it goes without saying that you will earn less amount.
As for how well the site pays, most of the rewards you will get from the paid offers are well within the industry standard. There are some rewards that pay quite well (1000 points or more).
That's why if I were to comment about its earning potential, I would say that it does have a decent earning potential.
You just need to be a bit more patient than on many other GPT sites.
Can you use it on mobile?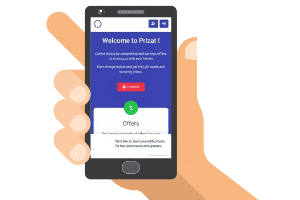 Seeing as there are some offers you can only complete from a mobile device, then naturally, you will be able to use this site on a mobile phone or tablet. However, Prizat doesn't have a mobile app.
So, if you want to work on a mobile device, you have to access their site using a mobile web browsers.
Fortunately, their site is mobile-friendly. So, it will be pretty convenient working on a mobile device. It is also to be expected, because as mentioned, there are mobile offers available.
So, they need to make sure their site is conveniently accessible from a mobile device.
Who can join Prizat?
Prizat is available globally, which means you will be able to sign up as a member regardless of where you live.
You just have to be at least 16 years old to join. If you are below 18 years old, you will need parental permission to use the site.
To become a member, all you have to do is fill out their sign-up form. It will only ask you for your name, email address and password.
Once you are done with the form, you can log in to the site and start earning. You don't even have to verify your registration like most sites ask you to do.
Can you get support?
In my opinion, Prizat is a pretty decent GPT site. The only thing I don't like about their site is that they aren't very transparent with what they have to offer.
They don't even have a support page where you can find frequently asked questions. So, if you have any questions about the site, you will have to contact them.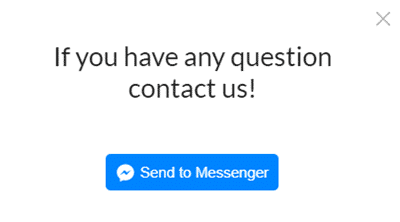 Fortunately, Prizat does offer a couple of ways for you to get in touch with them. You can email them at support@prizat.com or you can chat with them through Facebook messenger. If you want real time assistance, I suggest you go with the later.
They typically reply instantly on Facebook messenger. But of course, this is only during business hours. But overall, I would say they have a decent support system in place. It would just have been better if they were more transparent about what they have to offer.
This would significantly decrease the need to get in touch with their support team, in my opinion.
Final Verdict
Prizat is a legit GPT site that will pay you for completing their offers. It has a couple of good features but it also has a few drawbacks.
Let me conclude this review with a summary of its pros and cons to help you decide if this is a site you should join or not.

Pros:
Low payout threshold
Offers payment via PayPal
Available globally
Their site is mobile-friendly

Cons:
Limited earning opportunities available for a GPT site
Their site is not very transparent with what they have to offer
In my opinion, Prizat is a decent site to join if you are looking for secondary sources of income.
This is because the site doesn't really have a very good earning potential due to the fact that they offer fewer opportunities than most other GPT sites so it should not be one of your primary sites, in my opinion.
However, you will still be able to earn a decent amount from it with a bit of patience. Plus, it has a low payout threshold, so you will be able to redeem rewards fairly quickly.
But if you are looking for sites that will allow you to earn more, I suggest you check out the top GPT sites instead. The sites on this list offer more opportunities and they also have convenient payment methods. Plus, you will also find sites that are available globally.
If you have any comments, questions, or have any experiences with Prizat yourself, I would love to hear from you in a comment below.