Do you frequently shop online? If so, you might be interested in joining the site called RebateMango. This site promises you can earn rewards by simply shopping through their site.
If you are new to this kind of site, it is called a cashback site and the way it works is that you will earn back a percentage of the amount you spent on the product you bought. Now, is this kind of thing legit or is it just a scam, though?
This is a very important question and I will answer it shortly. But first, let me explain what this RebateMango review will show you.
This review will tell you everything about what the site has to offer so you will know exactly what to expect and can determine if this site is legit and if it is worth joining or not.
What is RebateMango and what does it offer?
First and foremost, let me just say right away, RebateMango is a legit cashback site that will really allow you to earn back a percentage of the amount of the purchase you made. It has a decent number of partner stores, which is a good thing.
Now, to clearly understand how good this cashback site is, we have to take a closer look at the earning opportunity it offers. So, here's how you can earn from RebateMango.
The earning opportunity – Cashback rewards
RebateMango only offers one earning opportunity and that is through cashback rewards. When you become a member of the site, you are entitled to get cashback rewards from their partner stores.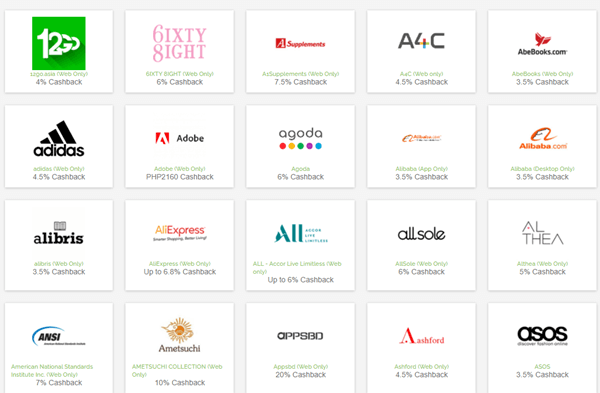 The photo above shows some of the partner stores of RebateMango. These are basically the stores you can shop from to receive cashback rewards.
Take note that you will only be able to receive cashback rewards from these stores through online shopping. RebateMango doesn't offer cashback rewards for physical store purchases.
There are two ways you can get cashback rewards. The first one is through their dashboard.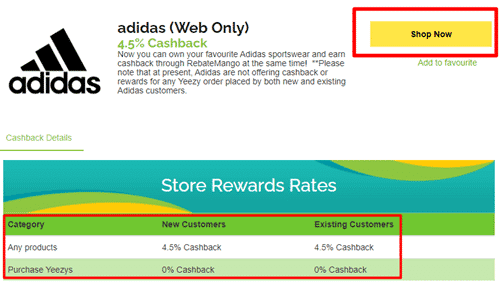 To start the shopping process on their member dashboard, simply click the online store you want to shop from. Then, it will show you the store reward rates as well as the products you can buy to get a cashback reward (refer to photo above).
Then, click the Shop Now button to go to the online store. In the photo above, it says that you can earn a 4.5% cashback for any product except for Yeezys. So, if you buy any product on Adidas' online store, you will receive the cashback reward.
Just go through the normal shopping process. Once you've completed the process, you will be eligible for the cashback reward. It will take approximately 72 hours for their system to list your purchase. Once your purchase is listed in the system, the reward will be credited to your RebateMango account.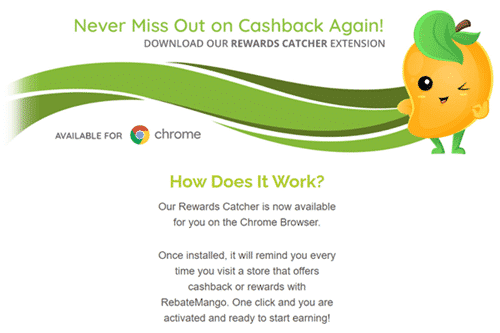 The other way to earn cashback is by using their Google Chrome extension. This extension makes it easier for you to earn cashback rewards because you don't have to log in to the RebateMango dashboard to shop.
Once you've installed the Chrome extension, you can just go to any online store and if it offers RebateMango cashback rewards, then the extension will notify you. Just look out for the message at the top right corner (where the extension will appear).
It will then ask you to activate it by clicking the green button. Once you've done that, you will receive cashback rewards with this store so you can just shop as normal, provided of course that this store is a partner store of RebateMango.
So basically, the RebateMango extension will eliminate the need for you to log in to the dashboard to shop. But bear in mind that you will only receive cashback rewards if the store you bought an item from is a RebateMango partner store.
How do you get paid?
The reward system of RebateMango is a little bit more complex than on other cashback sites. Once you become a member of the site, you have 3 types of reward options to choose from.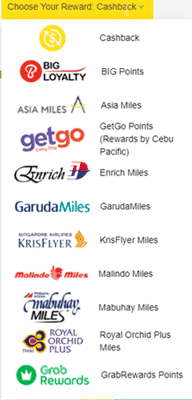 You have the choice to either earn cashback rewards, air miles, or loyalty points. As shown in the photo above, there are 7 airlines that offer air miles rewards. Simply choose which one you want.
You can also choose loyalty points. They offer Big Loyalty or GrabRewards points. You can always switch the type of reward you can earn for every purchase you make.
If you prefer to earn cash, you can opt to receive the normal cashback rewards. For this type of reward, you will need to earn a specific amount before you can withdraw your earnings. This is called a payout threshold.
The threshold will vary depending on the country you live in (I will discuss which countries this site is available in later). But usually, it will be a relatively low threshold, so it's quite easy to hit. Once you hit the threshold, you can withdraw it either via direct bank transfer or via PayPal.
If you choose the bank transfer option, you will have to provide your bank details. You will also see the list of banks you can deposit your earnings to. If your bank is not on the list, then you have to go the PayPal route.
The money will be deposited into your selected bank/PayPal account within 7-14 working days. So, it can take quite some time before you will receive the money. But the good news is, you will receive it in full since there will be no service charges.
Although their reward system is slightly complicated, I do like the fact that they offer PayPal and bank transfer as a payment option.
If you are interested in more sites that pay via PayPal, I suggest you check out the top sites that pay via PayPal.
How much money can you make?
You can determine the earning potential of a cashback site through the number of cashback offers they have and the cashback rate they offer. Luckily, RebateMango has plenty of partner stores, so you will have plenty of offers to choose from.
As for their cashback rates, it usually falls in the range of 2% to 7%. Some stores offer higher rates but that is the usual rate you can get from their partner stores. It's not that high but it's also not that low either.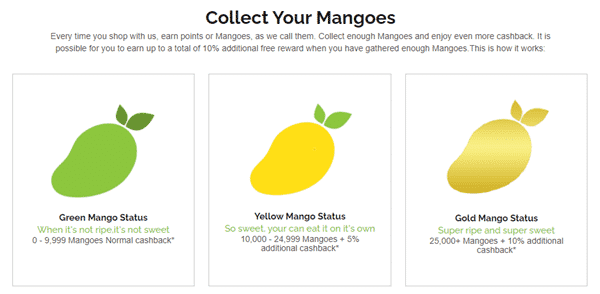 However, every time you avail of any of their cashback offers, you will also earn points or Mangoes as they call it. When you collect enough Mangoes, you can enjoy even more cashback rewards. You can earn up to a total of 10% additional free reward when you have gathered enough Mangoes (refer to the photo above).
This is their way to reward active members. Basically, you will earn more the more you avail of their cashback offers. It's a nice bonus to get and it can especially be useful if you shop a lot from their partner sites.
Overall, I would say that this cashback site has decent earning potential. It has plenty of cashback offers and the rates are decent.
Can you use it on mobile?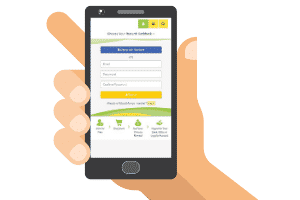 Unfortunately, RebateMango doesn't have a mobile app you can download. So, if you want to shop from your mobile device, you have to log in to their site using a mobile web browser.
The good news is, their site is mobile-friendly. So, you won't have a hard time navigating through the site. That being said, if you prefer a much smother shopping experience, it would be better to do your purchases from a laptop or desktop.
This is because, as you already know, shopping from RebateMango will involve opening multiple browser tabs. That can get quite annoying when done from a mobile device. Plus, if you are using it on a laptop or desktop, you can just use Google Chrome and install the extension so you don't have to log in to the site to start the purchase.
Who can join RebateMango?
RebateMango is only available in 4 countries namely Malaysia, Singapore, Thailand, and the Philippines. So, if you don't live in any of the countries listed above, then this cashback site is not for you.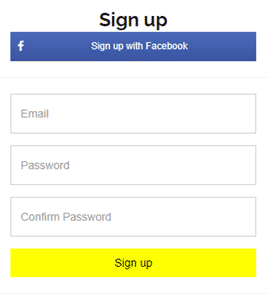 If you do live in any of the countries mentioned, you can sign-up using your Facebook account or your email address.
Once you are done with the registration, you can log in to the site and start earning. You do have to be at least 18 years of age to join.
Can you get support?
If you have any questions about the site, you can check out their FAQ page first. It discusses some of the basic topics you need to know about the site. Their FAQ page even has tips for making cashback work for you. It's a pretty helpful page, so I suggest you read it first before making any purchases.
In case you run into any issues, you can always send them an inquiry using the contact form provided on their site. Just make sure to select the appropriate category for your inquiry.
Overall, I would say they do provide decent support for their members since they offer a way for you to get in touch with their support team.
Final Verdict
RebateMango is a legit cashback site that will reward you for availing of their cashback offers. It has some pretty good features to offer, but it also has certain limitations you need to be aware of.
So let's finish this review with a summary of its pros and cons to give you a better overview of what the site has to offer so you can decide if this cashback site is for you or not.

Pros:
Relatively low payout threshold
Offers payment via PayPal or direct bank transfer
Has plenty of cashback offers

Cons:
Their reward system is a bit complicated compared to other cashback sites
Cashback rates aren't that high
Overall, if you live in any of the countries where RebateMango is available and you frequently shop online, I would say it is a good site to join. It doesn't have the best cashback rates but it has plenty of cashback offers you can choose from, which is really what makes a cashback site good, in my opinion.
Their rewards system can take a bit of getting used to, but once you get used to it, it will be pretty easy to work things out. I also like the fact that the cashback rate increases when you've completed many offers.
But if you are looking to earn without having to buy anything, I would recommend you instead check out the top survey and GPT sites in your country. The sites on this list all offer earning opportunities that won't ask you to make a purchase to earn rewards.
Plus, you can also find sites you can join regardless of where you live.
If you have any comments, questions, or have any experiences with RebateMango yourself, I would love to hear from you in a comment below.