ReviewSide is a site that promises to pay you for writing short reviews. It sounds like an easy way to earn, right?
But is ReviewSide legit and really a way to earn or a scam to stay away from?
This is very important to know before joining so you don't end up wasting time on a site that, in the end, won't pay you for writing reviews.
Let me just reveal right away that when to comes to ReviewSide, things are a bit complicated and there are some very important details you need to consider before joining.
This ReviewSide review will give you an inside look and show you exactly what you can expect so you can decide if this site is a good fit for you or not. And later on, I will also share my personal take regarding their earning opportunity and how it can affect other people.
What is ReviewSide and what does it offer?
As mentioned above, ReviewSide.com is a GPT site that will pay you for writing short reviews of products or services on certain websites. It's a fairly new site, but it definitely can seem appealing at first because it offers a fairly easy way to earn.
Now, in order to fully understand how the site works and how well you can earn from it, we have to take a closer look at the earning opportunity it offers.
I have, therefore, made a video that gives you an inside look and shows exactly how you can earn from ReviewSide. You can also read all the details below the video:
The earning opportunity – Writing reviews
The site only offers one type of earning opportunity and that is by writing reviews of specific companies.
You will be able to see all the companies you can review when you log in to their member dashboard and click on the "Logbook" link.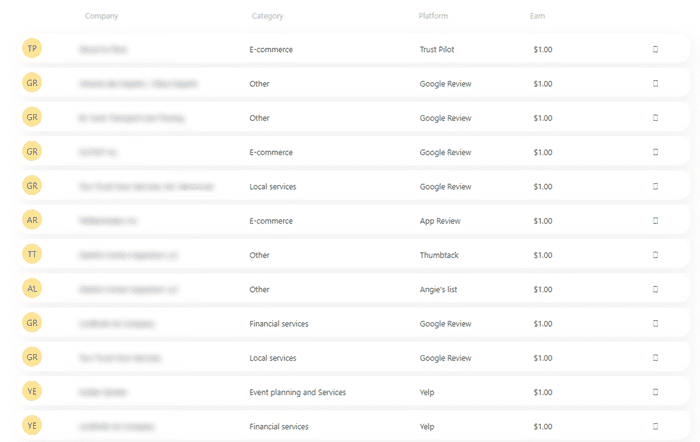 As shown in the photo above, you will immediately know how much you will earn for writing a review of a company or establishment. You will also know which site to post the review on.
To start writing a review, simply click on one that you are interested in doing. You will then see something similar to the photo shown below.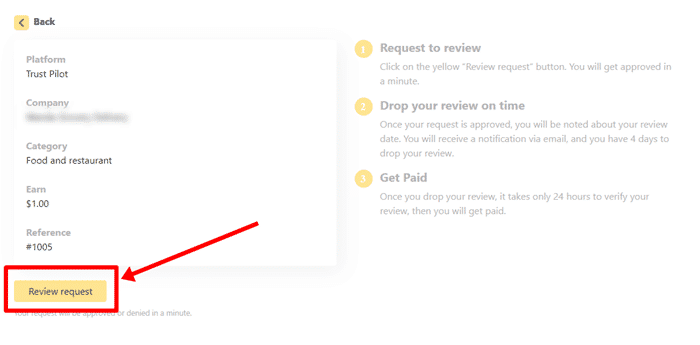 Apart from the details of the review you are going to write, you will also see a button that says "Review request". You will need to click this button to start the review process. You will see the status of your review request in the "All requests" section that can be found on the right side of their dashboard.
They say your request will either be denied or accepted within a minute. But during my testing, it actually took longer than that in some cases.
Once your request is granted, they will indicate the deadline to complete the review. Usually, you have four days to post your review on the site required but sometimes you also have to post the review on a specific date.
After you've posted your review, they say it will usually take 24 hours for them to verify your review. But in my experience, this is not always the case and sometimes you have to wait a lot longer.
So, I doubt what they claim is really accurate (which is a general issue on ReviewSide). So, don't expect to receive your reward at the time they claim you will receive it.
Recommended: Check Out the Top GPT Sites
How do you get paid?
For every review you post, you will earn $1. That's the flat amount they will pay you. When your review gets approved, the amount will be credited to your ReviewSide account balance. You will then be able to withdraw your earnings via PayPal.
However, if you look at here FAQ page, you can't really tell when you will be able to withdraw your earnings because ReviewSide doesn't tell you the payout threshold you need to reach before you can withdraw your earnings.
All it really tells you is you usually have to do 4 to 10 reviews before you can withdraw your earnings.
In my opinion, that's really a very vague explanation to a very important aspect of the site. In my experience, online rewards sites usually make it very clear what you need to earn to be able to withdraw your earnings.
So, it's a bit strange that they aren't really up front about their payout threshold.
However, inside the platform they have now added that the threshold is $5 so this seems to be the case even though they mention something else on their FAQ page.
Now, if you are looking for sites that will allow you to withdraw your earnings easily and that are very transparent about when you can get paid, I would recommend you check out the fastest paying sites instead.
How much money can you make?
As you already know, you will earn $1 for every review you successfully complete on this site.
It's a pretty decent amount considering you don't actually have to write a very long review to earn. In fact, in most cases you just have to copy and paste a review that has been pre-written. So, the time-to-money ratio is pretty good, in my opinion.
So, the amount you can earn will really depend on how many reviews you are able to complete and that number will directly be affected by the number of reviews available on their dashboard. While you can't really control that part of their site, the best thing you can do to maximize your earnings is to make sure you follow the exact instructions when posting a review.
That will increase your chances of getting the review approved so you will earn the reward. But overall, I would say the earning potential of this site is decent since the time-to-money ratio is pretty good.
Just don't expect to earn a significant amount from this site since you will not always get paid for all the reviews you write.
Also, how much you can earn is not the only thing you should consider before joining as there, in my opinion, are good reasons to be skeptical about working on ReviewSide as I will explain next.
Is ReviewSide an ethical way to earn?
Earlier in the review I mentioned I will share my personal take on the earning opportunity this site offers. So, this is the part where I will discuss what I think their opportunity does to other people.
As you may have already figured out, the reviews you need to write aren't necessarily real reviews. That's because it is practically impossible for you to write an honest review about all the companies and establishments listed on their dashboard.
Of course you can limit yourself to writing reviews about companies and establishments that you've actually tried. But if you want to maximize your earnings from this site, you have to write reviews about companies and establishments you haven't tested.
So, you are left with no choice but to write something that isn't really true just to earn a buck. The problem I find with that is, the reviews you will be posting will be read by people who are actually looking for honest feedback about the specific company/establishment.
And when they read your review, they think it's an honest review when in fact you just made it up or posted what you were told to post.
It doesn't even matter whether your review is really true or not. The fact that what you are review isn't based on your own experience means you are spreading misinformation about the company/establishment.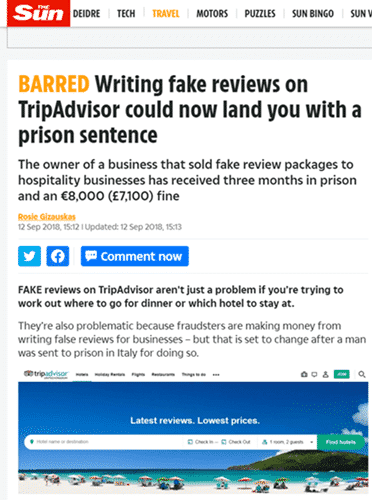 In light of this point, I did a bit of research and found an interesting article (refer to the photo above) about writing fake reviews. This article is a bit old but as you can see in the photo above, writing fake reviews on websites can have certain legal repercussions.
I'm not a lawyer or anything like that so I can't say for sure how the legality works in this case. But one thing is for certain, the authorities and review sites are keeping an eye out for fake reviews.
So if you take on this job, there is a risk of getting some kind of punishment in addition to hurting other people by giving them fake info about companies you know nothing about. So, in my opinion, earning a few extra bucks this way just feels unethical.
In addition to this, on the front page of their website they are themselves using fake testimonials from supposed members.

I know this as I did an image search of the people that are their supposed members and they are stock images used on hundreds of other websites as well.
So this means that the testimonials you can see about ReviewSide are not true and, in my experience, a site that uses fake testimonials is a site you cannot trust and it is a complete deal-breaker, in my opinion.
It can, however, not really come as a surprise they are willing to use tricks like this considering the earning method they offer? But nonetheless, this is another reason to be careful about trusting ReviewSide, in my opinion.
Again, this is just my personal take on this matter but it is definitely something you have to seriously consider before you decide whether you should get involved with this site or not.
Can you use it on mobile?
Now that I've shared my personal take about the earning opportunity the site provides, let's talk about the usability of ReviewSide. If you were wondering if this site has a mobile app or not, then let me clarify it for you.
ReviewSide doesn't have a mobile app you can download. However, you can still use your mobile device to log in to their site and request reviews. You can simply open a mobile web browser and go to their site. It is mobile-friendly so you will be able to navigate through their site easily.
And since most of the sites you have to post your reviews on are also mobile-friendly, then I don't see any reason why you can use it on a mobile device conveniently.
Who can join ReviewSide?
ReviewSide currently covers almost every country, but not all. You will be able to see the list of countries it is available on their registration page (refer to photo below).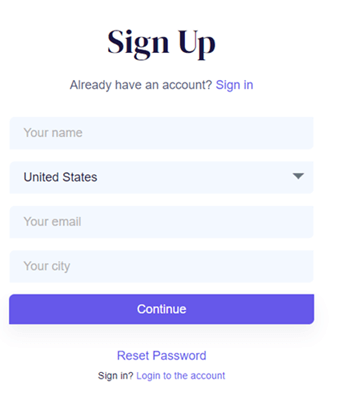 If your country isn't among the options in the dropdown menu of their sign-up form, then you are not eligible to join the site. So, you'll just have to find another site to earn from. But if it is included in the choices, then simply select your country and complete the form.
Once you've submitted the form, ReviewSide will send you a confirmation email to complete your registration. You have to click the activation link to complete your registration. Once you've done that, you can log in to the site and start earning.
Final Verdict
ReviewSide is a GPT site that will pay you for writing short reviews online on popular review sites. It has a couple of appealing features but it also has some major drawbacks you need to consider.
So, let me end this review with a summary of its pros and cons to give you an overview of what the site really is and what it has to offer. That way, you will be able to properly figure out if this is a site you should join or not.

Pros:
Offers a very simple and easy way to earn
Offers payment via PayPal

Cons:
Limited earning opportunities offered
You have to wait a while before you can do the work in order to earn, which is the opposite of what they claim
Offers an unethical way of earning extra cash, in my opinion
They use fake testimonials
While ReviewSide offers a very simple and easy way to earn a few bucks, in my opinion, the ethical issue it poses should be cause for concern and you should really take this into consideration before joining.
Sure you will supposedly be able to earn a few bucks quite easily, but is that really worth providing false information to other people? Your answer to that question should be able to help you decide whether this is a site you should join or not.
Also, ReviewSide itself is using fake testimonials and are not clear about very basic things like when you will get paid and this is definitely also something to consider.
Now, if you are looking for a way to earn extra cash in an ethical manner, I would instead suggest you check out the top survey and GPT sites in your country. The sites on this list all have good earning potential and they all offer ethical ways for you to earn a bit of cash.
If you have any comments, questions, or have any experiences with ReviewSide yourself, I would love to hear from you in a comment below.