RewardsFeed is a Get-Paid-To (GPT) site that promises you will be able to earn money using your phone. If you read what they say on their homepage, you might be thinking this site offers a great opportunity for you to earn extra cash.
But is RewardsFeed a scam or is it really a legit site where you can earn good money easily?
This RewardsFeed review will give you an inside look and reveal all the details you need to know before joining – and let me just reveal right away that there are some ugly truths you need to be aware of that they do not tell you about.
So, let's begin, shall we?
What is RewardsFeed and what does it offer?
As mentioned above, RewardsFeed.org is a GPT site that will supposedly reward you for completing tasks and inviting friends to join the site. If you look at their website, they actually make some pretty bold claims, in my opinion.
And in my experience, claims that are this bold don't really bode well and I will explain why below.
I have also made a hosrt video that gives you an inside look and shows exactly how RewardsFeed works. You can also read all the details below the video:
Option 1 – Paid tasks
One way you can earn from this site is by completing the paid tasks they offer. When you log in to their site, you will immediately see all the paid tasks they offer.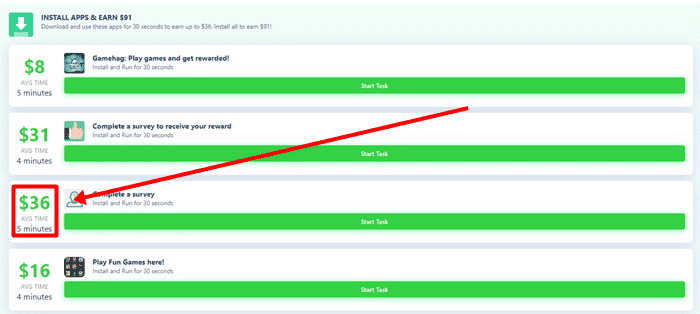 Paid tasks are actually just short tasks you can do to earn rewards. On other GPT sites, these are called paid offers. As you can see in the photo above, you will immediately see how much you will earn for every task (more on their rewards later). So, you'll know which tasks to prioritize.
When you click on a task, it will show you the instructions you need to follow to complete it. Make sure to follow all the instructions given so you'll receive the reward.
Most of the tasks found on RewardsFeed will either ask you to play a mobile game, answer a survey, or register to a site. So, their tasks are relatively easy to complete.
However, even though the rewards you are promised seems very appealing at first, do not rush off to complete them.
Because this high rewards for such simple tasks are in itself a HUGE RED FLAG as it is just not realistic to get paid this much for such simple tasks.
But more details about this later.
Option 2 – Referral program
Another way you can earn from RewardsFeed is by inviting other people to join the site. This is called a referral program.

All you have to do is share your invite link with the person you want to invite and when they sign up on RewardsFeed, they will become your referral.
They claim you will then earn $15 for every referral, and the site will also pay you $1 every time someone clicks on your referral link.
Plus, you will also earn a 20% commission from what your referral will earn. As you can see, it sounds like a pretty good way to earn a significant amount.
But, in my experience, it's actually a bit alarming. But I will explain more later why you should be alarmed by their referral program.
Option 3 – Submissions
The "Submissions" earning opportunity they offer is geared towards promoting RewardsFeed on social media platforms. In other words, you will get paid to become their brand ambassador or social media influencer, so to speak.

You will actually get paid to promote RewardsFeed on social media platforms. Each platform has a set of rules you need to follow when posting content for promoting the site. It's more like a script you need to follow.
After you've posted your content on the specific social media platform, you will then have to submit it to RewardsFeed for verification (hence the name Submissions). Once RewardsFeed verifies your submission and see everything is according to their requirements, you will receive the compensation.
Once again, this type of task seems very appealing but actually become a red flag when you have as much experience with GPT sites as I have (I have tested hundreds of sites).
I will explain all about why I am so alarmed by the so-called earning methods in detail a bit later so you can see and judge for yourself.
Recommended: Check Out the Top GPT Sites
How do you get paid?
Every activity you complete on RewardsFeed will earn you a certain amount which will be credited to your RewardsFeed account. However, they aren't exactly clear on how you will be able to withdraw your earnings.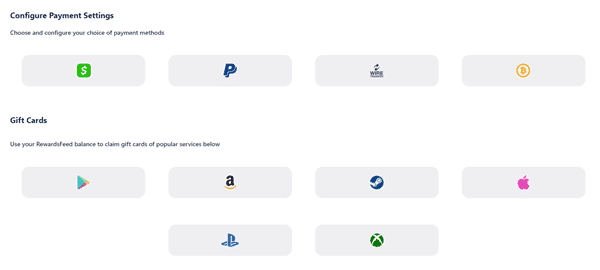 Sure, they tell you the payment options you can choose to withdraw your earnings (refer to photo above) like PayPal, direct bank transfer, and various gift cards. But they don't really tell you clearly when you will be able to withdraw your earnings.
You will only know when you will be able to withdraw your earnings when double click to try to withdraw your earnings. It will say you have to do at least 6 tasks + invite at least 5 people to be able to withdraw your earnings.
In my opinion, forcing you to invite others before being able to get paid is definitely a deal-breaker. No transparent site would force you to do this. That's why if you start being hesitant about this site, I don't blame you.
If you are interested in sites that will allow you to withdraw your earnings quickly without any strange conditions, I would suggest you check out the fastest paying sites instead.
How much money can you make?
If you noticed, most of the tasks they offer will supposedly allow you to earn a pretty significant amount. Their referral program will also reward you handsomely for inviting people to join the site.
Not only that, they will also pay you even if the person that clicked on your invite link didn't register. Never in my years of experience with GPT sites have I encountered a referral program that will pay you $1 for every click on your invite link.
It would simply not be sustainable for them and they would quickly go out of business if they would actually pay this much just for a click.
If you are new to GPT sites, I would understand that you would think they pay good money. But it all just sounds too good to be true, in my opinion. And as the saying goes, "If it sounds too good to be true, it probably is."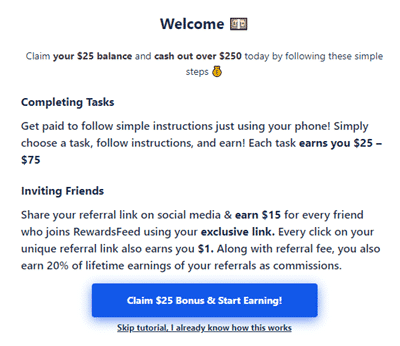 For example, when you go through their registration process, you will encounter the welcome note shown in the photo above. As you can see, they claim you will be able to earn $25 to $75 per task. And if you remember, at the start of this review, I mentioned they make some pretty bold claims, well, this is a perfect example of a "pretty bold" claim.
The reason is, no GPT site will pay you that kind of amount for simply playing a mobile game or answering a survey. It's just not a realistic amount to earn from a short task.
The sites do not even get paid this much themselves to get you to do tasks like this. And therefore you can be sure that any site that claims you can earn this much just for spending a few minutes completing tasks like this is not telling the truth.

And if you check their member dashboard, you will notice a leaderboard section that displays how much money members have made from the site (refer to the photo above). As you can see in the photo above, one member was able to earn more than $10,000.
The truth is, you will only be able to earn that kind of amount from long-term legit sites and it will take a lot of time (exactly how long will depend on the country you live in). And a list like this with names and numbers proves nothing.
Overall, no company or website in their right mind would pay you as much per tasks as RewardsFeed claim to do. It's just not good business.
So, that begs the question, where does RewardsFeed get the money to pay these members? Unless they have very generous advertising partners. The only answer is – they don't and you will know why later.

Another deal-breaker about this GPT site is, if you look at the bottom of their website, is that they claim to be accredited by the Better Business Bureau (BBB).
But on their profile on BBB (refer to photo above), you can see that they have received a cease and desist notification for misusing the BBB logo.

Another lie they mention on their website is, they claim to have 5 stars on Trustpilot. As you can see in the photo above, that is simply not true. The site is going to great lengths to make it seem like a reliable website.
Plus, another thing I discovered is, they claim in their FAQ section they have worked for 13 years, but when I double-checked their domain, the website only started May 2020.
And when it comes to a company that lies as much as RewardsFeed clearly does and misuses logos to seem more credible, etc. then you can clearly not expect to ever see your money.
And seeing the money in your RewardsFeed account means nothing – what matters is if you are able to actually get them out.
If not, you will just be wasting your time – and based on my many years of experience with GPT sites, you will definitely be wasting your time on RewardsFeed and you will also be wasting the time of the people you invite.
Can you use it on mobile?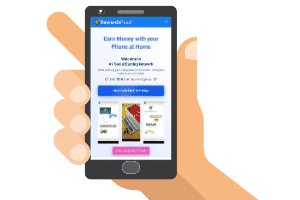 When you log in to their site from your laptop or desktop, the site will actually keep reminding you that you should log in to the site using your mobile phone. So, you might be thinking they have an app you can download.
But that isn't the case. RewardsFeed doesn't have a mobile app but you can still log in to their site from your mobile device by opening a mobile web browser. Their site is mobile-friendly so you will at least be able to read all the content properly and navigate through the site easily.
This is to be expected though since most of the tasks they offer will involve using a mobile device at some point. So, to answer the question if you can use it on mobile, then, yes, you can.
Who can join RewardsFeed?
When you register as a member, RewardsFeed will immediately check if you are a resident of the US. It will ask you if you are a resident of the US.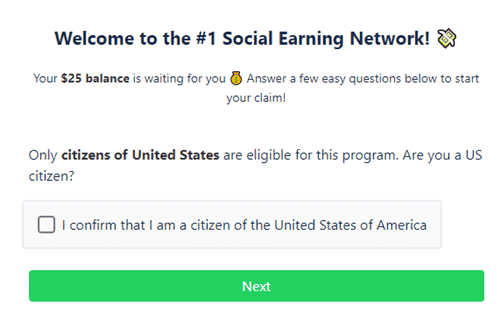 If you are, simply check the box and continue with the registration. The weird thing is, you can actually still sign up even if you are not in the US if you just check the box (yes, I tested it).
So, I'm not exactly sure if that is the extent to how their site verifies your location or there's really no location verification system in place. But no matter what, I would strongly advice you not to register for ReewardsFeed.org because of the huge red flags mentioned earlier in this review.
Complaints about RewardsFeed
I have already mentioned several big red flags several and deal-breakers when it comes to RewardsFeed.
But I decided to also check out feedback from other members.
Unsurprisingly, I found a lot of complaints about the site and most of them are talking about the same things, so there's a valid reason to become suspicious about the site.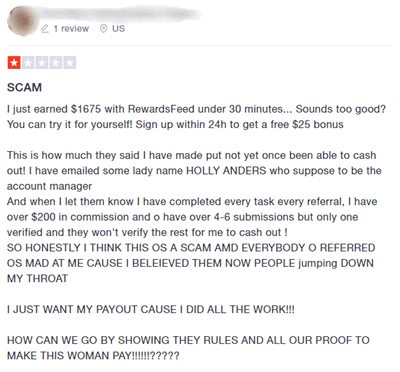 In the photo above, the user states that when she tried withdrawing her earnings, the site will come up with an excuse not to process the withdrawal. In her case, she was not able to withdraw her earnings because some of here submissions were not verified.
There are plenty of complaints saying the same exact thing where RewardsFeed will always come up with an excuse not to allow any withdrawals. A very common excuse is that the member is using fake referrals or doing suspicious activities.
Plus, if you keep following up on your concern with their support team, you will not hear from them anymore. So, you could say they don't offer good support for their members.
So, if you really think about how RewardsFeed is able to make such bold claims and offer unrealistic rewards for their opportunities, then in my opinion, you will be able to conclude that they can because they don't intend on paying you as I have already mentioned earlier.
Final Verdict
RewardsFeed is a GPT site that claims you will be able to earn a significant amount by completing easy tasks and inviting people to join. At first glance, you will find this site very appealing, but there are red flags you need to consider before joining.
So, let me conclude this review with a summary of its pros and cons to give you the full overview of what the site has to offer.

Pros:

Cons:
Offers unrealistic rewards
Doesn't have clear information about their payout threshold
Has a bad support system
Misuses BBB logo
You are forced to invite people
If you are looking for a legit site to earn from, I would not recommend you join RewardsFeed. It simply has too many red flags. No GPT site will pay you $25 to $75 for downloading and playing a mobile game or answering a survey.
There are also too many complaints saying the exact same thing, that you won't be able to withdraw your earnings from this site. And the fact that they are misusing logos to try to seem more credible and that they force you to invite other people if you want a chance to get paid are just other deal-breakers.
That's why I recommend you stay away from this site and just check out the top survey and GPT sites in your country instead. The sites on this list all offer good earning potential and realistic rewards. Plus, you will also find a site you can join regardless of where you live.
If you have any comments, questions, or have any experiences with RewardsFeed yourself, I would love to hear from you in a comment below.